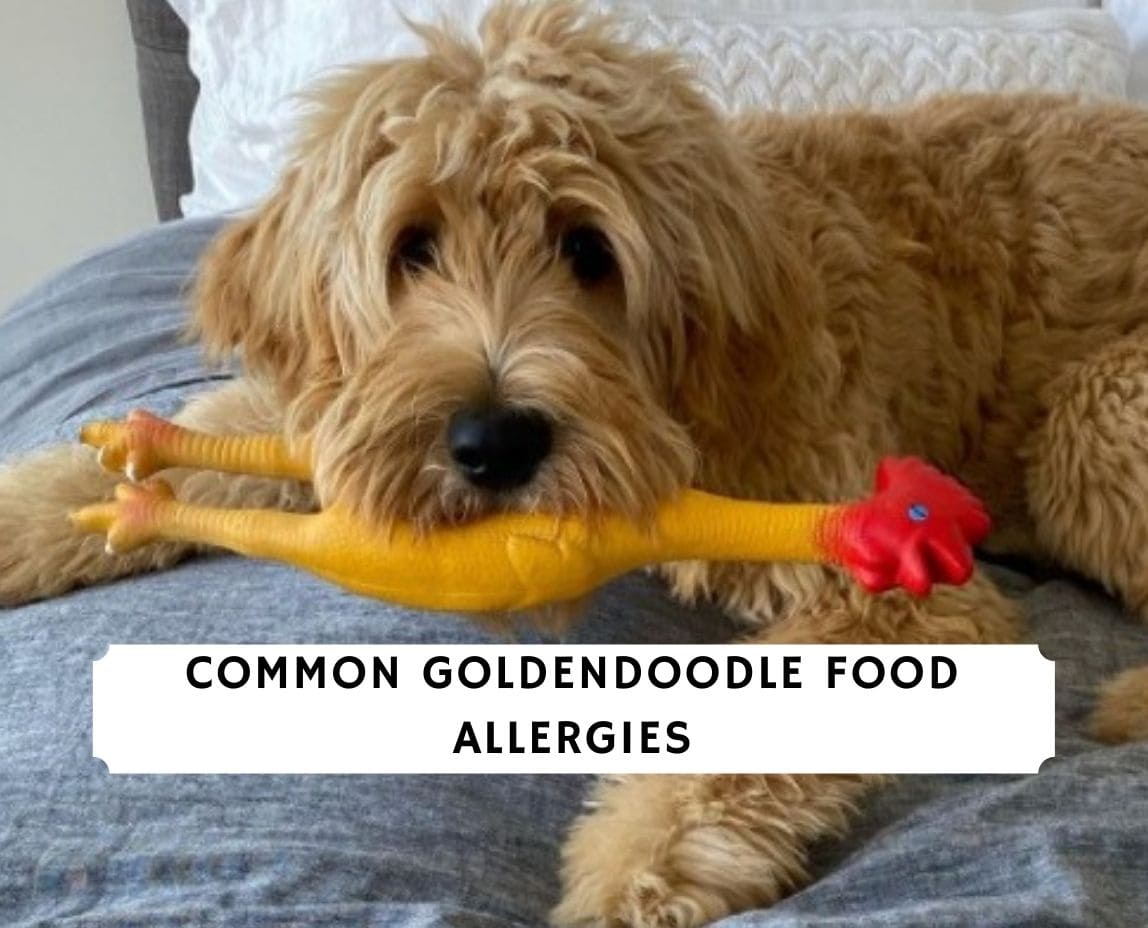 Since you're here right now, you probably didn't know that there are common Goldendoodle food allergies to be aware of. You're probably familiar with food allergies in humans, but did you know that dogs can also suffer from food allergies? Dogs are just as prone to food allergies as humans, so it is essential to be aware of common triggers. In addition, specific breeds may be more exposed to food allergies than others, including Goldendoodles. This can be attributed to your Goldendoodles' Golden Retriever genetics. You will find everything there is to know about Goldendoodle food allergies in this guide.
Before scrolling down this guide "Common Goldendoodle Food Allergies," check out related content that could help you: Best Dog Allergy Test and Everything You Need to Know About Chicken Allergy in Dogs.
Food Allergy in Goldendoodles
Before we get into the specifics of food allergies in Goldendoodles, it is essential to look at food allergies in general. A food allergy occurs when your immune system has a adverse reaction to a specific food. This is usually due to an overreaction or hypersensitivity to a particular food product. The food that triggers this reaction is called an allergen. Allergens do not always cause the same effect.
Therefore, this reaction can range in severity. Sometimes an allergic reaction can cause discomfort, while other reactions can be life-threatening. The most severe reaction to an allergen is anaphylactic shock. In this case, your dog will have difficulty breathing; this reaction can cause death if not treated with immediate medical attention. Therefore, knowing the signs and symptoms of allergies and the common triggers for Goldendoodles will help prevent severe allergic reactions.
Goldendoodle Guide: How Long Do Goldendoodles Live?
Common Goldendoodle Food Allergies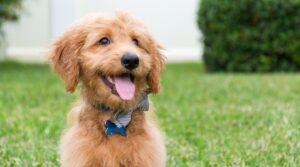 Now that you know what food allergies are, it is time to look at the most common ones found among Goldendoodles. It is important to remember that dogs can be allergic to any food, not just the foods on the list. Therefore, regardless of what your dog ate, you should contact a veterinarian if you notice it exhibiting symptoms of an allergic reaction.
1. Wheat and Grains
First on the list of common Goldendoodle food allergies are wheat and grains. One of the most common food allergies found among dogs, wheat, can cause gastrointestinal distress and skin irritation. Grain sensitivities are so common among dogs that unique products have been made for dogs with this ailment. Grain-free food can be found in any pet food store. In addition, most popular dog food brands have developed special lines that accommodate this allergy.
2. Dairy
Dairy is a widespread allergy found among Goldendoodles. This allergy manifests as itchy skin, dryness, and sometimes gastrointestinal distress. Some dogs may tolerate small amounts of dairy, while others will be irritated by any slight trace of it. The easiest way to treat a dairy allergy is to avoid giving your dog dairy products. Once any traces of dairy have left your dog's body, it should recover quickly.
3. Beef
Possibly the most common food allergy found among Goldendoodles is animal protein. Particularly beef, chicken, and lamb are densely packed with these dangerous proteins. Because of this, many dogs are unable to digest beef properly. Unfortunately, many dog foods include beef in their ingredients. However, switching between different foods can help decrease the likelihood of your dog developing an intolerance. This is because frequent exposure to certain foods contributes to the development of intolerance and allergies. Therefore, providing your dog with animal protein-rich foods in moderation reduces the likelihood of an allergy developing.
4. Soy
Soy can be a danger to some dogs and is another common allergen among Goldendoodles. Like the reaction dogs can have with beef, the soy protein can be hard to digest, causing health problems for your dog. You can purchase soy-free dog food if you find your dog suffering from a soy allergy. Additionally, some dogs may not react to this protein when it is digested in tiny amounts. Therefore, if a dog food has small amounts of soy that are already broken down, some dogs can easily consume it.
5. Eggs
When it comes to eggs, most allergic reactions are caused by the egg yolk. This is because Goldendoodles' stomachs react to the protein found in the egg yolk, often causing digestive problems. However, the yolk itself is not the sole culprit of every allergic reaction; some dogs are sensitive to egg whites. Unfortunately, egg products are found in many dry and wet dog food. So if you think your dog might be allergic, you should take it to the vet, who will recommend an allergy-friendly alternative.
6. Chicken
The effect that chicken has on dogs is similar to beef in that the more exposure your dog has to it, the more likely it is to develop an allergy to it. Many dogs are hypersensitive to the animal protein found in chickens.  Therefore, rotating through different flavored foods for your dog can prevent a chicken allergy. If your dog is still sensitive to chicken, you will have to find an alternative food. Unfortunately, chicken is found in most dogs' food. However, there are now hypoallergenic dog foods available that swap chicken for other, more digestible meats such as venison, salmon, and duck.
7. Lamb
Last on the list of common Goldendoodle food allergies is Lamb. For many years, the lamb was considered an excellent alternative to beef and chicken for dogs unable to digest those meats. Unfortunately, studies have shown that many dogs can suffer from lamb allergies. This allergy is once again caused by the protein found in the meat, causing similar allergic reactions to beef and chicken. Luckily, many hypoallergenic dog food choices have been made available in recent years.
Goldendoodle Guide: Are Goldendoodles High Maintenance?
Symptoms of Food Allergies in Goldendoodles
Goldendoodles with food allergies may experience a wide variety of symptoms. Not every dog will experience all symptoms while others may. The most common symptoms to watch for are skin irritation and gastrointestinal problems. However, other less common symptoms may occur involving different parts of the body.
Goldendoodle Food Recommendations: Best Puppy Food for a Goldendoodle and Best Dog Food for Goldendoodles.
Skin Symptoms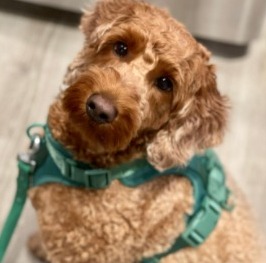 Problems involving the skin are the most common symptom among Goldendoodles with food allergies. Many dogs experience multiple of these symptoms when having an allergic reaction.
Hair Loss
Itchiness (typically around ears and paws, but can be found in other areas)
Dry skin leading to scaliness
Hives
Inflammation
Redness (widespread around the paws, lips, ears, and face)
Constant licking and biting of the skin
Gastrointestinal Symptoms
Your Goldendoodle's gastrointestinal tract is responsible for the consumption and digestion of food products. Therefore, when allergic reactions occur, the gastrointestinal tract is often directly affected.
Vomiting
Diarrhea
Nausea
Urinary tract infections
Loss of appetite
Bloating
Weight loss
Other Common Symptoms
Although skin issues and gastrointestinal problems are the most common symptoms, there are still many other symptoms to note if you suspect your dog has a food allergy. These symptoms relate to different parts of the body: from the sinuses to the brain and everything in-between; food allergies can cause problems across your dog's whole body. Additionally, dogs who are suffering from food allergies may display undesirable behaviors and become aggressive.
Watery eyes
Runny nose
Frequent sneezing
Snoring
Coughing
Seizures
Weakness
Restlessness, aggressiveness, and anxiety
Frequent shaking of the head
Testing For Food Allergies
Food allergies differ significantly between individual dogs. Therefore, what negatively affects one dog may not have any effect on another. These allergies can also sometimes be mistaken for environmental allergies as they can cause common symptoms. Therefore, testing has been developed that determines the actual allergy your dog is suffering from. If you suspect your dog has an allergy, contact your veterinarian, who will arrange for your dog to be tested and treated for the proper problem.
Why Do Goldendoodles Have Allergies?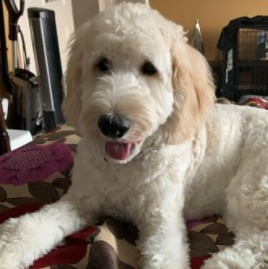 Any dog can suffer from allergies regardless of the breed. However, some are more prone to allergies than others because of their genetics. Golden Retrievers are one of the breeds that are more sensitive than others. Goldendoodles, made of Golden Retriever and Poodle, inherit some of the most common allergies found among Golden Retrievers.
However, genetics is not the only factor contributing to your Goldendoodle's food allergy. As mentioned above, frequent exposure to specific foods–mainly animal proteins–can cause intolerance over time. Additionally, studies have linked the use of antibiotics during puppyhood to the development of allergies. This is because the growth of healthy bacteria in the stomach is altered, which can have lasting effects on digestion and immune response to certain foods.
Conclusion For "Common Goldendoodle Food Allergies"
As you can see, there are quite a few common food allergies found among Goldendoodles. Luckily, there has been tremendous progress made in developing allergy-friendly food for all dogs. If you suspect your dog has a food allergy, don't panic. Instead, look for the common symptoms and bring your dog to a veterinarian if you suspect it is suffering from allergies. Allergies can be easily diagnosed, treated, and prevented, allowing your dog to live a happy and healthy life.
For more dog allergy-related guides, you can check out:
To learn more about a dog's allergy and how to treat them, watch "Ways to Stop a Dog's Itchy Skin Naturally" from Rachel Fusaro down below: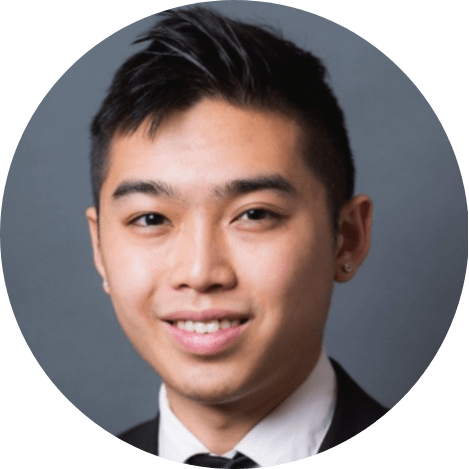 Andy is a full-time animal rescuer and owner of a toy doodle. When he's not saving dogs, Andy is one of our core writers and editors. He has been writing about dogs for over a decade. Andy joined our team because he believes that words are powerful tools that can change a dog's life for the better.
Why Trust We Love Doodles?
At We Love Doodles, we're a team of writers, veterinarians, and puppy trainers that love dogs. Our team of qualified experts researches and provides reliable information on a wide range of dog topics. Our reviews are based on customer feedback, hands-on testing, and in-depth analysis. We are fully transparent and honest to our community of dog owners and future owners.