Goldendoodles are amazing dogs that are so cuddly and cute they remind us of a childhood stuffed animal! Due to their coloring and fur patterns, many people have drawn comparisons between Goldendoodles and teddy bears— talk about the perfect puppy. Here's what you need to know if you're searching for the best Goldendoodle rescues in New Jersey.
In addition to looking adorable, Goldendoodles also have a wonderful disposition. These dogs are a designer hybrid between the Golden Retriever and the Standard Poodle, and they genuinely possess the very best qualities from each breed. Goldendoodles are intelligent, healthy, affectionate, playful, outgoing, high energy, and low shedding.
This perfect blend of qualities makes Goldendoodles an excellent companion for anyone, and they also make fantastic family dogs. Thanks to their high intelligence and loyalty, Goldendoodles are easy to train and eager to please their owners, which is one of the things that makes them great dogs for owners of any experience level.
One of the other great things about Goldendoodles is that they are extremely low shedding. Their hair is similar to that of a Poodle, meaning they virtually never shed. For many, this makes them great options for those who love dogs but are highly allergic. Goldendoodles are often described as being "hypoallergenic."
If you love Goldendoodles and would love to add one to your family, it can feel a bit hopeless to see these high prices for puppies from breeders, but did you know there are other options you can explore? Many people are surprised to learn that you can adopt purebred dogs from shelters and dog rescues, and the Goldendoodle is no exception.
Before scrolling down this list of Goldendoodle rescues in New Jersey, check out these other recommendations from our team at We Love Doodles: Best French Bulldog Rescues in New Jersey and Best Golden Retriever Rescues in New Jersey.
Find a Goldendoodle Rescue Near Me in New Jersey
Many animal shelters see purebred dogs all the time, but they can be easy to miss if you aren't watching closely. Often, shelters will have an online database of available dogs that you can search to see if any of the breeds you're interested in are available, but you can also call the staff and ask them to keep an eye out for you.
Looking for certain breeds at dog rescues is a great option. Many people who know this will search high and low for these breeds in shelters and either force them to breed or sell the dogs for a profit. Even breed-specific rescues focus solely on rehoming dogs of specific breeds. They do this because many purebred and designer hybrid dogs are prevalent and worth a lot of money.
Breed-specific rescues are dedicated to ensuring that dogs aren't at the mercy of people who might take advantage of them simply because they are popular breeds. If you live in New Jersey and are looking to adopt a Goldendoodle, then you've come to the right place. We took the time to research Goldendoodle rescues in your state, and we compiled a list of our favorites.
Goldendoodle Product Recommendations: Best Dog Food For Goldendoodles and Best Grooming Tools For Goldendoodles.
1. Real Dog Rescue
Real Dog Rescue in Oakland, New Jersey, is an amazing dog rescue that genuinely cares about the lives of dogs everywhere. This rescue works diligently to rescue, rehabilitate, and re-home as many dogs as possible.
To achieve this goal, they rely on the dedicated support of their team of volunteer foster homes. Well-qualified veterinarians thoroughly check out each dog that comes through Real Dog Rescue before the pups are assigned to a loving foster family.
These foster families work hard to show the dogs the love and care they deserve while acclimating them to life in a home setting. If necessary, Real Dog Rescue will also provide behavioral training for any dogs who may need it to ensure a smooth transition to their forever homes.
Real Dog Rescue Details
2. Home For Good Dog Rescue

This New Jersey-based rescue is another remarkable dog rescue in the Northeast. This rescue is also totally foster-based and relies on the tireless support from their team of foster families. Since they first opened 11 years ago, Home for Good has saved the lives of over 10,000 dogs in the New Jersey area.
Most of their dogs are rescued from shelters in the southern states that have high-kill rates and huge problems with overpopulation. All dogs are given a medical checkup and provided with whatever medical care they may need before being placed in a foster home. At the same time, they await adoption into their forever families.
Home For Good Dog Rescue Details
3. Atlantic County Canines

Last on the list of the best Goldendoodle rescues in New Jersey is Atlantic County Canines. Atlantic County Canines is a certified non-profit independent rescue in the New Jersey area. This rescue was first founded in 2006 and has only grown since.
The rescue is run exclusively through dedicated volunteers passionate about helping dogs live their best lives. They work to rescue and re-home shelter dogs at risk of euthanasia at high-kill shelters in the area. All dogs are given the medical and behavioral care they require before being listed for adoption.
Goldendoodles are placed in foster homes to provide personalized attention and care and to get each dog acclimated to life with a family. At their foster homes, they are exposed to social and environmental stimuli that they would be likely to encounter with their forever family, making their transition as smooth as possible.
Atlantic County Canines Details
Are You Ready for a Goldendoodle From New Jersey?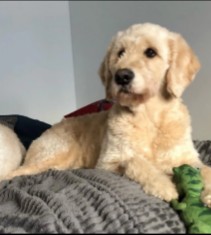 Owning a dog is exciting, but it requires a lot of time and money to care for one properly. Overcrowding in shelters is a huge problem. One of the contributing factors is optimistic owners who surrender their dogs once they realize they can't properly care for them.
To avoid this situation, you must take the time to reflect on whether you're really at a place in life to care for a dog in the way it deserves. If you have doubts about it, we suggest communicating with a friend who owns a dog about their experience.
It's beneficial to chat with someone who is at a similar stage in life to you because they will be able to provide advice within the scope of your situation.
Be sure to ask them many questions about their experience, including the most challenging parts of dog ownership, how much they pay per month for their dog's food and other needs, and what they wish they knew before they adopted a dog.
Goldendoodle Guides: Common Goldendoodle Food Allergies.
Goldendoodle Puppy Proof Your Home in New Jersey
Another critical step to take before bringing home your doodle is to make sure your living space is safe for your new dog to explore. Dogs are curious and love to taste and smell new things.
This can get them into trouble if they accidentally ingest something toxic. To avoid this, be sure to put away all hazardous materials, including cleaning supplies, medications, and human foods.
Goldendoodle Guides: Best Pet Insurances For Goldendoodles and Best Toys For a Goldendoodle.
Frequently Asked Questions
Why are there so many Goldendoodles in rescues?
Goldendoodles are sweet and loving dogs, but not all would-be owners are prepared for the commitment to take care of one. Dogs are surrendered to shelters when:
There are many other reasons, but you'll notice that none of these reasons are the dog's fault! Pups in rescues are often there through no fault of their own – they're waiting for a loving owner like you to rescue them.
Are there "cons" to owning a Goldendoodle?
A Goldendoodle, like any other pet, will cost you time and money. Vet care, grooming, and the basics aren't cheap, and you'll need to make sure you're prepared for the expenses. Additionally, Goldendoodles are playful but that can lead to mischief. Be sure your pup has plenty of toys to keep him entertained while you're away.
What is the average lifespan of a Goldendoodle?
When properly cared for, given the right food, and granted access to regular vet visits, your Goldendoodle will live to be between 10 and 15 years old.
Conclusion For The "Best Goldendoodle Rescues in New Jersey"
Owning a dog is so exciting, and adopting one is a wonderful way to make a significant impact on the life of a living creature. We're so excited about your doodle adoption journey, and we hope you found this list helpful during your search.
For more guides similar to this list of Goldendoodle rescues in New Jersey, you can check out:
Before you adopt a Goldendoodle from a rescue shelter in New Jersey, you can learn more about the breed by watching "Goldendoodle Dog Breed Guide" down below: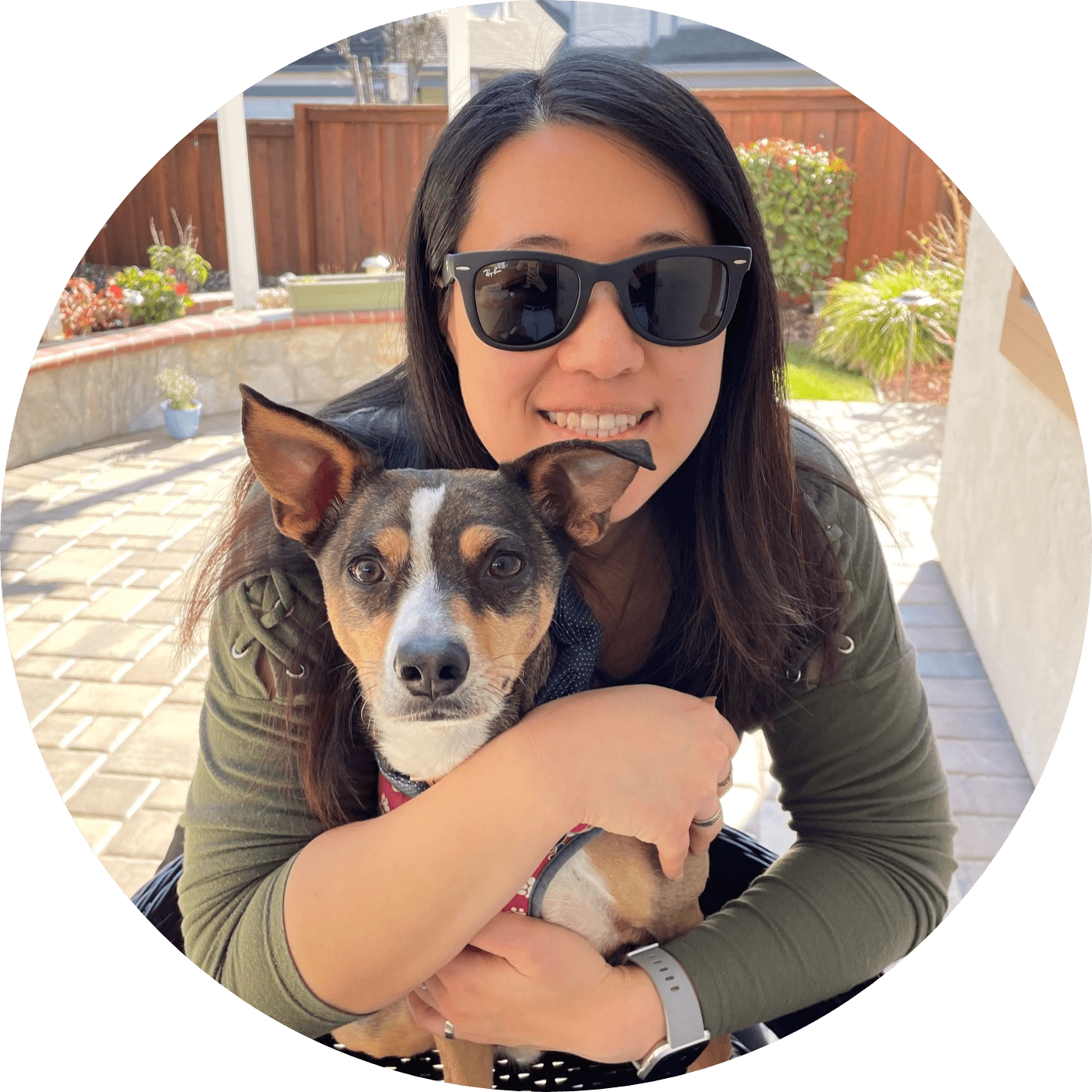 Dr. Sabrina Kong graduated from the Royal Veterinary College in England in 2016 and has been working at a small animal clinic in Northern California since then. She grew up in the Bay Area and got her bachelor's degree from Cal Poly San Luis Obispo. She also became a Certified Canine Rehabilitation Practitioner through a program at the University of Tennessee.
When she isn't in the clinic taking care of her four-legged patients, she enjoys traveling and trying new foods with her friends and her three-legged dog, Apollo. She adopted Apollo from her clinic when he was a puppy with numerous health issues. Dr. Kong truly cares about taking care of animals.