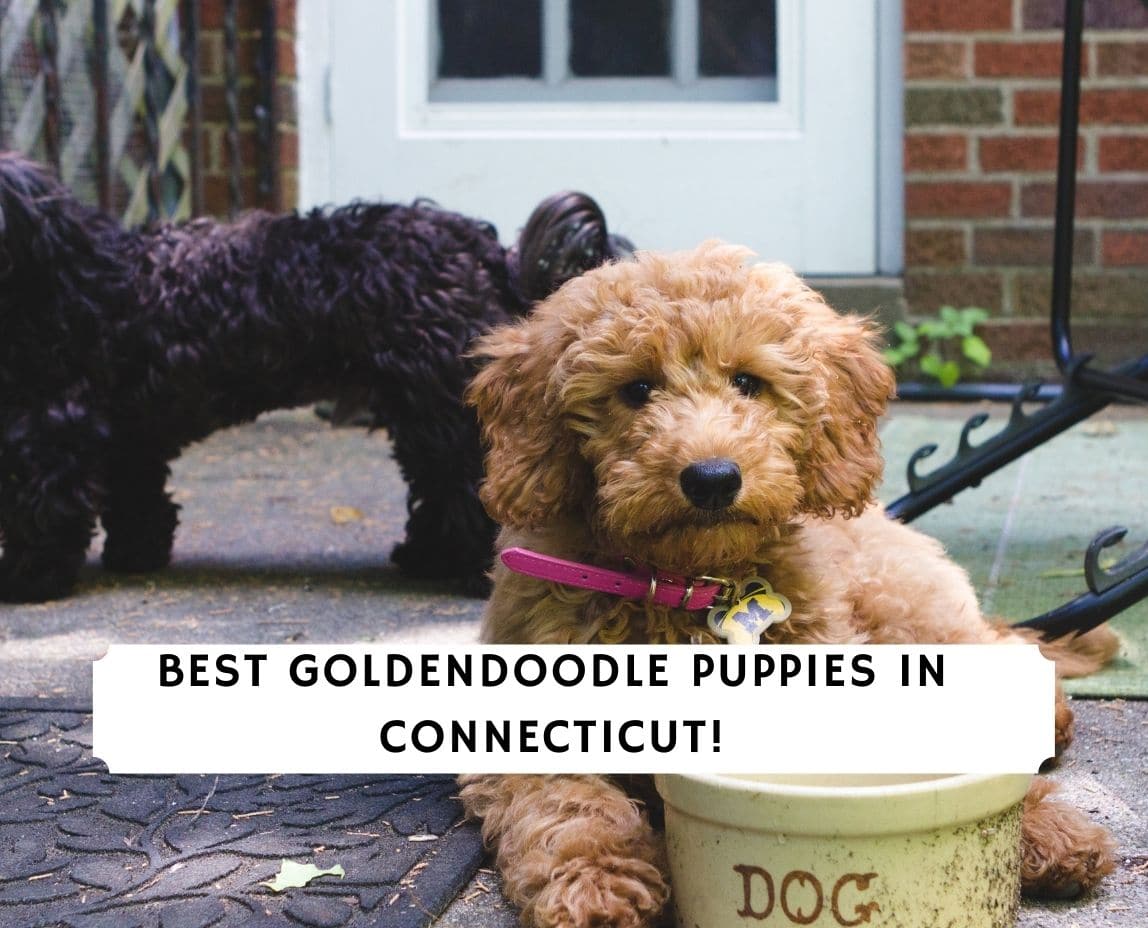 There's a very good reason why you're searching for the best Goldendoodle puppies in Connecticut. After all, they possess the friendly personality of a Golden Retriever and the hypoallergenic qualities of a Poodle. The Goldendoodle is a hybrid breed that is produced by crossing the Golden Retriever and the Poodle. These dogs are well known for their friendly and intelligent temperament along with their beautiful, non-shedding coat.
Before scrolling down the list of Goldendoodle puppies in Connecticut, we think you might like: Cavapoo Breeders in Connecticut and Poodle Breeders in Connecticut
Goldendoodle Breeders in Connecticut
If you live in Connecticut and have decided that a Goldendoodle is the dog for you, you're in luck! Many Goldendoodle breeders in your state are more than willing to help you with any of your Goldendoodle needs. Below is a list of reputable Goldendoodle breeders. So if you are ready to welcome home new Goldendoodle puppies in Connecticut, contact one of these breeders to get started.
We have recommendations of Goldendoodle products to help make your journey easier: Best Comb For a Goldendoodle and Best Dog Bed for a Goldendoodle.
1. Powderhill Puppies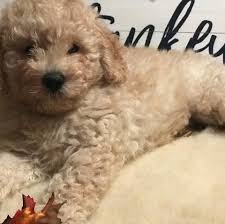 First on the list of sources of Goldendoodle puppies in Connecticut is Powderhill Puppies. At Powderhill Puppies, every dog is treated with endless love and care. With nearly 40 years of dog breeding experience, Powderhill Puppies has perfected the creation of beautiful and healthy Goldendoodles. Every puppy is well-socialized among the family's children and adults, meaning these are friendly and lovable little pups from the very first day of their lives.
The demand at Powderhill Puppies is very high, so if you are interested in adopting one of these gorgeous dogs, you can call today and get your name put on a master waiting list. However, you cannot reserve a specific puppy without a deposit; you will receive news of your puppy as soon as you are at the top of the list.
Breeding healthy and happy puppies rely on using healthy parent dogs. Every parent dog at Powderhill Puppies has undergone health tests for eyes, hips, elbows, legs, and cardiac health. These dogs have also been thoroughly DNA tested to ensure that they are free of diseases that could be passed down to puppies.
If you decide to adopt a puppy from Powderhill Puppies, you'll receive a puppy package along with your new companion. The package includes a lineage chart, a written guarantee, a Certificate of Health, and a new collar. Each puppy has also been microchipped, vaccinated, dewormed, and examined by a vet before the time of adoption. If you are looking for a well-socialized and healthy Goldendoodle, Powderhill Puppies is a great breeder that can help you with all your Goldendoodle needs.
Powderhill Puppies Details
Website: Powerhill Puppies
Email: powderhillpuppies@gmail.com
Address: Old Saybrook, CT
Telephone: (860) 339-6936
2. Doodle Dandy Goldendoodles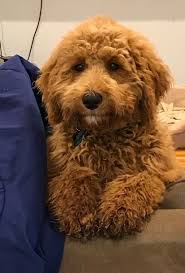 If you are looking for a Goldendoodle breeder with lots of experience, Doodle Dandy Goldendoodles is an excellent option. With over 50 years of dog breeding and training experience, Doodle Dandy Goldendoodles is among Goldendoodles' original breeders in the United States. The motto at Doodle Dandy Goldendoodles is "quality produces quality." They assess all parent dogs for intelligence, temper, balance, and genetics to provide their clients with quality Goldendoodle puppiesin Connecticut.
Every parent dog at Doodle Dandy Goldendoodles undergoes X-rays, ultrasounds, and DNA tests for all breed-specific ailments. Healthy parents mean healthy puppies, so these tests ensure that you will receive a healthy puppy. Doodle Dandy Goldendoodles deliberately maintains only a small breeding program so that all dogs can be born and raised in the family home. All dogs at Doodle Dandy Goldendoodles receive lots of exposure to humans of all ages.
This exposure will ensure that you receive a calm and well-socialized puppy. Keeping the puppies in the home also helps to begin them on litter training. Although the puppies are too young to be fully trained, this early exposure can make training easier at an older age. If you want a Goldendoodle puppy from Doodle Dandy Goldendoodles, complete a puppy application on their website today!
Doodle Dandy Goldendoodles Details
3. New England Doodles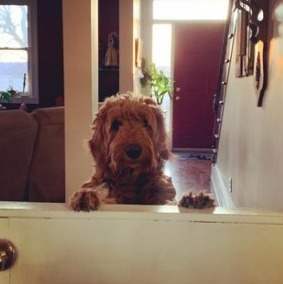 Located in Southern Connecticut, New England Doodles focuses on providing all customers with high-quality Goldendoodle puppies. At New England Doodles, all puppies are born and raised in the family home, making them different from other farm-raised puppies. These dogs are treated as family pets and are exposed to human contact from day one, making them amiable dogs.
If you are curious about the adult dogs used for breeding, you can view a list of dams and sires on their website. For each dog, you can see a photograph and a small biography. These biographies give a short description of each dog, which can give you a good idea of your puppy's adult personality. This page also specifies what health tests each dog has undergone to ensure the health of the puppy.
At New England Doodles, providing you with the perfect match for your family is their main priority. Every puppy has been treated as a family member from the very start, so they are well-prepped for love and affection. If you think this sounds like the dog for you, visit their website to view current and upcoming litter. Contact them today to get added to the future litter list and get one step closer to welcoming home the new member of your family.
New England Doodles Details
Website: New England Doodles
Email: NewEnglandDoodles@yahoo.com
Address: Milford, CT
Telephone: (860) 748-6773
4. Once Upon a Time Goldendoodle Acres
Last on the list of Goldendoodle puppies in Connecticut is Once Upon a Time Goldendoodle Acres. Once Upon a Time Goldendoodle Acres's priority is knowing where your puppy comes from; they don't use guardian homes for parent dogs but choose to breed their family pets instead. This is a reputable breeder with over 18 years of experience breeding and raising dogs at home and on the family farm.
Parents' health and comfort are a high priority, so they keep all parent dogs as family pets. This allows them to monitor for any health problems. All parent dogs are healthy, and DNA tested to prevent illnesses from being passed down to puppies. They also know the lineage of each dog so that they can answer any questions about bloodlines.
All puppies have undergone veterinarian check-ups, vaccinations, and deworming before the time of adoption. When receiving your puppy, you will also receive a toy with the mother's scent and litter on it to make the transition to a new home easier.
You will receive a bag of their current puppy food, chew toys, and an adoption certificate. If you want a Goldendoodle puppy from guaranteed healthy and pampered parent dogs, then contact Once Upon a Time Goldendoodle Acres today.
Once Upon a Time Goldendoodle Acres Details
Pet Stores and Local Shelters

Goldendoodles are a popular dog breed, and you have many options when adopting one of your own. If you decide that adopting directly from a breeder isn't for you, you may want to check out a pet store or local shelter for a Goldendoodle puppy.
When adopting any puppy, choosing the right pet store is critical. When making this decision, ensure that the pet store you choose follows ethical procedures. Some pet stores do not follow state safety and health standards, resulting in adopting an unhealthy puppy.
Because dogs are not directly bred at pet stores, make sure to ask the pet store what breeder they use for their puppies; this will ensure you do not receive a dog from a puppy mill. It would be best to ask for any records the pet store has on the parent dogs used when breeding. Asking these essential questions will give you a good understanding of whether a pet store is an excellent place to get a puppy or not.
Visiting a local animal shelter is another option you can pursue when looking for a Goldendoodle to adopt. Some people adopt puppies without considering the responsibility needed; this results in dogs and puppies being surrendered at shelters.
Most dogs at shelters are not puppies anymore, so keep that in mind if you're specifically looking for young dogs. Many people will surrender older dogs because of health issues or decide they do not want the dog once it's not a puppy anymore. By visiting a local shelter, you will be able to interact with Goldendoodles of all ages. You might decide that giving an older dog a second chance is a better option for you compared to adopting a young puppy.
For any interests in adopting a Goldendoodle from a shelter or rescue, check out: Rescue Goldendoodles for Adoption and Poodle Rescues For Adoption in the USA.
Frequently Asked Questions
Do Goldendoodles bark a lot?
Some Goldendoodles are chatty while others are very quiet! The amount your pup barks will depend quite a bit on his unique personality, but overall Goldendoodles aren't prone to excessive barking. Train your dog early and teach him what is a danger and what is not. This will help mitigate annoying vocals!
Do Goldendoodles shed?
Goldendoodles have a Golden Retriever parent and one Poodle parent. Poodles shed very minimally, if at all, and they have hair instead of fur. This makes them largely hypoallergenic and unlikely to upset those who are allergic to dogs. 
Golden Retrievers, on the other hand, shed quite a bit, and can get smelly! Because your dog has genes from each parent, there is a possibility that he may shed a bit. Ask your breeder about the dog's lineage before you adopt. The kennel can help you determine how likely your Goldendoodle puppy is to shed. 
Can Goldendoodle puppies in Connecticut be left alone?
You shouldn't worry too much about leaving your dog alone while you work or play. So long as you provide her with ample water, a well-trained Goldendoodle is unlikely to develop anxiety or get into trouble while you're away. Give your dog exciting toys to keep her busy while she's alone, and rotate those toys to decrease your furbaby's loneliness. 
Conclusion for "Goldendoodle Puppies in Connecticut"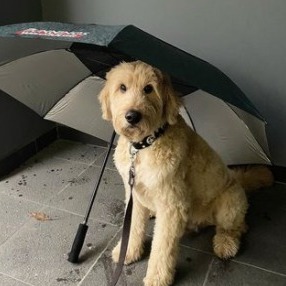 As you can see, there are many options for those looking to adopt Goldendoodle puppies in Connecticut. Whether you decide to get your new puppy from a pet store, animal shelter, or straight from a breeder, be sure to enquire about the health procedures that are followed to get the healthiest and happiest dog possible. If you are ready to welcome home a lovable, intelligent, affectionate, and easily-trainable puppy, then start your journey to finding a Goldendoodle today!
For more information about the Goldendoodle dog breed, check out:
If you're still deciding on a dog breed, here are other recommendations in Connecticut:
To learn more about this Doodle breed, watch "Goldendoodle Personalities and Traits" from Ozark Mountain Goats down below: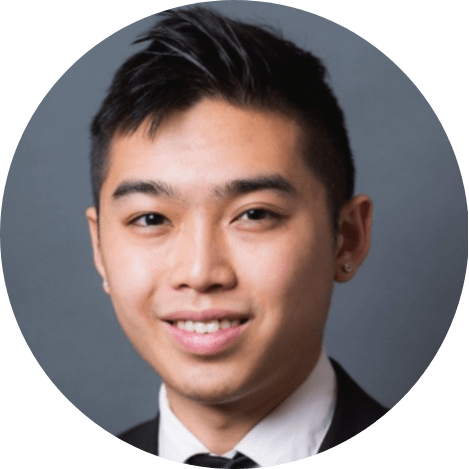 Andy is a full-time animal rescuer and owner of a toy doodle. When he's not saving dogs, Andy is one of our core writers and editors. He has been writing about dogs for over a decade. Andy joined our team because he believes that words are powerful tools that can change a dog's life for the better.
Why Trust We Love Doodles?
At We Love Doodles, we're a team of writers, veterinarians, and puppy trainers that love dogs. Our team of qualified experts researches and provides reliable information on a wide range of dog topics. Our reviews are based on customer feedback, hands-on testing, and in-depth analysis. We are fully transparent and honest to our community of dog owners and future owners.