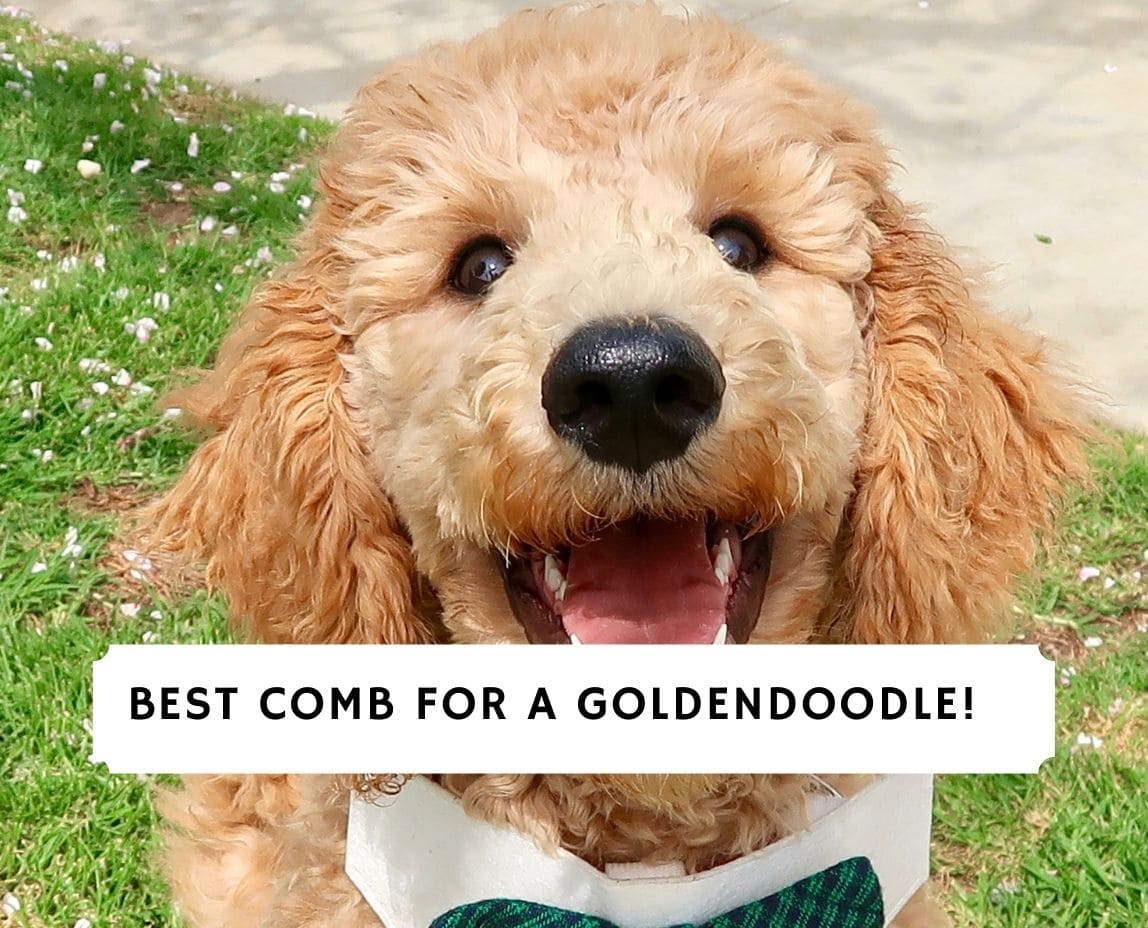 Goldendoodles are adorable designer dogs that are a cross between a purebred Poodle and a Golden Retriever. Since most Goldendoodles have a significant amount of Poodle genetics, they are hypoallergenic and rarely shed. Thus, they are a great choice for those people who have mild pet allergies. However, one of the major downsides of a nonshedding and hypoallergenic dog is that they need to be groomed.
In order to prevent mats and tangles, you will need to find the best comb for a Goldendoodle. The combination of a good steel comb and a slicker brush will help prevent your Goldendoodle from matting! We've tested every comb on our list on our F2B Goldendoodle!
Looking for a Slicker Brush? Check out our article on the Best Brush for a Goldendoodle!
In a rush? Here are the top picks!
Image
This comb will help keep your Goldendoodles fur smooth and tangle-free all day long. It is suitable for all types of fur, including thick and curly fur types or wavy dog hair. The teeth of the comb two inches in height and thick enough to help you de-mat your Goldendoodle. You can also easily and gently remove tangles, loose hair, dander, and trapped dirt from the fur coat of your dog.
This comb comes in a pack of two. One comb is slightly smaller (five inches in length), and the other is seven inches long. You can use the smaller one on harder to reach areas of your Goldendoodle such as the neck, ears, and legs. The bigger comb can be used on its back, belly, and sides.
You should not be worried that the sharp teeth of the comb will hurt your Goldendoodle. The ends of the teeth of this comb are round and smooth. Your dog won't just look smooth, but regular brushing with this dog comb will also improve their health. When you comb the hair from the skin to the tip of the hair, the blood circulation will improve, and you help spread out their skin oils. This will make the fur coat shinier and soft.
The handle of the comb consists of rubber and is anti-slip. Therefore, the grip is comfortable and will prevent any strain and pressure on your hand and wrist. Furthermore, the handle of this brush is light purple and soothing to the eyes. Overall, we think these dog combs for a Goldendoodle are not only cheap but also will last you a long time!
This pet comb is perfect for Goldendoodles with a long fur coat. Add this comb to your dog's regular grooming schedule, and they will surely have fewer mats. With this comb, de-matting your Goldendoodle is easy because the comb is sturdy and heavy-duty.
This comb's teeth are closely put together on one side and slightly loose on the other side. You can try to pick out the hard tangles with the loose side first. When you feel like the combing is easier, you can use the other end and brush the fur from the skin to the tips of the hair. This comb is 7.3 inches long with teeth that are 1.8 inches in height. These teeth are rounded and smooth rather than sharp, unlike other de-matting combs.
The rubber handle of the comb is anti-slip and very comfortable to hold. It is also wide and long, which is why your wrists and hands will not be sore after using it. This comb will keep the fur of your Goldendoodle not just tangle-free and shiny but also healthy.
To make sure that you use the comb the right way and effectively, this comb also comes with an e-book. This e-book details the proper way to use the comb and groom your Goldendoodle. Just so you don't have any doubts about the comb's quality, it comes with a lifetime guarantee. If you are not satisfied with the product at any point, you can always ask for a replacement or refund. Overall, we ranked this as the second-best dog comb for a Goldendoodle.
Andis is one of the most popular dog grooming suppliers in the entire world. This sturdy stainless steel comb is very effective in gently taking out mats, loose hair, tangles, and dirt. It is ideal for curly and thick fur like the Goldendoodle has.
This dog comb comes in two sizes; you can buy it in 7 ½ inches and 10 inches lengths. The price difference, however, isn't much. The comb's teeth are 4 cm long (1.57 inches), which is good enough for deeper mats and tangles.
Since the Andis steel grooming comb has both narrow and wide teeth, you can first try to take out the tangles with the wide teeth and then properly groom the coat with the narrow side of the comb. It is perfect for finishing and fluffing the hair of your Goldendoodle. Additionally, this dog comb is made of steel, but it is very lightweight, putting less strain on your wrist. Users love this product for the long fur coat of their Goldendoodle. 
If your Goldendoodle has long and thick fur and gets easily tangled up, you must keep this product in mind. It will tackle mats, tangles, loose hair, and any dander and dirt in the fur coat of your dog like no other.
It has both short and long teeth placed together for efficiently and gently combing the fur. Moreover, it will reduce combing time significantly. We know that we said that it is perfect for long hair, but you can also use it for short hair. 
The thing that we liked the most about this comb is its ergonomically designed handle. The handle has an anti-slip coating and is long and wide. Hence, there will be no chances of accidentally hurting your wrist with this comb. The handle of this comb is light purple, and the rest of the comb is white except for the metal teeth.
The teeth of this comb are long, rounded, and smooth at the tips. Therefore, it will be very gentle on the skin and hair of your loved pet. The teeth consist of 100% stainless steel, so they are very durable. They won't break or fall out with time. Lastly, there are no hard spots on this dog comb, so it is also very easy to clean.
This comb is not much different from the Andis steel comb because it is made of steel, including the handle. The Coastal Pet Comb is colorless, very sturdy, and very generic. Coastal Pet is an Ohio-based company that has been in this industry for 50 years, so they are highly reputable.
This comb is suitable for the long and thick fur of a Goldendoodle. It has coarse and fine teeth with wide and narrow spacing. Grooming your dog would be very easy and fast with this comb. This lightweight and durable comb has also deservedly been in the market for almost 20 years.
The teeth of the comb are long and have rounded tips. Hence, the rotating teeth will penetrate all the way to the skin in the fur and will gently detangle and de-mat your dog's fur. Additionally, the length of this comb is 7 ¼ inches long which is great for miniature Goldendoodles or standard Goldendoodles. Your pet will have healthy and shiny fur after grooming them!
This comb comes with a small triangular hanger at one end, so you can easily hang it around the house. It's very affordable and makes a great addition when paired with a slicker brush!
Goldendoodles' Fur Coat
One of the most adorable features of these hybrid dog breeds is their fur coat. The color of the fur coat can be gold, red, cream, gray, black, and dark brown. Additionally, depending upon which genes they get from their parents, Goldendoodles may have a straight, wavy, or curly fur coat. Some Goldendoodles, however, have smooth fur coats that are easy to maintain and don't need to be brushed as often. However, if your Goldendoodle has a wavy or curly coat, they will require regular brushing and bathing to prevent mats and tangles.
Goldendoodles are very playful and energetic dogs that love water. When the water mixes with dirt and gets stuck in the fur of your dog, it's the perfect recipe for matting. Additionally, Goldendoodles have topcoats and undercoats in their fur. Mats form in the fur coat when the topcoat, undercoat, and loose hair tangle together. If you don't regularly comb your Goldendoodle, mats will start to gradually get thicker.
Mats can be very painful for your dog. If you don't address them properly, the mats will lock against the skin and get tighter and harder. The best way to get rid of these thick mats is to comb your Goldendoodle.
Conclusion for Best Comb for a Goldendoodle
Combing is an integral part of the grooming schedule of your Goldendoodle. If you want your dog's hair to be healthy, clean, and not tangled, you will need to comb them regularly. Mats can cause significant discomfort to your Goldendoodle and they only become thicker and more difficult to remove. We have listed the top five combs for Goldendoodles with long and thick fur in this article. They will be a perfect addition to the regular home grooming sessions of your dog!
Other articles you would like:
Frequently Asked Questions (FAQs)
1. How often should I groom my Goldendoodle?
If you are new to grooming, then you should probably meet a professional groomer and have them examine your dog. The groomer will observe everything and tell you what you have to do to keep your Goldendoodle's fur in perfect condition. If your Goldendoodle has long and curly fur, it'll require more frequent grooming. If your Goldendoodle has straight hair that sheds, they will require less grooming. In general, you should aim to groom your Goldendoodle a few times per week.
2. What do I prevent mats from forming at home?
Mats can be very painful for your dog. If your Goldendoodle is playful and loves water, it'd be even easier for the fur to get mats. Therefore, as a responsible owner, you must take every preventive measure to not let that happen. Regular brushing with a de-matting comb that we have shared here with you will prevent mats from forming. It will also promote the health of your dog's fur.
3. Where do Goldendoodles mostly get mats?
Goldendoodles mostly get mats behind the ears, outer thighs, sides, base of the tail, lower back, joints, and armpits.
4. Are mats painful for dogs?
Yes, mats can be very painful for your dog. Hence, if you don't pay proper attention and regularly groom your dog, it'll get worse. The mats stick to the skin of your dog and also get tighter and harder with time. They will pull on the skin and hurt if the dog makes movements.
Garrett loves animals and is a huge advocate for all Doodle dog breeds. He owns his own Goldendoodle named Kona. In addition, he volunteers at the Humane Society of Silicon Valley, where he fosters dogs and helps animals. Garrett enjoys writing about Doodles and believes that dogs can teach humans more about how to live than humans can teach a dog.
Why Trust We Love Doodles?
At We Love Doodles, we're a team of writers, veterinarians, and puppy trainers that love dogs. Our team of qualified experts researches and provides reliable information on a wide range of dog topics. Our reviews are based on customer feedback, hands-on testing, and in-depth analysis. We are fully transparent and honest to our community of dog owners and future owners.