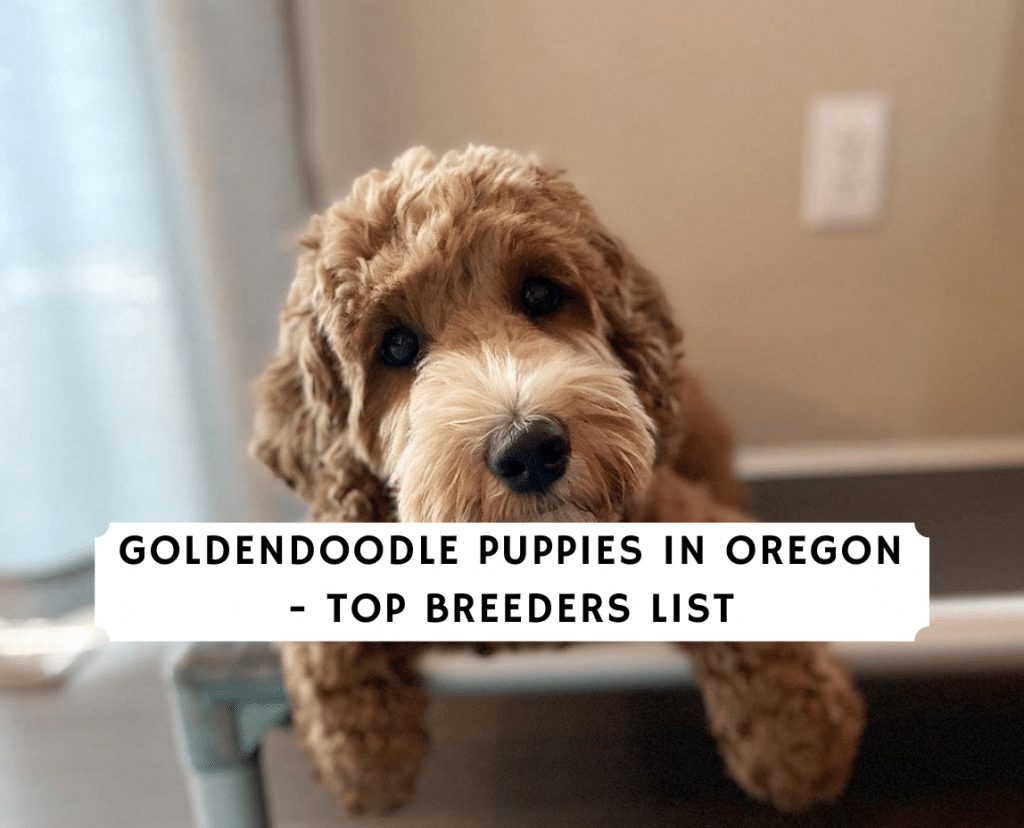 Goldendoodle puppies are some of the best family dogs and get along great with children. They have a gentle temperament and don't shed hair like a purebred Golden Retriever because of the genetic traits they inherit from the Poodle. If you're looking for Goldendoodle puppies in Oregon, we have compiled a list of some of the best breeders.
We have done some extensive research and consulted with many different breeders from around the state. We tried not to include any puppy mills, but breeding practices always change so make sure you ask questions before you commit to purchasing a puppy. If possible try to purchase from a member breeder of the Goldendoodle Association of North America (GANA). Here is our list of the best Goldendoodle breeders in Oregon.
1. Wonderland Goldendoodles Oregon
Wonderland Goldendoodles is located in Eugene, Oregon, and is the only breeder that is a member of the Goldendoodle Association of North America (GANA). This means that they strictly adhere to the ethical breeding practices laid out by the association. They are also required to do extensive health and genetic testing to make sure that they are breeding Goldendoodle puppies free of genetic diseases.
From the website, they currently only have one breeding pair which means that they only have one or maybe two litters a year. This Goldendoodle breeder in Oregon is also working on expanding to a guardian program which means that other families will be raising their dogs. They will only use the Goldendoodles for breeding purposes.
This indicates that they are going to start growing their breeding program. If you're interest, you can apply to become a guardian if you meet all of the qualifications. Typically, if you become a guardian Goldendoodle owner, your dog will be discounted or free.
If you want to purchase a puppy from Wonderland Goldendoodles in Oregon then you will need to fill out an application. This will also require a deposit of $500 which is not refundable. The deposit does go to the purchase price of $2800 for a Goldendoodle puppy. Their Goldendoodle puppies in Oregon are matched based on a family questionnaire and the temperament of the puppy.
Goldendoodle Puppy Information
Goldendoodle Breeder Details
2. Tamarack Ridge Goldendoodles
Tamarack Ridge Goldendoodles is a small family operation that involves the entire family. They are located in Tamarack Ridge, Oregon and serve much of the Pacific Northwest area. Even families from Washington State come to Tamarack Ridge to purchase their Goldendoodle puppies.
The website doesn't say how long they have been breeding Goldendoodles but they do have a range of males and females in their program. Some of the dogs are loaned out by other breeders in the area for the sake of diversifying the bloodline. Other Goldendoodle dogs live on-site while there other males and females live comfortable lives in their guardian family.
If you are interested in becoming a guardian family then you can fill out the application on their website. Just make sure you meet the qualifications before you apply. Typically the families need to live within 100 miles of the breeder since the dog will return for breeding and whelping. Being a guardian is a great way to get a cheaper or discounted Goldendoodle puppy in Oregon.
Their website does not say how much the puppies are. However, they do specify the deposit and terms of the deposit. Most breeders only have non-refundable deposits. However, this isn't the case with Tamarack Ridge Goldendoodles. They actually have instances when the deposit can be returned fully or partially.
If you have put your name on the waiting list and paid your deposit, but the breeder doesn't have a Goldendoodle puppy for you then they will return your deposit in full. You can get half of your money back if you change your mind and haven't committed to a Goldendoodle litter. However, if you have committed to a litter after it is born and then decide you don't want the puppy then the deposit is not refundable.
This Goldendoodle breeder in Oregon does encourage potential puppy owners to contact them with any questions. They are happy to talk to interested parties and answer all the questions that you may have.
Goldendoodle Puppy Information
Goldendoodle Breeder Details
3. Portland Goldendoodles
Portland Goldendoodles appear to be a large breeding operation based on their website. They claim that they use no kennels or barns to raise their Goldendoodles. The owners say that the dogs and puppies are raised and live in their own home in Portland, Oregon.  We were curious about this because it is hard to imagine large dog breeding operations living in one home. Since they don't use guardian programs we wanted to know more.
After doing some more research, they actually only have one male and three females. They do utilize a stud from another breeder for one of their females but this practice is typical to diversify genes and bloodline. In fact, their male that lives on-site as a member of the family is from their first breeding pair. The first Goldendoodle breeding pair is now retired which means they have been breeding these dogs for quite some time.
Portland Goldendoodles does have reserve spots available for some of their upcoming litters. However, to get on the waiting list you need to fill out an application to adopt a puppy. They want to make sure you will be a good fit for a Goldendoodle and can take care of them for the entire duration of their life. If your application is accepted then you will need to pay a $500 non-refundable deposit to hold your spot on the waiting list. Potential owners get to pick their Goldendoodle puppy in the order that the deposit is received.
Goldendoodle Puppy Information
Goldendoodle Breeder Details
4. Big Oak Ranch Goldendoodles OR
*5/17/2021* We can no longer recommend this breeder. There has been several complaints about changes to breeding practices.
Big Oak Ranch is located in Oregon outside of Portland in a town named Yamhill. The website does have some information about their dogs, but you will need to call and ask more questions about their breeding operation. Big Oak Ranch has been breeding Golden Retriever and Labrador crosses for years which means they are experienced breeder in Oregon.
This is definitely a larger breeding program so they do need people to serve as guardians to their Goldendoodles. They don't call it a guardian program so if you don't know what to look for on the website you will miss it. They call it their breeding program, but it is essentially the same as a guardian program.
They have several litters a year that people can choose a Goldendoodle puppy from. The deposit to get on the waiting list is $500 and it is non-refundable. In addition, there Goldendoodle puppies in Oregon do have a health check and there is a limited health guarantee on their dogs.
Once you have picked up your Big Oak Ranch Goldendoodle puppy you will want to take it to the veterinarian to have it checked out within 72 hours. This is the amount of time you will be given by the breeder to return the puppy if there is something wrong with the Goldendoodle. However, this is not something that occurs often. Big Oak Ranch claims to be very ethical and mindful of the health of the Goldendoodle adults and puppies.
They don't allow visits from people that have not paid a deposit because they don't want to put the puppies at risk of human diseases. Even those with deposits will need to make an appointment and follow the procedures to keep the puppies safe. This is one of the larger and reputable Goldendoodle breeders in Oregon.
Goldendoodle Puppy Information
Goldendoodle Breeder Details
Conclusion for Goldendoodle Puppies in Oregon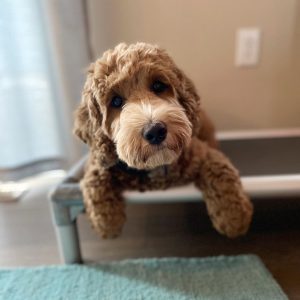 Goldendoodles puppies in Oregon are becoming so popular that breeders are having a difficult time keeping up with the demand. This has lead to the rise of several backyard breeders and puppy mills. However, we suggest that you purchase a Goldendoodle from a reputable breeder to ensure that they live a healthy and happy life. Always do extensive research, try to visit the facilities in person, and verify all health testing. Our list is a great place to start if you're looking for Goldendoodle breeders in Oregon.
Garrett loves animals and is a huge advocate for all Doodle dog breeds. He owns his own Goldendoodle named Kona. In addition, he volunteers at the Humane Society of Silicon Valley, where he fosters dogs and helps animals. Garrett enjoys writing about Doodles and believes that dogs can teach humans more about how to live than humans can teach a dog.
Why Trust We Love Doodles?
At We Love Doodles, we're a team of writers, veterinarians, and puppy trainers that love dogs. Our team of qualified experts researches and provides reliable information on a wide range of dog topics. Our reviews are based on customer feedback, hands-on testing, and in-depth analysis. We are fully transparent and honest to our community of dog owners and future owners.