Finding Goldendoodle puppies in Utah can be challenging simply because there aren't a ton of reputable breeders in this large state. In addition, since Goldendoodle are in such high demand right now due to the nonshedding and hypoallergenic genetic qualities, it's difficult to find a breeder without a waitlist. If you're looking for a Goldendoodle puppy in the Utah area, we recommend you look now and try to get on a waitlist for your future Goldendoodle puppy.
We've narrowed down the ranks to share with you some of the best Goldendoodle breeders in Utah. While there isn't a ton to choose from, we've found some really great options, and we think you will be pleased with these selections. Always make sure to do your own independent research to make sure that you don't purchase a dog from a puppy mill. Not only are you risking the future health of your puppy, but you'll be supporting unethical breeding practices.
1. Artisan Doodles Utah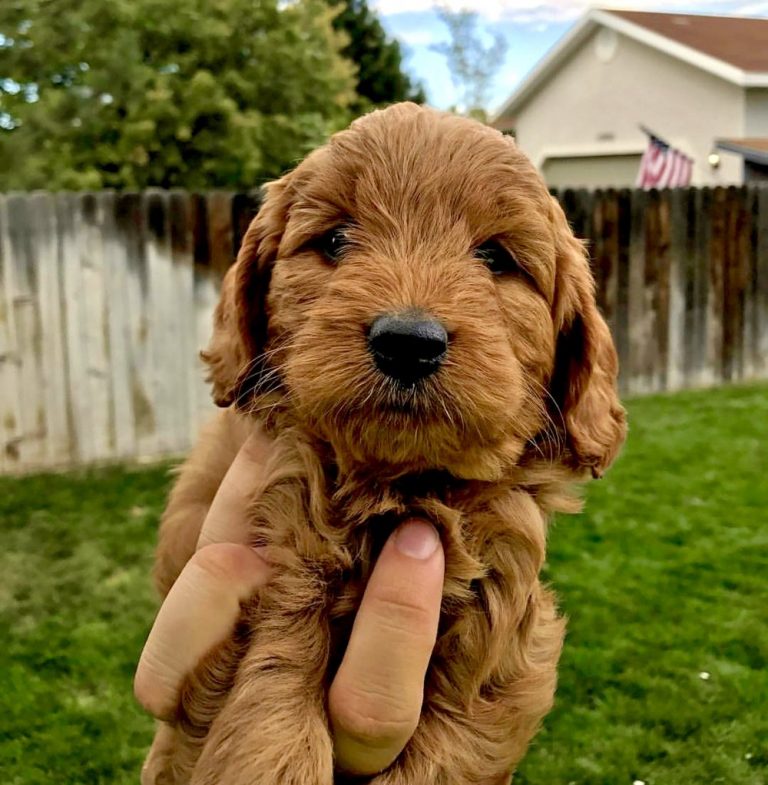 This sweet little Goldnedoodle breeder in Utah strives to make their puppies special through health testing, basic training, and a positive upbringing. Your puppy can be significantly influenced in the few weeks before they come to your home and Artisan Doodles in Utah makes the best of that time frame!
Artisan Doodles get tons of care, training, and socialization in before they send a Goldendoodle puppy to their forever home. They also start the potty training process to try to help with a smooth transition to your home where you can continue the training. Their puppies are also started on clicker training for basic commands which gives you puppies that have a steady foundation to build on if you want to continue training your Goldendoodle with a clicker.
You get the health guarantees as well as all basic wellness care like vaccinations and de-worming. The Artisan Doodle owners remain available to you for questions and help as needed as well. This Goldendoodle breeder in Utah is well-rounded and has a lot of positive testimonials.
Their website also has a chat feature and contact us pop-up if you wish to reach out. They are quite friendly and can help you answer any basic questions you have about their Goldendoodles.
Breed Details
Breeder Details
2. Highland Goldendoodles Utah
Highland Goldendoodles Utah is operated by a woman who was inspired by the dog of her childhood. She saw the joy of families adding these beloved Goldendoodle puppies to their families or even taking them as therapy dogs. Thus, she wanted to make her contribution and started her own breeding practice in Highland, Utah.
The dams and sires live in their own home and the puppies are born and raised there until they are adopted to their forever home. Their Goldendoodle puppies spend time with people of all ages and get tons of love and social interaction. You can see past, present, and future litters on her website if you want to get an idea of what your puppy could look like.
All dams and sires are appropriately registered. They come from healthy families and they have all the genetic testing that they can show you. They are F1 and F1B Goldendoodle generation breeders. They also breed their puppies in multiple sizes. Some of their retired dogs come from award-winning bloodlines.
Breed Details
Generation: F1 and F1B, multi-generational Goldendoodle puppies
Sizes: Mini, medium, and standard size Goldendoodle puppies
Breeder Details
3. Natural Goldendoodle UT
Natural Goldendoodle is a reputable Goldendoodle breeder with a lot of positive information and testimonials that you can read online. What you find is their Goldendoodle puppies are raised in a loving home with a family.
They breed both Goldendoodles and Bernedoodles. The puppies from this breeder are healthy, sweet, and come with beautiful coat colors. In addition, they use natural foods and natural immune boosters for all of their Goldendoodle puppies in Utah. They stay away from chemicals or any harmful substances that could hurt their puppies.
The puppies are raised in natural, loving environment to give them the growth and stability they need for the real world. They are taught with Puppy Culture, Avidog, and receive neurological stimulation. Despite being a large breeding company, this is a reputable Goldendoodle breeder in Utah.
Breed Details
Generation: F1 and F1B, multi-generational Goldendoodle puppies
Sizes: Small, Miniature, medium, and standard Goldendoodle puppies
Breeder Details
4. Timber Creek Doodles Utah
Timber Creek Doodles is a great place to buy Goldendoodle puppies in Utah. They specialize in miniature Goldendoodles and also have Bernedoodles. This little operation prides itself on offering superior service as well as raising healthy and beautiful mini Goldendoodles for their new families around Salt Lake City, Utah.
Genetic health testing is done on all dams and sires. In addition, all puppies get a 2-year health guarantee to prevent against genetic and hereditary issues. The Goldendoodle puppies are well socialized and worked with before they make it to their forever homes. Timber Creek Doodles raises their puppies in their home with the love of a family, much like they should be when they transition to your home.
Puppies do get some training on basic commands, crate training, and potty training. They recommend that you use a crate as a safe space for your new puppy instead of letting them sleep in your bed. They will send your puppy home with you prepared with a blanket that smells like their mom and siblings. Moreover, you'll get a health clearance from their own veterinarian.
Breed Details
Generation: F1 and F1B, multi-generational Goldendoodle puppies
Sizes: Miniature and standard medium size Goldendoodle puppies
Breeder Detail
5. Goldendoodles Utah
Goldendoodles Utah breeds and raises puppies right out of their home. They work hard to breed happy and healthy puppies using strategic planning, timing, and resources. They have their own family and pack, and they work hard to love and show them respect before breeding them. They strongly believe their dogs are not just tools, but instead part of their family.
Every Goldendoodle puppy in Utah is raised in their personal home and treated with the utmost respect. They get tons of socialization and royal treatment until they are transferred to their adoptive homes. Each puppy and dog is genetic health tested and provided a solid foundation of care, love, and support.
Just like with most Goldendoodle breeders in Utah, you will need to apply and be approved. Once you're approved, you're placed on their waitlist and then you simply wait for your puppy! They do allow viewing appointments in person or by technological means as well. This allows you to meet the parent dogs and check out their facilities to make sure you are happy with their breeding practices. In general, their dogs have tons of space to run and play with each other.
Breed Details
Generation: F1, F1BB, and F1B, multi-generational Goldendoodle puppies
Sizes: Miniature, medium, and standard size Goldendoodle puppies
Breeder Detail
Choosing a Breeder for Goldendoodle Puppies in Utah
There is a pretty good selection of Goldendoodle puppies in Utah, although not quite as many as some states and locations. The nice thing is you'll get an array of options of different Goldendoodle breeders in Utah. Utah also has a lot of open country so many of these breeders have space for the puppies to play, run, and interact.
When you are looking for a place to choose a Goldendoodle puppy, there are a few caveats to keep in mind:
Health Information – You will want to know that your future puppy comes from healthy and thriving parents. Most breeders will provide the parent genetic information to you and even display it on their sites. In addition, if many breeders believe in the health of their dog, they will typically offer some sort of health guarantee for the first couple years.
What are you looking for? – Know what you are looking for in terms of Goldendoodle generation, size, and even coat colors. Find a breeder that has what you are looking for to enhance your chances of getting what you want! Not all breeders will be breeding the same generation or coat colors.
Waitlist – Once you find the appropriate Goldendoodle breeder, just know you may have to join a waitlist. The common consensus is that it is always worth the wait and typically at least a few months. Be prepared for the wait but also don't piddle around making a decision or you may find yourself out of luck until the next time around.
Conclusion for Goldendoodle Puppies in Utah
Choosing a Goldendoodle puppy in Utah is going to require tons of research. Picking a puppy is like choosing a child and they are an extremely long-term investment. You want to choose a Goldendoodle puppy from a reputable breeder so you won't be spending money on medical bills for known genetic diseases. All the breeders on our Top 5 list of the Best Goldendoodle Puppies in Utah are highly reputable breeders. Remember to always do your research, but this is a great place to start.
Garrett loves animals and is a huge advocate for all Doodle dog breeds. He owns his own Goldendoodle named Kona. In addition, he volunteers at the Humane Society of Silicon Valley, where he fosters dogs and helps animals. Garrett enjoys writing about Doodles and believes that dogs can teach humans more about how to live than humans can teach a dog.
Why Trust We Love Doodles?
At We Love Doodles, we're a team of writers, veterinarians, and puppy trainers that love dogs. Our team of qualified experts researches and provides reliable information on a wide range of dog topics. Our reviews are based on customer feedback, hands-on testing, and in-depth analysis. We are fully transparent and honest to our community of dog owners and future owners.