Goldendoodle puppies in Montana have become extremely popular because they are not only extremely cute, but also hypoallergenic and nonshedding if they receive a majority of Poodle genetics. 
If you are looking for reputable Goldendoodle breeders in Montana then you are in the right place. We have done a ton of independent research and found four breeders in the state of Montana that have been breeding Goldendoodle puppies for many years. 
Even though certain there are no puppy mills on our list, we recommend that you call the breeder and try to schedule an in-person visit. This will help you get to know the breeder as well as see the parent dogs and how they are raised.
1. Montana Goldendoodles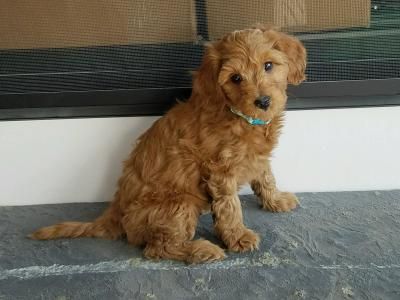 Montana Goldendoodles is a medium-sized Goldendoodle breeder in Great Falls, Montana. They are big enough to use the guardian program to make sure all of the dogs are a loved member of the family and properly socialized. We always respect breeders that use a guardian breeding program because each dog needs individual love and attention.
The owner, Crissy, is committed to providing quality and healthy Goldendoodle puppies in Montana. She also recognizes that sometimes the price of dogs is prohibitive. However, it is important to spend money on healthy puppies because they are a 10+ year investment. Her Goldendoodle puppies are priced at $2500 which is a reasonable price for a dog that genetic tested for hereditary disease.
She does require a deposit of $500 to reserve your Goldendoodle puppy. Her spots fill quickly so make sure if you want to save a spot to get your deposit in. You do have to fill out an application to be considered for the waiting list. You don't necessarily have to live in Montana to get one of these puppies. She will ship them to anywhere in the United States for an additional fee.
Goldendoodle Puppy Information
Generation: F1, F1B, F2, Multigenerational Goldendoodle puppies
Size: Medium Goldendoodle puppies
Goldendoodle Breeder Details
2. Deb's Doodles Montana
Deb's Doodles Montana is a large breeding operation in Lone Pine, Montana. They live on a 35-acre ranch so the Goldendoodle dogs have plenty of room to stretch their legs and run around. On the website, it says that the dogs and puppies are raised in their home and are well socialized with small animals and children. However, there is a kennel facility where the puppies go during the weaning and potty training stage right before they go home. This is where they learn to use a dog door and get to play like puppies.
The adults get lots of walks and romps during the warm months in Montana and get to go out hunting in the cold months. They take pride in the care and socialization they provide their Goldendoodle puppies. Besides Goldendoodles, Deb's Doodles in Montana also breeds Standard Poodles and Schnoodles.
The Goldendoodle puppies range in price from $1900 to $2200 depending on the size and the generation. They don't charge a different price for males and females. There is also a $300 deposit required to secure your puppy. This deposit is non-refundable and goes toward the total price of the puppy.
To reserve a puppy you will need to fill out an application. They are very serious about making sure their Goldendoodle puppies go to the right home. The breeder does offer some health and genetic guarantees which we always like to see. When a breeder stands behind the dogs they breed and are willing to offer a warranty, we know they are committed to ethical breeding.
This breeder doesn't just make promises to you, they expect you to make promises to them. When you are sold a Goldendoodle puppy in Montana they ask you to sign a contract as well. They want you to promise to exercise your dog, care for them, feed them the recommended food, take obedience classes, and a slew of other things. These dogs need to be cared for and given the best chance of not being re-homed. This is one of the most reputable Goldendoodle breeders in Montana.
Goldendoodle Puppy Information
Generation: F1, F1B, Multi-generational Goldendoodle puppies
Size: Mini Goldendoodle puppies
Goldendoodle Breeder Details
3. Doodles and Poodles of Montana
Doodles and Poodles of Montana has great reviews from past clients and is a great Goldendoodle breeder. The owner, Jill, is a grandmother of three and a pastor's wife. She is a self-proclaimed hobby Goldendoodle breeder but has been in the business for over 30 years. She decided to purposefully keep things small so that every puppy is a healthy and well-socialized member of the family.
She just loves the personality that comes with Doodles and Poodles and we couldn't agree more! She started breeding Poodles mixes like the Goldendoodle because of the hypoallergenic advantages plus the easygoing temperament. There is just something about a dog with a great personality that doesn't shed. Unfortunately, because she is a small breeder, there aren't as many litters per year available.
The website does not say how much the puppies are. It asks that anyone interested in making a reservation or wants to inquire about the price, they need to contact Jill for that information. They do however tell you that there deposit is a non-refundable deposit of $500 is required to reserve a puppy. This goes towards the total purchase price of the puppy.
One thing to note about this breeder is that they do not require a spay/neuter contract. So if you are interested in your puppy having a litter or two of their own then it is possible with one of these dogs. She's one of the oldest Goldendoodle breeders in Montana!
Goldendoodle Puppy Information
Goldendoodle Breeder Details
4. Montana Doodles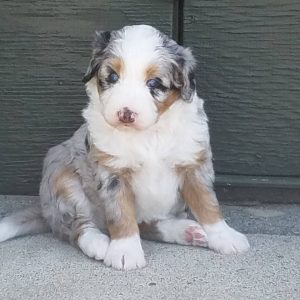 Montana Doodles, also known as MT Doodles, is not a small breeder by any stretch of the imagination. In fact, they state on their website that they are a large breeder. This breeder is actually a larger breeder of miniature Golden Retrievers. However, since they own a male miniature Poodle they decided to expand operations and sell mini Goldendoodles in Montana.
However, their petite Goldendoodles are bred for only local families. Local as in you have to come and get the puppy when it is ready. They don't ship these mini Goldendoodle puppies outside Montana due to health concerns for the puppy. The prices are great if you want a Goldendoodle puppy in Montana.
They also have a huge list of disclaimers on their website. You can't come to visit because someone brought parvo a few years ago. They don't care what you think and if you don't like they say you can get a doodle somewhere else. Several times they state that you can go to a competitor if you don't like their rules.
In addition, the only way they will guarantee one of their puppies is if you feed the dog food they recommend. Otherwise, you are on your own and there are no genetic guarantees either.
Also, be advised that they only accept credit cards for a deposit. You have to pay the rest in cash when you pick up your Goldendoodle puppy. If you don't bring cash and they decide to take your card you will be charged an extra 10%. Honestly, this breeder in Montana is really strict, but they have beautiful mini Goldendoodles. They put links to their competitors on their website if you want to buy from another breeder.
The pricing is pretty reasonable at $1500 a puppy with only a $100 deposit. We would advise you to do research and ask questions however we don't think they would answer them. This is a purchase at your own risk situation.
Goldendoodle Puppy Information
Generation: F1, F1B Goldendoodle puppies
Size: Mini Goldendoodle puppies
Goldendoodle Breeder Details
Conclusion for Goldendoodle Breeders in Montana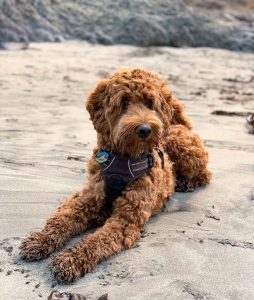 Goldendoodle puppies in Montana have been so popular that you will it's likely there are multiple at your local dog park. They do well with the 4 weather seasons that Montana has and you can grow or groom their coat according to the temperature. We found four reputable Goldendoodle breeders in Montana that you can reach out too and ask more questions about their breeding practices.
Garrett loves animals and is a huge advocate for all Doodle dog breeds. He owns his own Goldendoodle named Kona. In addition, he volunteers at the Humane Society of Silicon Valley, where he fosters dogs and helps animals. Garrett enjoys writing about Doodles and believes that dogs can teach humans more about how to live than humans can teach a dog.
Why Trust We Love Doodles?
At We Love Doodles, we're a team of writers, veterinarians, and puppy trainers that love dogs. Our team of qualified experts researches and provides reliable information on a wide range of dog topics. Our reviews are based on customer feedback, hands-on testing, and in-depth analysis. We are fully transparent and honest to our community of dog owners and future owners.