Goldendoodles make amazing family pets. They have great temperaments so they can easily get along with other pets and children. In addition, they are also mostly hypoallergenic and nonshedding which means they are great dogs for people with mild pet allergies.
If you are looking for Goldendoodle Breeders in Idaho, we can help you find ones with a good temperament that will live a healthy life. We have done a significant amount of research and found some of the best Goldendoodle puppies in Idaho. We do believe that none of these breeders are puppy mills or backyard breeders.
However, it is always important to do your own research before committing to a Goldendoodle puppy. We suggest that you visit breeders if they have appointments to scope out the parent dogs. In addition, we recommend that you ask each breeder to provide health checks to prevent genetic diseases.
1. Power Goldendoodles Idaho
Power Goldendoodles Idaho is an in-home breeder that raises a variety of Goldendoodle puppies as family dogs with a beautiful coat. They've been in the breeding business since 2012, and they have a very reputable name with plenty of reviews and testimonials to back them up.
This breeder sells English F1 and F1B Mini Goldendoodle puppies in Idaho, which can be hard to find anywhere in the United States. The puppies are bred for health, allergy-friendly purposes, and positive temperament. They are raised and cared for in the home of the breeder until they go to their forever homes.
All adult Goldendoodles are health-tested and that information is available for future owners to check. In addition, the owner of this breeding business was published in the Complete Guide to Goldendoodles where you will find tons of useful information about this dog breed. All parent dogs also have AKC or CKC pedigree registration which verifies the parent dogs are healthy purebreds.
With Power Goldendoodles, you might get access to a champion pedigree bloodline or even a line that produced a star in advertisements for movies like "A Dog's Purpose". Their Goldendoodle puppies in Idaho are quite famous for good reasons.
Goldendoodle Information
Breeder Information
2. Crystal Creek Doodles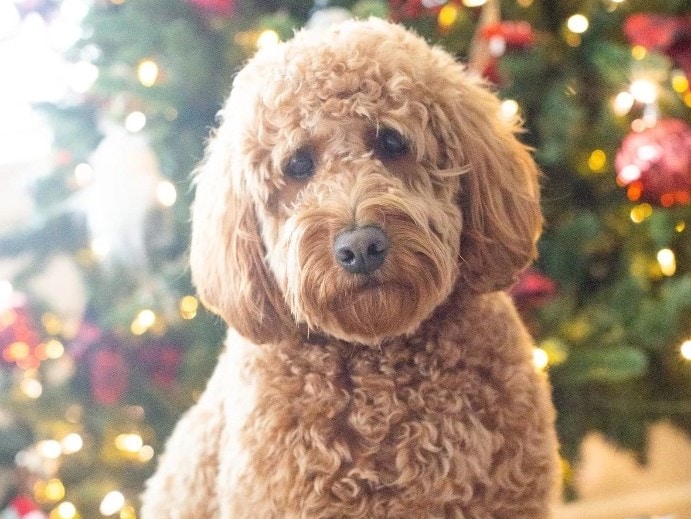 Crystal Creek Doodles is one of the top Goldendoodle breeders in Idaho. They have been in business for over 8+ years and were one of the premier Aussiedoodle breeders in Idaho before switching over to Goldendoodles. They are located in Salmon, Idaho, which is closeby to Boise, and work closely with their veterinarian to health test all their dogs.
Additionally, all of their Goldendoodle puppies are high socialized and raised in their own home. They follow a daily puppy culture stimulation program and the puppies are socialized with other farm animals like goats. They welcome all visits if you want to check out their property and dogs.
Lastly, Crystal Creek Doodles can deliver their Goldendoodle puppies free to Boise, Idaho, or they have an in-cabin airline option that costs $500. Their mini and standard Goldendoodles are reasonably priced and come with a full health guarantee. Feel free to give them a call or check out their puppies online today.
Goldendoodle Information
Sizes: Mini and Standard Goldendoodle puppies
Generation: F1 and F1B English Goldendoodles
Breeder Information
Location: Salmon, Idaho. Close by to Boise, Idaho.
Phone Number: 208-756-2126
Website: Crystal Creek Doodles
3. Sophie's Goldendoodles Idaho
This breeder is what we like to call a veteran Goldendoodle breeder. They got in on the ground floor and were one of the first Goldendoodle breeders in Idaho. It was a slow start for them because most people didn't even know what a Goldendoodle was by the time they started breeding.
Founded in 2007, Sophie's Goldendoodles has been committed to breeding high-quality Goldendoodles from the beginning. Even though they are a larger Goldendoodles operation, they want each adult and puppy to be treated like family and to live in a family home.
Because of this commitment, they utilize the guardian program so all of the adults in their breeding program stay with one family for the duration of their lives. We are always pleased when we see that a larger operation uses this program instead of putting all of their Goldendoodles in a kennel.
While they had been exclusively breeding Goldendoodles, just last year in 2019 they added miniature Australian Labradoodles to their program. So if you're interested in a Labradoodle or a Goldendoodle puppy then you can visit these breeders in Boise, Idaho. 
If you decide to purchase a puppy from Sophie's Goldendoodles in Idaho then you will be required to put down a $400 deposit once your application is approved. Depending on the dog you want, miniature or medium, the price will range from $2,400 to $2,700.  The deposit is non-refundable but does count toward the final price.
Goldendoodle Puppy Information
Goldendoodle Breeder Details
4. Magic Valley Goldendoodles ID
This Goldendoodle breeding operation in Southern Idaho is a joint effort between two different families. This helps spread out the responsibilities and adult dogs. It also helps take some of the communication burdens off of each person since there are two people that can answer your questions.
Even though there are still two homes, the program has grown so much that they still use the guardian program. This is better for the dogs because they get the love and attention they need to thrive in a family environment.
Magic Valley in Idaho only exclusively breeds Goldendoodles. That means that all of their attention and efforts are spent making sure that their Goldendoodle puppies are healthy and top quality. Sometimes when the attention is split between multiple breeds it can be overwhelming which causes somethings to be lost in the cracks.
We do like that they set realistic expectations for the time frame for bringing the puppy home. Magic Valley Goldendoodles state on their website that it will likely be a four to six-month wait between the time the application is approved and when you bring a puppy home. Stating this upfront keeps people from getting irritated when they can't immediately get a puppy. Since Goldendoodle puppies in Idaho are extremely popular, it's very common to have a waitlist from highly reputable breeders.
The prices for the Goldendoodle puppies range from $2,200 to $2,600 depending on the size you want. They offer four different sizes of Goldendoodle puppy including petite, mini, medium, and standard. The petite Goldendoodles are the most expensive. If you're located in southern Idaho then this might be the Goldendoodle breeder for you!
Goldendoodle Puppy Information
Generation: F1, F1B, Multigenerational Goldendoodle puppies
Size: Petite, Mini, Medium, Standard Goldendoodle puppies
Goldendoodle Breeder Details
Location: Southern Idaho
Telephone: 208-421-2858
5. Red Carpet Doodles Idaho
Red Carpet Doodles is a breeder that specializes in several different types of doodles. They started breeding with just Goldendoodles but now have Golden Mountain Doodles, Cavapoos, and Golden Retrievers. So if you're looking for one of these dog breeds you can find this breeder near Idaho Falls, Idaho.
They are one of the larger Goldendoodle breeding operations on our list and have multiple litters per year. Additionally, they do have a guardian program to make sure the adults in the breeding program are loved members of a family from puppyhood on through retirement.
The price tag for one of these Red Carpet Goldendoodles puppies in Idaho is not going to be cheap. In fact, they speak about why they are so expensive on the website. Depending on the size and generation that you want the price can range from the low end at $2350 all of the way up to $3450.
To reserve your spot on the waiting list you will need to fill out an application. Upon approval, you will need to place a $500 deposit that is non-refundable. It does go to the final cost of the puppy.
Goldendoodle Puppy Information
Generation: F1, F1B, Multigenerational Goldendoodle puppies
Size: Mini, Medium, Standard Goldendoodle puppies
Goldendoodle Breeder Details
6. Emmett Doodles Idaho
Emmett Doodles Idaho is a small breeding operation. In fact, they started as a hobby breeder and have begun expanding their operations. Because of their love for this dog breed and for miniature Golden Retrievers, they have become an extremely popular Goldendoodle breeder in Idaho.
The website has some basic information and shows their breeding adults as well as some past puppies. However, we were unable to see puppy prices or deposit information. Since they are still a small breeder they do ask that people call or email with specific questions.
There is a contact form on the website if you want to contact them that way. This is the best way to let them know you are interested in a Goldendoodle puppy.
Goldendoodle Puppy Information
Generation: F1, F1B, Multigenerational Goldendoodle puppies
Size: Mini, Medium, Standard Goldendoodle puppies
Goldendoodle Breeder Details
Location: Emmett, Idaho
Email: info@emmettdoodlesandminigoldenretrievers.com
Facebook: Find Them on Facebook
Telephone: 208-345-7646
7. Trails & Tails Doodles ID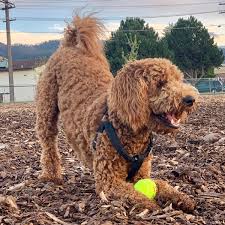 This is a Goldendoodle breeder in Idaho that has intentionally stayed small. They want to be very engaged with their clients and with the adult dogs and puppies. In addition to breeding Goldendoodles, they have also had an Alpaca farm for the last 20 years to help socialize their dogs. They want to continue doing this and know that they can't spread their attention too thin.
This is one of the reasons they keep their Goldendoodle breeding operation small. They typically only have four litters a year at the most. You can rest assured that this Goldendoodle breeder will give you a well socialized and healthy puppy.
To adopt one of these Goldendoodle puppies the cost is $2500. This includes the $300 deposit that is required to reserve your spot on the waitlist. There are other pricing options if you need to have the puppy shipped to other parts of Idaho. This Goldendoodle breeder is located in Treasure Valley, Idaho.
Goldendoodle Puppy Information
Generation: F1, F1B Goldendoodle puppies
Size: Mini Goldendoodle puppies
Goldendoodle Breeder Details
Conclusion for Goldendoodle Breeders in Idaho
Goldendoodles puppies are quickly becoming one of the most popular dog breeds in Idaho. If you go for a walk around town or to your local dog park, chances are you will see a Goldendoodle. They have become popular because they are a mix between two of the most popular breeds which are the Poodle and Golden Retriever. In addition, they have a nonshedding coat that is great for people with mild pet allergies. So if you're looking for a puppy, we found the best Goldendoodle breeders in Idaho.
Garrett loves animals and is a huge advocate for all Doodle dog breeds. He owns his own Goldendoodle named Kona. In addition, he volunteers at the Humane Society of Silicon Valley, where he fosters dogs and helps animals. Garrett enjoys writing about Doodles and believes that dogs can teach humans more about how to live than humans can teach a dog.
Why Trust We Love Doodles?
At We Love Doodles, we're a team of writers, veterinarians, and puppy trainers that love dogs. Our team of qualified experts researches and provides reliable information on a wide range of dog topics. Our reviews are based on customer feedback, hands-on testing, and in-depth analysis. We are fully transparent and honest to our community of dog owners and future owners.