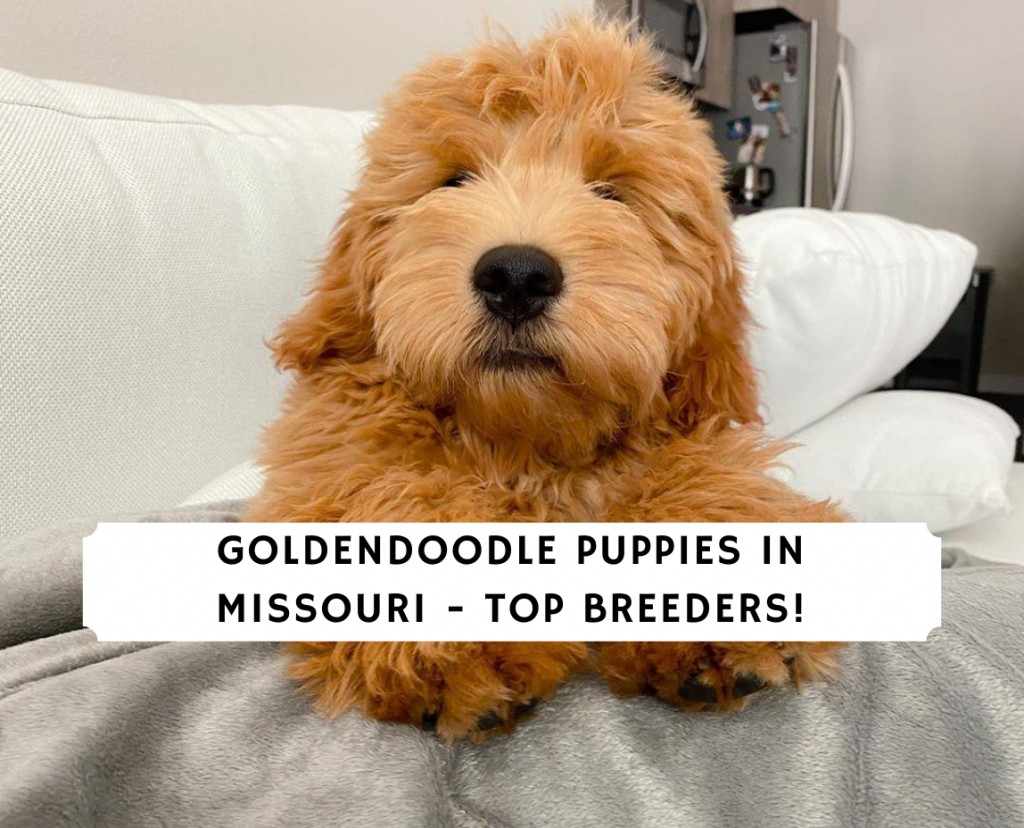 Goldendoodles are a loyal and loveable crossed breed that is a perfect choice for families with mild pet allergy or for people who prefer a pet with minimal shedding. Originally a hybrid cross breed between a Golden Retriever and a Standard, Miniature or Toy Poodle, the Goldendoodle is arguably the most popular crossbreed dog on the planet. The intelligence and hypoallergenic coat of the Poodle mixed with the loyal and playfulness of the Golden Retriever make this a popular dog.
The doodle craze has been around since the 1980s and still going strong. Originally, the Australian Guide Dogs of Victoria bred a Standard Poodle with a Labrador Retriever in a thoughtfully considered attempt to provide a blind woman with a dog that would be welcomed into their home where her husband suffered from allergies. As the result, the Labradoodle was such a success that other doodle varieties were developed.
Today the Goldendoodle Association of America is the primary breed club dedicated to ensuring breed standards for the Goldendoodle by having their breeders adhere to strict ethical practices, creating a breeding registry to document genetic lineage and working towards a common goal of establishing reliability in the Goldendoodle's coat, temperament, health and type. If you are looking for a Goldendoodle puppies in Missouri or throughout America, then the GANA seal signifies trust and quality. We've also done alot of independent research to find the best Goldendoodle breeders in Missouri.
1. Majestic Rose Goldendoodles in Missouri
As the only certified Goldendoodle Association of America (GANA) breeder on our list of Goldendoodle puppies in Missouri, Majestic Rose Goldendoodles continues to strive to uphold the strict ethical and health breeding standards that being a Blue Ribbon breeder entails. All puppies are whelped and reared right in their own home and extensively socialized with children.
This active family ensures that their Goldendoodle puppies are used to a variety of stimuli that a boisterous household provides. They have asthma suffers in the family so they also understand the importance of the hypoallergenic coat of a Goldendoodle puppy.
In fact, Kelley was meant to be a veterinarian and even went so far as to get into her top choice of university, but her allergies would not subside and she needed to make another life plan which led her to find the beloved Goldendoodle breed.
All parent dogs are fully tested for health and genetic conditions and every Majestic Rose Goldendoodle puppy comes with a two-year health guarantee and a lifetime of breeder support. This is one of the most reputable Goldendoodle breeders in Missouri.
Goldendoodle Puppy Information:
Generation: Multigen Goldendoodle puppies
Size: Mini and Medium Goldendoodle puppies
Goldendoodle Breeder Details:
Location: St. Joseph, Northwest Missouri
Website: majesticrosegoldendoodles.com
Email: info@majesticrosegoldendoodles.com
Contact: Kelley Meirose
2. Creekside Goldendoodle Puppies in Missouri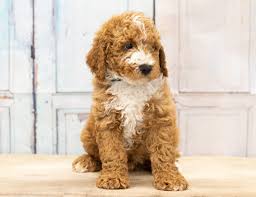 Creekside Goldendoodles are members of the Missouri Pet Breeders Association and Missouri Animal Husbandry Association. This small breeder specializes in Standard Goldendoodles and registers all puppies through the United All Breed Registry.
If you are interested in acquiring a puppy from Creekside Goldendoodles, then an online application form can be completed initially. Puppies are $1250 including the $250 deposit to hold your place on the waiting list. This is one of the smaller breeders on our list, but they produce top quality Goldendoodle puppies in Missouri.
Goldendoodle Puppy Information:
Generation: F1 and F1B Goldendoodle puppies
Size: Standard Goldendoodle puppies
Goldendoodle Breeder Details:
Location: Southwest Missouri
Telephone: +1 (417) 342-3988
Website: creeksidegoldendoodles.com
Email: creeksidedoods@gmail.com
Contact: Gary Burns
3. Okefeild Acres Goldendoodles in Missouri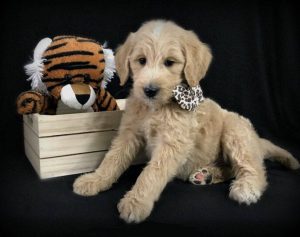 Janet of Okefeild Acres has been breeding Golden Retrievers and Goldendoodles since 2004 on her expansive acreage in Missouri. The website provides an in-depth application form that will need to be completed initially and then a $250 non-refundable deposit is required to be added to the waiting list.
All Goldendoodle puppies come with a health guarantee though keep in mind that the contract is only valid if you keep your dog on Life's Abundance pet food which is a pricey brand. This is one of the older Goldendoodle breeders in Missouri and truly understand this hybrid breed.
Goldendoodle Puppy Information:
Generation: F1 and F1B Goldendoodle puppies
Size: Mini and Standard Goldendoodle puppies
Goldendoodle Breeder Details:
Location: 35 miles north of Springfield, Missouri
Address: 14 Ricky Rd, Elkland, MO 65644
Telephone: +1 (417) 207-5346
Website: www.okefeildacres.com
Instagram: @okefeildacres
Email: okefeildacres@gmail.com
Contact: Janet Wright
4. Senseney's Dazzling Doodles Missouri
Located on a sprawling farm in the small town of Wheaten, Missiouri, Senseney's Dazzling Doodles are well versed at raising Goldendoodle puppies that are happy, healthy and have excellent temperaments. Their litters are all socialized with children in the home and even trained to use the doggie door to get in and out of the house by the time that they leave at eight weeks old.
Pricing for Goldendoodle puppies is based on breed, size, generation, color, and markings and ranges from $1550 to $2000. The excellent reviews for Heather and her family attest to the love and attention that she gives her breeding program. Online adoption forms are available on their website to start the process of getting your family a Goldendoodle puppy in Missouri.
Goldendoodle Puppy Information:
Generation: F1, F1B and Multigen Goldendoodle puppies
Size: Mini and Tiny Goldendoodle puppies
Goldendoodle Breeder Details:
Location: Wheaten, Missouri
Address: 1836 State Hwy 76, Exeter, MO 65647
Telephone: +1 (417) 652-3964
Website: www.doodlelovers.org
Email: senseneysdazzlingdoodles@gmail.com
Contact: Heather Senseney
5. Blessed Day Doodles MO
The large and loving family behind Blessed Day Doodles has been breeding dogs for more than three decades. Originally housing champion AKC registered Labrador Retrievers, they fell in love with the Goldendoodle and there has been no turning back. Their puppies are raised on their sprawling 5 ½ acre farm where children and socialization are plentiful.
All breeding parents are health tested to ensure no genetic abnormalities or health conditions are likely to be passed down to their puppies. Puppies require an initial $500 deposit of the full $2500 (plus applicable sales tax) fee which includes microchipping, a 26-month health guarantee, a puppy blanket with the scent of their litter and mom, training book, up to date vaccinations, deworming, spay/neutering and a puppy collar.
Goldendoodle Puppy Information:
Generation: Multigen Goldendoodle puppies
Size: Mini and Medium Goldendoodle puppies
Goldendoodle Breeder Details:
What is a designer dog breed?
A designer breed of dog is when two purebred dogs, having the ability to be registered with the American Kennel Club or another national kennel club, are purposely mated to produce a dog with distinct characteristics of both parent breeds.
A Goldendoodle could, therefore, be classed as a designer breed since both the Poodle and Golden Retriever are registered breeds with the AKC. Goldendoodles are purposely bred for the loyalty and lovability of the Golden Retriever and the intelligence and coat of the Poodle. A designer breed is not a mutt, as with a designer breed the lineage is known.
Though many breeders will eagerly explain the hybrid vigor of mixed breeding, where negative characteristics and health concerns of a purebred parent breed may be lessened, this is not always the case. Reputable breeders will still insist that all parent breeding dogs are thoroughly health and genetic tested. If the hypoallergenic properties of a Goldendoodle are your most important trait, then we recommend that you look for a breeder that breeds multi-generational Goldendoodle puppies.
Conclusion Goldendoodle Puppies In Missouri
The teddybear looks of the Goldendoodle combined with the loveable and cuddly personality have lead to the steadily rise in popularity since the 1990s. Now Goldendoodle breeders can be found in almost every state and at a range of prices. We recommend the breeders on our list of Goldendoodle puppies in Missouri as we have done a ton of research and ruled out any puppy mills. We strongly believe that these are some of the best Goldendoodle breeders in Missouri.