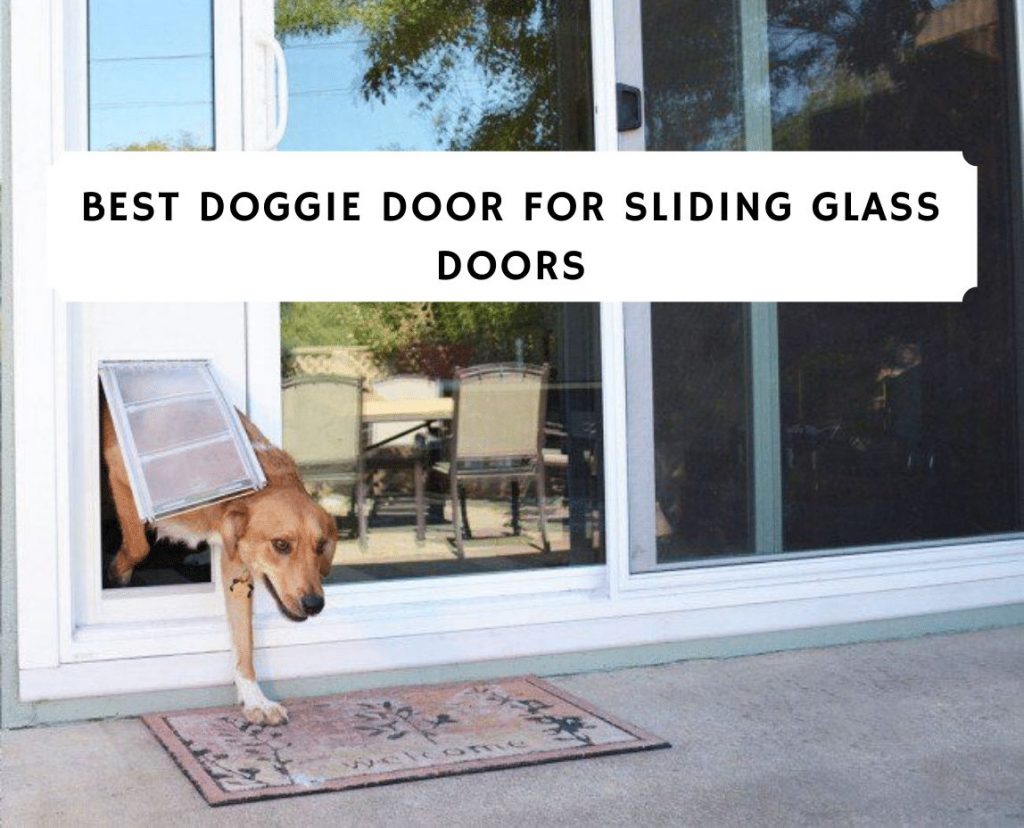 Having a doggie door is a convenient feature that many of us prefer. If you have a dog, access to a doggie door can certainly help out when you aren't home or when you're busy to allow your dog to easily go in and out as needed.
However, not every doggie door is the same and there are many different types. They are all made differently and you will need to be sure that you use a doggie door that will work for your type of door. For example, a sliding glass door might be challenging because you have to be able to accommodate the sliding feature.
However, there are some really great options out there that were designed specifically for sliding glass doors and are extremely convenient. We've sifted and sorted through the endless array of options to bring you our favorites.
We've narrowed down the options to bring you the 8 best doggie doors for sliding glass doors on the market. We hope you will stick with us we share our top picks and provide you with detailed and informative reviews.
In a rush? Here are the Top 3 Picks:
Product
Best Overall
Endura Thermo
Runner-Up
PetSafe Sliding Glass
Budget Pick
Ideal Pet Products
Image
The 8 Best Doggie Doors for Sliding Glass Doors
In the following reviews, you will find a full detailed description of each door we've chosen. We will share with you just what we love and let you know if there is anything specific to just be aware of. We will also share a list of pros and cons for you with each door. Let's get started!
The best doggie door for sliding glass doors is a full-sized panel that can be inserted without cutting or trimming anything to fit in the door. The PetSafe Freedom panel fits neatly into the door space and has the doggie cutout at the bottom of the panel that easily allows your dog to go in and out the door.
PetSafe is a great option for your sliding door. They have two different height options that should fit all standard doors. To determine which size you need, measure your doors from inside the upper track to inside the lower track. From there, you also need to choose the size of the dog opening, from small to X-Large or Large-Tall. The panel opening depends on the size of your dog, so you will need to measure the height of your dog.
You can choose from bronze, satin, or white for these panels which match most sliding door colors. PetSafe doggie door for sliding doors is made with sturdy aluminum materials and this panel is very easy to install. It can be put in yourself without the need for drilling or heavy equipment. This panel is equipped with a lock so you can ensure that your home is still safe and secure.
This is a really great option if you are renting a house and you don't want to trim or cut space with your sliding door in order to incorporate a doggie door.
This pet door for sliding glass doors is from Ideal Pet and a great budget-friendly option. Doggie doors can get quite costly, but this one stands out in quality and affordability. You can choose from bronze, white, or silver, to match your interior and exterior decor.
You can also choose multiple sizes for the flap opening, including a cat size. The sizes range up to super large, so you shouldn't have to worry if your dog won't fit through the opening. Just use the recommended measurements to be sure you choose the right size for your pet.
The aluminum panel is designed and made specifically to fit with other aluminum sliding patio doors. The sliding door dog door is easy to install and does not require any tools to use. The height is adjustable from 77 5/8 inches to 80 3/8 inches.
The flap is flexible in a 3-part setup. This particular option also comes with a 1-year warranty. The glass panel has strong safety glass and the insert is equipped with security locking features. If you're at work or need to leave the house, you can be assured that this door will lock.
Here is another great dog door for slidding glass doors that comes from Ideal Pet Products. This option was designed for tall aluminum sliding doors. Keep in mind these options are specific to aluminum sliding doors. This option is for those extra-tall doors that measure up to 96 1/2 inches tall.
This option also does not require any tools to install and can easily be self-installed. It is also easy to remove and use on an as-needed basis. You can get this one in white or silver and there are multiple sizes available for the dog door insert. From cat-sized flaps to super large, there is something for every dog breed.
The vinyl doggie door portion is flexible and transparent. The safety glass section is tempered and white for security purposes. You can lock it for security purposes as well if you need to leave the house. The vinyl door is magnetic so it secures and will not just flap open and waste your electricity. Overall, this is a great dog door for your slidding glass door.
This Ideal Pet Product option presents you with the most affordable one we will review on our list. It's nothing fancy, just a simple aluminum patio dog door insert, but it is well-made and certainly does the trick when you need a doggie door for sliding glass doors.
This one doesn't have quite as many options as the other, but it does have a good range still. You can get a cat-sized flap, as well as small, medium, or extra-large. You can choose from white or silver as well so don't feel like you're missing out on having at least some options.
This patio door is adjustable to fit within most standard aluminum sliding door spaces. You don't have to measure for a specific fitting as this one is adjustable, much like the first Ideal Pet option we shared earlier. It comes in two modular sections that you put together to make a full insert for the door.
This piece is easy to use, adjust, and install with no extra tools required. If you're looking for the cheapest dog door for a sliding glass door then this should be your pick.
We love this option from PetSafe because it looks really nice and has a modern feel. It fits in with your sliding door and just looks almost like an extension of your sliding glass door. This insert comes in small, medium, or large for flap sizes.
The insert comes in two pieces and is easy to insert to fit the space. It should work for frames that are up to 80 11/16 inches tall. The insert sports an additional locking security mechanism for added security. You can protect your home in full whether you are at home or not.
This doggie insert for the dog door is made with strong and durable materials. The glass portion has tempered glass and the frame is sturdy aluminum. The insert is white and looks very nice. It comes with adhesive weather strips for installation, but you can also screw it into place for a better hold.
This company promises a quality guarantee. They have been in the industry for more than 30 years making pet doors for sliding glass doors. Honestly, PetSafe is one of the most reputable companies to buy a dog door for sliding glass doors from.
With this option from Endura, we break into some of the more premium options on the market for a sliding door dog door. This is a slightly more expensive choice, but you notice the difference in overall quality, style, and design.
This option stands out with a best-fit guarantee for heights ranging from 75 to 80 inches. It is made with vinyl materials and tempered glass to be more stable and energy-efficient overall. This option only comes in white, but it comes in many different flap size selections.
You don't need any extra tools or accessories to install this doggie insert for your sliding door. It is strong and also durable for long-term use. The frame is high-end vinyl and works best with vinyl sliding glass doors. The doggie insert is designed to hold up against the wind and anything else.
This door insert is securely designed and certainly premium quality overall. It's a great dog door insert for sliding glass doors.
If you want the best of the best, this choice from Endura might just be the option for you. Again, this option does cost a bit more when comes to other sliding dog doors, but the additional attributes might just be worth the extra cost. This option is truly energy-efficient and has a thermos-panel to really help out in that area as well. If your home is in hot or cold weather all year round, you will want to consider this dog door for sliding glass doors because it has a sealed doggie insert.
This particular option comes in white, brushed aluminum, or bronze. The size of the large doggie door is extra-large, but it could work for smaller dogs as well if needed. Your dog may have to practice getting used to the magnets and pushing the weight of the dog door. However, this is the perfect large dog door for sliding glass doors if you're concerned about insulation.
This pet door is adjustable to several heights and does not require any additional tools to fit into the space. It's a simple 2-piece insert that slides right in between your wall and sliding glass door. Just like with the others, you may need some additional weather-stripping materials to make sure that this dog door is fully insulated.
This is a well-made premium option that looks and works great in every home.
Last, but certainly not least, is this pet door for sliding glass doors from High Tech Pet. It truly is a high-tech option with the best design, the best fit, and the best seal overall. It comes in white and is incredibly sturdy and reliable. In addition, the sliding door dog door is made with aluminum materials and stainless steel hardware.
It has an additional universal lock that is designed to be compatible with all patio doors. The glass in the insert is double-paned low E-glass. Low E-glass is designed with a special coating to reflect heat and provide better overall insulation for your house. The purpose of low E-glass is to make it more energy-efficient overall.
If you really want the best of the best, this is the door insert for you. However, this one is not as highly-rated as some of the other options. While the door claims a universal lock there have been some instances where it's not compatible and adjusting the door to the needed size can also be a challenge.
A Buyer's Guide to Dog Door for Sliding Glass Doors
You will notice that many of these sliding door dog doors appear to be universal. Yet, they are each unique in their own way. There are a few things you will want to keep in mind as you make a decision for your doggie door for sliding glass doors.
Here are our recommendations:
Measurements
Be sure to check the height and width measurements to ensure that the door insert you purchase will truly work for a sliding door dog door. While most of these are made to be height adjustable, you may find that you have an odd door fitting. However, most of the doggie doors will fit standard sized sliding doors.
You will also find that these doors come in different size options so pay close attention to the size ranges and understand your measurements. You measure from the inside of the runner from top to bottom. This is where the insert will be placed.
Materials
The materials may or may not be essential to your decision, but they could make a difference. Aluminum is perhaps one of the most common materials used in a pet door for sliding glass doors.
Be sure you are comfortable with the materials of the door insert and that it will work for you. You will also want to be sure that the materials are compatible with the materials of your door set up.
Flap Features
Finally, we recommend that you carefully select the flap size for your pet. You would be better to purchase a size up if you are at all concerned your dog will grow more or the sizing is close.
The ultimate goal is that your pet will be able to comfortably maneuver through the doggie door insert. You want the flap to seal well and not let in or out an excessive amount of air. You certainly don't want the flap to negatively affect your energy bill in your home. If you live in a cold or hot climate, then you should consider getting a flap that has magnets to fully close.
Conclusion for Best Doggie Doors for Sliding Glass Doors
Just because you have a sliding glass door leading to your fenced yard, does not mean you can't utilize a dog door for sliding glass doors. There are options out there and they are really great! Just know the tips and tricks to select a good one and be aware that you might need weather stripping to make the fit more comfortable and efficient.
Other articles you might be interested in:
Garrett loves animals and is a huge advocate for all Doodle dog breeds. He owns his own Goldendoodle named Kona. In addition, he volunteers at the Humane Society of Silicon Valley, where he fosters dogs and helps animals. Garrett enjoys writing about Doodles and believes that dogs can teach humans more about how to live than humans can teach a dog.
Why Trust We Love Doodles?
At We Love Doodles, we're a team of writers, veterinarians, and puppy trainers that love dogs. Our team of qualified experts researches and provides reliable information on a wide range of dog topics. Our reviews are based on customer feedback, hands-on testing, and in-depth analysis. We are fully transparent and honest to our community of dog owners and future owners.