Taking the steps towards finding your future puppy can be a daunting task if you have your heart set on a particular breed.  Goldendoodles are becoming an increasingly popular dog breed due to the positive traits of both the Poodle and the Labrador Retriever coming together to create a hypoallergenic, nonshedding, and easygoing dog.  Not only are they ridiculously cute and cuddly, but they are also allergy-friendly with hair that doesn't shed as badly as most dog breeds.
If you're looking for Goldendoodle puppies in Hawaii, this article will help you find a reputable breeder. The most important consideration with most breeds is that Goldendoodle dogs do require daily exercise of around an hour per day.  Be warned – energetic breeds can become mischievous when they are bored and not exercised or mentally stimulated adequately.  In addition, dog breeds like the Goldendoodle require regular grooming can become quite costly to maintain. Without further ado, here are the top 5 Goldendoodle breeders in Hawaii.
1. Big Island Goldendoodles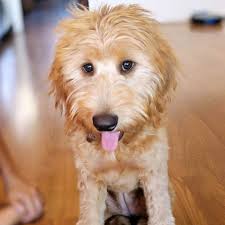 Goldendoodle puppies from Big Island Goldendoodles are not only amongst other family pets, a menagerie of farm animals, but very much part of the human family as well.  Based in South Kona on a 7-acre organic farm filled with cows, sheep, chickens, horses, and children Big Island Goldendoodles socializes your new puppy with other animals and humans.  Customer feedback consistently remarks on how these Goldendoodle breeders in Hawaii develop a personal rapport with you and future families for their puppies.
Friendly and thorough, Big Island Goldendoodles keep you informed and up to date from the moment you have joined their family, even before the puppy has been born.  Buying a puppy from Big Island Goldendoodles is more like making new friends than a business transaction, with plenty of happy customers who agree.
In order to apply for one of their Goldendoodle puppies in Hawaii, you are required to complete a lifestyle questionnaire to ensure you are able to provide the necessary care and attention.  Waiting lists range from 6 to 12 months and puppies cost per Goldendoodle range between $2500 and $3500.
Goldendoodle Breeder Information:
Goldendoodle Puppy Information:
Generation: F1 and F1b Goldendoodle
Size: Standard and miniature Goldendoodle
2. Doodles Hawaii (Kona)
With over thirty years' experience in breeding top quality dogs, Shawny of Doodles Hawaii has been fascinated with the Doodle breed. She trains her puppies as service and therapy animals to help out society. Customer feedback is consistent in praising Shawny's customer service and genuine care about your needs as a buyer. She also prepares you for your Doodle journey before you buy one of these puppies.
One of the promises of Doodles Hawaii is that once you buy one of their puppies, you will always have access to breeder support for the life of your Goldendoodle.  Their Goldendoodle puppies in Hawaii are brought up in a large family environment with horses for cross-species socialization. 
Puppies cost from $2700 to $3000 which is about the normal cost of a Goldendoodle puppy in Hawaii.  After completing your application form you are required to speak with Shawny before proceeding to make sure that you have the means to care for your new dog.  Transportation of the puppy is free for Oahu Military Personnel. We personally think this is one of the best Goldendoodle breeders in Hawaii.
Goldendoodle Breeder Information:
Goldendoodle Puppy Information:
3. Laurelwood Doodles (Big Island)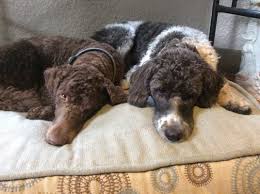 When you take home your Goldendoodle puppy from Laurelwood Doodles, you are getting a puppy that is calm and had a great start in life with an in-depth early development program.  This includes desensitization to an array of ordinarily frightening or stressful situations such as thunderstorms, having their coat trimmed and nails clipped, as well as housebreaking and a variety of behaviors to help them settle with their future families.
Customer feedback consistently comments on how well adjusted and well behaved these Laurelwood Doodle puppies are and fully recommend the early development program in helping them settle into family life. If you live in a loud or busy neighborhood, you may want to buy one of these Goldendoodle puppies.
There are lots of photos of previous litters and happy customers online.  There is no formal application form, but Laurelwood Doodles will need to know your previous experiences with dogs. This helps to ensure that you are capable of taking care of a Goldendoodle in Hawaii.
Goldendoodle Breeder Information:
Goldendoodle Puppy Information:
Generation: F1b Goldendoodle puppies
Size: Mini Goldendoodle puppies
4. Spectacular Doodles (Oahu)
These Goldendoodle puppies in Hawaii are $3000 with other doodle breeds ranging from $3000 to $4000.  There is no reservation fee and payment by credit card is accepted. Spectacular Doodles does have puppies available in November 2020.
As with most quality Goldendoodle breeders in Hawaii, when you take your puppy home from Spectacular Doodles, they have a whole range of health certificates and vaccinations.  They raise standard Goldendoodle so Adult dogs range in size from 45 to 75 pounds.  Despite not having any customer testimonials, there are photos to refer to past puppies and the parents.
Goldendoodle Breeder Information:
Goldendoodle Puppy Information:
5. Golden Doodles of Hawaii (Honolulu)
Golden Doodles of Hawaii ensures all puppies come from parents that are purebred and American Kennel Club (AKC) registered.  Currently, they have a litter that has a Goldendoodle parent coming from a Show Champion, standard-sized, Poodle and Golden Retriever mix.  Golden Doodles of Hawaii not only breeds their own puppies, but they also help small-scale or other family breeders in Hawaii to breed and sell their puppies.
Goldendoodle Breeder Information:
Goldendoodle Puppy Information:
Generation: F1b Goldendoodle
Size: Standard Goldendoodle
How to Care for a Goldendoodle Puppy in Hawaii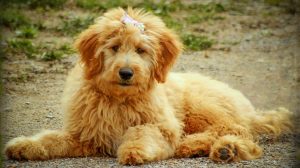 Playtime and Exercise
Goldendoodle puppies are energetic and full of life, which is incredibly cute as with all puppies until they get bored and undesirable behavior starts surfacing.  Regardless of breed, bored puppies are destructive puppies; chewing shoes, cables, chairs, and cushions.  Exercise by playing games like fetch throughout the day is what puppies need to get the right kind of stimulation and to tire them out for long puppy naps!  Goldendoodle puppies shouldn't be over-exercised as their joints and tendons haven't formed fully yet and this can cause damage.  Adult Goldendoodles need at least one hour of exercise everyday but twice a day, mornings and evenings, are recommended. 
If your lifestyle doesn't permit this kind of time to be spent with your Goldendoodle, then doggy daycare groups are a perfect way to ensure your puppy or adult Goldendoodle in Hawaii is getting lots of fun playtime and walks with other dogs.  Professional dog walkers are also a way to ensure your beloved pet is getting adequate exercise and not be tempted to get up to mischief from boredom.  Of course, walking your dog is not only good exercise for a Goldendoodle puppy, but also for the human family members at the end of a hard day.
Grooming and Haircuts
You may have chosen a Goldendoodle puppy as they shed less than many other breeds and that their hair is considered to be hypoallergenic. Thus, Goldendoodles are than other dog breeds prone to dander allergies. 
However, you need to maintain your puppy's gorgeous coat from the age of about 4 to 6 months and, depending on whether you chose a long or short hairstyle, your luscious Goldendoodle will need to see a groomer every 6 to 10 weeks.  Grooming can cost anything between $70 and $150 a time, this is quite an investment if you were not expecting that kind of regular expense. Make sure you have a local dog groomer in Hawaii or you can learn to groom your own Goldendoodle.
Conclusion for Goldendoodle Puppies in Hawaii
The beautiful, tropical island state of Hawaii has several top-quality dog breeders focusing on the Goldendoodle puppy breed.  Our research has found that the Top 5 Goldendoodle breeders in Hawaii have a love for the dog breed and a dedication to helping their clients that creates a friendship.  The thorough education and guidance provided by the breeders as well as the aftercare offered makes you truly feel part of the Goldendoodle community. We hope that you found a beautiful Goldendoodle puppy in Hawaii.
Garrett loves animals and is a huge advocate for all Doodle dog breeds. He owns his own Goldendoodle named Kona. In addition, he volunteers at the Humane Society of Silicon Valley, where he fosters dogs and helps animals. Garrett enjoys writing about Doodles and believes that dogs can teach humans more about how to live than humans can teach a dog.
Why Trust We Love Doodles?
At We Love Doodles, we're a team of writers, veterinarians, and puppy trainers that love dogs. Our team of qualified experts researches and provides reliable information on a wide range of dog topics. Our reviews are based on customer feedback, hands-on testing, and in-depth analysis. We are fully transparent and honest to our community of dog owners and future owners.