Every dog parent or prospective dog parent has an idea of what their perfect puppy should look like. Some prefer dogs that can play fetch; others prefer dogs that are loyal, obedient, and patient while others are looking for a cuddle buddy.
Goldendoodles have it all because they love to fetch, cuddle, and great temperaments. The icing on the cake is that Goldendoodle is hypoallergenic and nonshedding, which is good news for people who are allergic to dog hair.
In addition, Goldendoodles are intelligent, obedient, social, and they adapt easily to new environments. This is why Goldendoodle puppies in Tennessee have become so popular. If you're in the hunt for one of these dogs, here are some of the best Goldendoodle breeders in Tennessee. We've done our own research as well as reference reputable breeders from the Goldendoodle Associations of North America (GANA). There are no puppy mills or backyard breeders on our list.
1. Flying Feather Farms Tennessee
Flying Feather Farm in Tennessee was established in 2002, and it measures 52 acres with most of it being pasture and woods. This farm is managed by Eric and Tammy who are fulltime breeders of Goldendoodle puppies and sometimes birds. The puppies on this farm are born and raised on the farm where they are socialized with other dogs, animals, and of course people. All their Goldendoodle puppies in Tennessee are introduced to crate training before they leave the farm.
Flying Feather Farm is a member of GANA (Goldendoodle Association of America) at the blue ribbon level which means they provide the most extensive health checks on their parent dogs. You can rest assured that this is one of the most reputable Goldendoodle breeders in Tennessee with this affiliation. In addition, the farm does everything to ensure that the puppies are happy and healthy.
Flying Feather Farm also conducts temperament testing to know each puppy's personality. The perfect age to have the temperament test is when the puppies are 7 weeks old when they are neurologically mature with the brain of an adult dog. This is the sole reason why families should not choose a puppy at 6 weeks because a Goldendoodle's behavior may be quite unpredictable.
All puppies in Flying Feather farm cost $2500, but the Tennessee Department of Revenue collects 9.75% sales tax on each puppy's sale. This means the total cost of your puppy will amount to $2,744. If you decide to have the puppy delivered to you then you pay a separate delivery fee which will be determined by where the puppy is being delivered.
Golden puppy information
Goldendoodle Breeder Details
2. Twin City Doodles in Tennessee
Twin City Doodles is a small home-based breeder of standard-sized multi-gen Goldendoodle puppies. They are located in a small town called Soddy Daisy, Tennessee, which is 30 miles north of Chattanooga, Tennessee. Twin City Doodles is an accredited Blue Ribbon breeder from the Goldendoodle Association of North America (GANA). This means that this breeder has maintained the highest health standards over the years for its Goldendoodles.
Twin City Doodles has also been recognized as a responsible breeder by Good Dog. They have recently been awarded the badge of excellence for Goldendoodles health testing. They limit the number of litters in a year which means they are definitely not a puppy mill. This is perhaps the most reputable Goldendoodle breeder in Tennessee.
Their puppies have been raised to socialize with other puppies, older dogs, children as well as adults. The best thing about these Goldendoodle puppies in Tennessee is that they are affectionate, social, non-aggressive, and they are easy to train. The puppies start to be trained when they are 3 days old, and they follow the puppy culture training and socialization. This training includes clicker training, home socialization, house as well as crate training. They also get structural assessments and behavioral evaluations within the first two months of their lives.
Golden puppy information
Goldendoodle Breeder Details
3. Dapper Doodles of Tennessee
Dapper Doodles of Tennessee is a small multi-gen Goldendoodle breeder that specializes in producing happy and healthy puppies. The owner started it as a hobby which means the puppies are well taken care of and loved. Dapper Doodles of Tennessee is a Blue ribbon breeder and a member of GANA which means they are a certified breeder and they do the most extensive health checks on their puppies.
All the Goldendoodle parents have been DNA health tested for the most common health defects. Other than that the Goldendoodle puppies have a 2-year health guarantee against severe or fatal genetic defects. Also, the parents have been cleared by OFA (Orthopedic Foundation for Animals) for their eyes, hips, their hearts, and elbows. You can rest assured that these are the healthiest Goldendoodle puppies in Tennessee.
Dapper Doodles of Tennessee is not a puppy mill, and you can be assured that all the puppies are well-tempered and they are well-loved. Since the puppies are raised in a home setting, they are well socialized with other puppies, kids as well as adults. In addition, they will have been well-trained using the Puppy Culture program.
The Puppy Culture program includes early neurological stimulation, age-appropriate exercises and games, socialization to other dogs and people, and potty training. The needed puppy evaluation techniques are conducted when the Goldendoodle puppies turn 7 weeks old. These evaluations are to ensure that the puppy is perfect for you and your family.
The total purchase of a Goldendoodle puppy is $2500 with a non-refundable $250 deposit. This deposit is credited to the puppy's overall price. After you pay for the puppy, you can pick the puppy at the breeder's home or at Nashville international airport
Golden puppy information
Goldendoodle Breeder Details
What To Look For In A Goldendoodle Breeder from Tennessee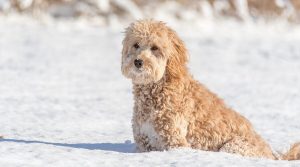 Sometimes when you are looking for a Goldendoodle breeder in Tennessee, you might end up in a puppy mill's home without knowing. There are a few things you need to consider before you pick a Goldendoodle breeder:
Physical health: Most people buying puppies are not vets which means they might not know exactly what to look out for. Some of the physical health-related things you should pick out in a puppy are its energy levels and whether they are playful and active or not. In addition, their eyes should be bright and alert.
Furthermore, the breathing should be regular with no wheezes and ensure their ears are clean with no odor. Their genitals should not have any redness and you should feel both their testicles and should be descended if it is a boy. Ensure the coat is shiny without bald patches or fleas.
Behavior around other puppies: check whether the puppies like being around people and other puppies. You should also check whether the puppies are bullies and if they are picking fights with the other puppies.
Do they like being touched or cuddled? You can pick them up and see how they react to your touch. Is the puppy sensitive to sounds? This can be tested by you clapping your hands and see if the puppy runs away.
As for genetics and general health issues, the breeder should be able to give health check information on request. The breeder should also tell you the breeding qualities of the available puppies or at least have them on their website for easy access.
As soon as you pick your Goldendoodle puppy from the breeder, ensure you take them to a veterinarian to have them checked. Most breeders allow people 72 hours to return a puppy in the event your vet notices a health problem.
Conclusion for Goldendoodle Puppies In Tennessee
In conclusion, Goldendoodles are a best friend for life. They are the best puppies for people with young kids and people with dog allergies. The rise of Goldendoodle puppies in Tennessee has been rampant which means that there are some unethical breeders on the market. Make sure that you choose a breeder from our list to ensure that you don't get a dog with significant genetic diseases.
Garrett loves animals and is a huge advocate for all Doodle dog breeds. He owns his own Goldendoodle named Kona. In addition, he volunteers at the Humane Society of Silicon Valley, where he fosters dogs and helps animals. Garrett enjoys writing about Doodles and believes that dogs can teach humans more about how to live than humans can teach a dog.
Why Trust We Love Doodles?
At We Love Doodles, we're a team of writers, veterinarians, and puppy trainers that love dogs. Our team of qualified experts researches and provides reliable information on a wide range of dog topics. Our reviews are based on customer feedback, hands-on testing, and in-depth analysis. We are fully transparent and honest to our community of dog owners and future owners.