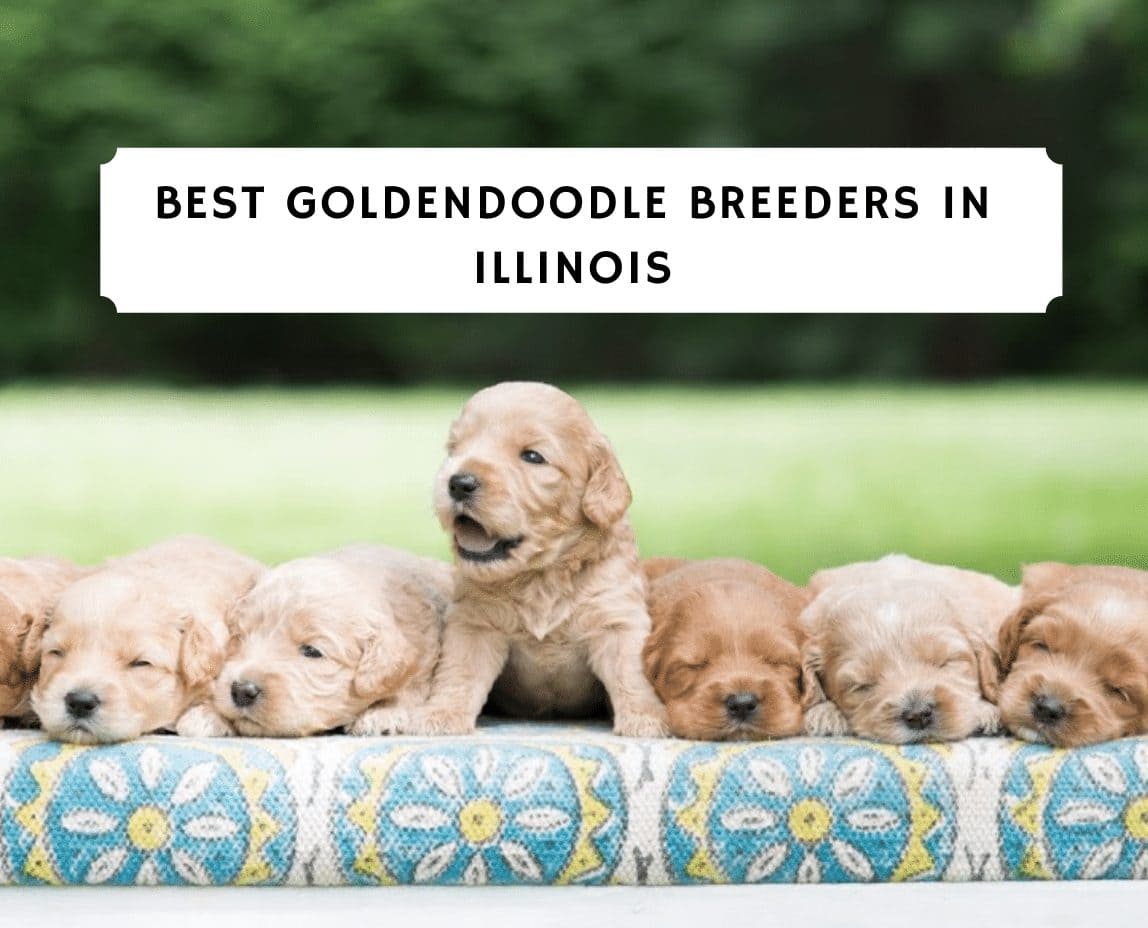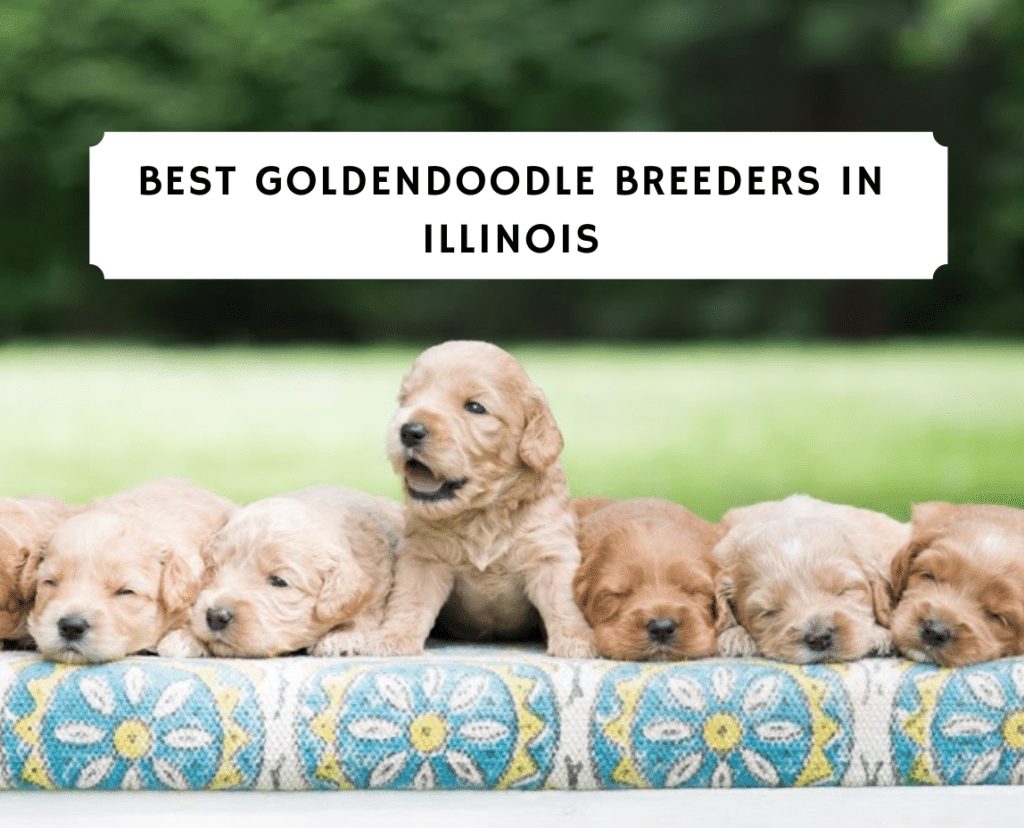 The number of Goldendoodle breeders in Illinois is growing rapidly because of how popular this crossbred dog has become. Goldendoodle puppies are a great family dog not only because they have beautiful coats, but because they also don't shed fur and are fantastic pets for people with allergies. That being said, if you're looking to purchase a Goldendoodle puppy in Illinois, one of the hardest tasks is to choose a reputable breeder so you will get a healthy puppy.
Since dogs live over 10+ years, it's important that you choose a good breeder so you don't incur a ton of health costs in the future related to genetic disease. In addition, since Goldendoodle's are a crossbreed dog, you will definitely need to verify that breeders went through various health checks on the parent dogs. Well, I've done a lot of the research for you and sifted through dozens of different Goldendoodle breeders in Illinois. Here is my list of the top 6 best Goldendoodle breeders in Illinois.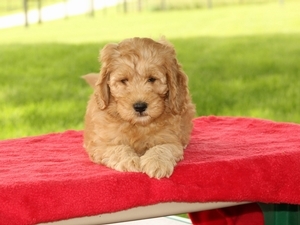 Central Illinois Doodles is our #1 Goldendoodle breeder on our list. I emailed them and spoke with them over the phone about their Goldendoodle dogs and breeding practices. They were able to answer all my questions in-depth and even gave me some recommendations on purchasing a Goldendoodle puppy.
This is a highly reputable Goldendoodle puppy breeder who is passionate about breeding beautiful, intelligent, and fun puppies. Not only that, but this breeder actually cares about the families that their dogs go to. They are willing to answer any questions you have about their dogs. John is the owner and he's a really nice guy.
What is unique about Central Illinois Doodles is that they send all of their puppies home with a health certificate from their local veterinarian stating that they have passed all their health examination inspections. This ensures that the puppy they sell you is healthy, up-to-date on age-appropriate vaccinations, and dewormed. They also give you a puppy back which consists of a collar, leash, some dog food, and many helpful tips on how to care for a new puppy. Lastly, they offer 30 days of free insurance coverage beginning the day the puppy leaves our home. The insurance is provided by Trupanion pet insurance.
This Goldendoodle breeder in Illinois currently operates as a family breeder and has a few litters per year. They often sell out of litters, so you should make sure that you are on their email list to be notified of an upcoming litter. They also sell their Goldendoodle puppies at a reasonable price.
Goldendoodle Puppy Information:
Generation: F1 and F1B Goldendoodle puppies
Size: Mini and Medium Goldendoodles
Goldendoodle Breeder Details:
Location: Located south of Chicago, Illinois.
Address: 780 N CR 60 E, Arthur, IL 61911
Website: Central Illinois Doodles
Telephone: 217-549-7589
Email: centralillinoisdoodles1@gmail.com
2. Premier Pups Goldendoodles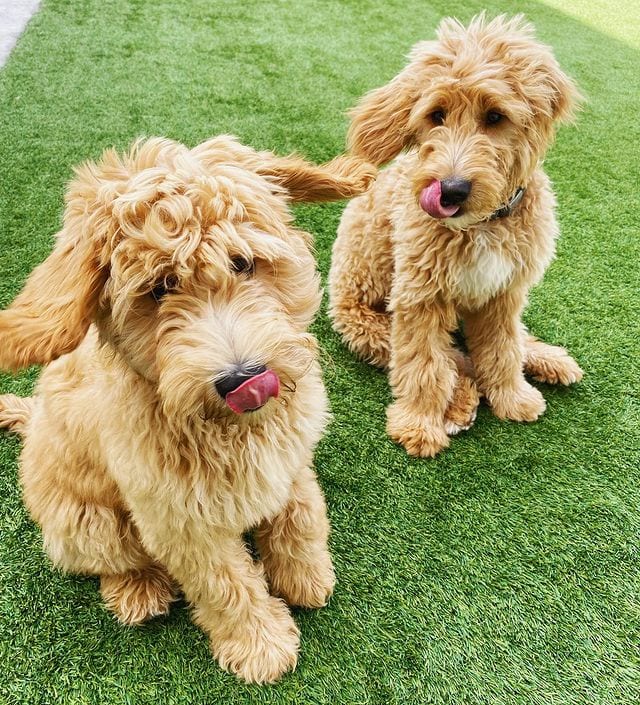 Premier Pups is one of the most reputable dog services in the United States. They work with a large network of Goldendoodle breeders to get you a new puppy today from a reputable breeder. One of the main benefits of using Premier Pups is that they have a 10-year guarantee on their puppies. This is because they stand behind the health of their puppies and their breeders.
Added:
They can also deliver to you regardless of where you are located in Illinois. Check out their website today if you're looking for mini Goldendoodle puppies in Illinois since they have some available.
Premier Pups is offering our customers a very generous $250 coupon code when you use "WLD250" at checkout. This is an exclusive coupon that you won't find anywhere else!
Goldendoodle Puppy Information:
Generation: All generations of Goldendoodles
Size: Mini Goldendoodles
Goldendoodle Breeder Details:
3. Erica's Doodles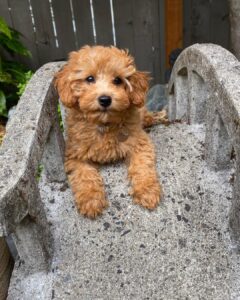 Erica's Doodles has been breeding Goldendoodle puppies in Illinois for over 11 years now. In addition to Goldendoodles, they breed tons of different doodle types including the Sheepadoodle, Bernedoodle, and Australian Labradoodle on their 10 acre property in Illinois. This means that they understand the doodle dog inside and out. Erica's Doodles is fully licensed by the state of Illinois and less than an hour away from downtown Chicago.
What's great about Erica's Doodles is that they are transparent on what they include and do no include when you purchase one of their Goldendoodle puppies. When you purchase a puppy, they include the first 3 shots for Parvo, 4 sets of de-worming, leash, collar, toys, food for 5 days, tick prevention, heartworm prevention, and a daily multi-vitamin. For most Goldendoodle breeders, you have no idea what you're going to receive until you pick the dog up. Erica's Doodle's also has a 3-year health guarantee on any of their dogs which is longer than the standard 2-year health guarantees that you see at other Goldendoodle breeders in Illinois.
Goldendoodle Puppy Information:
Generation: Multi-gen Goldendoodles
Goldendoodle Breeder Details:
Location: Located south of Chicago, Illinois.
Address: Kedzie Ave, Beecher, IL 60401
Website: Erica's Doodles
4. BlueBell Goldendoodles
BlueBell Goldendoodles is located near Lake Shelbyville in Illinois on a small farm. They have 5 Goldendoodle dogs that they breed and all their puppies come socialized by the time that you pick them up. Also, they don't raise any of their puppies in a kennel, but instead prefer to raise them indoors and watch over them 24 hours a day. This breeder also has one of the cheaper prices of a Goldendoodle puppy for sale in Illinois.
I like that they also don't ship any Goldendoodle puppies sight unseen. BlueBell Goldendoodles likes to meet each and every owner that they sell a dog to. In addition, shipping a puppy isn't exactly a 100% safe method of transportation. It causes unnecessary stress and anxiety in a Goldendoodle puppy.
They also breed several colors and sizes of Goldendoodle puppies. These are one of a few medium-sized Goldendoodle breeders in Illinois that I would recommend. You can also get many possible coat colors including parti, creamy white, tuxedo, or the standard apricot.
Goldendoodle Puppy Information:
Generation: F2B, Multi-gen Goldendoodles
Size: Medium Goldendoodles
Goldendoodle Breeder Details:
Location: Located in central Illinois close to Springfield, Bloomington, and Champaign.
Address: 1450 N, Shelbyville, IL 62565
Telephone: (217) 774-5768
Website: BlueBell Goldendoodles of Illinois
Email: lorraine@bluebellgoldendoodles.com
Social Media: Facebook
5. Massbach Mesa Goldendoodles
Massbach Mesa Goldendoodles is a breeder that is located in northwestern Illinois. The best thing about this breeder is that they are super transparent on which health tests their Goldendoodles have passed. They list all the health tests including degenerative myelopathy, Von Willebrand, heart, OFA, and PRA. They will even show you all the health certificates upon your request. It's important to have transparency in a breeder to ensure that you're getting a healthy puppy.
Massbach Mesa in Illinois breeds excellent Goldendoodle puppies that are going to be well socialized, healthy, have great temperaments, and have a happy personality. They invest a lot of time and energy into each Goldendoodle puppy in order to ensure that they have a good state in life. They breed several Goldendoodles per year and even have guardian homes for many of their dogs. Massbach Mesa Goldendoodles also breeds all sizes, so if you're looking for the coveted miniature Goldendoodle for sale in Illinois, this could be a potential breeder.
Goldendoodle Puppy Information:
Generation: F1B, Multi-Generation Goldendoodles
Size: Mini, Medium, Standard Goldendoodles
Goldendoodle Breeder Details:
Location: Located 2 hours from O'Hare in Chicago and 30 minutes from Galena, IL.
Address: 1545 S Massbach Rd, Stockton, IL 61085
Website: Massbach Mesa Goldendoodles
Phone Number: (815) 821-3435
Email: massbachmesagoldendoodles@gmail.com
6. Maple Valley Puppies
Maple Valley Puppies is a reputable Goldendoodle breeder in Illinois and has been breeding dogs for quite a while. They don't just breed Goldendoodles, but they also breed Bernedoodles so you can decide which doodle puppy is going to be right for you. The only downside of this breeder is that they only have toy Goldendoodles puppies for sale. You can't get the larger mini, medium, and standard-sized Goldendoodles that are going to be bigger. However, they have very reasonably priced for toy Goldendoodle puppies that come with a health guarantee.
Their puppies aren't allowed to leave for their forever home until 8 weeks old. In that time, the Goldendoodle puppies are veterinarian checked, microchipped, and get their first round of shots. If you're local to the central Illinois area, they also have a guardian program if you're interested in breeding your own dogs.
Goldendoodle Puppy Information:
Generation: F1, F1B Goldendoodles
Size: Toy Goldendoodles
Goldendoodle Breeder Details:
Location: Located in Robinson Illinois near north of Effingham Illinois.
Address: 4490 N 125th St., Robinson, IL, 62454
Telephone: (618) 707-0705
Website: Maple Valley Puppies
7. Paw Pad Doodles of Illinois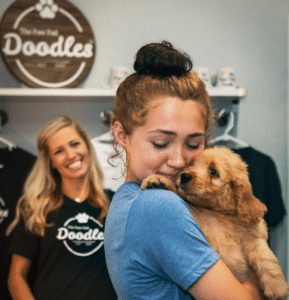 Paw Pad Doodles are a Goldendoodle breeder that has been around since 2003. They breed Goldendoodles in Illinois in a town in central Illinois and have 17 employees. Clients are encouraged to choose their puppy on the pick-out day. They also breed other doodles like the Bernedoodle so you can check out other doodle types on your facility visit.
In addition, if you're looking for a toy or miniature Goldendoodle puppy in Illinois this is one of the few reputable breeders that I would recommend. They have slightly higher pricing than some other Goldendoodle breeders, but make up for it with the fact that these puppies will be healthy and well socialized before you pick them up. They also have tons of reviews and testimonials because they are one of the bigger doodle breeders in Illinois.
Goldendoodle Puppy Information:
Generation: F1B, and Multi-Generational Goldendoodles
Size: Toy, Mini, and Medium Goldendoodles
Goldendoodle Breeder Details:
Location: Located in central Illinois near Bloomington and Peoria.
Address: 700 W 3rd Ave, Deer Creek, IL 61733
Website: Paw Pad Doodles of Illinois
Email: info@thepawpaddoodles.com
Choosing Goldendoodle Puppies and a Breeder in Illinois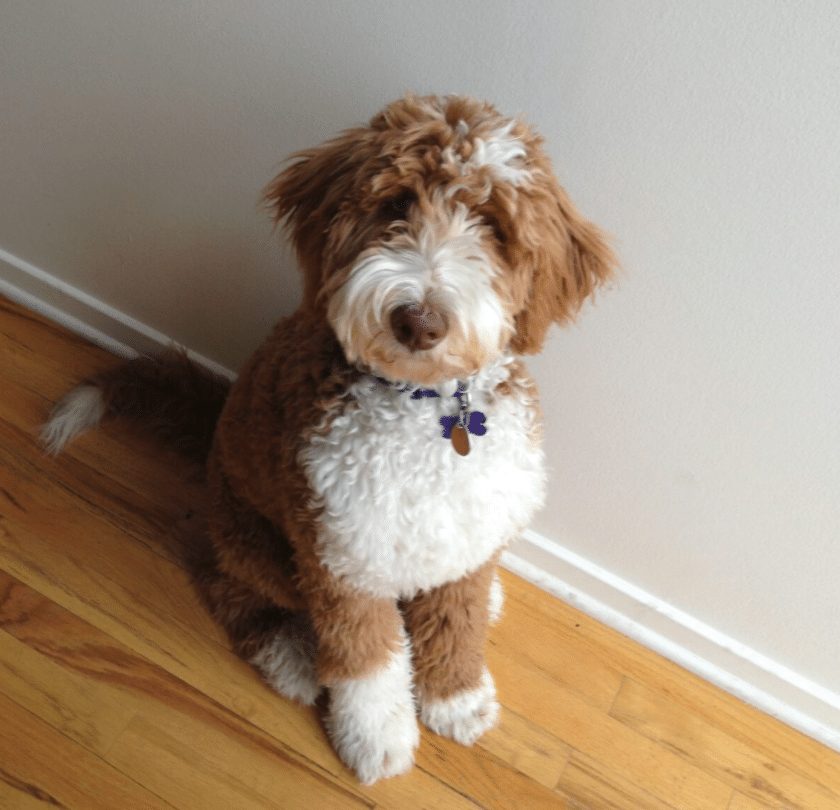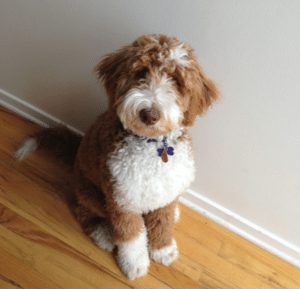 Illinois has tons of doodle breeders, especially those breeding Goldendoodle puppies. In order to help narrow down your search, it's a good idea to out what size you want your Goldendoodle (miniature, medium, or standard) as well as the generation you want your Goldendoodle (F1, F1B, F2, F2B, multi-generation, etc). Once you have those two aspects figured out for your future Goldendoodle puppy, it's quite easy to find a breeder. Below are the best tips we can give you to find a Goldendoodle puppy in Illinois.
The breeder must have health checks for all their parent dogs. There are several genetic issues that Goldendoodles are susceptible to since they are a cross-breed dog. You'll want to make sure that the breeder you purchase from does some extensive health tests and can show you the certificates to prove it. The common health tests are by OFA. If a breeder does not have any health certificates, I would stay far away from them.
Make sure the breeder is responsive and can answer all your questions. You're going to want to find a Goldendoodle puppy breeder in Illinois who is patient and willing to accommodate your questions. If a breeder isn't patient with a customer, it's a reflection on how they treat their puppies. Make sure you can develop some sort of relationship with the breeder you choose.
Make sure the Goldendoodle breeder in Illinois has a health guarantee. Most breeders will have a minimum of a 2-year health guarantee against any genetic diseases. Sometimes, bad things happen to these puppies and each breeder should stand by the health of the Goldendoodle puppies they are producing.
Make sure the breeder has reviews and testimonials. Check the Google reviews, Facebook reviews, or Yelp reviews before making your purchase. You don't ever want to purchase from the first litter of Goldendoodles because there usually are a lot of mistakes that are made. Make sure you purchase a Goldendoodle puppy from a reputable breeder so you don't regret your choice 10 years from now.
Conclusion for the Best 5 Goldendoodle Breeders in Illinois
We've reviewed several of the reputable Goldendoodle breeders in Illinois and spent hours researching through their information so you don't have to. We hope that list serves as a starting basis in your research for finding a reputable Goldendoodle puppy breeder in Illinois.
Garrett loves animals and is a huge advocate for all Doodle dog breeds. He owns his own Goldendoodle named Kona. In addition, he volunteers at the Humane Society of Silicon Valley, where he fosters dogs and helps animals. Garrett enjoys writing about Doodles and believes that dogs can teach humans more about how to live than humans can teach a dog.
Why Trust We Love Doodles?
At We Love Doodles, we're a team of writers, veterinarians, and puppy trainers that love dogs. Our team of qualified experts researches and provides reliable information on a wide range of dog topics. Our reviews are based on customer feedback, hands-on testing, and in-depth analysis. We are fully transparent and honest to our community of dog owners and future owners.