Goldendoodle puppies are arguably the most popular crossbred dog in the world. There's a super high demand for these dogs because they don't shed hair, are great for people with pet allergies, and look like teddy bears. If you're one of the people who want to get a Goldendoodle puppy, one of the hardest decisions you will face is finding a reputable Goldendoodle breeder in Michigan.
Michigan is an extremely large state and there are many Goldendoodle breeders. Thus, we researched and found the top 7 breeders of Goldendoodle puppies in Michigan. This will save you tons of time trying to find a reputable breeder, purchase a healthy dog, and find your lifelong friend.
Other articles you might like: Cavapoo Breeders in Michigan and Labradoodle Breeders in Michigan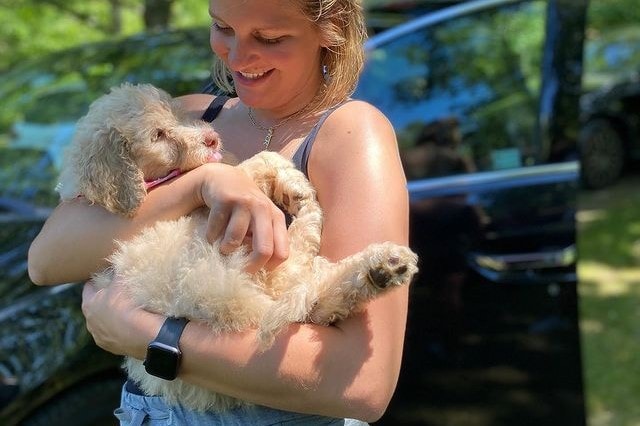 PuppySpot deserves to be #1 on our list for a variety of reasons, but the two most important reasons are that they scan all breeders for you and don't have a long waitlist. Chances are if you reached out to Goldendoodle breeders in Michigan, that you noticed most reputable breeders have a wait that is over 6 months long. PuppySpot is great because they are a network of breeders that are thoroughly vetted and they have Goldendoodles available now. In fact, their process is backed by the American Kennel Club (AKC), so they won't be a scam.
Additionally, you can search for the type of Goldendoodle puppy you want by size, age, coat color, and price. If the puppy isn't located in Michigan, they will even fly it out to you and hand-deliver it. We are highly recommending that you check out PuppySpot today if you're searching for a puppy.
Goldendoodle Puppy Information:
Generation: All generations including F1, F1B, F2, F2B, and multi-gen.
Size: Miniature, Medium, and Standard Goldendoodles
Goldendoodle Breeder Details: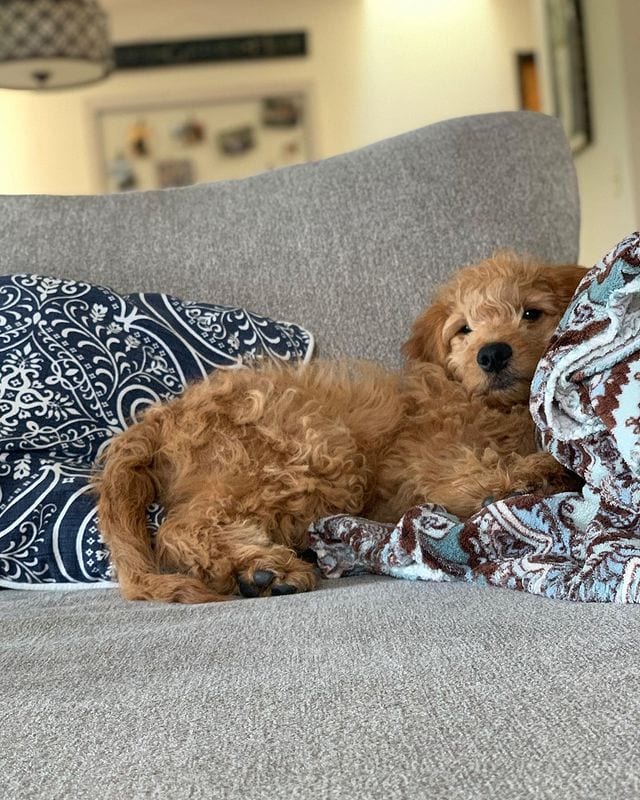 Premier Pups provides quality Goldendoodle puppies to families all around the United States. They are all about the joy and experience with your furry friend — from the first sight at your doorstep to the first birthday celebration. They partner with some of the most reputable Goldendoodles breeders throughout the United States.
The team lovingly cares for their Goldendoodle puppies at their facility in Johnstown, Ohio. They welcome all visitors who are interested in puppies and their staff will make your visit easy and prepare you to take your puppy home. 
One can directly pick up your Goldendoodle puppy from their facility for free or choose from the low-cost delivery options available. They have teamed up with some of the world's most reputable airlines to deliver the puppy to your nearest major airport in Michigan.
Each Goldendoodle puppy at Premier Pups comes with a 10-year health guarantee. They also provide Fetch pet insurance at a discounted rate. If you're looking for an affordable miniature Goldendoodle puppy in Michigan, we highly suggest that you check them out.
Update: Premier Pups has $250 off a mini Goldendoodle puppy with code WLD250.
Goldendoodle Puppy Information:
Generation: All generations of Goldendoodles Puppies
Size: Mini Goldendoodle Puppies
Goldendoodle Breeder Details:
3. Black Mountain Goldendoodles
Black Mountain Goldendoodles has been a breeder for over 10 years now and is located in the northern Michigan area. They have experience breeding several types of dogs including Golden Retrievers, Cocker Spaniels, and Siberian Huskies. Since they are located in a rural part of Michigan, they have over 160 acres for their Goldendoodles to roam around on. They have many types of animals including parrots, chickens, peacocks, and cats so all of their Goldendoodles are going to be well socialized with other animals.
Black Mountain is a great breeder of Goldendoodle puppies in Michigan because they have a 2-year health guarantee for all major genetic injuries including hip dysplasia which is common in Goldendoodles. In addition, they are very transparent in all of their planned breedings. They have 6 different Goldendoodles and plan their breedings throughout the year.
Goldendoodle Puppy Information:
Generation: F1B, Multi-gen Goldendoodles
Size: Medium, Standard Goldendoodles
Goldendoodle Breeder Details:
Location: Located in northern Michigan near Petosky.
Address: 9341 Twin Lakes Rd, Cheboygan, Michigan, 49721
Telephone: 231-625-2418
Email: blackmtdoodles@hughes.net
4. Whitehouse Goldendoodle Puppies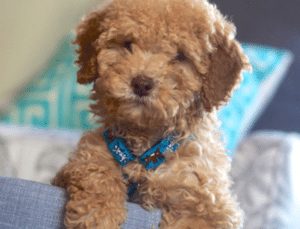 Whitehouse Goldendoodle Puppies is located on the border of Michigan and Ohio. If you're searching for a reputable breeder near Detroit Michigan then this could be a good option for you. They have a twenty-acre farm, and they care a lot about socializing their puppies before they hand them over to their forever home. Whitehouse breeds Goldendoodle puppies that will have a wonderful temperament, personality, and have good health.
In addition to Goldendoodle puppies, they also breed Labradoodles and Australian Labradoodles. If you're looking for a more multi-colored dog then an Australian Labradoodle could be a good choice for you. For all their puppies they have a two-year health guarantee. Also, all the initial shots and microchips are covered for their puppies. They have great testimonials and reviews online for their Goldendoodles.
Goldendoodle Puppy Information:
Generation: F1B, Multi-gen Goldendoodles
Size: Mini, Medium, Standard Goldendoodles
Goldendoodle Breeder Details:
Location: Located south of Detroit. This breeder isn't located in Michigan, but it's the closest reputable breeder to Detroit, Michigan.
Address: 10702 Ramm Rd, Whitehouse, OH, 43571
Telephone: 419-304-5636
Website: Whitehouse Doodles
Email: ohiolabradoodles@gmail.com
5. Smithwoods Goldendoodles
Smithwoods Goldendoodle puppies is located in Byron Michigan which is close to Lansing and Detroit. They only operate from a Facebook page, but they have stellar reviews and a large plot of land which allows their dogs to explore and exercise. Smithwoods has produced many Goldendoodle puppies and previous owners claim they have great temperaments, coats, and personalities. The owners are very caring and will answer any questions that you have regarding health checks, generations, sizes, and colors. The puppies are raised indoors, but they also have several outdoor kennels where they allow the Goldendoodle puppies to run around.
Goldendoodle Puppy Information:
Generation: F1, F1B, Multi-Generation Goldendoodles
Size: Standard Goldendoodles
Goldendoodle Breeder Details:
Location: Close by to Lansing Michigan. Also close to Detroit.
Address: 7989 E Lovejoy Road, Byron, MI, 48418
Website: Smithwoods Goldendoodles
Phone Number: (517) 294-0540
Email: dlandboystwo@gmail.com
6. Apple Creek Doodles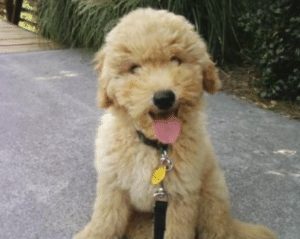 Apple Creek Doodles in Clyde Michigan breeds Goldendoodle puppies. They are one of the oldest Goldendoodle puppy breeders around having bred these dogs since 2004. The owner no longer works a full time job, and just likes to breed Goldendoodle puppies. This means that the puppies will get her full attention 24 hours a day and be well socialized by the time you pick them up. Also, Apple Creek Doodles of Michigan will also help you pick out a Goldendoodle puppy that matches your lifestyle and home size. Since they are around the puppies so much, they understand their personality and temperament.
In addition to Goldendoodles, Apple Creek Doodles of Michigan breeds Bernedoodles, Sheepadoodles, and Labradoodles. They also willingly give you the health certificates of each of the dogs when you pick up your puppy. Unlike other breeders, Apple Creek Doodles is proud to have their dogs health tested and wants to show you their health certificates.
Goldendoodle Puppy Information:
Generation: F1, F1B Goldendoodles
Size: Mini, Medium Goldendoodles
Goldendoodle Breeder Details:
Location: North of Detroit. East of Flint.
Address: Clyde, Michigan 48049
Telephone: 810-488-1619
Website: Apple Creek Doodles
7. Hickory Hills Goldendoodle Puppies of Michigan
Hickory Hills Goldendoodle Puppies of Michigan are home bred and raised by their family. They are allowed to run outdoors and showed love from the family. Also, they focus on breeding smaller-sized Goldendoodles that are petite and mini, so if you're looking for a smaller Goldendoodle this could be your breeder. Hickory Hills also prides itself on creating hypoallergenic and nonshedding Goldendoodle puppies. They have a 2-year health guarantee and complete all the standard health checks.
Goldendoodle Puppy Information:
Generation: F1B, F2B, and Multi-Generational Goldendoodles
Size: Petite, Mini, and Medium Goldendoodles
Goldendoodle Breeder Details:
Location: Located in central Michigan north of Saginaw and Flint.
Address: Midland, Michigan
Email: hickoryhillsdoodles@gmail.com
Choosing between Goldendoodle Puppies and Breeders in Michigan
Since Michigan is a large state with several Goldendoodle breeders, you'll want to know the most efficient ways to choose between Goldendoodle puppies and breeders. In order to avoid a puppy mill and choose the right puppy, here are my top tips:
Make sure the breeder does health checks on the parent dogs. The best way to know if you're getting a healthy puppy is if the parent Goldendoodles are healthy. The main health checks are going to be provided in the form of an OFA certificate that checks the elbows, eyes, hips, and heart. If a Goldendoodle puppy breeder refuses to show you health certificates, I would definitely avoid them.
Most reputable breeders will provide a 2-year health guarantee. While a health guarantee won't ensure that the dog lives forever, it does show that a breeder believes in the health of their Goldendoodle puppies. If a breeder doesn't provide a minimum of a 2-year health guarantee I would not buy my Goldendoodle puppy from them.
Check that the breeder has testimonials or reviews. Breeding healthy dogs is extremely hard, and you don't want to be the person who buys from the first litter because chances are high that there may be significant health issues. Make sure that the breeder you choose has some reviews or people who can verify their dogs are healthy.
Conclusion for the Top 7 Breeders of Goldendoodle Puppies in Michigan
We have spent hours researching most of the reputable breeders of Goldendoodle puppies in Michigan and narrowed down our list to the top 7. We hope that this list serves as a starting point in your research for a Goldendoodle puppy. Once you figure out which size Goldendoodle you need, you'll need to figure out which generation of Goldendoodle is right for you. Lastly, you can find a good breeder in Michigan that fits your needs!
Garrett loves animals and is a huge advocate for all Doodle dog breeds. He owns his own Goldendoodle named Kona. In addition, he volunteers at the Humane Society of Silicon Valley, where he fosters dogs and helps animals. Garrett enjoys writing about Doodles and believes that dogs can teach humans more about how to live than humans can teach a dog.
Why Trust We Love Doodles?
At We Love Doodles, we're a team of writers, veterinarians, and puppy trainers that love dogs. Our team of qualified experts researches and provides reliable information on a wide range of dog topics. Our reviews are based on customer feedback, hands-on testing, and in-depth analysis. We are fully transparent and honest to our community of dog owners and future owners.