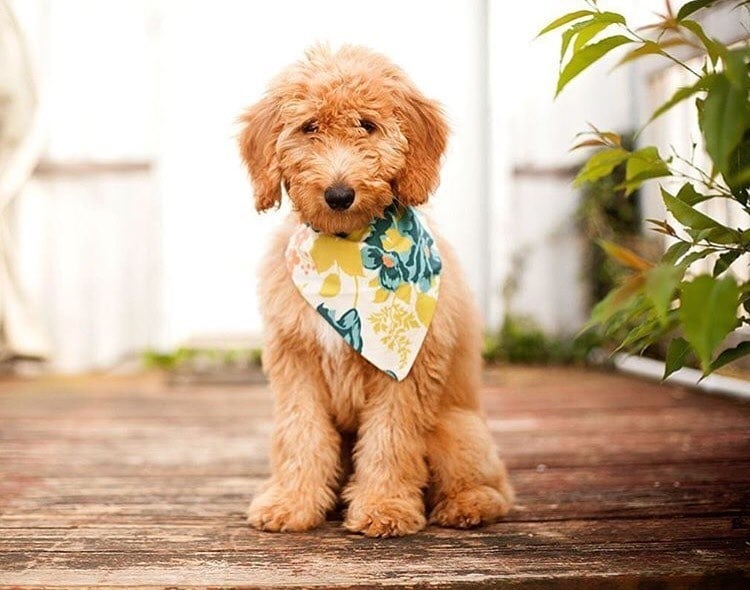 Australian Labradoodles are also commonly referred to as the Poodle, Cocker Spaniel, and Labrador Retriever mix.  This is one of the fastest-growing doodle dog breeds because they were bred to be service dogs that were hypoallergenic and nonshedding.  The Australian Labradoodle is a medium-sized dog breed with a compact body that is incredibly athletic, graceful, and cuddly.  In addition, due to its non-aggressive personality, this dog breed is easily trainable, loving, and easy-going.
One of the biggest reasons why the Australian Labradoodle was bred was because the Labrador Retriever and Cocker Spaniel shed a lot of hair and aren't hypoallergenic.  Originally, back in the 1980s, the idea was to create a service dog that could be used by pet owners with severe pet allergies.  An Australian Labradoodle will shed a lot less hair than the Labrador Retriever and Cocker Spaniel because it contains a significant amount of Poodle genes.  The Poodle genes provide a coat that doesn't shed and is great for pet owners with allergies because their fur doesn't shed dander.  
What is an Australian Labradoodle?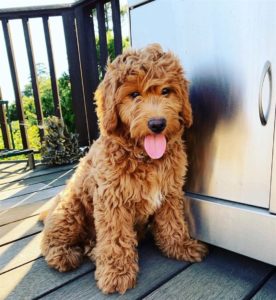 The Australian Labradoodle isn't a purebred dog, but instead is a mix between three different dog genetics: the Cocker Spaniel, Labrador Retriever, and Poodle.  Each of these dog breeds has quite different personality traits, but the combination of each of these dogs is best described as a clever, sociable, and joyful dog breed.  This is definitely an energetic dog breed, but they approach people in a friendly and happy manner which makes them great for families and children.
In general, each Australian Labradoodle can be vastly different than another due to it being a crossbred dog.  Australian Labradoodles can come in over 20 different colors, have different coat types (straight, wavy, curly), and have vastly different personalities based on the genes they inherit.  However, since genetics and appearance can vary so widely, this is what makes every Australian Labradoodle unique and special to its owners.
Australian Labradoodle History
The Labradoodle breed dates all the way back to the 1980s and was created by Wally Conran of Royal Guide Dogs. The aim was to make a dog breed that was going to be asthma and allergy-friendly that could also be a service dog.  A girl in Hawaii had motivated Wally to create this dog breed.  Of the 31 Labradoodles created by Royal Guide Dogs, a shocking 29 made it through as Guide Dogs. This was an accolade of unparalleled percentage with this "new breed" of guide dog.
Breeders in Australia started breeding Labradoodles and decided to make litters with similar character, coat type, and conformation.  A range of dog breeds was bred to help in this endeavor and "experiment."  The American Cocker Spaniel and the English Cocker Spaniel were the genetic strains that were used to create various different Labradoodle breeds.  Thus, the Australian Labradoodle was created and is one of the most sought-after dog breeds aside from the Labradoodle and Goldendoodle.
Organizations were formed to guard the maturation of the Labradoodle lines, and guidelines for the introduction of the Australian Labradoodle.  One of the biggest organizations to enforce and track the Australian Labradoodle is the Australian Labradoodle Association of America.  Let's take a quick look at each individual history of the Poodle, Cocker Spaniel, and Labrador Retriever.
Poodle History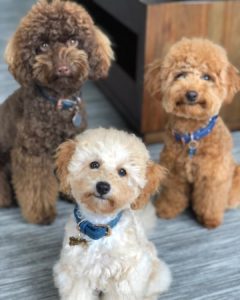 The Poodle is world-famous and one of the most popular breeds in the world — the 7th most popular dog breed according to the AKC.  This is because they don't shed, are hypoallergenic, and are extremely intelligent.  The Poodle originated in Europe several centuries ago and was used for agility exercises and water activities.  Poodles became so popular that breeders began making various combinations and many distinct sizes.
Cocker Spaniel History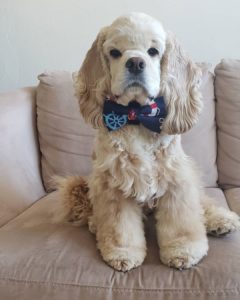 Cocker Spaniels are descended from one of the oldest breeds — the Spaniel. Spaniels have come to be part of history in tales by Chaucer (1342-1400), Shakespeare (1564-1616), and even played a part in England's separation from the Catholic Church.  It's thought that Spaniels originated from Spain through Caesar's invasion. Cocker Spaniels evolved into hunters that would catch small animals like partridges and pheasants.
Labrador Retriever History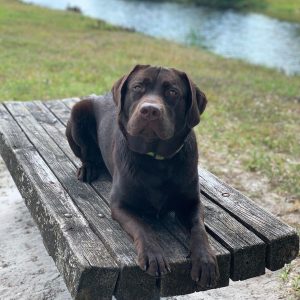 The Labrador Retriever was a fishing and retrieving puppy from Newfoundland, an island providence in Canada.  The original Newfoundland Labrador Retriever was black in color and of moderate size, which was used in pulling heavy loads in carts.  In addition, the Labrador Retriever was excellent at pulling fishing lines and nets from the water.  Due to their temperament of affection and playfulness, they were bred throughout many different households which is one of the reasons they became so popular.
How is an Australian Labradoodle Bred?
Since it's physically impossible to breed three different dog types together, the Australian Labradoodle is bred in a variety of different ways.  Most commonly, a multi-generation Labradoodle (Poodle / Labrador Retriever) with a majority of Poodle genetics will be bred with a Cocker Spaniel.  This creates the first generation of the Australian Labradoodle.  Subsequently, this Australian Labradoodle can be bred with other Australian Labradoodles to create various generations of the breed.  Quite typically, breeders may backcross breed an Australian Labradoodle with the Poodle to get a more hypoallergenic and nonshedding dog.  Typically you'll see Australian Labradoodles with at least 50% Poodle genes, 25% Cocker Spaniel genes, and 25% Labrador Retriever genes.
In general, if you are seeking an allergy-friendly dog that is nonshedding, you should try to find a breeder that has Australian Labradoodles with at least 50% Poodle genetics.  Most reputable breeders have DNA tests and will be able to tell you the mix of their Australian Labradoodles.  You should look for Australian Labradoodles that have curly or wavy coat types as well since this typically means they are non-shedding.
The Australian Labradoodle Breed
The Poodle, Labrador Retriever, and Cocker Spaniel mix is a very diverse breed that contains several different sizes and colors.  Common Australian Labradoodle sizes will be the mini Australian Labradoodle,  medium Australian Labradoodle, and standard Australian Labradoodle.  In addition, this dog breed comes in over 20 different colors including cream, apricot, red, black, parti, and tri-color.  The best indications of how big your dog will be and what colors they will comes from the parent dogs.
Australian Labradoodle Size
There are three recognized standard sizes of Australian Labradoodles including the mini Australian Labradoodle (less than 30 pounds), medium Australian Labradoodle (30 to 45 pounds), and standard Australian Labradoodle (45+ pounds).  More information about each size is below.
Mini Australian Labradoodle Size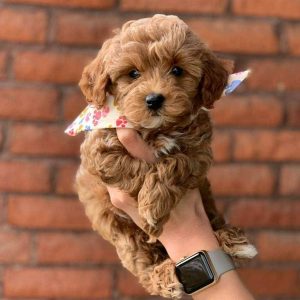 The mini Australian Labradoodle size is the smallest of this dog breed. The miniature ranges between 14 to 16 inches in height and weighs less than 30 pounds.  The mini Australian Labradoodle is the most popular size of this breed because it can fit in a smaller-sized space and will typically require a little bit less exercise than the bigger sizes.  So if you own a condo or apartment, the mini Australian Labradoodle size might be the best size for you.
Within the mini Australian Labradoodle category, some breeders may say they have Toy Australian Labradoodles or Micro Australian Labradoodles. These are simply extremely small versions of the mini Australian Labradoodle that weigh less than 20 pounds.  It should be noted that Toy Australian Labradoodles and Micro Australian Labradoodles have significant health problems so they should be avoided.
Medium Australian Labradoodle Size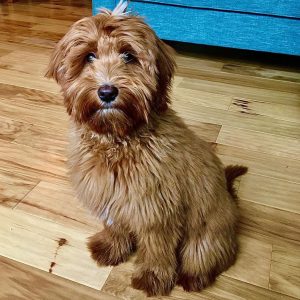 The medium Australian Labradoodle size is a dog that is 17 to 20 inches tall and weighs between 30 to 45 pounds.  This is a good sweet spot for dog owners who are looking for a dog that isn't too big and isn't too small.  The medium Australian Labradoodle would be great for outdoor activities like hiking or running.  However, the medium Australian Labradoodle is highly energetic and should have lots of room to run around.  It may be difficult to fit this dog size into a smaller living space.
Standard Australian Labradoodle Size
The Standard Australian Labradoodle size is the largest of the Poodle, Labrador, and Cocker Spaniel mix.  This dog size is classified as anything more than 45 lbs and stands approximately 21 to 24 inches in height. The Standard Australian Labradoodle will demand a significant amount of exercise so you should likely have a backyard that this dog could run around in.  Alternatively, you should make sure that you live a relatively active lifestyle and enjoy walking or taking your dog to a dog park.
Australian Labradoodle Colors
There are over 15 official colors according to the Australian Labradoodle Association.  These colors include Caramel Ice, Caramel Cream, Caramel, Caramel Red, Red, Gold, Apricot, Cream, Chalk, Chocolate, Café, Lavender, Parchment, Black, Blue, and Silver.  In addition, there are several different patterns to the Australian Labradoodle including solid colors, parti colors, phantom colors, and merle colors.
This makes the Australian Labradoodle coat color impossible to predict without analyzing the parent dogs.  In order to get a good understanding of what your Australian Labradoodle will look like you have to examine the parent dogs.  The most common Australian Labradoodles colors are described below.
Caramel Australian Labradoodle
If you notice there are 4 different kinds of caramel colors for the Australian Labradoodle.  This means that their coat colors can range from basically an off-yellow to a red-orange color.  Typically, the caramel Australian Labradoodle is a solid color with a brown nose and brown eyes.  The caramel color is a dominant trait that you will see in a lot of Australian Labradoodles that comes from a yellow Labrador Retriever and Cocker Spaniel.  Typically to get a caramel Australian Labradoodle breeds will use a lighter color Poodle.
Red Australian Labradoodle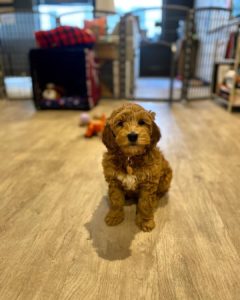 A red Australian Labradoodle is one that looks exactly like a teddy bear.  They will be rich and dark red in color with black noses and black eyes.  The red Australian Labradoodle coat color tends to fade over time and turn into a Gold Australian Labradoodle.  Typically, red Australian Labradoodles have a solid coat color, but you can also find red mixed with white coloring.
Gold Australian Labradoodle / Apricot Australian Labradoodle
The Gold Australian Labradoodle or Apricot Australian Labradoodle is lighter than a red Australian Labradoodle.  They are the colors of the inside of an apricot with either a black or brown nose.  You typically see their ears and mustache areas a little bit darker in color than the rest of their body.
Black Australian Labradoodle
Black Australian Labradoodles are typically all black in color including their nose, eyes, nails, and paws.  Black is typically considered a recessive genetic trait but is commonly inherited in a black Australian Labradoodle from a black Labrador Retriever.  You will also typically see black in parti Australian Labradoodles or multi-colored Australian Labradoodles.
How much does an Australian Labradoodle cost?
Australian Labradoodle prices can vary greatly based on location, demand, and reputation of the breed.  In general, this designer dog breed can get very expensive and you will usually see the cost of an Australian Labradoodle be between $2,000 and $3,000.  Since these dogs are extremely popular, breeders have difficulty keeping up with the demand which significantly influences the price of an Australian Labradoodle.  However, no reputable breeder will over-breed their dogs, but instead, they will raise prices.  Please make sure you buy responsibly.
Is an Australian Labradoodle the Right Dog for Me?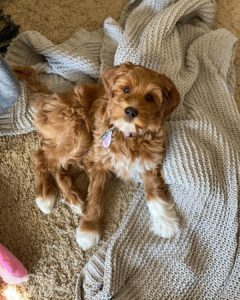 The Australian Labradoodle was meant to be a service dog so they should get along with anybody as long as they're socialized as a pup and treated correctly.  The Australian Labradoodle does take a ton of attention and energy as they enjoy physical activities and mental stimulation.  The Labrador Retriever, Poodle, and Cocker Spaniel are all active dog breeds that love to stay occupied by fetching, running, or walking.
Without proper exercise, the Australian Labradoodle is very likely to become destructive around your home by chewing on various items and causing trouble because they are bored.  This disobedience and mischievous activities are virtually the worst that this dog will do.  In general, though, if you don't live a busy lifestyle and can't accommodate the lifestyle of an active dog, then an Australian Labradoodle might not be the dog for you.
The good aspect of the Australian Labradoodle is they have great genetic qualities. The Australian Labradoodle will be hypoallergenic which means that if you have pet allergies then this dog will lessen the effects of sneezing, red eyes, and itchiness.  In addition, an Australian Labradoodle won't shed much hair which means you won't have to vacuum or wipe hair off your clothes all of the time.  The drawback is that you will have to groom your Australian Labradoodle regularly and provide them haircuts every 8 to 12 weeks.  In addition, you'll need to brush your Cocker Spaniel, Labrador, and Poodle mix at least a few times a week to prevent mattes and tangles.
An Australian Labradoodle makes a fantastic choice for someone if you aren't concerned about getting a purebred dog. The Australian Labradoodle has great health and will generally live over 11+ years.  
Conclusion for Australian Labradoodle Guide – Labrador, Poodle, Cocker Spaniel mix
At the end of the day, only you are able to choose whether or not the Australian Labradoodle is the right puppy for you. We can tell you the Australian Labradoodle is among the fastest-growing doodle dog breeds because they're affectionate and intelligent. In addition, this puppy breed is excellent for families and children because they're non-aggressive and always happy.  Considering the superior qualities of being hypoallergenic and nonshedding, you can't go wrong with this dog breed. Just know that an Australian Labradoodle is difficult to predict the color, personality, and temperament of the dog because it is a crossbred.
Other articles you would enjoy:
Frequently Asked Questions
Do Australian Labradoodles Shed?  
Australian Labradoodles are generally nonshedding.  However, you must plan for your Australian Labradoodle to shed at least a little bit if they have a significant amount of Labrador Retriever or Cocker Spaniel genetics. The amount your Australian Labradoodle sheds will be highly determined by the quantity of Poodle genetics because Poodles don't shed.
Are Australian Labradoodles Hypoallergenic?  
In general, the Australian Labradoodle will probably be hypoallergenic.  This is a genetic trait that is inherited through the Poodle.  The more Poodle genetics that your dog has, the hypoallergenic your Australian Labradoodle will be.  Check with your breeder for a DNA test to make sure.
When do Australian Labradoodles stop growing?
Generally, Australian Labradoodles will stop growing around the 11-month mark in which they are 95% of their body weight.  They will then grow slowly until about the 2-year mark when they are fully grown.
Is the Australian Labradoodle a breed?
Yes, the Australian Labradoodle is a dog breed that is a mix of Labrador Retriever, Cocker Spaniel, and Poodle. It is quite popular around the world.
Are Australian Labradoodles hyper?
In general, an Australian Labradoodle is going to be a highly energetic dog breed.  It comprises of the Labrador Retriever, Poodle, and Cocker Spaniel, which are all working dog breeds.  I would expect that your Australian Labradoodle is at least somewhat hyper has a puppy and then calms down with age.
Garrett loves animals and is a huge advocate for all Doodle dog breeds. He owns his own Goldendoodle named Kona. In addition, he volunteers at the Humane Society of Silicon Valley, where he fosters dogs and helps animals. Garrett enjoys writing about Doodles and believes that dogs can teach humans more about how to live than humans can teach a dog.
Why Trust We Love Doodles?
At We Love Doodles, we're a team of writers, veterinarians, and puppy trainers that love dogs. Our team of qualified experts researches and provides reliable information on a wide range of dog topics. Our reviews are based on customer feedback, hands-on testing, and in-depth analysis. We are fully transparent and honest to our community of dog owners and future owners.