Our team at We Love Doodles has created a list of breeders with Goldendoodle puppies in Sydney for you to look through. Considering their adorable looks and easy-going temperament, the sharp increase in the popularity of Goldendoodle puppies in Sydney doesn't come as a surprise.
Goldendoodles, or Groodles, as they are called in Australia, are bred from Poodles and Golden Retrievers. They are intelligent and energetic dogs that require regular exercise.
While Groodles may not make ideal pets for couch potatoes, they are excellent companions for people who enjoy an active lifestyle. If you want a joyful, affectionate, and friendly puppy around the house – a Goldendoodle is the one for you.
Before you scroll down this list of breeders with Goldendoodles in Sydney for sale, check out these other recommendations from our team at We Love Doodles: Maltipoos For Sale in Sydney and Cockapoos For Sale in Sydney.
Golden Doodles in Sydney
How do you find breeders with Goldendoodle puppies in Sydney? Especially when countless breeders are claiming to breed the healthiest puppies in town. Well, we've got your back. In this article, we'll list the top Goldendoodle breeders in Sydney.
Goldendoodle Guides: Best Dog Brushes For a Goldendoodle and How Much Does a Goldendoodle Cost?
1. PuppySpot's Goldendoodles for Sydney
First on the list of the best breeders with Goldendoodle puppies in Sydney for sale isn't an individual breeder. It isn't a breeder; instead, it's a service committed to helping breeders place their puppies in happy homes. They promise never to work with puppy mills or scammers, which means no headaches for you.
PuppySpot screens every potential breeder through a proprietary process backed by the USDA. This process is so strict that only about 10% of those who apply go on to sell through their website. Breeders who make it through the initial screening process must submit to annual screenings to ensure that their breeding programs meet or exceed the national standards.
PuppySpot puts the health and well-being of all their puppies first. To this end, every puppy sold through their website comes with a certificate of good health issued by a licensed, third-party veterinarian. They also provide pet owners with a 10-year health guarantee to protect all puppies against congenital diseases.
Suppose you purchase your Goldendoodle puppy through this service. In that case, you can rest assured that they will make it safely from their breeder's home to your home using PuppySpots USDA-certified private transportation network. They optimize their travel routes to keep the journey as low-stress as possible and ensure your puppy's safety by having trained vet techs travel alongside them every step.
PuppySpot Details
2. Oodles of Groodles
Oodles of Groodles is a family-owned breeder in Australia specializing in breeding Goldendoodles and Cavoodles. The puppies born in their care are hand raised and cared for in a family environment leading them to become socially well-adjusted and easy-going dogs.
Moreover, all puppies at Oodles of Groodles are micro-chipped, vaccinated, and vet-checked. They grow up in a safe and secure environment free from unethical breeding practices. The breeder welcomes visits; you may visit to evaluate the environment yourself. Choose to adopt a Goldendoodle puppy from Oodles of Groodles.
You will get a puppy pack including a vet folder consisting of a vaccination card, helpful advice, food samples, shampoo sample, collar, leash, toys, and a blanket with a familiar smell to help your new pet adjust to their new home. You can check for available puppies and fill out an application form on the website. Oodles of Groodles deliver all over Australia, including door-to-door delivery in Sydney.
Their travel package costs $300 and includes:
Travel to the airport
Flight to your largest city
Flight purchases include a 25% breeder discount
Oodles of Groodles Details
3. Camden Valley Groodles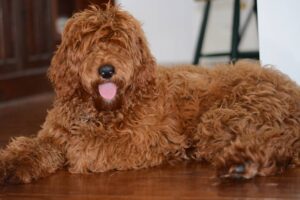 Home to the most adorable Goldendoodles and Labradoodles, Camden Valley Groodles, is a breeder with over four decades of experience in breeding healthy and loveable doodle puppies. At Camden Valley Groodles, a series of health tests are performed on the pet parents before breeding puppies – including hip and elbow testing, eyes, heart, skin, patella testing, and other genetic tests.
Moreover, they work with notable vets specializing in reproduction to ensure the best possible outcomes. In addition, Camden Valley Groodles provides a 2-year guarantee against hip dyslexia and other hereditary diseases. All dogs are vaccinated and de-wormed several times yearly to prevent worm infestations.
Regular socialization, cuddles, health checkups, pack walks, exercise, playtime, swimming, and one-on-one time are a part of the dogs' routine to keep them healthy, active, and happy. If you cannot come to collect your puppy, Camden Valley Groodles proudly ships their puppies worldwide.
They have shipped puppies all over Australia via road and air. They use commercial and private airlines to transport puppies; shipping prices start from $400. To know about the pricing and deposit fee, kindly contact Camden Valley Groodles Kennels.
Camden Valley Groodles Details
4. Chevromist Australia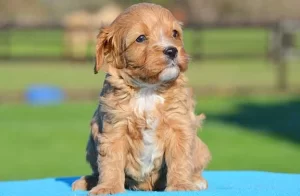 With an experience of over 30 years, Chevromist is a kennel that breeds healthy and active Spoodles, Groodles, Cavoodles, Moodles, Beagliers, Poochons, and Cavachons. Although they are located in Melbourne, Chevromist is happy to deliver its Doodle dogs everywhere in Australia, including Sydney.
Chevromist is a Victorian ministry-approved and fully licensed Domestic Animal Business. And since they undergo regular audits from the Chief Veterinary Officer of Victoria and their local council, they can be vouched for being fully responsible and reliable breeders for all the adorable doodles under their care.
Their breeding program also includes thorough DNA testing for over 30 genetic diseases. So, it's also safe to say that all dogs currently at the kennel are free from genetic conditions. Moreover, Chevromist offers a 3-year health guarantee for dogs purchased from their kennel.
Although located in Victoria, Chevromist offers an Australia-wide delivery. They will arrange a safe and secure flight for your puppy – you must get ready to welcome your new pet and ensure it feels completely at home with you and your family.
Chevromist Australia Details
5. Kate's Family Pets
Located in O'Connell, New South Wales, a mere 2-and-a-half-hour drive from Sydney, Kate's Family Pets is an ethical breeder that has been breeding poodle-crosses since 1994. Dr. Kate Schoeffel of Kate's Family pets is a renowned breeder, credited with being the first to breed Mini Labradoodles.
She is committed to breeding well-tempered and healthy doodles for Australians. Having the run of the 500-acre farmland, dogs at Kate's Family Pets live an active and happy life – they run around in the fenced farmland during the day and are kenneled at night. Kate's Family Pets also offer retired dogs.
If you'd be interested in caring for a retired dog – you can reach out to the kennel. However, an important point to note regarding the retired dogs and other pets at Kate's Family Kennel is that they live in a familiar environment with little to no traffic, few children, and hardly any strangers.
Therefore, the transition to family life can prove challenging for them, which is why Dr. Kate recommends being patient with your new pet. If you're interested in purchasing Groodles from Kate, you can fill out an inquiry form.
You will receive detailed information regarding price, links to their waiting lists, and newsletters. Once your queries have been answered and you are satisfied with the information, you can contact the owner directly if you need more information.
Kate's Family Pets Details
6. SalisBury Park Groodles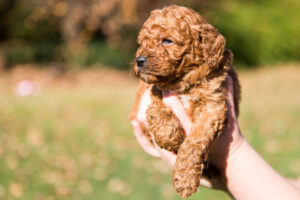 On over 250 acres, just a three-hour drive from Sydney, SalisBury Park Groodle is a small Groodle breeding service located on the outlying fringes of the gorgeous Southern Highlands of NSW. Their dogs are raised in a comfortable, home-like environment with the utmost love and care.
In addition, the Groodles at SalisBury Park do all kinds of fun activities daily like swimming, running, and relaxing in the sun with lots of playtimes. Moreover, all Groodles at this breeder are vaccinated, de-wormed, micro-chipped, vet checked, and de-sexed.
However, your puppy at SalisBury Park Groodle will not come with pet insurance. So, we highly suggest looking into pet insurance before bringing your puppy home. No matter how healthy or active your Groodle may be, most pets need veterinary care in their lives for one reason or another.
SalisBury Park Groodles Details
7. Doodle Dogs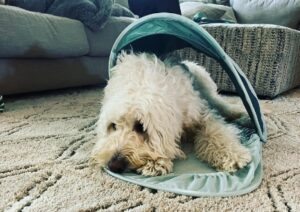 Another excellent breeder for Goldendoodle puppies in Sydney is Doodle Dogs. It is located in Mid-North Coast NSW and has over 30 years of experience breeding Cavoodles, Labradoodles, and Groodles.
They have small, medium, and large dogs to suit all preferences. All puppies under their care have a health guarantee and are free from hereditary diseases. All of the Groodles at Doodle dogs are good-natured and VGA-certified puppies.
Moreover, the owner has over 25+ years of experience in breeding and dog training, which reflects in the quality of their litter. The benefit? Lifetime training support. Adopters can call Paul for hands-on advice for their Doodles years after purchasing. To register your interest, call the number given below.
Doodle Dogs Details
Choosing a Goldendoodle Breeder in Sydney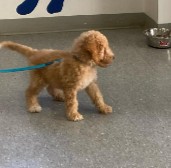 Before choosing a pet breeder in Sydney, you must ensure that the breeder you choose practices responsible breeding. The focus of its breeding should be on the health of puppies and pet parents rather than profits.
A good breeder:
It will allow you to tour and spend time in the areas where the puppies and their parents are raised. While visiting, ensure that the grounds are properly maintained with clean and odorless kennels.
A good breeder isn't a breeder with a large number of puppies. Remember that it's the quality that matters, not the quantity. It is also important that the breeder considers the dogs their family and treats them like one. Ideally, it would be best if you spent some time with the puppies' parents before taking your puppy home. Pet parents should possess a calm, friendly personality and be clean and active. Moreover, make sure the dams aren't overbred.
If a breeder does not have a litter of puppies currently available, they should be able to put your name on a waiting list. A considerate breeder would generally give their dams some rest between litters to avoid the risk of over-breeding. So, it may be a long wait, but it would certainly be worth the while.
A good breeder would ensure its dogs and puppies are vaccinated, de-wormed, spayed/neutered, vet checked regularly, and ideally offer a health guarantee and health insurance. Remember, a healthy dog is a happy dog. There should never be a compromise on your puppy's health.
Conclusion For "Goldendoodle Puppies in Sydney"
If you're looking for Goldendoodle puppies in Sydney, you will find an unlimited number of breeders selling adorable Groodles that you cannot wait to get your hands on. But remember to check the guidelines mentioned above when picking your Groodle thoroughly. Being a dog owner is a huge responsibility.
While caring for a puppy sometimes gets overwhelming, remember that all our pets ask us in return for their affection is some (or plenty) of our love and attention. So, make sure to shower your pet with all the love that you give. We hope this article helped you choose Goldendoodle breeders in and around Sydney.
For more guides similar to this list of breeders with Goldendoodle puppies in Sydney for sale, you can check out:
Before bringing home a Goldendoodle companion from a breeder in Sydney, you can learn more about this dog breed by watching the "Goldendoodle Dog Breed Guide" down below:
Garrett loves animals and is a huge advocate for all Doodle dog breeds. He owns his own Goldendoodle named Kona. In addition, he volunteers at the Humane Society of Silicon Valley, where he fosters dogs and helps animals. Garrett enjoys writing about Doodles and believes that dogs can teach humans more about how to live than humans can teach a dog.
Why Trust We Love Doodles?
At We Love Doodles, we're a team of writers, veterinarians, and puppy trainers that love dogs. Our team of qualified experts researches and provides reliable information on a wide range of dog topics. Our reviews are based on customer feedback, hands-on testing, and in-depth analysis. We are fully transparent and honest to our community of dog owners and future owners.