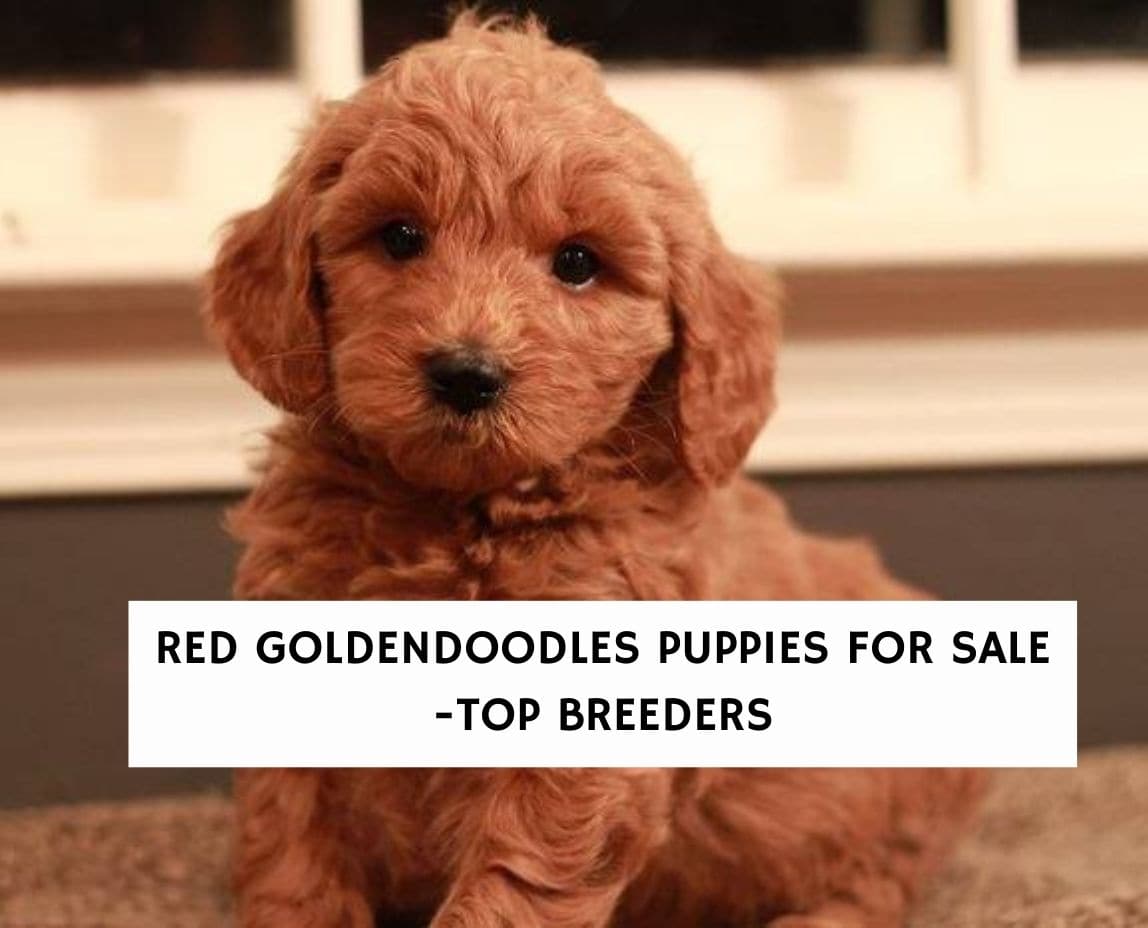 The Goldendoodle is a designer dog breed that has become one of the most popular crosses that have come to the fore in recent years. A Goldendoodle is a cross between a Poodle, (Standard, Moyen, or Miniature) and a Golden Retriever. If successful, the result is a mix that truly has the best of both breeds. Goldendoodles have a reputation for being great family dogs for active families, loving and loyal companions, and to top all of that off, Goldendoodles are light shedders, hearty and playful. These dogs have a reputation for being of sweet temperament, intelligent, trainable, and irresistible.
Just one look at those curly teddy bear faces and how can you help falling in love? The red Goldendoodle is one of the more recent outcroppings created by this cross between Poodle and Golden Retriever. Breeders are now using red Poodles to create a red color coat that has become highly sought after because these Goldendoodles look more like a "teddy bear". The reds were a rare genetic mutation at first, but breeders have been selectively breeding for the red color in recent years. These red Goldendoodles have all the same great traits as the original Goldendoodle, but unlike a red Poodle, their red coats do not fade over time.
The red Goldendoodle breeders listed here are by no means all of the breeders in the country. This list represents those who breed for the red-colored dogs. There are many more Goldendoodle breeders in the United States who do not breed for red and have the Goldendoodles of all shades of gold and cream. They may have an occasional red puppy show up due to genetics, but that is not what they are selectively breeding for. Our list is meant to highlight those breeders who primarily breed for red Goldendoodle puppies.
Since red Goldendoodles are in high demand, we've compiled a list of the top breeders of red Goldendoodle puppies in the United States. We don't give space to puppy mills and are only bringing you small home and farm breeders of the prized red Goldendoodles.  Here are our top 5 red Goldendoodle breeders in the United States.
Before scrolling down this list, check out these recommendations: 9 Best red Golden Retriever Breeders in the USA!
1. My Red Goldendoodles
My Red Goldendoodles are located in Idaho Falls, Idaho, and specialize in several generations of red Goldendoodles. They find homes for these sought-after pups all over the country. Puppies from My Red Goldendoodles go home at 9 weeks of age with a health guarantee and a contract. They do require a deposit to pick your dog and that goes to the final purchase price and puts you on the waitlist for reserving a puppy. There is an application on the website that you can complete and get the process started. You, too, could be the proud new owner of an adorable red Goldendoodle!
Red Goldendoodle Breeder Information:
Red Goldendoodle Puppy Information:
Puppies go home at 9 weeks
Fill out the website application to get on the waiting list
2. Goldendoodle Reds
Goldendoodle Reds specializes in multiple generations of red Goldendoodle pups near Milwaukee, Wisconsin. They raise shades of red Goldendoodles. Goldendoodle Reds raises their puppies with ENS (Early Neurological Stimulation) and works to socialize and begin foundational training before your dog ever goes home. They have an application on their website. A nominal (non-refundable) deposit gets you in line to choose a puppy. Puppies go home at 8 weeks with a puppy pack and veterinary records.
Red Goldendoodle Breeder Information:
Red Goldendoodle Puppy Information:
Puppies go home at 8 weeks
Pups are raised with early neurological stimulation
3. Sunshine Acres Goldendoodles
Sunshine Acres Goldendoodles has been breeding Goldendoodles in Indiana and shipping their dogs all over the country since 2002. They specialize in red Goldendoodles and Irish Goldendoodles and breed different configurations of hybrid mixes in a quest to improve their bloodlines. They offer both red Goldendoodles and differing shades of gold and cream as well
Sunshine Acres Goldendoodles raises smart, healthy, and family-friendly dogs. Puppies go home with a 3-year health guarantee and all the age-appropriate vaccinations. Sunshine Acres wants you to fill out an application to start the process of reserving a red Goldendoodle puppy. Once the application is approved, you can make a deposit to hold your puppy.
Sunshine Acres offers a unique rebate program for the owners of their Sunshine Acres bred puppies. If the owner can train their dog to a level to be certified in obedience and to get a Good Canine Citizen certification, the breeder will rebate $200 back to the owner. This policy promotes responsible dog ownership with a monetary incentive to get the puppies fully trained and certified.
Red Goldendoodle Breeder Information:
Red Goldendoodle Puppy Information:
Reserve a current puppy or one from a future litter
Multi-generation Goldendoodles and Poodles on site
4. Doodle Squad
Doodle Squad Goldendoodles and Bernedoodles is located in Delaware, OH, and in Hillsborough, NC.  They are a small home breeder of loyal, affectionate, low to non-shedding Goldendoodle puppies. They raise all the dogs as their personal pets and your puppies come pre-loved and pre-spoiled when you do take them home. The breeder has all sizes of Goldendoodles and they do have red Goldendoodles for sale. This breeder has multiple generations and different level crosses of Goldendoodle puppies. Customers give them a 5-star rating for the service and quality of the dogs they produce.
Red Goldendoodle Breeder Information:
Red Goldendoodle Puppy Information:
Call, text, or message on social media
The breeder has a waitlist
5. Tangled Up In Red Farms
Tangled Up In Red Farms is a small family doodle breeder in Minnesota. They breed F1 Standard Goldendoodles and Irishdoodles. They not only breed red Goldendoodles, but they also teach them to hunt. It turns out that Goldendoodles, aside from their sweet nature, friendly and affectionate personalities, can also make great hunting dogs if you develop that instinct within them. After all, they are part Golden Retriever, which makes perfect sense, if you think about it.
All puppies come vaccinated, micro-chipped, and have already been exposed to people, cats, and other dogs before going home with their new owners.  They also sell with a health guarantee and receive deworming at the appropriate age.
If you're interested in a farm-raised red Goldendoodle from Tangled Up In Red, you can contact them via email on the website, or message them on Facebook to start the process of reserving a puppy. There is no mention of price or the process to adopt one of these adorable red Goldendoodles, so you will need to contact them to find out how to proceed.
Red Goldendoodle Breeder Information:
Red Goldendoodle Puppy Information:
Puppies are featured on the breeder's Facebook
Get your puppy reserved, these go quickly
More Information About Red Goldendoodle Breeders

Breeders of red Goldendoodle puppies are also breeding Irish Goldendoodles. The Irish Goldendoodle is an offshoot of the Goldendoodle that is a Poodle/Irish Setter, or, down the line, a Golden Retriever/Irish Setter and Poodle cross. These are also called red Goldendoodles. So, when you are searching for your red Goldendoodle puppy, make sure you find out from the breeder if they are breeding Irish Goldendoodles or a true (first generation) Goldendoodle hybrid.
Goldendoodles come in small standard, large standard, and miniature sizes so there's a Goldendoodle for everyone. They are energetic and playful dogs, so purchasing a Goldendoodle requires a commitment to walking, playtime, obedience training, and, since Goldendoodles are so loving, they also require a lot of snuggle time as well.
In terms of health, Goldendoodles tend to be healthier than many purebred dogs due to "hybrid vigor", meaning that hybrid or mixed breed dogs are heartier and carry less of the health problems that purebred dogs are known for. This is due to breeders bringing in new bloodlines, versus the inbreeding that has taken place to refine the characteristics of the purebred bloodlines throughout the generations.
By all accounts, red Goldendoodles make excellent companions and family dogs. They are sweet-tempered and good with children. Large enough to handle rambunctious little kids and tend towards low or non-shedding coats, which breeders select for. This means that red Goldendoodles are a wonderful choice for families that have children prone to allergies. Their naturally curly coat is quite pretty and easy to maintain with regular bathing and brushing. Some owners opt for a "poodle cut" and regular grooming/clipping, but red Goldendoodles can be left with a natural coat if so desired.
Since Goldendoodles are not AKC recognized, nor are they purebred dogs, it's important that you look back at the parents and grandparents of the breeder's parent dogs. There is no breed standard for Goldendoodles, so you will want to see that the purebred parents of the puppies are good specimens of their respective breed and meet the AKC standard for that breed, or be registered by the AKC.  Goldendoodle offspring cannot be registered.
Conclusion for Red Goldendoodles Puppies For Sale

The red Goldendoodle color has become one of the most popular coat colors in recent years! These puppies look like teddy bears and are highly sought after. So if you're looking for a Goldendoodle breeder who specifically breeds the red coat color, we hope that you found your next puppy!
You will also like:
Garrett loves animals and is a huge advocate for all Doodle dog breeds. He owns his own Goldendoodle named Kona. In addition, he volunteers at the Humane Society of Silicon Valley, where he fosters dogs and helps animals. Garrett enjoys writing about Doodles and believes that dogs can teach humans more about how to live than humans can teach a dog.
Why Trust We Love Doodles?
At We Love Doodles, we're a team of writers, veterinarians, and puppy trainers that love dogs. Our team of qualified experts researches and provides reliable information on a wide range of dog topics. Our reviews are based on customer feedback, hands-on testing, and in-depth analysis. We are fully transparent and honest to our community of dog owners and future owners.