If you're looking for the perfect place in Washington to purchase a Goldendoodle puppy, we've got you covered! You have to be careful choosing a breeder because you don't want to purchase from a puppy mill or backyard breeder. If you do, then your dog may have significant health and genetic issues.
We've sorted through the best options to find Goldendoodle puppies in Washington. We narrowed down the playing field to the 7 best options for Goldendoodle breeders in Washington. We made an effort to select breeders who had quality information and didn't resemble a hidden puppy mill either. Some of the breeders on our list are also approved by the Goldendoodle Association of North America (GANA). We've got everything you need to know, right down to the contact information for each breeder, so let's get started!
Other articles you might like: Labradoodle Breeders in Washington and Cavapoo Breeders in Washington.
We bought one of our Goldendoodles from PuppySpot and had an outstanding experience. One of the main reasons that we choose PuppySpot is because they are a group of reputable breeders who want to find a home for their puppies. This means that there isn't going to be a long waitlist that you would normally find for Goldendoodle puppies in Washington.
Since they are a group of breeders around the United States that is dedicated to responsible breeding, you won't find any puppy mills since all breeders are thoroughly screened, licensed, and registered. Additionally, they have a strict screening process where only 10% of all Goldendoodle breeders who apply make the cut. Additionally, their process is backed by the American Kennel Club which is one of the largest dog organizations in the world.
Thus, PuppySpot makes it easy to get a Goldendoodle for sale today and you won't have to interview multiple breeders and put down a deposit only to wait several months. You can sort by puppies in Washington based on the price, gender, coat color, and generation. If the Goldendoodle puppy you find isn't located in Washington then PuppySpot can deliver them to you. They are one of the few breeders that can offer safe airline transportation. We had a great experience and suggest you check them out.
Breed Information
Generation: All generations including F1, F1B, F2, F2B, etc.
Sizes: Miniature, Medium, and Standard Goldendoodle puppies
Breeder Information
2. Power Goldendoodles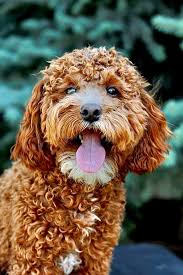 Power Goldendoodles has been in business since 2012 and is one of the best Goldendoodle breeders we have found. They breed mainly English Teddy Bear Goldendoodles and are the only F1 breeder of English Teddy Bear Goldendoodles in the United States. English Teddy Bear Goldendoodles are slightly different than normal Goldendoodles they are bred with an purebred English Golden Retriever instead of a normal Golden Retriever.
This is a family operation that is run on the family farm of the owners. They have a large family with many hands to help with the adults and the puppies. Driven by their own search for the perfect family dog they finally settled on breeding Goldendoodles.
In fact, they believe that Goldendoodles are the perfect family dog which is why they breed no other dog breeds. The owner is also published in the Complete Guide to Goldendoodles. She loves this breed and wants to help others see the amazing qualities that they will bring to any family.
We didn't see where they had prices of the puppies or even a deposit but they did state that the waitlist is a year long. If you don't mind waiting for a high-quality family pet then you might want to get on the waitlist. They also welcome questions by email or the contact form.
Goldendoodle Puppy Information
Generation: F1, F1B, Multigenerational Goldendoodle puppies
Size: Mini and Medium Goldendoodle puppies
Goldendoodle Breeder Details
3. Summit Goldendoodles Washington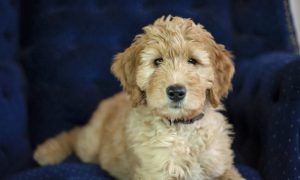 Summit Goldendoodle Washington is a member of the Goldendoodle Association of North America (GANA). They are located in Everett, Washington, and are rated as a blue ribbon breeder with the association. Their association with GANA requires that their Goldendoodle dogs meet specific requirements on health. GANA blue ribbon breeders mean they undergo testing for hips, heart, eyes, elbows, patella, pred-pra, and a few other ailments. You will be getting healthy Goldendoodle puppies in Washington.
Health is their biggest concern and they also believe that behavior and temperament is incredibly important as well. They have mellow parent dogs to try to produce a mild temperament, but they also put puppies through some puppy raining as well. They even offer a 2-year health commitment as they believe their puppies are some of the healthiest.
You can meet the parents, see past puppies, and learn more about the Goldendoodle breed directly on their website. You can also apply to purchase one of these dogs online. They are taking a short hiatus, but they will be back to breeding in the near future!
Goldendoodle Breed Information
GANA blue-ribbon health tested
Generation: Multi-generational Goldendoodle puppies
Sizes: Standard, medium size Goldendoodle puppies
Goldendoodle Breeder Information
4. Seattle Goldendoodles WA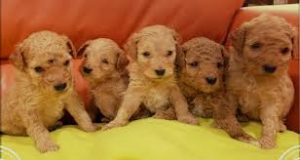 Located in Seattle, Washington this family-owned business has a love for Goldendoodles and helping to provide families with the perfect dog. They pride themselves on raising top-quality Goldendoodle puppies that are loved and nurtured from the beginning.
All these Goldendoodle puppies in Washington are crate trained, potty-trained, and used to socialization before leaving to go to their forever home. They also provide hip dysplasia guarantees for a full year. You can find plenty of satisfied customer reviews on their website and online.
These Goldendoodle puppies from Seattle Goldendoodles WA are bred directly from multi-generational sires and dams that are F3, making the puppies F4 multi-generational mini Goldendoodles. If you're looking for mini Goldendoodles in Washington, this could be your breeder.
Goldendoodle Breed Information
Goldendoodle Breeder Information
5. Annie's Doodles Washington

Annie's Doodles is located in Ferndale, Washington which is in the northeast corner of the state. It's basically very close to the Canada and Washington border. Their puppies are bred and raised on the farm. The farm owners have both sires and dams with a recent new sire. They raise both Goldendoodles and Australian Labradoodles.
All breeding dogs are tested to premium breeding standards. They have offered a variety of options over the years, including Teddy Bear Doodles, American Goldendoodles that are F1, F1B, and multi-generation. They also have a broad range of colors and sizes in litters.
Annie's Doodles is a recommended breeder by Goldendoodles.com and is part of the Goldendoodle and Labradoodle Premium Breeders List. The dogs are raised and loved on the farm, well-socialized, and beautiful in color. As with most premium breeders, you will need to apply to the wait list.
Goldendoodle Breed Information
Goldendoodle Breeder Information
6. Red Letter Doodles
Red Letter Doodles offers Goldendoodle puppies in Washington that are of the highest quality. They have miniature and medium F1 Goldendoodles that are bred at their house. All puppies are raised in a family setting, so they learn interaction, care, and even basic potty training skills.
Red Letter Doodles always welcomes visitors, even if it is just to ask questions or get to know the breed and the company in general. They are listed as a premier Goldendoodle breeder facility. As with most facilities, you will have to apply to a waitlist and wait for your Goldendoodle puppy to be born.
The females are all genetically tested and the sires they are bred with are also tested before the breeding process begins. Their Goldendoodle puppies get their first shots as well as a wellness exam and dewclaw removal. They also get de-wormed before they are sent to a new home. Lastly, they have a wellness guarantee is 2 years. This is one of the most reputable Goldendoodle breeders in Washington.
Goldendoodle Breed Information
Generation: Multi-generational F1 Goldendoodle puppies
Sizes: Miniature and medium Goldendoodle puppies
Goldendoodle Breeder Information
Location: 16616 155th St SE, Monroe, WA 98272
Email: phil@redletterdoodles.com or info@redletterdoodles.com
Website: https://redletterdoodles.com/
7. Pups by Taylor Washington
This Goldendoodle puppy breeder is located just slightly outside of Seattle in Bothell, Washington – they are very near Mill Creek. Taylor raises the puppies just as she would her very own dogs. They are pretty much with her constantly. She trains the Goldendoodles, loves them, and prepares them for their forever home.
Taylor has no application process but rather goes through a process of getting to know potential owners and letting them get to know the puppies. Once you take a puppy home, Taylor remains available to you as a resource in case you have any questions.
She is very active on Facebook and Instagram so you can keep in touch and see what's going on with her and the puppies. You can see the sires and dams directly from their website as well. Momma dogs that are retired are vetted through a Guardian family, so they can also go to loving homes.
Goldendoodle Breed Information
Generation: Multi-generational Goldendoodle puppies
Sizes: Medium, standard sizes Goldendoodle puppies
Goldendoodle Breeder Information
Choosing a Goldendoodle Breeder in Washington
Goldendoodle puppies in Washington are not hard to come by. There are a ton of breeders out there and we simply narrowed down the playing field to the five highest-rated options available. However, you may decide that another breeder is right for your needs.
Here are a couple of tips for seeking out a breeder to find your Goldendoodle puppy in Washington!
Availability of a Puppy
You should be prepared to apply and be placed on a waitlist. This late into the year, you may not find many breeders that have any remaining litters available and you may end up on a waitlist for next year's litters.
Keep in mind, you should plan ahead and be willing to wait for your puppy as most reputable Goldendoodle breeders have a waitlist. Additionally, you will want to review the sizes and generations that the breeders you are looking at have. Do you prefer standard, mini, medium? Do you need an F1B or does it matter? These are all things to consider and look for before choosing a puppy.
Research
Be willing to dig into the reviews, testimonials and, research on the breeder you are considering before you commit a deposit. If they allow it, you should visit and see the operation. Take the chance to ask questions and get to know the process and the breed. It's also important to look at the parent dogs to see if they match your ideal Goldendoodle puppy.
This is also your chance to connect and learn about the process and how this particular breeder operates.
Health Checks
Finally, you should look for a breeder that checks for the health of their dogs. Do they test the dams and sires for genetic disorders and wellness? What type of wellness services do they provide for the puppies before they are transferred to their new homes?
Some breeders offer health guarantees for 1-2 years. These are all things to understand and be aware of. The top breeders in Washington will have tested their breeding dogs and will provide that information to you willingly.
Conclusion for Goldendoodle Puppies in Washington
Washington is a big state with tons of different Goldendoodle puppy breeders. Luckily, we've done our own independent research and combined our findings with breeders from the Goldendoodle Associations of North America (GANA). Make sure that you always buy a Goldendoodle puppy from a reputable breeder or else you'll end up spending a lot of money on healthcare issues. Good breeders will always provide health tests and provide some sort of puppy warranty. We hope that you enjoyed our list of the Top 6 breeders of Goldendoodle puppies in Washington.
Other articles you might like:
Garrett loves animals and is a huge advocate for all Doodle dog breeds. He owns his own Goldendoodle named Kona. In addition, he volunteers at the Humane Society of Silicon Valley, where he fosters dogs and helps animals. Garrett enjoys writing about Doodles and believes that dogs can teach humans more about how to live than humans can teach a dog.
Why Trust We Love Doodles?
At We Love Doodles, we're a team of writers, veterinarians, and puppy trainers that love dogs. Our team of qualified experts researches and provides reliable information on a wide range of dog topics. Our reviews are based on customer feedback, hands-on testing, and in-depth analysis. We are fully transparent and honest to our community of dog owners and future owners.