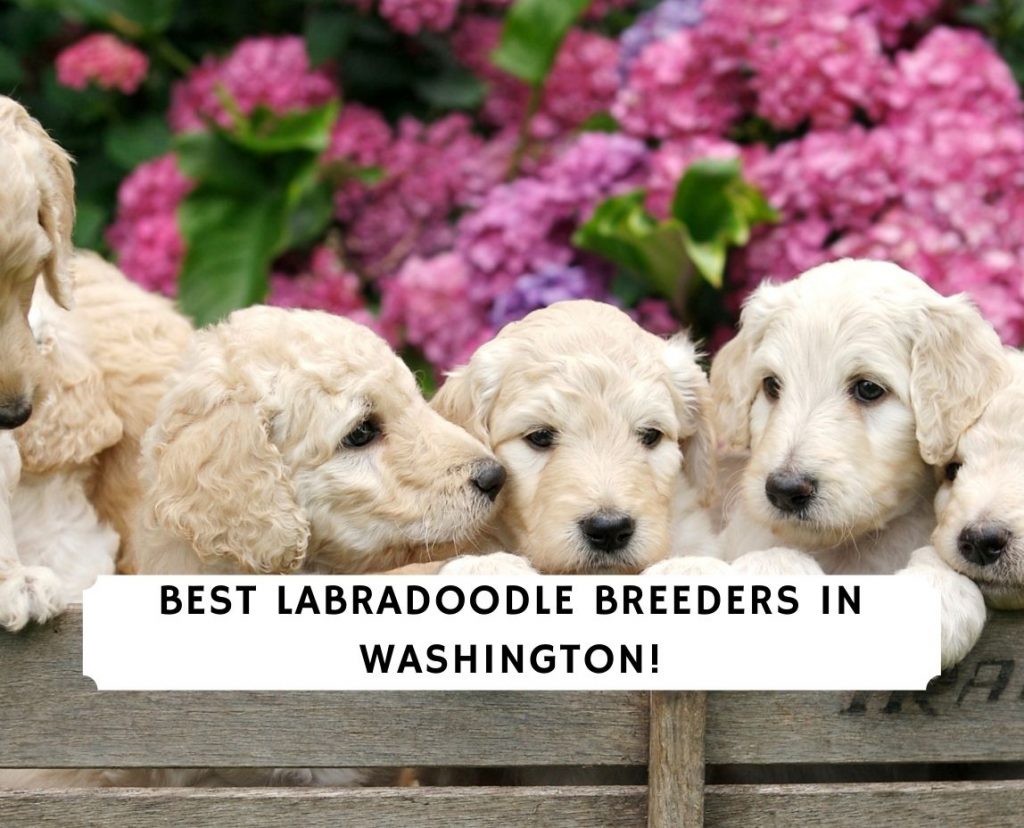 There are tons of Labradoodle breeders in Washington, but it's important to choose a reputable breeder so you get a healthy and happy puppy. Once you've determined that a Labradoodle is for you, finding a reputable breeder is an important next step in finding a furry friend that's just right for your family.
To help you prepare for your Labradoodle puppy, created some guides:
Labradoodle Puppies For Sale in Washington
When you're ready to move from just browsing cute photos of puppies online to wanting to bring one home for yourself, finding a reputable breeder involves a lot of research. In the Washington area, you have your choice of several breeders that offer Labradoodle puppies for purchase.
It's important to do your own research, read reviews, and move forward with confidence. To help you get started in your search for your perfect Labradoodle puppy, we're here to help. We will share some of the top breeders for Labradoodles in the state of Washington. You'll find a brief overview of what the breeder offers, what you can expect in the purchasing process as well as some contact information if you're interested in learning more about their availability.
1. Discovery Tails Labradoodles Washington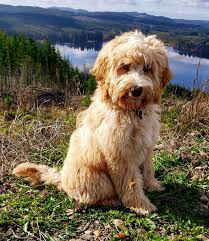 As a family-owned operation, the team at Discovery Tails is committed to raising happy and cuddly puppies in Sequim, Washington. They focus on health, temperament, and appearance in their Labradoodle puppies so you can get the best puppy possible. Breeding dogs are health tested and thoroughly examined for personality and temperament before going to their forever home.
Their Labradoodle puppies in Washington are raised inside their home and are given opportunities to socialize and become familiar with other dogs and people. They love to play, explore and enjoy time being a puppy. In addition, the Labradoodles are started on some initial training so the transition into your home can be that much easier. Additionally, this breeder is intentional about its methods and is committed to sharing only the best puppies that are healthy and happy.
While the availability of their Labradoodle puppies may be limited, you can browse their website for current and upcoming litters to get a sense of what you can expect. If the waiting list is open, you can secure your spot by submitting an application and submitting a deposit. The application shares some helpful insight as to what you're looking for in a dog and what kind of dog owner you intend to be.
Discovery Tails Labradoodles Details
2. Shedless in Seattle Washington
Since 2005, the team at Shedless in Seattle has been breeding and raising adorable dogs perfect for all sorts of families. Their availability changes throughout the year as new litters are scheduled. Browse through their breeding dogs to get a sense of what you can expect in a litter. You'll also be able to see their medical history and background, providing further assurance of the quality of your Labradoodle puppy.
Their Labradoodle puppies are intentionally selected for families based on their personality and personal preferences. Puppies can be taken home when they are just 8 weeks old to join your family. Each of their Labradoodle puppies for sale in Washington is the same price, regardless of color or size. Depending on the breeding dogs, they can come in a variety of colors and sizes, so you'll be sure to find one you love.
To help you be comfortable as you raise your new furry friend, the team at Shedless in Seattle equips you with helpful resources and supplies you'll need. Your puppy will come with some toys that they're familiar with, a blanket that smells of home, and a sample bag of food that your puppy is used to. As you learn how to care for your puppy, you'll also get some books and a one-year subscription to Whole Dog Journal filled with helpful information.
Shedless in Seattle Details
3. Columbia Springs Labradoodles WA
Find a Labradoodle puppy that's just right for you at Columbia Springs. Here, puppies are raised to be happy and healthy in a family setting. They focus on the quality of the dog rather than the number of puppies that they can breed. They are medium-sized multi-generational Australian Labradoodles that have hypoallergenic and non-shedding coats. With their small number of litters planned throughout the year, the demand for this intelligent and fun breed is high.
With their dedication to quality, they have received several recognitions and memberships, including the Australian Labradoodle Association of America (ALAA). They've also been accredited as a WALA Star Breeder. Thus, Columbia Springs is one of the most reputable Labradoodle breeders in Washington.
On their website, you can browse upcoming litters with the parent dogs planned. Keep in mind that the waiting list for these upcoming litters may already be full. If you're interested in purchasing a Labradoodle puppy from Columbia Springs, you can apply to express your interest. This lengthy questionnaire helps to ensure the right match between you and your future puppy.
Columbia Springs Labradoodles Details
4. ForeverGreen Farm Labradoodles Washington
With a love for the great outdoors and the Labradoodles they breed, the team at ForeverGreen Farm is committed to the health, care, and responsibility of breeding puppies. This breed is located in Amboy, Washington, and they are dedicated to ethical breeding practices for both the health of the puppy and dogs, as well as a higher-quality experience for their customers. They hold high health standards and are committed to producing lifelong friends that are whole and healthy.
Labradoodle puppies from ForeverGreen Farms come with a two-year genetic defect health warranty so you can be confident they are good to go for life. They also receive their first round of vaccinations and have health records. Additionally, all their Labradoodle puppies for sale in Washington come equipped with a puppy blanket, some toys, and a bag of food that they're used to.
They'll also have some other starter resources so you can be well-equipped when you welcome your puppy home. Browse their site to see upcoming litters and availability for those puppies. If you're interested in moving forward in the adoption process, you can start with an application.
ForeverGreen Farm Labradoodle Details
More Information About Labradoodle Puppies in Washington
As a hybrid breed, the Labradoodle brings the best out of its parent Labrador Retriever and Poodle. They're both lively and cuddly and make great family members with kids of all ages. Like other designer breeds, Labradoodles come in a variety of coats, colors, and temperaments.
Typically, these mixed puppies have soft coats that range from silky smooth to tight curls, depending on the Poodle parent's influence. They also can have a variety of color coats, including apricot, black, chocolate, and cream. Also, with a Poodle-like coat, Labradoodle puppies are known for being easy on the allergies with minimal shedding.
Yet with their unique coats comes the need for more frequent brushing and grooming. To prevent mats or other skin irritations for your puppy, they'll need regular attention to their coats. These dogs also come in different sizes, according to the Poodle parent's size. Standard Labradoodles can weigh up to 65 pounds, Medium Labradoodles can be up to 40 pounds while Miniature Labradoodles are tiny at just weighing no more than 25 pounds.
The Labradoodle is also well-known for being playful and very friendly to all around. While smaller dogs don't have as much energy to release, most Labradoodles enjoy running around and playing outside with their family. Are you looking for a friendly dog that's adorable on both the inside and outside for you?
Conclusion for the Best Labradoodle Breeders in Washington
From their curly coats to playful personalities, Labradoodle puppies can be an ideal dog choice for many families and individuals. When you're ready to purchase one for yourself, one of the most important steps is to find a breeder that has both you and the puppy in their best interest.
Remember to ask questions during the inquiry process and move forward with confidence that you know exactly what to expect as you adopt your puppy. With breeders like these in Washington, you can be one step closer to playing and cuddling with your new furry friend.
If you're still in the market because you're debating between dog breeds, check out these recommendations in Washington:
For other locations similar to the best Labradoodle breeders in Washington, check out:
To learn more about the Labradoodle dog breed, this video from Dogs Wiz might help you:
Garrett loves animals and is a huge advocate for all Doodle dog breeds. He owns his own Goldendoodle named Kona. In addition, he volunteers at the Humane Society of Silicon Valley, where he fosters dogs and helps animals. Garrett enjoys writing about Doodles and believes that dogs can teach humans more about how to live than humans can teach a dog.
Why Trust We Love Doodles?
At We Love Doodles, we're a team of writers, veterinarians, and puppy trainers that love dogs. Our team of qualified experts researches and provides reliable information on a wide range of dog topics. Our reviews are based on customer feedback, hands-on testing, and in-depth analysis. We are fully transparent and honest to our community of dog owners and future owners.