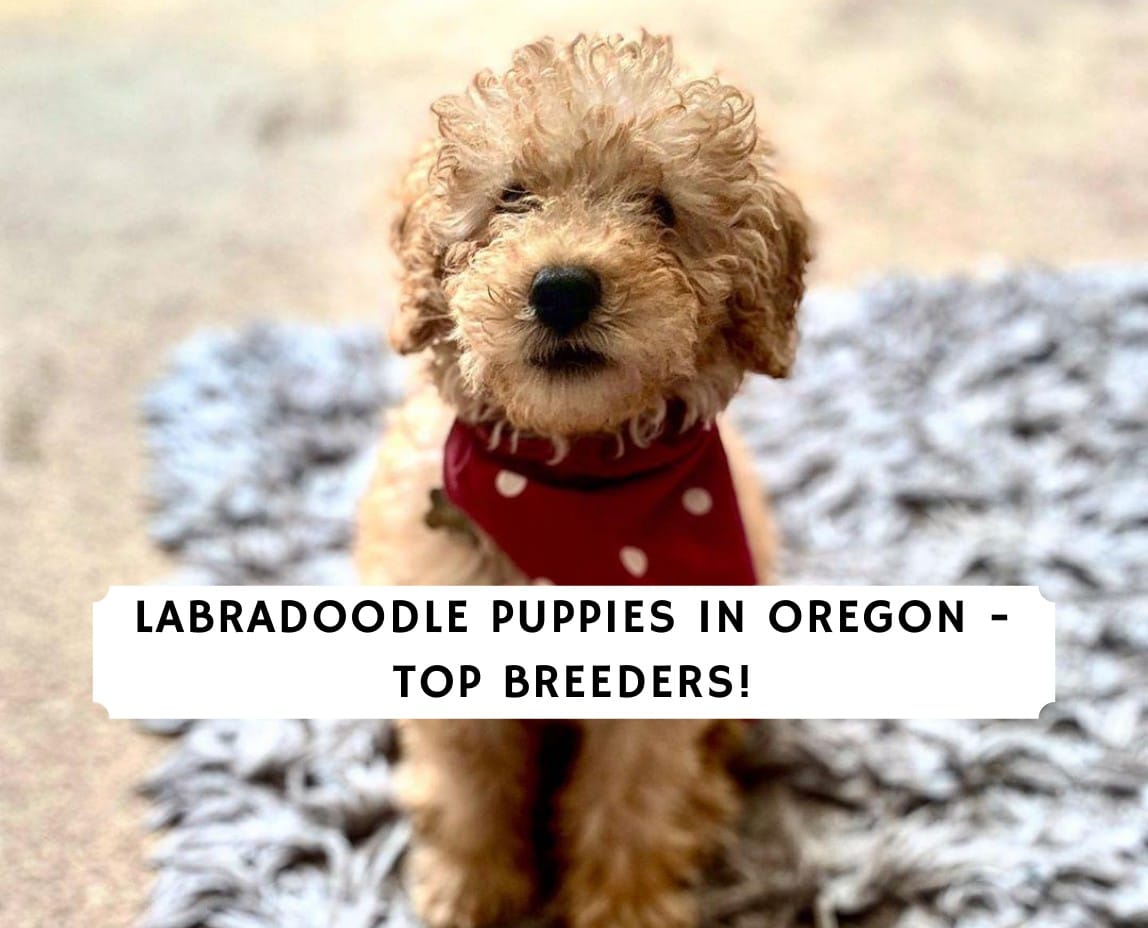 If you're looking for Labradoodle puppies in Oregon then you're in luck. We've done tons of independent research as well as consulted Gold and Silver Paw breeders from the Australian Labradoodle Association of America (ALAA) to find the best Labradoodle breeders in Oregon. You can rest assured that there are no puppy mills or backyard Labradoodle breeders on our list.
These charming Pacific west towns are filled to the brim with small but dedicated breeders.  Family-oriented and devoted to raising their puppies right, these are animal breeders who genuinely want their Labradoodles to live a healthy and happy life.  The small-scale nature of their operations allows for additional attention for the adult Labradoodles and puppies alike, along with extra training school hours for the babies.  If you are looking for a loyal and playful pal with a sweet temperament, we recommend any of these breeders.
You may also like our article on Top 10 Labradoodle Rescues and Adoption.
1. Spring Creek Labradoodles Oregon
Rochelle Woods worked with tons of rescue dogs before founding Spring Creek Labradoodles Oregon in 2001. The devotion she has to her Labradoodles and their future families is readily apparent in her breeder practices.
One of the earliest Labradoodle breeders in Oregon, she took it upon herself to develop American lines to add genetic diversity to the overwhelmingly Australian Labradoodle (ALD) market.  More diversity means less chance of genetic diseases being passed down and a longer life together for you and your puppy. 
Rochelle's primary focus is bringing healthy Labradoodle puppies in Oregon and raising them with a purpose: "To help their humans as service and therapy dogs while also making fantastic family pets."
You can be assured that your new Labradoodle puppy has been given the best possible start to life, with Rochelle and her family (including nine children who love to play with and cuddle puppies) doting on them day and night. 
With nineteen years of experience and a five-star reputation, this Australian Labradoodle Association of America (ALAA) and Worldwide Australian Labradoodles Association (WALA) breeder has a long reservation list.  All hope is not lost because once in a while, a match won't work or a deposit will fall through, and they'll post the surprise puppy on their webpage.  Like any quality establishment with a waiting list, they top our list at $3500 for one of these well-bred Labradoodles. 
Labradoodle Puppy Information:
Generation: Multi-generation Labradoodle puppies
Size: Miniature, medium, & standard Labradoodle puppies
Labradoodle Breeder Information:
2. Springville Labradoodles Oregon
Red looks good on Dixie Springer and Holly Cash, and they're betting a sweet little red, apricot, caramel, or parti-colored Labradoodle puppy will look good curled up in front of your fireplace.  With predominantly red or red and white fleece coats, these puppies look just like a teddy bear!
Dixie and Holly spend their days running around the six-acre yard they all call home, throwing bones and tennis balls for their super-active dogs. Mammas, poppas, and babies couldn't be more loved and nurtured, only enhancing their already sweet and loyal temperaments.
Your Labradoodle puppy will come to you microchipped, along with their first vaccinations, and a two-year health guarantee against genetic defects.  If you are local to Silverton, Oregon you'll be able to pick up your new furry family member for a flat fee of $3000 USD. These are some of the prettiest Labradoodle puppies in Oregon that you can buy.
If you live outside of driving distance, they'll send your puppy to you for an extra $450 dollars which includes airfare, a shipping crate, a health certificate, and travel to Portland International Airport. The summer litters sold out quickly and falls is already gone barring an exceptional event, but get on the reservation list today for your future caramel cutie!
Labradoodle Puppy Information:
Generation: Multi-generational Labradoodle puppies
Size: Miniature and Medium Labradoodle puppies
Labradoodle Breeder Information:
Address: Quall Rd NE, Silverton, Oregon, 97381. Less than 1 hour south of Portland, Oregon.
Phone Number: (503) 873-2820
Dixie Springer: (503) 562-9528 (cell)
Holly Cash: (541) 852-6975                     
Email: dixiespringerl@frontier.com
3. Fern Ridge Labradoodles OR
Debbie Young breeds high-quality Labradoodle puppies in Oregon and she certainly knows how to put on a show!  Some of her puppies are raised to be a standard household pet, while others are destined for the runway with popular dog shows.  With radiant, non-shedding fleece coats in red, apricot, black, and chocolate brown, these puppies deserve to be first-in-class.  
Debbie and her family believe that the truly important qualities are more understated. Carefully tested to rule out all genetic abnormalities with eyes, elbows or hips, and cardiac issues, these Labradoodle breeders in Oregon also provide a three-year health guarantee. This assures that your Labradoodle will it's full life and won't have any genetic health issues.
Raised as family members, with an abundance of fresh air on eight acres of lush forest land, a Labradoodle puppy couldn't ask for more.  They're expecting 4-5 litters of apricot, cream, and black babies with white or parti patches over fall and winter – and you can still get on this list! 
Labradoodle Puppy Information:
Generation: multi-generation Labradoodle puppies
Size: Miniature & medium Labradoodle puppies
Labradoodle Breeder Information:
Address: Located on eight acres of lush pine forest eight miles north of Veneta, Oregon. This suburb is located close by to Eugene, Oregon.
Phone:  (541) 998-2247 
Website: https://fernridgelabradoodles.com/
Social Media: Social Media
4. Bedrock Labradoodles Oregon
Native Oregonians Fred and Maggie Palmblad fell in love with the easy-going nature of the yellow Labrador Retriever and the comical, entertaining qualities of the Poodle. They decided to combine the two into one thoroughly enjoyable personality with their first Labradoodle in 2005.  Since then, they have pursued a vision of breeding high-quality Labradoodle puppies in Oregon who will bring this same joy to other families. 
An idyllic family fit is their first priority, and they go to great lengths to match the right family and puppy.  Advertised as child-friendly, the Palmblads expose their puppies to all walks of potential owners, both young and old.  Raised with Puppy Culture, your puppy is taught values like proper socialization and play engagement, sharing, and a deep appreciation for the tastiness of a treat given for obedience!  Tummy time as newborns also helps elbow and hip joints to grow strong, while neurological stimulation makes for a curious little creature. 
The adorableness of Bedrock's seven summer litters didn't stand a chance and sold out quickly, but fall is on the horizon and we've been told to monitor their site closely!  A well-coddled, puppy-cultured baby can be yours for $3500. These are one of our favorite Labradoodle breeders in Oregon.
Labradoodle Puppy Information:
Generation: Multigenerational Labradoodle puppies
Size: Miniature, Medium & Standard Labradoodle puppies
Labradoodle Breeder Information:
5. Ocean View Labradoodles
An Ocean View Labradoodle puppy is primed to be a future Olympic athlete or Miss/Mister America winner.  Sheri and Jennifer hold training school for the 100-meter dash on a specially built track in their backyard, and the puppies are in grooming and nail trimming rehearsals from 6 weeks of age. 
With ocean-themed names like Tom Sawyer and Avonlee's Little Princess, the dams and sires are all ALAA and WALA registered. This proves their distinguished Australian bloodlines as well as makes them one of the best Labradoodle breeders in Oregon.
New daddy-to-be Jackson actually hails directly from the land down under.  Jackson and Penelope, along with Hudson and first-time mom, Rosie, are expecting, and puppies are still available from both litters!  For a total of $3000, your Labradoodle puppy will come home to you spayed or neutered, with up-to-date vaccinations, and a two-year or lifetime health guarantee.  Reserve your little sweetheart now! 
Labradoodle Puppy Information:
Generation: Multigenerational Labradoodle puppies
Size: Miniature Labradoodle puppies
Labradoodle Breeder Information:
Address: Located on the tranquil oceanside property in Brookings, Oregon. This is south Oregon.
Phone: Sheri & Jennifer Legat: (541) 254-1204.
Email: oceanviewlabradoodles@gmail.com
Website: www.oceanviewlabradoodles.com
Social Media: Social Media
Conclusion for Labradoodle Puppies in Oregon
Labradoodle puppies in Oregon are selling out quickly. This dog breed has a hypoallergenic, nonshedding, and beautiful coat. In addition, they are nonaggressive temperaments which makes them the ideal family dog that will get along with children. If you're looking for a Labradoodle, you can't go wrong with our Labradoodle breeders in Oregon list. We've done a lot of research to help you make a good choice.
Garrett loves animals and is a huge advocate for all Doodle dog breeds. He owns his own Goldendoodle named Kona. In addition, he volunteers at the Humane Society of Silicon Valley, where he fosters dogs and helps animals. Garrett enjoys writing about Doodles and believes that dogs can teach humans more about how to live than humans can teach a dog.
Why Trust We Love Doodles?
At We Love Doodles, we're a team of writers, veterinarians, and puppy trainers that love dogs. Our team of qualified experts researches and provides reliable information on a wide range of dog topics. Our reviews are based on customer feedback, hands-on testing, and in-depth analysis. We are fully transparent and honest to our community of dog owners and future owners.