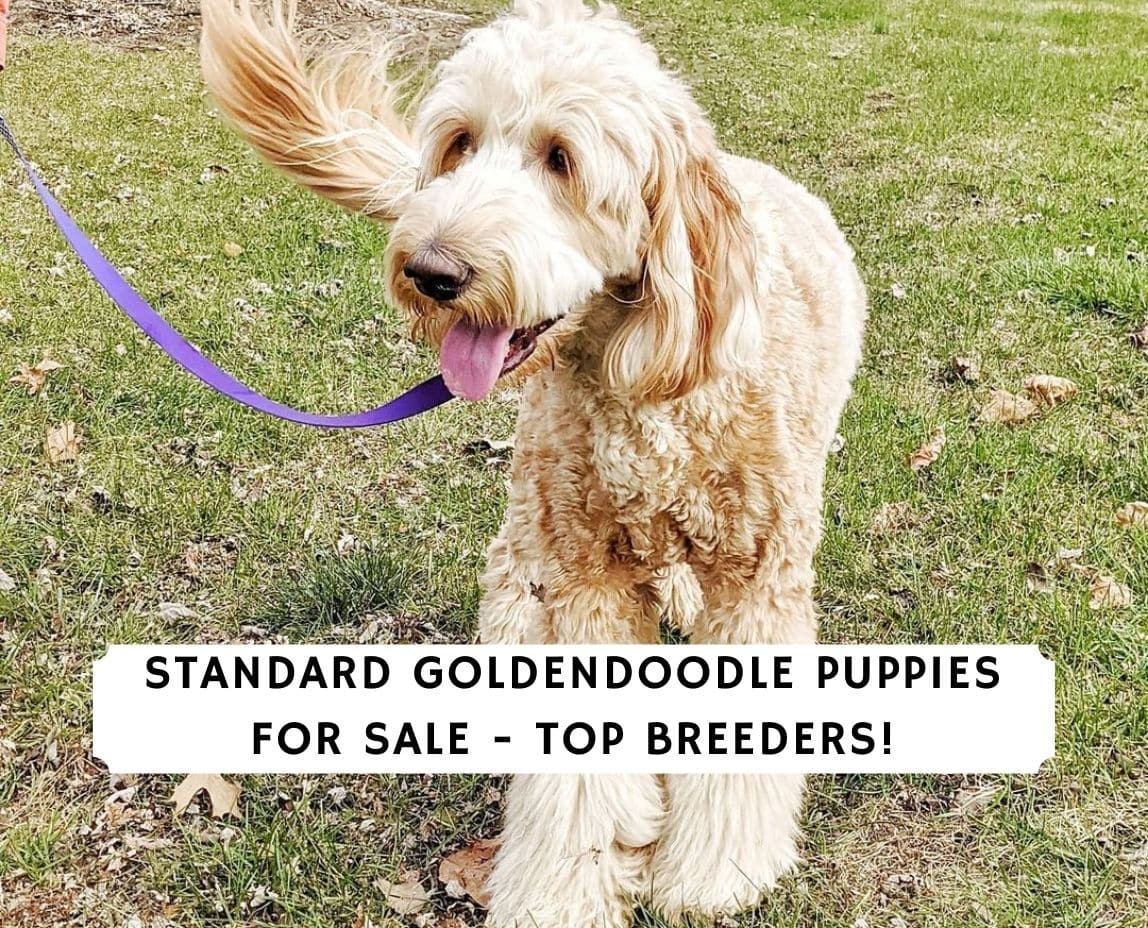 Since Goldendoodles are a hybrid dog breed, there isn't really any normalized sizing. The three most common sizes of Goldendoodles are mini, medium, and standard. If you're looking for the largest size of this crossbreed puppy then we created a list of reputable Standard Goldendoodle breeders to help you. We only choose breeders that are health testing, genetic testing, socializing, and providing a puppy health warranty. We don't list any puppy mills or backyard breeders on our list.
There are several standard Goldendoodle puppies for sale because this dog breed is exploding in popularity due to their easygoing personality, hypoallergenic coats, and nonshedding coats. It's important that you purchase a dog from a reputable breeder because they will live for 10+ years. We've found the 7 best standard Goldendoodle breeders around the United States to help you find your next puppy!
Check out these other top articles: Best Puppy Food for a Goldendoodle and Best Crate for a Goldendoodle.
1. Grace Standard Goldendoodles
Grace Goldens is a small Goldendoodle breeder from Birmingham, Alabama. The owners take pride in the care they give their dogs and the early socialization each puppy receives before going to its forever home.
The family homeschools their three children which allows the standard Goldendoodle puppies to become acclimated to the sound and movement of children. This is a great way to start off and prepare their Goldendoodle puppies for families of all kinds.
All of the breeding adult Goldendoodles are genetic and health tested. Because of this extensive testing, the standard sized puppies do go home with a health and genetic guarantee for anything that would have come from the parents.
Because they are a small Goldendoodle breeding operation, there are not as many litters a year to choose from. There is no particular waiting list for each litter but only one master waitlist.
This list goes in order of the deposits that they receive. Once their standard Goldendoodle puppies become available, the first people in line will have the option to reserve a puppy. There is a $500 deposit to secure one of their standard Goldendoodles for sale. You'll need to contact the breeder for final pricing.
They will not ship any of their standard Goldendoodle puppies. New owners must fly in and take the puppy home in the cabin if they are not within driving distance. This Goldendoodle breeder will meet new owners up to two hours away for the added cost of mileage.
Standard Goldendoodle Breeder Information
2. Beautiful Doodles 4U
Beautiful Doodles 4U was born from a need to get affordable service dogs into the hands of veterans and first responders suffering from PTSD. They started an organization first to accept monetary donations to purchase service dogs for this population but they found that they couldn't afford them. That is when they started the Beautiful Doodles 4U.
Now they are an active breeding program with not only standard Goldendoodles but also Bernedoodles. All of their Goldendoodles puppies are raised with becoming a service dog in mind.
They all go through the service dog curriculum and temperament testing to make sure they will make the cut. However, they do sell Goldendoodle puppies to people who simply want companion pets. In addition, many of their standard Goldendoodle puppies are donated to a program called Charlie's Angels or sold to veterans and first responders at a discount.
To purchase a standard Goldendoodle puppy for sale, it is $2800 as of 2021. If you get a puppy from a 2020 litter the Goldendoodles will be $2000. You'll need to contact this breeder if you're not local to Arizona to arrange transportation.
Standard Goldendoodle Breeder Information
3. Golden Liberty Doodles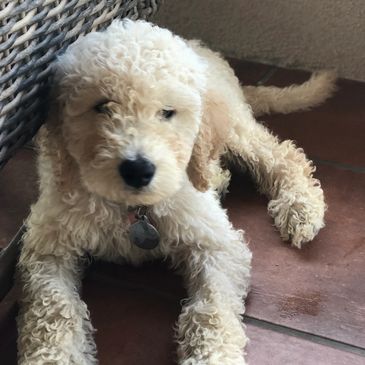 Golden Liberty Doodles is a mid-sized breeding operation in California that prides itself on the care and love given to each Goldendoodle dog and puppy in their program. All of the breeding dogs undergo extensive health testing to ensure they don't carry any genetic issues or joint problems.
All of their standard Goldendoodle puppies do come with a guarantee covering the issues the parents are tested for. For anything else that could come up, such as puppy illnesses, there is a five-day window for return. The Goldendoodle puppy must see a veterinarian within that time frame or the warranty is voided.
Puppies do require a significant financial investment beginning with the purchase price of the puppy. All of their standard Goldendoodle puppies for sale cost $3500 plus the amount of sales tax charged by the state of California. Once your application is accepted a $500 deposit is required to hold your place on the list. At birth, another $1000 is due and again at four weeks old. The balance is payable at pick up.
Shipping is not available at this time due to flight restrictions. If flights open back up, this service is available for an additional cost of $250. 
Standard Goldendoodle Breeder Information
4. Vandenbark Standard Doodles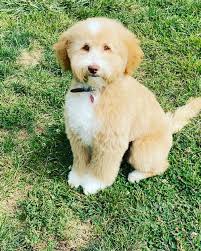 Vandenbark Doodles is by no means a small breeding organization. With many Goldendoodle females and males in their program, they have litters often. However, they still have a 6 to a 12-month waiting list for their standard Goldendoodle puppies. In addition to their Standard Goldendoodles, they also have Standard Bernedoodles.
Only a few of the breeding adults live in the home with the breeders. Because they want all of the dogs to be a part of a loving family and live like a family pet, they place their breeding dogs with qualified and vetted guardian homes no more than two hours away from their home.
There is no breeding facility, all of the breeding and whelping happens in their family home. Visits are possible once the Goldendoodle puppies have arrived, but because many of the dogs don't live on-site, visits wouldn't tell you much.
The pricing for their Standard F1 or F1b Goldendoodle for sale is $2600 regardless of gender and color. There is a master waiting list once an application is approved. A deposit is required to be placed on the waiting list.
Standard Goldendoodle Breeder Information
5. Suwanee Goldendoodles
Suwanee Goldendoodles is a standard breeder located in Woodstock, Georgia. With many years of experience breeding Standard Goldendoodle puppies, Suwanee ensures that the new owners get healthy, happy, and well-adjusted puppies to add to the family.
They are currently taking a break and will not have any new litters for several months. However, you can follow the website to find out when they will begin breeding again. They do suggest three other Goldendoodle breeders on their website that they have mentored over the years.
Standard Goldendoodle Breeder Information
6. River Falls Goldendoodles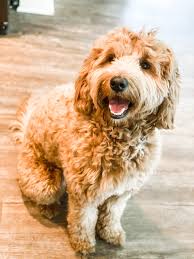 River Falls Goldendoodles is located in the beautiful and scenic Mount Airy, Georgia. They are a small family-run breeding operation but take the health, temperament, and genetic testing on their breeding dogs seriously. All of the puppies are born in their home and raised around other pets and the breeder's three small children.
They accept deposits per each Goldendoodle litter and there is no master waiting list. If you are interested in a standard puppy from River Falls Goldendoodles you will need to pick a litter that has a deposit spot left.
They are currently taking deposits on their 2021 and 2022 litters. The waitlists tend to fill up fast. However, there is still time to reserve a spot for the later litters.
All of their standard Goldendoodle puppies are priced at $3,000 regardless of gender. There is a non-refundable $500 deposit that will be applied to the purchase price of the puppy. Keep in mind that if you change your mind, you can't get that $500 back. Georgia state sales tax is required to be added to each purchase.
All of the standard Goldendoodle puppies for sale do come with a health and genetic guarantee. However, it does not cover puppy illnesses unless found within three days of coming home. All genetic diseases will be covered though.
There are a few different ways new owners can get their large Goldendoodle puppy. The best, and preferred way, is that the owners come to the Goldendoodle breeder's home to pick up the puppy. However, they realize that it isn't always possible. This is why they offer ground nanny services to deliver your standard Goldendoodle puppy to you. It will cost extra for this service.
They will not ship the puppies, but they will meet you at the airport so you can fly home with them in the cabin. If you're not local, you'll need to fly in to pick up your puppy from this breeder.
Standard Goldendoodle Breeder Information
7. Knox Family Goldens and Doodles
Set in a picturesque, rural community in Kentucky, Knox Family Goldens and Doodles have plenty of room for their dogs and puppies to stretch their legs. They are a small, but licensed breeder that has a few litters of purebred Golden Retrievers as well as Standard sized Goldendoodles. They breed for health and temperament to help ensure every puppy they place lives long and healthy lives with their new families.
There is an application required to be put on the waiting list for a standard Goldendoodle puppy. This breeder can deny an application if they do not feel that your home would be a good fit for one of their Goldendoodle puppies. The paper application is only one of the steps to be considered for a puppy. 
The standard Goldendoodle breeder will also conduct a phone interview with the potential owners to verify what is on your application. They also do this to get a feel for the family and person wanting to bring home a puppy.
If both the breeder and the potential owner feel comfortable moving forward, this is the time to place a deposit to be officially on the waiting list. To be placed on the list a non-refundable $500 deposit must be placed.
The waiting lists are for each litter and a deposit is required to hold your spot for a standard Goldendoodle. Each puppy that comes from Knox Family Goldens and Doodles costs $2600 plus tax. This is regardless of gender. Goldendoodle puppies cannot be reserved based on gender because there is no way to know what will be produced out of each litter.
Standard Goldendoodle Breeder Information
Conclusion for Standard Goldendoodle Puppies for Sale
We hope that you were able to find your next puppy! With so many standard Goldendoodle puppies for sale, it's important that you don't support a puppy mill or backyard breeder that isn't health and genetic testing their puppies. In addition, you should also look for standard Goldendoodle breeders that are providing a puppy warranty.
If you aren't able to find a standard Goldendoodle breeder near you, we highly suggest that you check out the Goldendoodle Association of North America (GANA) to find other reputable breeders! Best of luck finding your next standard Goldendoodle puppy!
Related articles:
Garrett loves animals and is a huge advocate for all Doodle dog breeds. He owns his own Goldendoodle named Kona. In addition, he volunteers at the Humane Society of Silicon Valley, where he fosters dogs and helps animals. Garrett enjoys writing about Doodles and believes that dogs can teach humans more about how to live than humans can teach a dog.
Why Trust We Love Doodles?
At We Love Doodles, we're a team of writers, veterinarians, and puppy trainers that love dogs. Our team of qualified experts researches and provides reliable information on a wide range of dog topics. Our reviews are based on customer feedback, hands-on testing, and in-depth analysis. We are fully transparent and honest to our community of dog owners and future owners.