If you're searching for the best Double Doodle breeders in the United States, then you've come to the right place. When you hear the word "Doodle," you might think of breeds like a Poodle or Labradoodle. Other mixes that have a "doodle" include a Goldendoodle or a Bernedoodle. These breeds are a mix of just two breeds, including a Poodle. A Double Doodle raises the level of "Doodle-ness" as a mix between two already hybrid breeds. These two breeds include a Labradoodle and a Goldendoodle.
There's also a strong influence of their parent breeds with those two parent breeds, including Labrador or Golden Retriever. These parent breeds are already known for being incredibly loveable and cuddly. With this crossbreed, some say you get double the level of cuteness. Unlike a single Doodle hybrid, both parents are not purebred but are combinations themselves. Categorized as a designer breed, the Double Doodle has explicitly been bred for its appearance and temperaments. The temperament of the Double Doodle is most often friendly and sociable, making them great for kids.
With their parent Labradoodle and Goldendoodle's appealing personalities, the Double Doodle takes on those same characteristics and brings delight and joy to its family. They carry a gentle nature present in their genetics, all the way back to their Labrador and Golden Retriever bloodlines. As with all other designer breeds, the Double Doodle does not hold the American Kennel Club's standards. Given their complex pedigree, there may also be a certain level of diversity and variety within a litter of Double Doodle puppies.
Depending on the parent breeds, Double Doodles can grow to be between an extensive range of 30-70 pounds. They also have a life expectancy between 12 and 15 years. Their coats come in different colors, such as cream, white, black, or brown. The coat can also vary, from tight curls to loose hair. With regular brushing, the coats of Double Doodles can be relatively low-maintenance and easy to care for. If you've got your heart set on a Double Doodle, your next step is to find a place like a breeder that is reputable and can match you with the right puppy. Throughout the United States, you can find breeders of this ultra hybrid breed that packs in the cuteness.
Similar dog breed recommendations: F1 Goldendoodle Puppies For Sale and Sheepadoodle Breeders in the United States.
Double Doodle Puppies For Sale in the United States
When you're ready to start searching for local breeders to find your Double Doodle puppy, you've got some options. As you explore breeders of Double Doodles, be sure to be mindful of their availability, pricing, and reputation in being reliable in selling their puppies. Here we share some of the top Double Doodle breeders in the United States to help you get started in this important process. Keep in mind that even if a breeder is not close to you, you may be able to explore shipping or other transportation options.
Get started with your Double Doodle with our recommendations: Best Hypoallergenic Dog Foods and Best Dog Bed For Separation Anxiety.
1. Cloud Nine Doodles
First on the list of Double Doodle breeders in the United States is "Cloud Nine Doodles." With over 35 years of experience, the Cloud Nine Doodles team shares the love and joy of all things Doodle. They have a few litters each year and are dedicated to breeding puppies of high quality and temperament. Puppies are raised with exposure to training practices, socialization, and quality nutrition to help them grow and interact with others. Each of their dogs is health tested before breeding to ensure the best results in the litter. Puppies are raised within the home and are assessed based on personality and temperament to ensure they make the right fit with their forever family.
In addition to Double Doodle puppies, the family also breeds Bernedoodles. Each puppy comes with a supplemental health warranty as well as a puppy care information sheet as you welcome your new furry friend home. They also receive their initial vaccinations and are carefully health monitored until being adopted. If you're interested in adopting a Double Doodle from Cloud Nine Doodles, you can begin with a puppy application. Note the high demand for these puppies. They have a two-year waiting list, so keep your desired timeline in mind as you make your selection.
Cloud Nine Doodles Details
2. Texas Double Doodles
With pride in their dogs and the puppies they have, the Texas Double Doodles team is eager to share the love of this hybrid breed. They are intentional about their puppies' socialization process to ensure they're ready when they enter their forever family. Each parent is health tested to ensure the health and safety of both the dog and the puppies. Their puppies range from micro, mini, medium, to large, all depending on the parent breed.
When a puppy is ready to go home, they're equipped with a three-health guarantee, a blanket, basic training, and an updated set of vaccinations. Each puppy is also registered with the United All Breed Registry and the Designer Breed Registry. If you're interested in adopting a puppy from Texas Double Doodles, you can reach out to the team and share what you're looking for in a dog. If they have puppies available, you can move forward in the adoption process or be put on a waiting list. They'll help to select the right puppy for your family. Or, you can pick up your puppy during a visit day.
Texas Double Doodles Details
3. YesterYear Acres
With a dedication to Doodle breeds' quality, choosing a Double Doodle from YesterYear Acres can be a great option. In addition to Double Doodles, they also offer Goldendoodles and Labradoodles. Each puppy is raised in a home context where they are showered with love and affection as they begin their life. They are also well-socialized and closely health monitored to ensure they grow healthy, strong, and friendly.
Puppies can't be shipped but can be delivered to the east coast areas when needed. The team also offers helpful training services to help continue to develop their behavior and personalities. Puppies also come with a 2-year health guarantee as they enter their new home. Their website shares a vast collection of photos and resources of all things Doodles. You can see when new litters are expected to arrive and fall in love with your next furry friend.
YesterYear Acres Details
4. Sandpoint Doodles
With over 25 years of experience, the team at Sand Point Doodles is committed to sharing the love of Doodles with others. They deliver their Doodles after being raised on a large 10-acre ranch located in Idaho. They specialize in this unique, hybrid dog breed with a great temperament. They focus on dogs who are healthy and intelligent. Puppies are introduced to training at a young age. This temperament also makes them great options for service and therapy dogs.
Puppies are raised in a home environment and showered daily love and attention to ensure they are well-cared for and loved. They encourage puppies to be socially active and interact with other dogs and people nearby. If you're interested in adopting a puppy from Sandpoint Doodles, you can start with an application and a non-refundable deposit. You can even go and visit the dogs and puppies at the ranch with an appointment. On their website, you can find a collection of photos of available dogs and other helpful resources as you get started in welcoming home your new puppy.
Sandpoint Doodles Details
5. Red Spring Farm
Last on the list of Double Doodle breeders in the United States is "Red Spring Farm." The team at Red Spring Farm offers a wide variety of puppies, including Labradoodles, Goldendoodles, and of course, the Double Doodle. Dogs are cared for with love and attention and are health tested before breeding. Each puppy is raised inside the home and showered with love and attention as they grow and become ready to be welcomed into their forever homes.
Puppies come with up-to-date vaccinations, microchipped, and a two-year health guarantee. On their website, you can find pictures of upcoming litters, helpful resources, and other information you'll want to know as you welcome your furry friend home. They even share resources like how to set an appointment with your vet, recommendations for training opportunities, which parasite prevention method to take, as well as what types of dog food are best. Their collection of resources also includes a special take-home video to celebrate your new family member.
Their services also include a Puppy Cam option that you can watch as puppies interact and play together. As this breed can be prevalent, availability may be highly limited depending on when a litter is expected. If you're interested in moving forward with a Double Doodle from Red Spring Farm, you can begin your application online. However, they can still be at a long waiting period depending on planned litters. They expect reliable and responsible care from the puppy family and offer resources to help you be successful.
Red Spring Farm Details
6. TR Doodles
TR Doodles is a trustworthy breeder located in Bennett, Colorado, committed to breeding premium Doodle Doodles and other Doodles in various colors and sizes. Their professionalism and experience of over 20 years are evident in their seamless adoption process, plus the top-quality pups they breed. They are dedicated to providing families with puppies that offer unwavering and unconditional adoration in their forever home.
At TR Doodles, all parent breeds are genetically tested and show quality before crossing. Parent breeds are also chosen both because of how beautiful they are and because of their temperaments in other to get the best litter possible. Good breeding is a whole package to them, and they do everything possible to use only first-rate breeding stock.
Also, all their designer breed puppies are handled and interacted with daily, which is an excellent step toward having calm puppies well-adjusted into their new home. All their litters spend a reasonable amount of time each day in the puppies' play area, where they have lots of fun. Litters start basic training at an early age to be well socialized and not exhibit bad habits.
The TR Doodles are a small kennel that takes excellent care of their litters and gives them plenty of love and cuddles. They are given to helping families get the perfect pet for them, especially families with dog allergies. Visit their site today or call their line to get the adoption process for your new furry friend started.
TR Doodles Information
Conclusion For The "Best Double Doodle Breeders in the United States"
With their extra-hybrid characteristics and lovable personalities, a Double Doodle can be a great addition for families of all sorts. If you're interested in adding a Double Doodle to your family, a reputable breeder can be a great start. Be sure to do your research about what you're looking for in a puppy and local breeder that focuses on quality and is trustworthy. Use this list and other options in your local area to find a breeder with Double Doodle puppies that are just right for what your family needs. And with the Double Doodle's adorable personality and friendly temperament, you'll fall in love with this family-friendly hybrid breed.
To learn more about other Doodle breeds, check out:
You can see the Double Doodle live in action by watching "Meet Our New Pup! Pino, The Double Doodle" from Yuka Ohishi down below: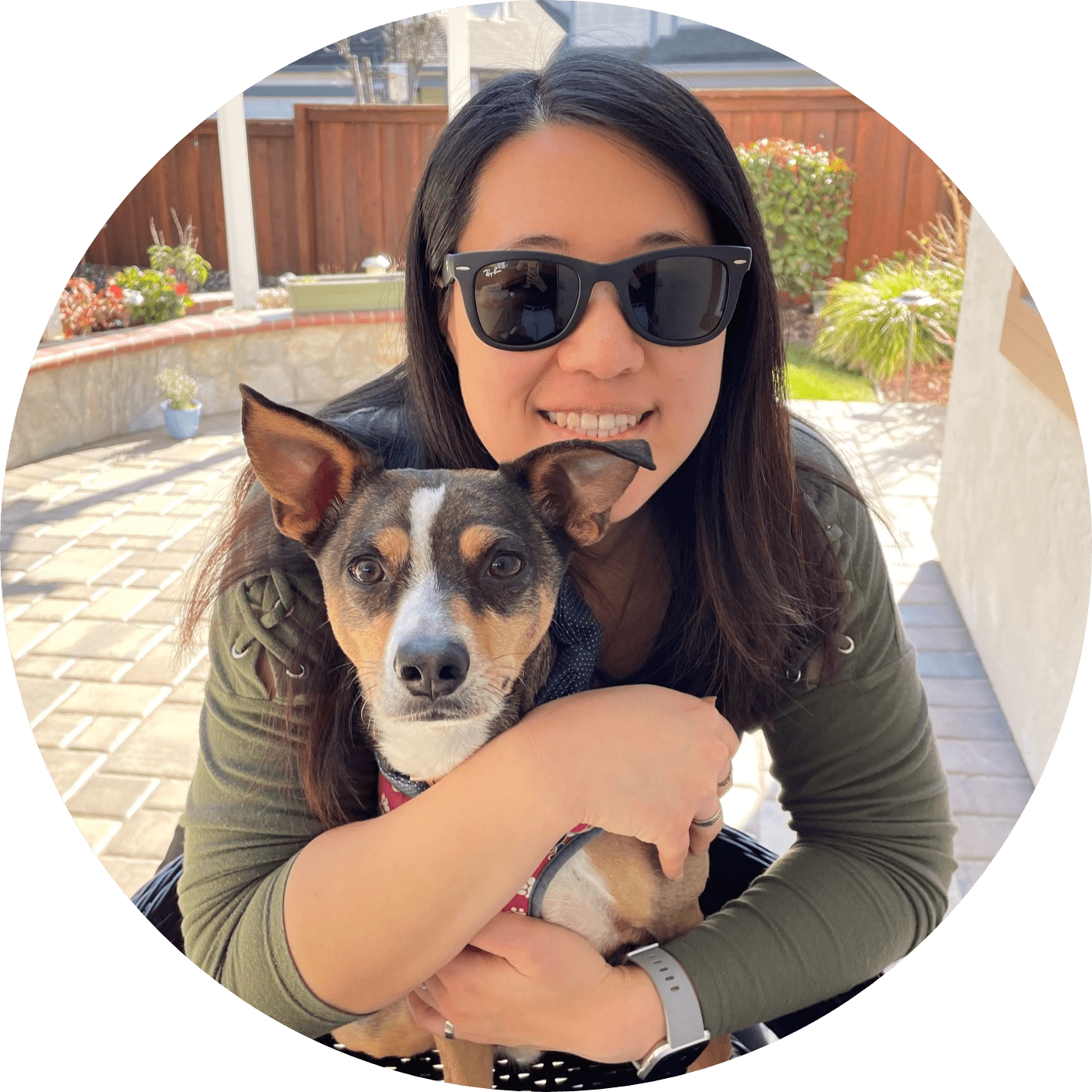 Dr. Sabrina Kong graduated from the Royal Veterinary College in England in 2016 and has been working at a small animal clinic in Northern California since then. She grew up in the Bay Area and got her bachelor's degree from Cal Poly San Luis Obispo. She also became a Certified Canine Rehabilitation Practitioner through a program at the University of Tennessee.
When she isn't in the clinic taking care of her four-legged patients, she enjoys traveling and trying new foods with her friends and her three-legged dog, Apollo. She adopted Apollo from her clinic when he was a puppy with numerous health issues. Dr. Kong truly cares about taking care of animals.