Doodle breeds have a fluffy curly coat that typically is hypoallergenic and doesn't shed. This hypoallergenic dog is a hybrid of two different breeds with one of them always being a Poodle. Breeders have created a variety of dog breeds with Poodles that have revealed outstanding results! Are you considering welcoming a Doodle breed into your family? We have tons of information across our website that will help you make the right pick.
The following list contains the best Doodle breed that will make an excellent companion, therapy dog, or family pet! Our judging criteria was based on the popularity of the breed based on our own internal data.
For reference, we also have a full list of common Doodle Breeds. If you're looking for a new puppy, we highly suggest that you check out PuppySpot. They have given our blog readers $100 off a new puppy when you use coupon code "WLD100".
1. Goldendoodle
Goldendoodles are a mix between the Poodle and a Golden Retriever. According to the American Kennel Club (AKC), the Golden Retriever is the 3rd most popular dog breed in the world. It's no surprise why the Goldendoodle is so popular. It's basically a nonshedding and hypoallergenic version of the Golden Retriever. In addition, this designer doodle breed creates intelligent, playful, and cute dogs that every pet parent loves.
This loyal Doodle breed is easy to train and makes a great exercise buddy when you walk, jog, or hike. Goldendoodles come in a variety of sizes weighing 10 to 80 pounds. We wrote an entire article on the various Goldendoodle Sizes which are mini, medium, and standard.
The Goldendoodle is also great with kids, family, visitors, and strangers. If you are looking for a friendly, loyal, smart, cute, and playful Doodle breed, a Goldendoodle is the one you want! 
2. Labradoodle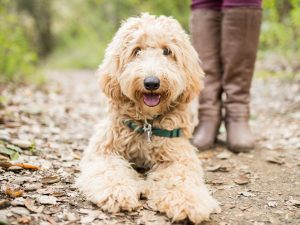 The Labradoodle dog breed originates in Australia and was first bred in the 1950s. Originally they weren't a popular dog breed, but today the Labrador Retriever and Poodle mix are in high demand in the United States as a family and companion pet. This is another very popular doodle breed because the Labrador Retriever is the #1 most popular in the world according to the AKC. They are friendly, intelligent, active, and feature a fluffy, curly, shaggy coat that doesn't shed. 
Adult Labradoodles usually stand 24" inches tall and can weigh up to 70 pounds depending on which size you pick. Remember, if they are bred with a toy Poodle, they will be much smaller in size. Additionally, Labradoodles come in several different coat colors. We wrote an extensive article on the various Labradoodle coat colors, but the most common colors are red, cream, chocolate. You can find more exotic Labradoodle colors such as parti, black and white, or phantom as well.
The Labradoodle is very close to the Goldendoodle in terms of doodle popularity. These are definitely two of the most popular hybrid dog breeds in the entire world. Moreover, it's very difficult to actually tell the difference between the Labradoodle and Goldendoodle. You can't go wrong with either breed.
3. Bernedoodle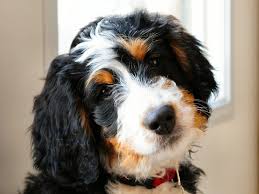 Loyal, intelligent, gentle, and goofy, the Bernedoodle is a crossbreed of a Poodle with a Bernese Mountain dog. This adorable multicolored coated breed is not ideal for dog shows but is an excellent companion that will follow you anywhere. If you're looking for a doodle breed that is calmer than the Goldendoodle or Labradoodle, you should definitely look into a Bernedoodle. 
However, you will still need to exercise the Bernedoodle and they make great buddies for walking, hiking, and jogging. Most Bernedoodles also enjoy cold weather, but it highly depends on the genes they inherit from the parent dogs. Typically, Goldendoodles and Labradoodle don't do well in weather that is too cold or too hot. 
Adult Bernedoodles are also typically bigger than a Goldendoodle or Labradoodle. They weigh between 20 and 90 pounds and can stand up to 23" inches from the shoulder. Female Bernedoodles are often smaller than males. In addition, the weight of your Bernedoodle highly depends on the weight of the parent dogs. We have an extensive article on the various Bernedoodle sizes including micro, mini, medium, and standard sizes.
Sweet and cuddly, Bernedoodles also make great couch potato buddies and are playful with kids. If you're looking for a tri-color dog that is typically more relaxed than a Goldendoodle or Labradoodle, then a Bernedoodle is the best doodle breed.
4. Cavapoo Doodle Breed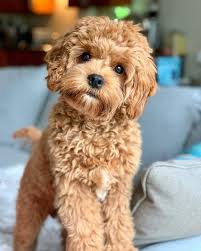 The Cavapoo is an adorable companion dog breed that is a mix of a Cavalier King Charles Spaniel and a Poodle. They are sweet, friendly, hypoallergenic and a favorite Doodle breed among pet parents worldwide. This doodle breed is typically much smaller than Goldendoodle, Labradoodle, and Bernedoodle which is great for people who don't live too active of a lifestyle.
If you are looking for a Doodle breed that is easy going, social, friendly, and great with adults, kids, and other pets, the Cavapoo is the right choice for you! An adult Cavapoo weighs between 10 to 25 pounds and stands 8" to 14" inches from the shoulder. If you want to purchase a Cavapoo from a breed, we have an in-depth article on "How Much Does a Cavapoo Cost?"
5. Maltipoo Doodle Breed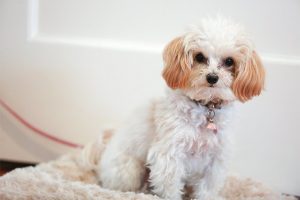 A mixture of a miniature or toy Poodle with a Maltese creates the cute little Maltipoo dog breed. This unique dog is affectionate, playful, smart, and looks like a cute little puppy their entire life. The best part about a Maltipoo is that they are going to be hypoallergenic and nonshedding. This means that you won't have to vacuum up their dog hair or worry about pet allergies. However, you will have to groom your Maltipoo regularly by giving them haircuts since their fur doesn't shed.
Their curly and scruffy coat is usually cream or white mixed with a variety of colors depending on the genes that are inherited from their parents. However, if you get a good look at the parents, you can usually assume the color your doodle will be as they get older. You can see the full list of Maltipoo colors in our in-depth article.
Adult Maltipoos stand around 10 to 14" inches tall from the shoulder and weigh between 5 to 15 pounds. Some dogs are smaller than others in height and weight which is determined by DNA. 
This cute little Doodle breed is an excellent companion dog for singles, families, older children, adults, and seniors. They are great lap dogs and need to live indoors but enjoy daily walks outdoors for fresh air and playtime. 
6. Schnoodle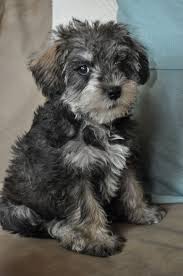 Schnoodles are a mix between a Poodle and a miniature Schnauzer. This intelligent, funny, charming dog typically inherits the Schnauzer attentiveness gene that makes them great watchdogs that use their voice to scare away potential dangers. 
Adult Schnoodles weigh between 10 to 25 pounds and stand 10" to 14" inches from the shoulder. This friendly dog breed makes excellent companion dogs that need to live indoors. They are an excellent option for apartment dwellers, singles, families, and seniors. 
This Doodle breed has a moderate activity level that should coordinate well with your lifestyle. Generally, this breed will match your energy level but require daily walks and playtime to stimulate their minds. 
Schnoodles enjoy being the center of attention and are great athletes and show-offs when it comes to agility training, flyball, and other sports. 
What kind of Doodle should I get? 
The kind of Doodle breed you choose should depend on your lifestyle and your family. There are many factors to take into consideration such as your activity level, whether you live in an apartment or house, whether you want an indoor or outdoor Doodle, or if you are looking for a family pet, companion, or watchdog. 
Activity Level
Your daily activity level is important to consider when choosing the right Doodle breed for you and your family. Do you like to go outdoors for walks or hiking? If so, choose a Doodle breed that is energetic and loves the outdoors such as Goldendoodles or Labradoodles. However, if you don't exercise a Doodle with high energy, they will become bored and oftentimes destructive around your house. It's important that you match your ideal Doodle breed with your current lifestyle.
Living Space
The size of your home is an important factor because you need enough space for a dog to grow up and live comfortably. If you live in an apartment an indoor Doodle breed is recommended such as a Cavapoo or Maltipoo.  
They thrive indoors and enjoy daily short walks outdoors. These compact Doodle breeds are a great companion and family pets for apartment dwellers that don't have access to a yard. 
If you have a house with a fenced-in front or back yard, a larger and energetic Doodle breed is an excellent option as a family pet. Goldendoodles, Bernedoodles, and Labradoodles need plenty of outdoor space to run around and burn their energy. They enjoy living indoors with daily access to the outdoors such as running around in the yard. 
Indoor or Outdoor Dog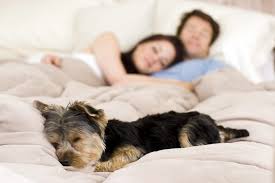 Do you want your dog to live indoors or outdoors? As a pet parent, you need to decide if you want your dog to live indoors, outdoors, or a combination of both. All Doodle breeds are hypoallergenic and need to have daily social interaction with their family. Putting a Doodle breed outdoors to live, sleep, and eat, will lead to depression and isolation.
While Doodle breeds enjoy playing outside for a little while they prefer to be indoors with their family. If it was your Doodles choice, they would even sleep in your bed so they can be part of the pack. Doodles thrive on attention and don't like to be left alone as it will lead to separation anxiety.
Companion, Family Pet, or Watchdog
Companion Doodles such as Cavapoos and Maltipoos provide great company and friendship. They are loyal, friendly, playful, and enjoy cuddling next to you watching a movie on the sofa. They need to live indoors but enjoy walks and visits to the dog park too. They are also great traveling buddies whether you are running errands or taking a road trip. 
A family pet is extra special because the Doodle breed needs to get along with children of specific ages. If you have young children you need to choose a Doodle breed that is ideal for growing up with your little ones. In this case, Bernedoodles, Labradoodles, Goldendoodles are excellent playmates for your children, especially if they grow up together. 
If you have teenage children any Doodle breed will be a perfect fit and the decision for the family pet will be based on preference. If you are choosing a Doodle breed with teenagers have everyone in the household write down what they want in a dog and choose accordingly. 
Teenagers who want an exercise buddy will be best matched with the energetic larger Doodle breeds, but those who want a couch potato buddy that keeps them company while doing homework will enjoy the smaller companion Doodle breeds. 
Social Expectations for Your Doodle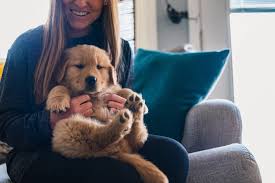 Many pet parents don't think about the social expectations they have for their future pets. Most pet owners just assume the dog of their choice will adjust to their new surroundings. While it's true most dogs settle into their environment it's also wise to consider their natural temperament. 
For example, if you have young toddlers running around the house you don't want to choose a Schnoodle because their social skills aren't the best with young children but they are excellent with teenagers and adults. 
If you plan to take your dog for a walk around the neighborhood or to the local dog park, you need to choose a friendly Doodle breed that likes other animals. Most of the breeds on the list above have excellent social skills and are friendly with other dogs. 
Households that already have multiple amounts of various pets such as cats or birds need to choose a Doodle breed that gets along with other animals. 
Conclusion for What is the Best Doodle Breed?
Matching yourself and your family with the right Doodle breed is essential to living in harmony with your new furry family member. If you are in doubt about which Doodle breed you should choose, ask a family member or friend for their recommendation. Due to the rise in popularity of the Doodle dog breed, there are many other hybrid dogs that you might enjoy. Doodles become loving members of your family, but it's important that you choose the best doodle breed for your lifestyle!