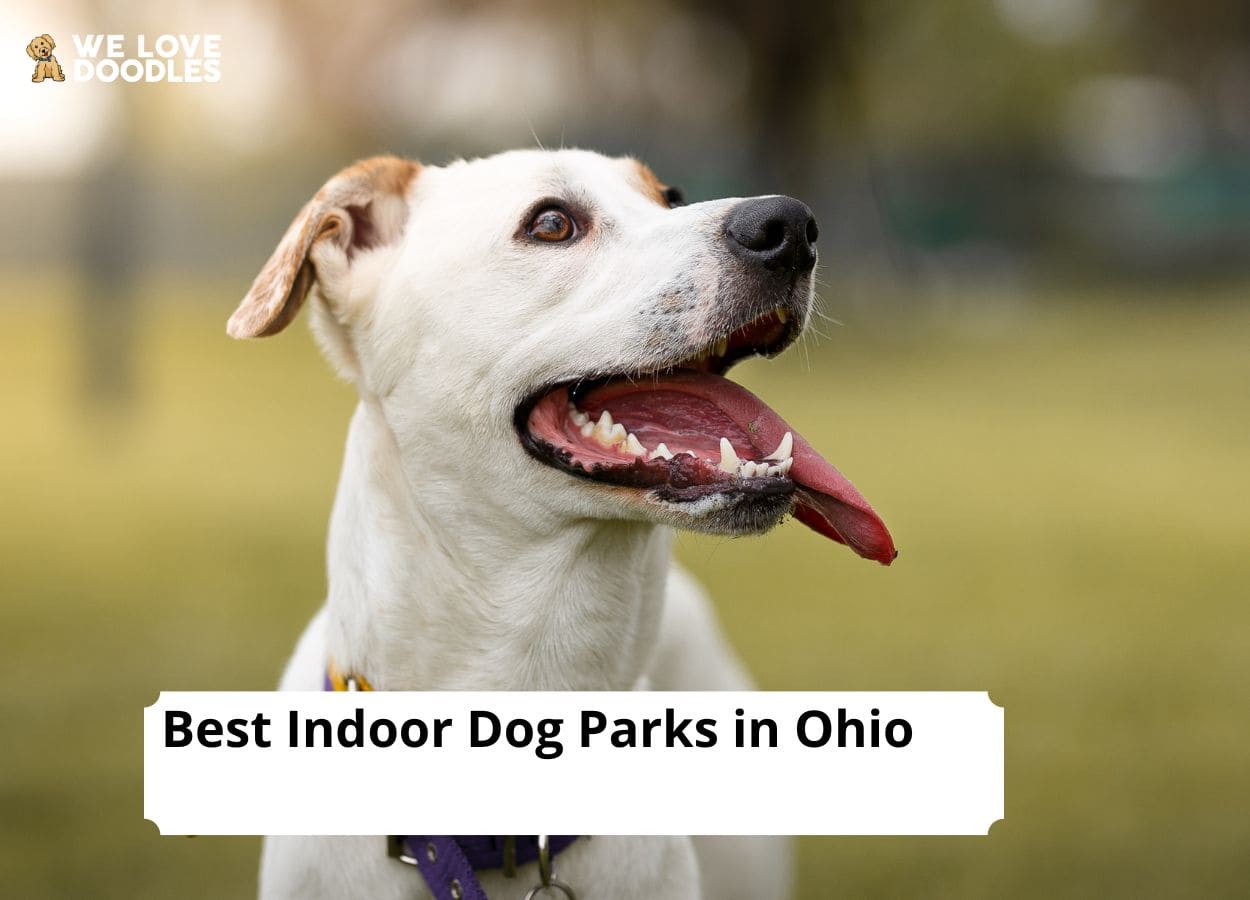 We have a question for you if you're searching for indoor dog parks in Ohio. Are you looking for the best way to give your dog a comfortable, warm place to socialize and play any time of the year? Thanks to one of the most popular pet parenting crazes, you can now do that.
Indoor dog parks are increasingly becoming popular across the United States. These parks allow your furry companion to meet new puppies and play freely in climate-controlled environments. Many indoor dog parks provide services like obedience training and daycare to enhance the deal.
Indoor parks offer many benefits, as you can blast with your furry companion, whether sunny, snowy, or rainy outside. You can visit many indoor parks this weekend or during the weeks with your dog if you reside in Ohio. To help you get started, here are the best indoor dog parks in Ohio with exceptional services and amenities.
Before you scroll down this list of indoor dog parks in Ohio, you can check out these other dog-related recommendations from our team at We Love Doodles: Best Pet Stores in Columbus, Ohio, and Best Rottweiler Rescues in Ohio.
Find an Indoor Dog Park Near Me in Ohio
Our team at We Love Doodles compiled this list of indoor dog parks in Ohio for you to check out.
Dog Product Recommendations: Best Flea Collars For Dogs and Best Dog Bells For Potty Training.
1. Taps & Tails
Are you stuck indoors with your dog because it is too cold or hot outside? Taps & Tails is an amazing place to have fun with your dogs, regardless of how hot or cold it is outside. It is one of the most popular indoor dog parks in the United States. With its state-of-the-art facilities and services, Taps & Tails has won the hearts of many dog lovers all over the state.
You can spend quality time with your dog in this indoor facility while meeting other pet parents around the state. They also have an outdoor setting for pet owners that want to walk or run with their dogs outside. Located in Cleveland, Ohio, Taps & Tails is the first dog park bar in Cleveland. Yeah, the indoor park has a bar, and dogs are allowed there too.
The bar is spacious and is a great place to meet new people and socialize. At Taps & Tails, you can hang out and exercise with your dogs in a comfortable, social setting while grabbing a bite to eat or a drink. Only members can access the facility, so you must register your dog in their system to visit.
Fortunately, registration is easy, so you do not have to go through any rigorous process. Taps & Tails offers many pricing options to suit various needs. They have single-day passes, monthly memberships, and yearly memberships. They also host and organize various events in the park for pet owners.
You can find an event for various dog sizes, breeds, and more. In addition, the park has various sections for large and small dogs. The park is open all day of the week but at different times. They are from 4 PM to 9 PM Monday to Thursday, 4 PM to 10 PM on Fridays, noon on Saturdays, and 12 PM to 7 PM on Sundays.
With such flexible operating hours, you can visit whenever you're free. Do not forget to check out their rules before filling out the membership form. The first rule is that only friendly dogs are allowed in the park. Your dog must also be up-to-date on age-appropriate vaccinations. You can also call them to inquire about their services.
Taps & Tails Details
2. Splash Your Pup
Splash Your Pup is a great place to spend quality time with your furry friend. It is an indoor diving and swimming pool located in Moraine, Ohio. Their indoor pool offers private sessions, dock jumping decks, certified trainers, and all the fun your furry friend can handle. Does your dog love swimming, splashing, jumping, and having fun in the water?
Splash Your Pup is the best place to go with your dog. Now your furry friend can enjoy the joy of swimming all year round. This dock diving and swimming facility is owned and operated by certified and nationally recognized dog training specialists.
The pool is indoors, so you can comfortably have a great time with your dog even in the harshest weather conditions. They offer diving platforms and dog ramps to provide your furry friend with an opportunity to practice diving, receive professional training, get simple exercise, or splash and play.
This facility has an ozone filtration system combined with non-toxic and safe minerals to ensure you and your dog are comfortable. The pool is always clean with minimal use of chemicals. To top it all, you can enjoy a private swim session with your dogs. One-on-one training is also available for dog owners who want their dogs to learn new tricks.
The premier features and services offered in this facility are:
Certified trainers offering one-on-one attention
Diving lessons for various ability levels
Swim sessions
A welcoming, friendly atmosphere
Advanced filtration for a clean, safe swim
Drying towels for you and your furry friend
Splash Your Pup has a swift online booking system, making it easy to book a session online. With their flexible scheduling system, you can book a session whenever you want. They also have excellent customer service to attend to your needs. You can call to inquire about their services or schedule a swimming session. They are open from 12 PM to 6 PM Monday to Friday and from 9 AM to 6 PM on Saturdays and Sundays.
Splash Your Pup Details
3. Double Dog Day Care and Indoor Dog Park
Double Dog Day Care has been making waves in the state with its exceptional dog daycare services and indoor park. The facility provides everything a busy pet parent needs to enjoy having a furry friend without feeling guilty. You no longer have to leave your dog home while working or on that special date.
This daycare program is available for full days, half days, and even a few hours, depending on what you want. In addition to taking care of your dog while you're away, Double Dog Day Care also offers an indoor dog park. You can have an amazing time in this facility with your dog when you come to pick them up.
The place is not only for those who want to use the daycare services but also for those who want to enjoy the benefits of an indoor dog park. The indoor dog park is available from Monday to Friday from 5 PM to 8 PM. If space allows, the park also opens on Saturdays and Sundays.
Your dog must be pleasant, healthy, friendly, licensed with tags on the collar, and up-to-date on vaccinations. Flea protection is also one of the criteria for bringing your dog here. They have designated off-leash areas, and you must keep your dog on a leash when not in such areas. In addition, Double Dog Day Care offers grooming services to help keep your pet neat and healthy.
Double Dog Day Care and Indoor Dog Park Details
4. Dogtown
Dogtown is a dog dare, training, boarding, and grooming facility. All the dogs in this program are kennel-free, meaning they are to move as much as they please. This kennel-free dog daycare offers quality dog services. They have a huge enclosed space where you can spend time, exercise, and play with your dog. The daycare is open 24/7, making it a highly flexible dog care service.
At Dogtown, dogs are not left overnight in the cold or concrete. Rather, they sleep with a person and other dogs. Your dog will experience comfort at its peak when you leave them in this daycare. They also have live webcams, which monitor every activity in the facility 24/7. Dogtown does not have one of the largest play areas for dogs, but it is large enough to have a swell time with your furry friend.
Dogtown Details
Conclusion For The "Best Indoor Dog Parks in Ohio"
When looking for the best indoor dog parks in Ohio, you should first consider if it offers the services you want. There are dozens of parks, and finding an option that offers the services you and your dog need is key. You also want to ensure the environment's temperature is well-controlled and has all the basic amenities and fun activities you want.
For more guides similar to this list of indoor dog parks in Ohio, you can check out these other recommendations from our team at We Love Doodles:
Before you bring your companion to a dog park in Ohio, you can see what it's like by watching "Size Does Matter – Dubai Indoor Dog Park" down below: