Here's what you need to know if you're searching for Rottweiler rescues in Ohio. Rottweilers were originally bred as herding and guard dogs, trained to keep livestock secure for traveling groups and armies.
To this day, the breed is loyal, faithful, and happy to have a job to do. If you're an Ohio family looking for a Rottweiler to join your "pack," check out this list of the best Rottweiler rescues in the Buckeye State.
While purchasing a new puppy is exciting, it comes with a lot of responsibility. By adopting a dog from a shelter, you not only gain a dog that has some – at the very least – basic training, but you also change the life of a dog that may otherwise not have a chance.
Many shelter dogs are scheduled for euthanasia and live in less than ideal conditions. Inviting one of these puppies into your home could make a world of difference for you and your new dog.
Before you scroll down this list of Rottweiler rescues in Ohio, you can check out these other rescue shelter recommendations from our team at We Love Doodles: Best Beagle Rescues in Ohio and Best Dog Rescues in Ohio.
Find a Rottweiler Rescue Shelter Near Me in Ohio
Our team at We Love Doodles compiled this list of Rottweiler rescues in Ohio to help you find a compatible companion and save time on your journey.
Rottweiler Product Recommendations: Best Odor Resistant Dog Beds and Best Cheap Shock Collars.
1. R.E.A.L. Animal Rescue
R.E.A.L. stands for Respect Every Animal's Life, and that's precisely what this small Ohio shelter has committed to do. The non-profit is based in Ashland and specializes in Rottweilers. However, they don't turn away other breeds, so you'll often see other dogs come through the R.E.A.L. system.
To adopt a dog from this shelter, first view the available dogs. The team has puppies separated into two categories: Rottweilers and Not-weilers. Please view the pictures and biographies of the adoptable puppiesto learn where they're being fostered. Most are housed in the Cleveland area, but they may be spread throughout other areas of the state. Once you find a puppy you love, fill out the adoption application to begin the process.
The team will contact you to proceed; the process depends upon whether you are fostering or adopting. The cost to adopt your Rottweiler is between $250 and $500, depending on the breed and age of your dog. Pups will be current on vaccinations, deworming, and flea and tick treatments. Your dog will also be spayed or neutered and microchipped for safety before going home with you.
R.E.A.L. Animal Rescue Details
2. The Sanctuary for Senior Dogs
The Sanctuary for Senior Dogs doesn't cater exclusively to Rottweilers, but we chose to include this rescue on our list because we love the group's mission. The Sanctuary is located in the Cleveland area and is supported by a network of foster families. If you're not sure that owning a Rottie is right for you, this is a good shelter.
The Sanctuary for Senior Dogs takes in puppies that are at risk of euthanasia in other shelters; they do not currently accept surrenders from the public. The puppies available at the Sanctuary sometimes have health conditions but, generally speaking, the dogs are in good health for their age and need a forever home to live out the rest of their days with a loving family. The adoption process includes an application and a home visit.
Once you're approved to adopt, you'll meet your dog in person. If it's a good match, you'll pay the $125 adoption fee and bring your dog home the same day. The Sanctuary has a "seniors for seniors" program, too! Seniors 65 and older will only pay $65 to adopt a dog. Any health conditions applicable to your puppy will be disclosed before adoption. Your senior dog will be current on all vaccinations and other treatments, and they will be neutered or spayed.
The Sanctuary for Senior Dogs Details
3. Miami Valley Pit Crew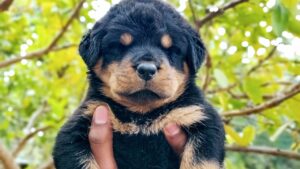 Rottweilers are often misunderstood. They're large, strong dogs that, when mistreated, can attack and be antisocial. For this reason, they often get a bad reputation as an aggressive breed. Miami Valley Pit Crew seeks to change that. This non-profit shelter takes in dogs that are "misunderstood," including Pitbulls, Rottweilers, and German Shepherds.
When necessary, they socialize and rehabilitate the dogs they rescue, and then they rehome the dogs with loving families who will treat them right. You'll need to meet certain criteria to adopt a dog from Miami Valley Pit Crew. For instance, you must have a fenced yard, and your current animals must be spayed or neutered.
Additional requirements, such as the presence of children, will be disclosed as they apply to a specific dog. A non-refundable adoption fee may be tax deductible; check with your tax adviser. Your dog will be altered (spayed or neutered), vaccinated, and dewormed upon pickup.
Miami Valley Pit Crew Details
4. Sheltered Paws Dog Rescue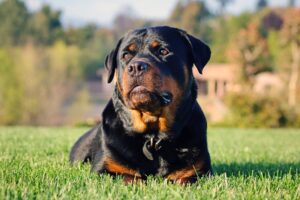 Sheltered Paws Dog Rescue is a non-profit organization largely supported by volunteers and donations from the community. This shelter doesn't specialize in Rottweilers, but the breed frequently comes through the Sheltered Paws system.
Check the website often to learn about available puppies. You can choose to adopt a rescued Rottweiler or foster one until its forever family comes along. In any case, you'll need to fill out an application. The team wants to know about your family, home, and dog experience.
Once you're approved to adopt a dog, you'll be notified of the adoption fee for your particular puppy. Your dog will be spayed and neutered if you adopt. Should you choose to foster, you may be responsible for transporting your dog to have the procedure performed. Adoptable dogs are also vaccinated and have received deworming medication.
Sheltered Paws Dog Rescue Details
5. Canine Collective
Canine Collective is a no-kill dog rescue and shelter in Plain City, Ohio. Some dogs are housed at the shelter's physical location, while others are fostered in homes across the state. You can view all available dogs on the Canine Collective website; many Rottweilers and other large dog breeds are available.
To adopt from Canine Collective, fill out the adoption application. Your application is good for six months, but note that you may not be approved for a specific dog. The team at this shelter will work with you to ensure that you're matched with a puppy appropriate for your home and your family.
Dogs must be kept indoors as a part of your agreement. Not sure which puppy to bring home? Why not check out the Canine Collective's adoption events? You'll get to know the dogs, their personalities, and how you interact with them. You can also contribute to the Canine Collective with financial donations or by volunteering at the shelter.
Canine Collective Details
6. All Dogs Come From Heaven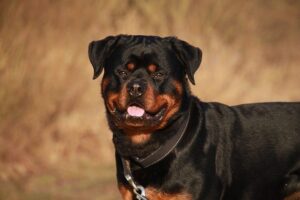 If you believe All Dogs Come From Heaven, this Rottweiler rescue in Ohio will be a great match for you. The shelter frequently has Rottie puppies come through its doors, and they're committed to pulling dogs from high-kill shelters and rehoming them with families like yours.
Dogs come from shelters across the midwest and are rehabilitated and cared for in Amelia, Ohio. Once a dog is spayed, neutered, vaccinated, and dewormed, adoption applications are accepted. Dogs within the All Dogs Come From Heaven shelter are trained and socialized to the best of the shelter's ability, too.
You can view the adoptable dogs online or visit the shelter team at an adoption event. Once you're approved to adopt a puppy, you can speak with the shelter about the required fees. While you're searching for your Rottweiler puppy, consider contributing to this rescue through donations. The team runs an outreach program, delivering food and necessities to pets across northern Kentucky and Ohio.
All Dogs Come From Heaven Details
7. One of a Kind Pet Rescue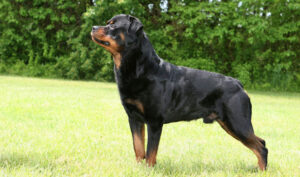 One of a Kind Pet Rescue is located in Akron, Ohio. This animal shelter pulls pets from high-kill facilities in Ohio and houses them until they're ready to go home with a family like yours. The shelter is committed to preserving the life of every adoptable animal. If you're interested in adopting a Rottweiler from this facility, view the available animals first.
You can search by keyword or view all available animals. Choose a puppy whose face you love, then click to view a biography of your pet. Once you're ready, you can fill out an application to adopt. The adoption fee for dogs varies by age. Fees range from $150 and up for senior dogs to $375 and up for puppies.
You'll need to speak with shelter staff directly regarding specific dogs. When you take them home, dogs are spayed or neutered, vaccinated, dewormed, and microchipped. In addition to housing animals, One of a Kind Pet Rescue runs a low-cost spay and neuter program. If you have existing pets, consider supporting the shelter through their clinic.
One of a Kind Pet Rescue Details
8. A.J.'s Search and Rescue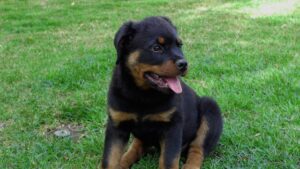 The last Rottweilerrescue on our list is A.J.'s Search and Rescue. They're a women-owned, not-for-profit shelter that provides housing for homeless, abandoned, and surrendered pets. They'll also rescue animals from high-kill shelters, giving them a second chance at a happy life.
Fill out an adoption application to adopt from A.J.'s Search and Rescue. The team will contact you with your approval, and you can ask any questions about the available puppies. A.J.'s team will work with you to find a dog that's a good match for your family.
The adoption fee may vary based on the dog's age, health, and breed. Foster opportunities are available through A.J.'s Search and Rescue. If you're unsure whether dog ownership is right for you, you can invite a puppy into your home while his forever family prepares to accept him.
A.J.'s Search and Rescue Details
Frequently Asked Questions
Still wondering whether a Rottie is right for you? Here are some of the most commonly asked questions from our readers.
Are Rottweilers good with children?
Yes! When they're properly trained, Rottweilers are little more than huge lap dogs. They're good with children and are protective, though not to an excessive degree.
In the same way that you'll want to train your dog to use his manners, you'll want to teach your children how to properly behave around a large dog. Considering the fact that your dog may have been abused or otherwise mistreated in his past, his behavior may be unpredictable at times. Supervise young children while they play with your pup.
Are Rottweilers legal in Ohio?
For the most part, Rottweilers are legal in Ohio. However, there is a small handful of cities that have chosen to place restrictions on "aggressive" dog breeds. Rotties, Dobermans, Huskies, and Pitbulls are among these breeds. Be sure you check with your city, your HOA, and your leasing agent before you commit to adopting a Rottweiler.
Do Rottweilers get along with other dogs?
Rottweilers can learn to get along with other just as any other breed can. The dogs do well with other larger dogs, but tend to play the most nicely with gentle breeds like larger Doodles, Golden Retrievers, and Australian Shepherds. Volunteers at Rottweiler rescues in Ohio can help you match a dog to your lifestyle.
Because your adopted dog is likely older, it's important to take care when introducing your Rottweiler to dogs you already have in your home. Choose a neutral space like the yard or even the living room, and introduce the dogs while they're on a lead. Choose toys that your existing pets won't feel territorial over, and keep food and water bowls separate until the dogs have become acclimated to one another.
Conclusion For The "Best Rottweiler Rescues in Ohio"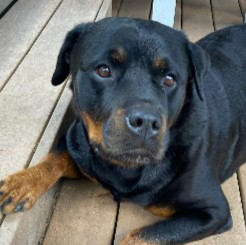 If you're an Ohio family or individual looking for a Rottweiler, consider adopting from a shelter. Puppies, adults, and seniors are put into shelters daily for many reasons. Some are mistreated, some have owners who have passed away, and still others are surrendered by families that can no longer handle the responsibility.
This list of the best Rottweiler rescues in Ohio will get you started on your search for a new dog. Contact your local rescue today and bring your new Rottweiler home as soon as tomorrow.
For more guides similar to this list of Rottweiler rescues in Ohio, you can check out these other rescue shelter recommendations from our team:
Before you adopt a Rottweiler companion from a rescue shelter in Ohio, you can learn more about this dog breed by watching "All About Living with Rottweiler Dogs" down below: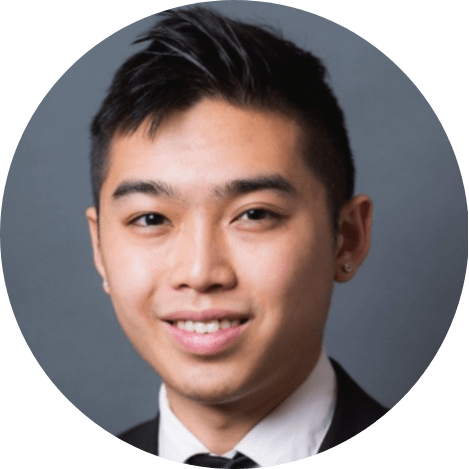 Andy is a full-time animal rescuer and owner of a toy doodle. When he's not saving dogs, Andy is one of our core writers and editors. He has been writing about dogs for over a decade. Andy joined our team because he believes that words are powerful tools that can change a dog's life for the better.
Why Trust We Love Doodles?
At We Love Doodles, we're a team of writers, veterinarians, and puppy trainers that love dogs. Our team of qualified experts researches and provides reliable information on a wide range of dog topics. Our reviews are based on customer feedback, hands-on testing, and in-depth analysis. We are fully transparent and honest to our community of dog owners and future owners.