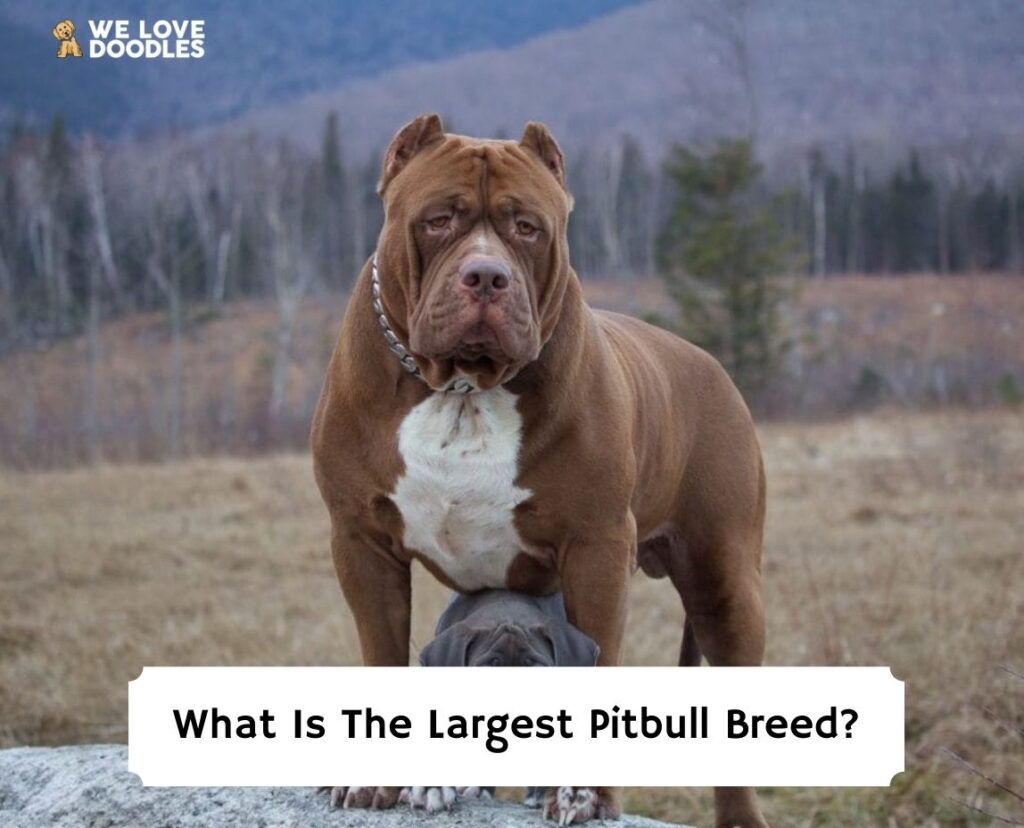 There are many types of Pitbulls, but which breed is the largest Pitbull breed? Pitbulls are a breed like no other. These dogs can belong to several types of designations rather than just falling under the umbrella term of Pitbull. Because of various breeding practices, some Pitbulls will be strikingly different in size and stature than others.
So, what is the largest Pitbull breed? To properly explore the size of Pitbulls, you must understand the many types that the American Kennel Club (AKC) considers Pitbulls. Let's explore which dogs belong to this category and which type is the largest.
Before scrolling down this guide, "What is the Largest Pitbull Breed," you can check out these other size guide from our team at We Love Doodles: What Labradoodle Size is the Best and Bernedoodle Size Guide.
Pitbull Breed Specifications
Unlike other registered breeds, like a Labrador Retriever, Pitbulls can fall into several categories. These variances are due to breeding lines as each type will carry its attributes but still be called a Pitbull.
According to many sources, here are the main types recognized as Pitbull breeds.
American Bulldog
American Bully
American Pitbull Terrier
American Staffordshire Terrier
Staffordshire Bull Terrier
However, not all kennel clubs will recognize each Pitbull type as a breed. Therefore, the selection for a large Pitbull could be limited depending on where you live. For example, the British UKC recognizes some Pitbull types that the AKC in the United States does not.
Pitbull Product Recommendations: Best Toyota 4Runner Dog Barriers and Best Go Pro Dog Harnesses.
1. American Bulldog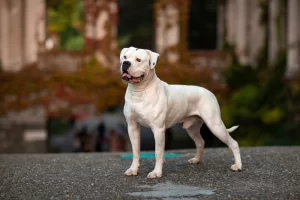 The American Bulldog is a descendant of the English Bulldog and was bred for farming tasks due to its strength, agility, and loyalty. As prevalent livestock guardians, this Pitbull had a reputation for catching and bringing down feral pigs. By nature, the Bulldog is one of the largest Pitbull breed options. These dogs will weigh a whopping 60 to 100 pounds and measure 20 to 27 inches tall at maturity.
They are confident and typically friendly with handlers and strangers. Of course, this huge Pitbull breed does carry two different distinctions within its type, including the Scott type and Johnson. These variations aid in differentiating between a lankier, athletic Bulldog and a heavier, bulky one. Their dense, muscular build allows them to jump three feet or more vertically.
Max Size
100 pounds
27 inches tall
2. American Bully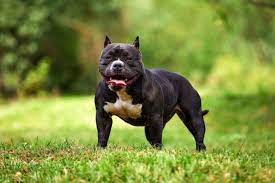 The American Bully is an extension of the American Pitbull Terrier but evolved as other similar breeds emerged. Including English Bulldogs, Olde English Bulldogges, and the American Bulldogs results in the thick, stalky Pitbull type. They are companion dogs and carry many friendly attributes of other Pitbulls.
Their warm temperament, gentle nature, and loyalty to humans make this gentle giant a favorite for many dog lovers. These impressively muscular Pitbulls are a sight to see as the tallest Pitbull breed. At maturity, American Bully dogs will range from 16 to 20 inches tall at the withers and weigh in at 30 to 65 pounds.
However, like other types, the Bully should have a well-proportionate body composition where their weight and height are balanced. Consequently, there are also size distinctions within the Bully Pitbull types, helping to enhance breeding. Unlike other Pitbulls, Bully dogs can vary significantly.
Some common sizes you will see that can determine a Bully's dimensions include:
Pocket
Standard
Classic
XL
Max Size
65 pounds (XL sizes: 150 pounds)
20 inches tall (XL sizes: 23 inches tall)
3. American Pitbull Terrier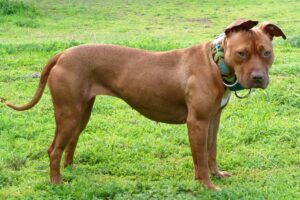 This category also breaks down into Red Nose and Blue Nose distinctions. These dogs are the second most common Pitbulls for dog owners. However, breeders must meet stringent specifications for a canine to fall under the American Pitbull Terrier classification. These do not differ much from the standard, making them an active and large Pitbull breed.
The American Pitbull Terrier (APBT) is a medium-sized dog with an athletic build. They sport a muscular physique but are not overly bulky. These dogs are strong and agile, and their height and weight are evenly balanced when following a proper diet and exercise regime.
At maturity, American Pitbull Terriers can weigh between 30 and 60 pounds, and full-grown height will fall between 17 and 21 inches at the withers. Typically, female APBTs will be slightly smaller than their male counterparts. On average, APBT dogs will have a slightly longer body than it is tall but are relatively close in measurements.
Max Size
4. American Staffordshire Terrier
Dog lovers searching for a larger Pitbull breed may opt for the American Staffordshire Terrier (AmStaff). This Pitbull type is smart, confident, and good-natured while outweighing and outgrowing some other Pitbull breeds. AmStaffs sport a broad head and well-defined jaw that can give the impression of aggression, but thankfully, it is the opposite.
They are a loyal and dedicated companion for their owner and, combined with their intelligence, are easy to train. Like other Pitbulls, this category is a medium-sized dog compared to other breeds, such as Mastiffs and Great Danes. However, it is one of the heaviest Pitbull breeds on average.
The typical American Staffordshire Terrier will grow between 17 and 19 inches tall and weigh anywhere from 40 to 70 pounds. These attributes create a stalky, muscular build in an agile and athletic dog.
Max Size
5. Staffordshire Bull Terrier
The Staffordshire Bull Terrier is one of the more classic Pitbulls with a more muscular physique. Originally bred in England, they carry the popular Staffordshire name with the breed. In addition to many common Pitbull characteristics, this type has a tenacious and courageous nature.
Combining high intelligence with these traits provides a Pitbull that is fiercely loyal and trustworthy as a companion. Additionally, this Pitbull breed remains agile and active, even with a muscular build.
When mature, they will weigh between 24 and 38 pounds and stand between 14 and 16 inches tall. Their overall body composition is lower than the ground, giving them a better center of gravity. Because of their smaller height but larger mass, the Staffordshire Bull Terrier is a solid and forceful dog that will require proper leash training early.
Max Size
The Biggest Pitbull Breed
After closely examining each of these different Pitbull breeds, it is easy to see which one is the largest. The American Bulldog is by far the tallest and heaviest of all Pitbull variations. Consequently, their impressive stature and strength are attractive characteristics for many dog lovers of the Pitbull breed.
The Staffordshire Terrier is the second-heaviest of the types but comes in a couple of inches shorter than the American Bully. Alternatively, Bully dogs are slightly lighter than AmStaffs, making these two distinctions quite similar.
So, if you want the largest Pitbull breed possible, selecting a male American Bulldog would be the ideal choice. Typically, males will be larger than their female counterparts, and there is a better chance of having the big, powerful animal you desire.
Of course, there is no guarantee that a puppy will be a specific size or weight until it reaches maturity. Although, with careful breeding practices, combining parents of specific genetic lines can produce desirable offspring that can closely resemble attributes breeders and new dog owners want.
Biggest Pitbull Breed in the World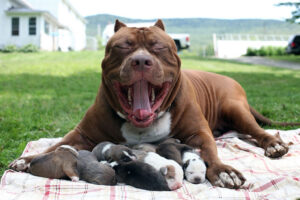 Of course, the breed specifications of Pitbulls are an average guideline. Dogs can be smaller or larger depending on their parents and breeding lines. Indeed, the American Bully type has distinctions to allow for more size.
Therefore, the biggest Pitbull breed in the world often falls to the XL Bully type. Consequently, it is possible to find XXL Bully dogs. However, they are harder to breed and produce due to genetics and are prone to health conditions without following proper breeding practices.
Hulk is a whopping 180 pounds of XL Bully, making him four times larger than a typical Bully dog. He belongs to the Dark Dynasty K9s and is part of their training and breeding program.
Naturally, an extra-large Bully that exhibits an ideal temperament and excellent bloodlines is an asset to any breeder. However, Hulk is more than just a part of the DDK9 business. He is part of their family.
Are Huge Pitbull Breeds Aggressive?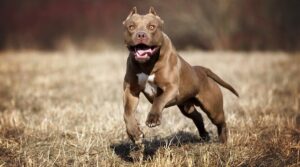 Although there are massive Pitbull types that boast a muscular, strong physique and exceptional size, this dog breed is not aggressive by nature. Pitbulls are highly intelligent, love to please their humans, and enjoy being part of a family. They do not carry an aggressive disposition, making them terrific pets for homes with kids.
Pitbulls are natural companion dogs and, in the past, have also been coined as 'Nanny Dogs' given their closeness towards children. However, that does not mean that Pitbulls, or dogs of any breed, should be left alone with kids.
Even canines that are laid-back and easy-going can become startled or snappy if they are scared or hurt. So, even though big Pitbull dogs are not aggressive and will gladly lounge on the sofa with you in the evening, supervision is necessary when in the company of children.
Conclusion For "What is the Largest Pitbull Breed"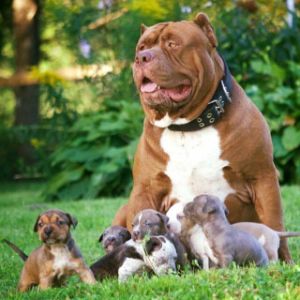 Adding a large Pitbull to your home will give you a large personality that will gladly follow you on adventures and learn new tricks for a favorite treat. Their playful nature and goofy smiles will surely make their way into any dog lover's heart, regardless of their massive size.
For more Pitbull guides from our team at We Love Doodles, you can check out:
If you're planning to raise a Pitbull, you can learn more by watching "Tips For First Time Pitbull Owners" down below: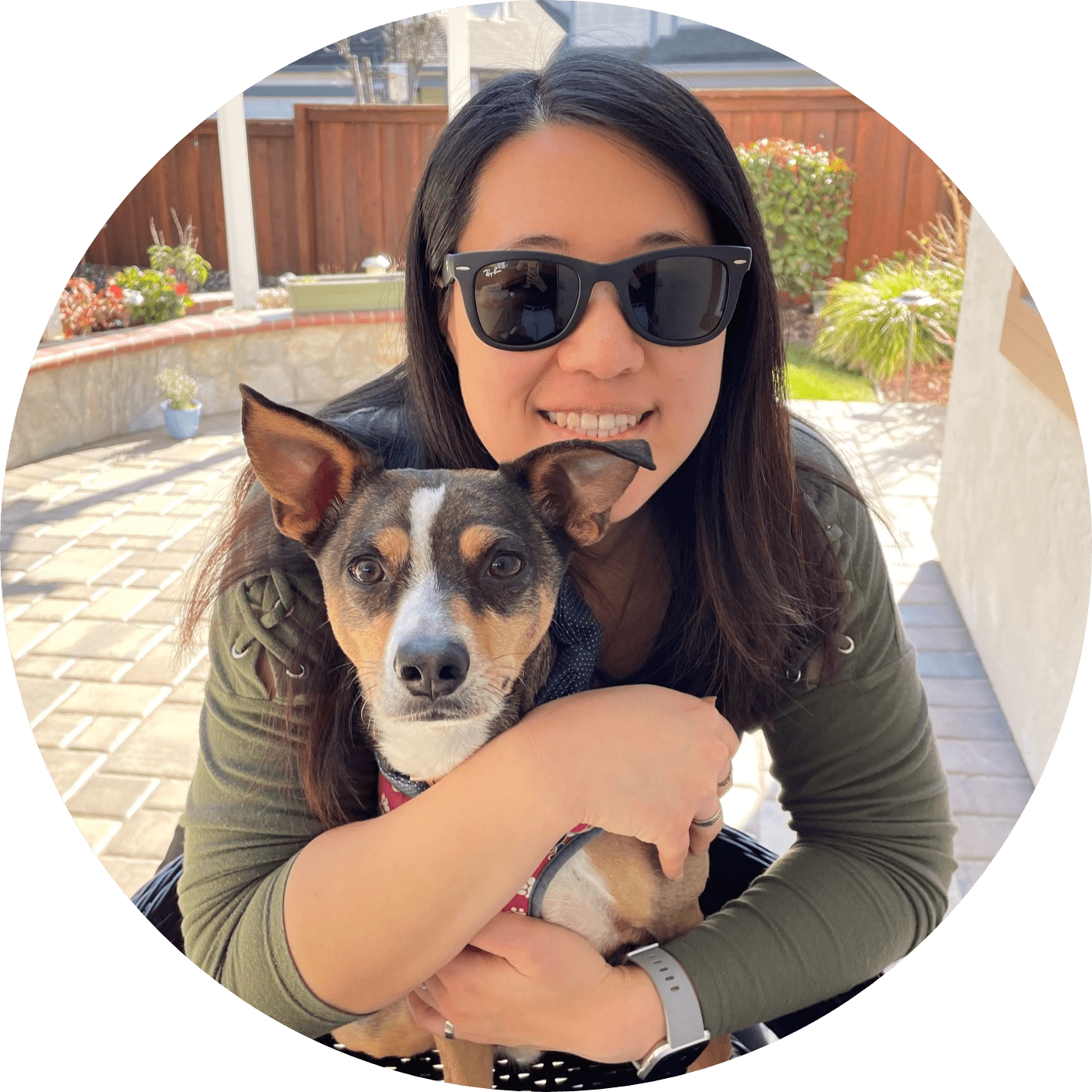 Dr. Sabrina Kong graduated from the Royal Veterinary College in England in 2016 and has been working at a small animal clinic in Northern California since then. She grew up in the Bay Area and got her bachelor's degree from Cal Poly San Luis Obispo. She also became a Certified Canine Rehabilitation Practitioner through a program at the University of Tennessee.
When she isn't in the clinic taking care of her four-legged patients, she enjoys traveling and trying new foods with her friends and her three-legged dog, Apollo. She adopted Apollo from her clinic when he was a puppy with numerous health issues. Dr. Kong truly cares about taking care of animals.