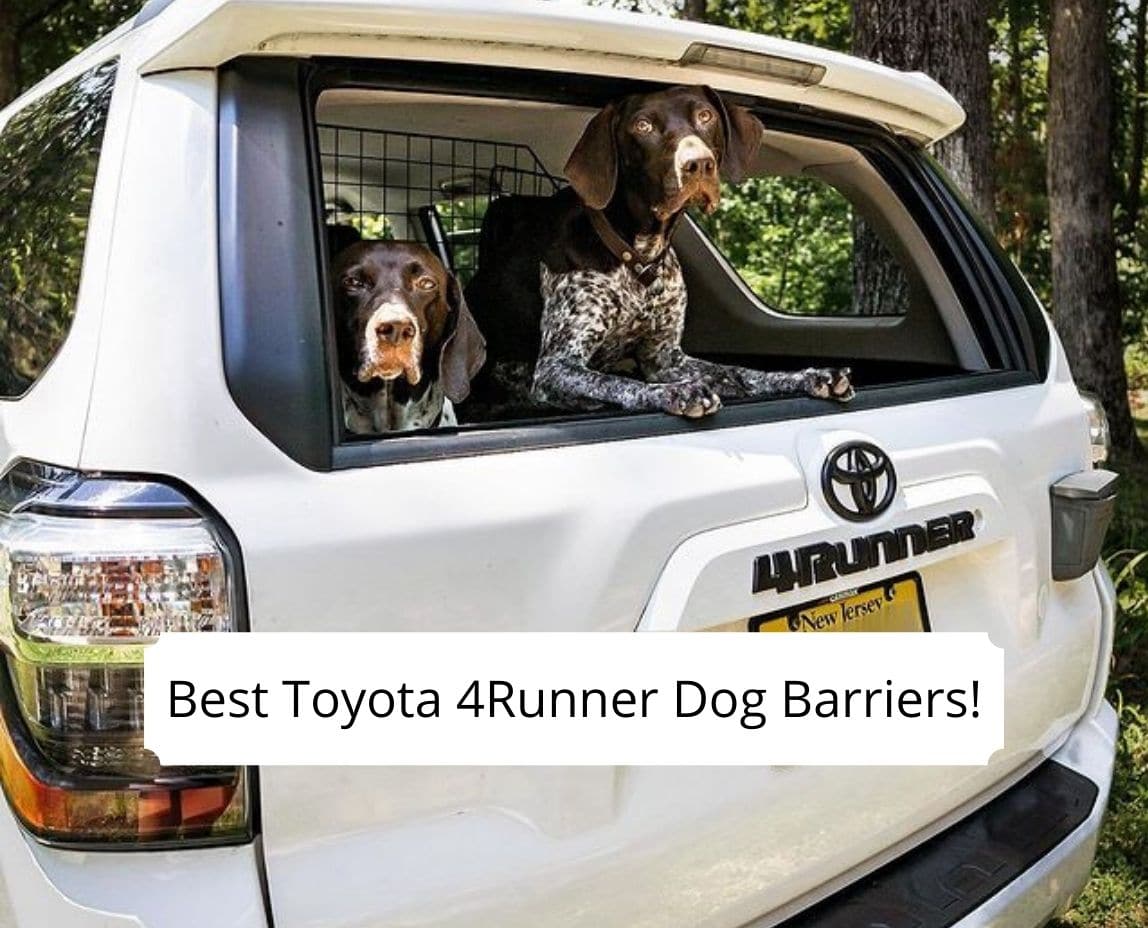 If you're like all of us and enjoy taking your furbaby on outdoor adventures, camping trips, and mini pet vacays, then perhaps you're considering a 4Runner Toyota pet barrier. This review is all about 4Runner Toyota (2010-Current) cargo and seat area's best six dog barriers to help keep your adventure dog secure and protected while in motion! We've reviewed dozens of car dog barriers; we made a final list of the best dog barriers for Toyota 4Runner to make your job easy. Let's begin!
When looking for the best 4Runner dog barrier, there are many factors to consider. Some barriers are designed for larger dogs, while others work well for small or medium-sized ones. 
Additionally, some barriers are easier to install than others. A 4Runner Toyota cargo and seat barrier helps prevent injuries from dogs from sudden stops or accidents. The 4Runner cargo dog barrier also keeps your 4Runner clean and contained while allowing the back hatch to open fully when needed.
The Toyota 4Runner features a large cargo compartment that can easily divide into two portions. But we advise designating it all to your dog, so he can feel relaxed and have ample space to relax on those long adventure trips. The 4Runner Toyota 2010-current has excellent options for using numerous brands of dog car barrier for safe travel.
The Toyota 4Runner comes standard with four tie-downs in the cargo area. You can use it as an anchor point to mount the dog barrier manufactured by the pet barrier manufacturers. That said, a dog barrier will keep both you and your dog safe while driving, allowing you to drive without worrying about where your pup is in the car.
It keeps pets safe and contained behind the barrier while also allowing friends and family to interact with and even pet your dog through mesh fabric that is see-through and breathable.
This review will look at six of the best 4Runner dog barriers on the market. 
In a rush? Here are the top picks!
Product
Best Overall
Adakiit Dog Barrier for Cars
Runner-Up
PetSafe Metal Dog Barrier for SUVs
Best Value
Amazon Basics Adjustable Car Barrier
Image
This barrier is designed to fit most SUVs and vans. It is made of sturdy metal and plastic, and it adjusts to fit vehicles with either a bench or bucket seat. The barrier is easy to install, and it folds down for convenient storage when not in use. 
The adjustable side panels customize the width to ensure complete coverage for your 4runner. This 4runner dog barrier is made in the USA and comes backed by a one-year warranty so that you can purchase with confidence. Here's the takeaway:
Features
Universal fit

Affordable

High-quality

Safe and ensures unobstructed views (no blind spots)

Crafted with durable steel and plastic

Features 2 sizes

 A top-rated Amazon product
The Adakiit Dog Barrier is a great way to keep your pet safe while driving. It is adjustable to fit almost any vehicle, and the wire mesh construction keeps your pet from jumping or climbing out. The barrier also includes a clip-on storage bag for easy transport and storage. 
We like the Adakiit dog barrier for the Toyota 4 Runner because it is easy to install and adjust, and it is made from heavy-duty materials that will stand up to even the most active pets.
If you are looking for the best way to keep your dog safe and secure to keep your pet in the backseat while driving, the Adakiit Dog Barrier is a great option. We highly recommend this product for the Toyota 4 Runner.
Features
Crafted with upgraded two durable nylon straps with metal grips, more firm and flexible than the older version

Easily adjusts to hold up the barrier tightly to the headrest

Affordable

Universal fit that's fully adjustable to fit most cars, SUV's, vans, sedans, trucks
If you're looking for a pet barrier specifically designed to fit the Toyota 4Runner, the JeCar cargo net is a great option. This barrier is made from durable nylon mesh and features built-in hooks that make it easy to install. It also has a flexible design that ensures a tight fit. 
This 4runner cargo net is easy to install and can be installed in seconds without using any tools. 
The 4Runner cargo barrier was designed explicitly for the 4Runner with a fully adjustable design that allows it to expand from 48-inches up to 57-inches long. It's also very affordable, which is excellent news if you work on a tight budget. 
The 4Runner cargo net from JeCar is durable, sturdy, and well designed. It helps keep your pet safe by preventing them from jumping into the front seat or onto the floor. Most 4Runner owners also like that it protects their belongings by providing easy access to the vehicle's back without removing this 4runner barrier.
Features
Fits for 2010-2020 Toyota 4Runner.

Nylon webbing cargo/pet divider.

Prevents pet disturbing driver 

Affordable

Square mesh design in black color
Pet barrier keeps your 4-legged passengers safely in the back of vehicles. This sturdy metal barrier mounts securely to front headrests to create a protective, metal dog barrier between you and your 4-legged companions. The powder-coated tubular steel frame is durable yet stylish enough for cars, minivans, or SUVs. 
The Pet Safe Happy Ride dog barrier designed for 4Runner was built primarily with large pets but worked well with smaller breeds. It's simple to install, easy to remove, and designed to fit almost any vehicle on the road today. 
This 4Runner pet barrier is made of sturdy metal with a see-through design, so you can keep an eye on your furry friend while driving. The Happy Ride barrier also folds up for easy storage when not in use.
If you're looking for a 4Runner pet barrier that's both safe and stylish, the PetSafe Happy Ride is a great option. It's strong enough to keep even the most giant dog in the backseat, and it's easy to fold up and store when not in use. So, if you're ready to hit the open road with your 4-legged friend by your side, be sure to check out the PetSafe Happy Ride dog barrier. Here's the takeaway:
Features
No tools needed

Simple to set up

Adjustable sizing

Simple to store

Pet Safe brand is a trusted global leader in the pet industry

Special features eliminate rattling sound.
If you're looking for a 4runner pet barrier, the Zone Tech Universal Metal Dog Car Barrier is a great option. It's made of heavy-duty metal, so it's very sturdy and durable. It's also adjustable so that it will fit most vehicles. Installation is easy, and it can be quickly removed when not needed. Plus, it's available at a great price! 
We like this pet barrier because it's sturdy, adjustable, and affordable. The Zone Tech Black Universal Pet Barrier features heavy-duty premium quality material. It is the kind of metal that won't easily bend or break. It's easily adjustable, and all you need to do is 
adjust the height and the horizontal span of the barrier to best fit your vehicle.
Features
Affordable

Durable & long-lasting

Crafted with black metal

Sleek and modern style
You know that your furry friend is part of the family if you're a pet lover. And just like every other family member, you want to keep them safe while driving. That's where the Guardian Gear Pet Safety Vehicle Barrier comes in.
This barrier is designed to keep your pet safe and secure in the backseat of your vehicle. As you can see, it's clear so your dog or cat can still enjoy the view out the window while not distracting you while driving. Instead, it installs quickly without tools and is made to fit most vehicles with headrest posts between 24 – 34 inches apart (comes in 4 sections).
It also has adjustable straps on each end of the barrier, which attaches to your headrest posts, allowing the section to be raised or lowered to avoid any interference with the door closing.
The bottom is made of durable mesh material, so it's comfortable for your pet while being strong enough to keep them contained in one seat space. It also comes with four-seat anchor straps, but if you lose a clip, it's nothing a standard hook and loop fastener can't fix.
Features
Pressure-mounted barriers install in minutes without tools

Affordable

Rubber end caps at contact points help to protect vehicle interiors

Suitable for large breeds

Crafted with fully adjustable tubular steel 
What is a pet barrier for a car?
If you're like most dog parents, you want to take your furry friend with you wherever you go. However, traveling with a pet can be difficult – especially if you have a large vehicle like an SUV. That's where a 4Runner pet barrier comes in handy. 
A pet car barrier allows pets to have a great view of passing scenery through mesh fabric or metal grids that is see-through and breathable. Our top picks for pet barrier reviews are adjustable to fit most 4Runner models, so you're sure to find a perfect fit for your Toyota 4Runner.
A 4Runner pet barrier is a device that installs between the front and back seats of your SUV, allowing your pet to travel safely in the backseat. This device is made of sturdy wire mesh, which helps your pet see out the window and provides plenty of ventilation.
Most 4Runner pet barriers are adjustable, so they can be customized to fit any vehicle. They are also easy to install, and most models can be attached in just minutes.
4Runner pet barriers are a great way to keep your pet safe while traveling. They are also an easy way to keep your car clean since they prevent pets from jumping up on the seats or creating other messes. If you're looking for a safe and easy way to take your pet on vacation, a 4Runner pet barrier is a perfect solution.
Other articles you would like:
Frequently Asked Questions
Q: How do I install the 4Runner pet barrier?
A: Installation of the 4Runner pet barrier is easy and can be done in minutes. The barrier installs using a tension-based system, so there is no need to drill or screws. Place the barrier in your vehicle and use the included straps to secure it in place.
Q: Will the 4Runner pet barrier block my view when driving?
A: No, the 4Runner pet barrier will not block your view when driving. The mesh fabric is see-through, so you can easily see out of your vehicle while your pet is safely contained behind the barrier.
Q: Can I use the 4Runner pet barrier with a cargo liner?
A: Yes, the 4Runner pet barrier can be used with a cargo liner. The barrier is adjustable to fit most vehicle models, so you can easily create the perfect fit for your vehicle.
Q: How do I clean the 4Runner pet barrier?
A: The 4Runner pet barrier can be easily cleaned with a damp cloth. Be sure to dry the fabric thoroughly before using the pet car barrier again.

Claudia Bensimoun is a writer who specializes in dog content and veterinary topics! Aside from writing for We Love Doodles, Claudia also writes for other major dog blogs like Fido Friendly, Animal Wellness Magazine, and the United States Dog Agility Association (USDAA). She has a ghostwritten over 50 different dog e-books. Her passions include animal welfare, veterinary research, and wildlife conservation.
Why Trust We Love Doodles?
At We Love Doodles, we're a team of writers, veterinarians, and puppy trainers that love dogs. Our team of qualified experts researches and provides reliable information on a wide range of dog topics. Our reviews are based on customer feedback, hands-on testing, and in-depth analysis. We are fully transparent and honest to our community of dog owners and future owners.