An exciting and fun day at the river with your dog sounds great, but it's even better when you have a durable river raft for your dog to ride in or tow behind a small boat. Most normal pool, lake, or river tubes won't work because your dog's claws and teeth will pop them. You'll want to be sure the material is durable enough for your dog.
Many pet parents enjoy the outdoors and bring their dog along to enjoy the fun in the sun. Splashing around in the local river or lake is an excellent way to cool off during hot summer months. Alternatively, you can float down a lazy river with your dog behind you in a tube. Dog's enjoy the water and will certainly enjoy floating in a tube with or next to their owners.
We have found the best river tube for a dog in the market today! There are several dog floats for rivers whether you want to be connected to your dog or tow them behind you. Check them out to find the one that suits your dog the best! 
In a rush? Here are the top picks!
Product
Best Overall
Intex River Tube
Best 2 Person
Intex Double River Tube
Best Floating Dog Lounger
Lazy Dog Lounger
Image
Your dog will feel comfortable and safe while relaxing at the pool, lake, or river on this float tube. The colorful design features a mesh bottom and built-in backrest. This is one of the biggest dog rafts for a river with a 53-inch diameter that will easily fit all small or medium-sized dogs. In addition, this puncture proof dog float comes with very durable vinyl that won't pop or create holes if your dog walks around the tube.
The seating area is perfect for your dog to sit up and feel secure on the durable mesh bottom. It's not too deep that your dog won't be able to see over the edges, and it's not shallow where your dog can easily jump off. You'll be able to tie a rope to the side of the river tube or to the handle to tow your dog behind your kayak or small paddle boat safely. 
Do both your dogs like to do everything together? Do you want to sit next to your dog as your float downriver? If so, this double river float is the one you need! Your puppies can sit side by side as they coast down the river or lake. Alternatively, you can sit next to your dog and have a fun time together!
This durable dog raft features double welded seams and a safety air valve. It's super easy to inflate and deflate, but we recommend having a pump handy or you'll be blowing a lot of air. The tube is built with 18-gauge vinyl that makes it durable and trustworthy. It won't pop if your dog stands on the tubing portion of the raft.
The mesh bottom supports your dog's weight and allows them to feel the cool water at the same time. This river tube is equipped with dual handles that make it easy to control the float as well as tie a rope securely for towing needs.
The cup holders are a great place to store your dog's favorite water toys and treats. This river tube is easy to carry and only weighs 7 pounds. It holds a combined weight of 400 pounds which should be plenty for you or your dogs.
This float also features a built-in cooler where you can store drinks and picnic items for your adventure. You'll have an awesome time floating down the river with your dog in this tube!
This colorful and durable dog inner tube measures 53 inches in diameter and has a backrest that is comfortable for large dogs to lean against. The float tube is made with pre-tested vinyl to ensure durability and long-lasting use. 
The seating area provides plenty of room for small, medium, and large dogs to sit and relax. The mesh seat bottom allows your dog to feel the water which keeps them cool and relaxed during the adventure. 
The heavy-duty handles are located in a convenient place so you can grab hold of the float quickly if needed. The built-in grommets keep the grab rope in place and are excellent for emergencies. 
This super-strong and puncture-resistant float is made with weather-resistant fabric and features hidden foam floats. No inflation or pump is needed to keep this dog float mat above water. This unique float holds up to 110 pounds and is suitable for dogs of all sizes. They also have a smaller float mat that can hold dogs up to 25 pounds.
The float is semi-submersible and features a unique design that allows water to pool and keep your dog cool while still maintaining a safe above the water position.
The material is so strong your dog can jump on and off the float without it getting punctured or flipping over. It's easy to assemble and air dries quickly. 
The loop is built-in and makes it easy to tie a small rope for pulling behind a small boat or hanging it up for storage. In addition, you can easily attach this mat to a float tube or kayak and float down a river.
Scoot over and let your dog have some fun too! While this durable river tube is comfortable for humans and it's also an excellent choice for dogs. Bring your furry buddy along with you on your next river adventure with this safe and durable float. 
The mesh seat bottom allows your dog to feel the cool water without dragging the float down. Your puppy sits in the cool water as they glide along which helps them stay cool and prevent heat exhaustion. 
This dog float tube is made with Fortech material which is a combination of dense polyester and heavy-duty PVC. This puncture proof dog float is lightweight and easy to carry anywhere with it's two durable handles.
It features a convenient grab rope makes it easy to control the float and is especially helpful when you need to stop the float quickly. The built-in grommets are placed in the perfect location that makes it easy to tie and connect the float to docks and boats. 
This Innex dog inner tube is the same as the Red Innex dog tube but is a different color and version. This 53-inch diameter round dog float inner tube is perfect for towing your dog in the river or lake. The mesh bottom allows your dog to enjoy access to the water to help keep them cool while the deep seat keeps them safely inside the float. 
It features two heavy-duty handles that allow you to grab the float quickly when needed or to tie a rope around it to secure your dog to your boat. The two cup holders are a great place to store treats for your dog and their favorite water toys.
This fun and festive duck float is a great way to enjoy a day at the river with your dog. It features a mesh drop seat that allows your dog to have access to cool water without becoming submerged completely.
It has built-in cup holders that are great to place your dog's favorite treats or pool toys. This durable dog inner tube is manufactured with durable 18-gauge vinyl that is thick enough to prevent punctures and provide long-lasting use. 
It's easy to inflate and deflate and features a convenient grab rope. This river raft measures 57" x 48" x 25" and is ideal for use in pools, rivers, and lakes.
Show off your patriotism and pride with this floating cooler. When this raft isn't being used as a float to carry a cooler, your dog can hop in and enjoy a relaxing day at the pool, river, or lake. The mesh bottom is durable and is ideal for small to medium size dogs. 
It measures 39" x 31.9" x 9.1" inches which is great for small or medium-sized dogs. It's made from durable material and comes with a repair patch in case of an emergency. 
This raft features two grab handles and two cup holders that make spending the day at the river or lake easy and fun! 
Enjoy a festive and fun day in the water with this durable float. It measures 4 feet wide and 27 inches high. It holds up to 500+ pounds and is durable for all-day fun. It's not meant for dogs, but any dog owners would love this float tube!
It's made with raft grade vinyl and UV treated to prevent fading and damage. The thick material is strong and resists punctures. It also inflates and deflates quickly and is easy to carry with you anywhere you go. 
The festive dog design can be seen from far away and boosts the mood of everyone in the surrounding area. A human can safely sit in the center of the raft and enjoy a relaxing day on the water.
How to Choose the Best River Tube for a Dog
Choosing the best river tube for a dog is easier than you think. While there are a lot of options to choose from we have narrowed down the list to the best available in the industry.
Size of Your Dog
When choosing a river tube for your dog it's best to determine the size of your dog. Measure your dog from the tip of the nose to the tip of the tail straight along the back with a soft tape measure. Then measure your dog from the top of the shoulder nearest to the neck straight down their leg to the end of their paw.
These measures will give you an idea of how big you need the river raft to be. It's also essential that you know how much your dog weighs, but most dog rafts hold up to 400 and 500 pounds so chances are your dog is safe on a raft when it comes to weight.
River, Lake, or Pool?
The next thing to consider when deciding on a raft is the type of adventure you are planning. For example, if you are planning a relaxing day with the family and your dog at the river you can choose any of the rafts on the list. However, if you are planning to tow your dog behind a small boat, kayak, or inner tube then you need to choose a raft that provides a deep-seated area as well as has handles and a grab rope.
If you are towing your dog behind a boat or tying them to a deck so they don't float away, it's essential that you choose a raft from the list that has attachments for tying a rope.
Inflatable Tube or Floating Dog Mat?
The next topic to think about is whether you want an inflatable raft or a non-inflatable float. If your dog tends to dig their nails into their current inflatable river raft it's wise to choose a non-inflatable option such as the floating dog mat on the list above. This particular raft is made with strong and durable material that resists nail scratching and punctures. It also contains hidden floating devices that are not inflated so a dog can't puncture them.
Mesh Bottom
Does your dog like water? If so, the mesh seating and most of the options on our list will keep your dog feeling cool and happy. The mesh seating allows a small amount of water to touch your dog.
If your dog does not like to touch the water the flat non-inflatable option will be best suited for your pet. This particular option protects your dog from the water while still allowing them to float and relax with the rest of the family on the surface of the river.
Grab Ropes for Towing
Rafts that feature grab ropes are essential when placing your dog in the floating device. Grab ropes are usually attached to the sides of the round raft. The grab ropes come in handy when you need to stop or move the raft quickly and it helps keep your dog safe.
Style and Color
A fun way to choose a river raft for your dog is to consider the style and color. Many of the options on the list above have colorful decorations as well as fun designs. The inflatable dog float is a fun way to enjoy a day at the river with your dog. The fact that your pet is going to be in the dog raft makes for a comical and fun day.
Is a river tube safe for dogs? 
As a responsible parent, keeping your dog safe while having fun at the river is essential to their overall well-being. Many dogs are easy to train to safely sit in durable and safe floating devices such as rafts. 
If your dog tends to jump out into the water it's important that you also place a life vest on them while riding in a raft. This extra safety measure keeps your dog safe and prevents drowning.
Most dogs enjoy sitting in the raft and relaxing while their owners are nearby. Towing your dog in a raft needs to be done carefully and gently. Boats with motors are not recommended when towing a pet in a raft.
Pet parents need to remain close by to ensure the current doesn't bring the raft too far away from where you are located. For this reason, it's essential that you choose a raft that features a grab rope. This awesome feature helps you maintain control of the raft. 
Most dog river inner tubes feature durable and secure handles that are ideal for tying ropes and grabbing hold of the floating device.
Generally, river tubes are safe for dogs when used properly and when your dog is wearing a life vest. Extra precautions should be taken in all situations when placing your dog in a floatable device.
Fun Ways to Use a River Tube for Your Dog
There are a variety of fun ways to use a river tube for your dog. The most obvious way is at a river while enjoying a nice day in the sun and splashing around in the water. However, while at the river you can choose to tie your dog's raft to your own as you float leisurely together. Some dog owners enjoy tying the raft to their kayak or small row or paddleboat. The same technique can be done at a lake.
Another fun way to use a floating raft is in a pool. Make sure the raft is inflated to the proper limit before placing it in the pool. Gently place your dog in the mesh seated area and let the fun begin. Your dog will float along and relax as the rest of the family plays in the pool.
Even though your dog will be in the floating device there is a chance they will jump out into the water to join the rest of the family activities. In this case, it's important that you place a doggie life vest on your pet to prevent drowning.
Safety Measures for Floating in a River Tube with a Dog
Keeping your pet safe while on a river adventure or fun family day is important. A few safety measures will help you feel confident that your dog is safe while using a river raft. 
Consider the following safety measures the next time you bring your dog to the lake, river, or pool:
Invest in a doggie life vest – The pet industry understands the importance of dog safety while near the water. Manufacturers have designed a variety of styles and sizes that keep your pet safe and comfortable while near or in the water. A life vest needs to be replaced on your pet anytime they are near a water source.
 Inspect the raft – Whether the river raft is new or old, it's important that you inspect it carefully for punctures and damages.
 Carry a portable patch kit – Most inflatable river rafts come with a complimentary patch kit. These thin patches seal up holes and allow you to continue using the raft safely. The patches are lightweight and easy to carry with you in a beach bag, picnic basket, backpack, or pocket.
 Use ropes and handles for emergencies – From time to time there could be an emergency situation that requires you to grab hold of your dogs with a floatation device. It's essential that the ropes and handles are in good condition and not blocked. 
Conclusion for Best River Tube for a Dog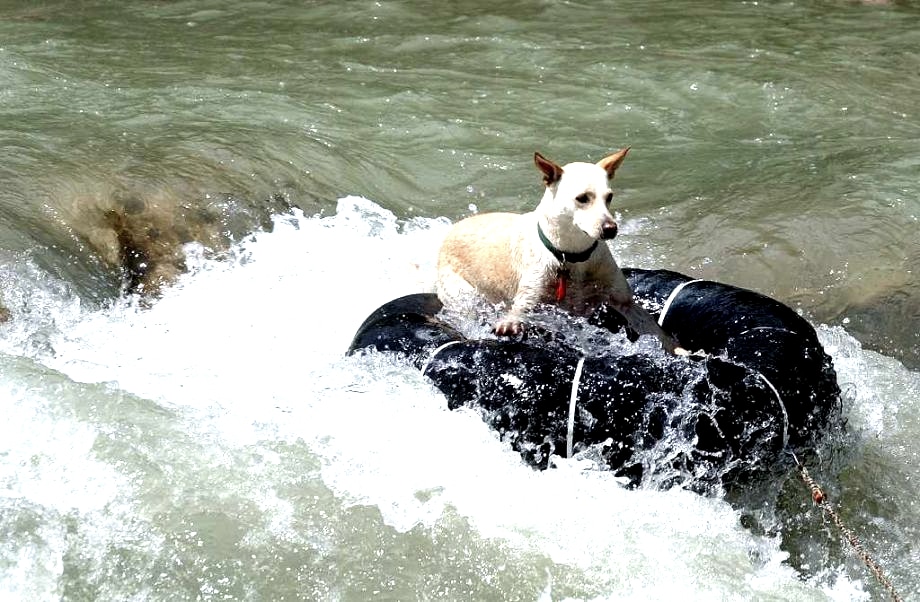 River tubes for dogs are a great way to include your pets in the family fun at the river, lake, or pool.  Start having fun in the sun when you choose a river tube for your dog from the list above. 
Other articles you might like:
Need some dog river tubing inspiration? Check out the video below.
Garrett loves animals and is a huge advocate for all Doodle dog breeds. He owns his own Goldendoodle named Kona. In addition, he volunteers at the Humane Society of Silicon Valley, where he fosters dogs and helps animals. Garrett enjoys writing about Doodles and believes that dogs can teach humans more about how to live than humans can teach a dog.
Why Trust We Love Doodles?
At We Love Doodles, we're a team of writers, veterinarians, and puppy trainers that love dogs. Our team of qualified experts researches and provides reliable information on a wide range of dog topics. Our reviews are based on customer feedback, hands-on testing, and in-depth analysis. We are fully transparent and honest to our community of dog owners and future owners.