If you're a pet parent, you know that walking your dog is an important part of their daily routine. But if you live in a cold climate, winter can be a challenge. That's where dog-walking gloves come in! They keep your hands warm while you're out and about with your furry friend.
But with so many options on the market, which ones are the best? Keep reading to find out! Our buying guide for the best unisex dog walking gloves features all the information you need to make a smart purchase. We've also included a pair of the best women's and men's dog-walking gloves for winter.
When it comes to dog walking gloves, there are a few things to keep in mind. First, you'll want to ensure they're warm enough for your needs. If you live in an icy climate, consider a pair of gloves lined with fleece or other insulation.
Additionally, you'll want to make sure the gloves fit well so you can still handle the leash and pick up after your dog. Finally, choosing a pair of comfortable and easy gloves to put on and take off is essential. With all that in mind, here are our top six picks for the best dog-walking gloves.
Cold Weather Dog Walks
Dogs need regular exercise regardless of whether it's snowing outdoors. However, you'll need extra precautions to ensure your dog stays safe and comfortable during cold weather walks. If you live in an area with harsh weather, PetMD advises that it's essential that your dog is not exposed to cold weather for long periods.
Dr. Zabell, DVM via PetMD, adds, "Extremities, like ear tips, paws, and the tail end are particularly susceptible to cold injuries. If you suspect frostbite, seek veterinary attention."
That said, how cold is too cold? PetMD explains that when the temperature hits 50% Fahrenheit, pet parents should be alert. With dogs losing most of their body heat from their paw pads and ears, and through respiration, a coat that covers them from tail to tummy works well.
Dog clothing
Dog clothing should never be too tight, and you should check the armpits, neck, and groin to ensure that you can comfortably fit two fingers in between. The material should not be itchy, and there should be no sharp edges or zippers irritating when they walk, run or lie down.
Small breeds and puppies
Smaller breeds, puppies, and senior citizens are more susceptible because they don't have as much body fat. Short-haired breeds may also feel the cold more since they don't have a thick coat of fur to protect them from the elements.
Protecting dogs in cold weather
There are plenty of ways you can protect your dog from the cold. Here's the takeaway:
1. Dress them in warm gear– Like you, dogs can get cold when exposed to low temperatures. Make sure to dress them in a warm coat or sweater to keep them comfortable.
2. Keep their paws protected– Ice and snow can be harsh on your dog's paws. Invest in some paw balm or wax to protect their paws from the elements.
3. Go for shorter walks– In freezing weather, it's best to keep walks short to prevent your dog from getting too cold.
4. Avoid large bodies of water– If there's a chance your dog could fall through the ice, it's best to avoid walking near large bodies of water.
5. Be careful of salt and chemicals– Ice melt products can be harsh on your dog's paws. Wipe their paws with a wet cloth after walks to remove any salt or chemicals.
By following these tips, you can ensure your dog stays safe and comfortable during cold weather walks.
In a rush? Here are the top picks!
Product
Best Overall
Musher's Secret Dog Paw Wax
Runner Up
TRENDOUX Winter Gloves for Men Women
Editor's Choice
Ozero Winter Unisex Sport Gloves
Image
This product has over 26,800 positive reviews on Amazon. We like this product for winter dog walks because it's crafted with the highest quality food-grade waxes and oils to protect your dog's paws. This product is also great for dogs who play in all kinds of weather and terrain. 
The fast-drying, non-allergenic, and non-staining formula helps maintain healthy paw pads. Some reviewers mentioned that they use this product on their own hands to prevent chapping in cold weather. We highly recommend Musher's Secret if you're looking for quality paw wax to protect your dog's paws all winter.
Features
Over 26,800 positive reviews
Allows for softer and  more supple paws
Natural food-grade waxes and oils
Crafted with vitamin E and beeswax
Suitable for snout, ears, paws, and elbows
Affordable
Gluten-free
All-season paw protection
If you're looking for a pair of dog walking gloves that will keep your hands warm, the Trendoux Unisex Winter Gloves at $7.99 is a great option. They're made from a water-resistant, windproof material lined with fleece for extra warmth. 
Plus, they're fully covered with triangle silicone on the palm, allowing you to use the phone and leash. They feature six touchscreen fingertips. These gloves are crafted with 50% more conductive yarn added to touchscreen fingertips than other brands. These are our best winter gloves for dog walking because they include a thickened, windproof elastic cuff to keep out any cold air and rain.
The Trendoux features over 50,000 positive reviews and is a must-have for cold-weather dog walks, dog sports, and outdoor fun with Fido. The brand recommends buying a size up.
Features
95% acrylic, 5% spandex
Warm napping lining for cold weather walks
Six touch screen fingertips
Includes triangle silicone anti-slip for a firmer yet more versatile grip
Best value winter gloves
Non-slip design
Three sizes: medium, large and extra-large
Over 50,000 positive reviews
11 stylish color options, including black, rose, midnight green, light gray, and more
If you want a pair of dog walking gloves that are both warm and stylish, take a look at the Ozero Winter Gloves with suede leather and insulated polar fleece for $21.86. This product has over 8,000 positive reviews and is water resistant with a heatlok thermal layer. 
The Heatlok system "traps" body heat, creating a thermal barrier combined with the polar fleece to keep your hands warm. -30°F(extreme temperature) to -10°F(comfortable temperature)
We like these because they have a waterproof and breathable TPU membrane between the fluffy fleece and heatlok and protect your hands against heavy snow and freezing temps. They also are crafted with genuine deerskin and polar fleece.
Features
Two color options: denim black and gray black
Four sizes: small, medium, large and extra large
Deerskin leather palm and polar fleece back
Unisex
Over 8,000 positive reviews
Heatlok thermal layer
Elastic knit cuff closure
Windproof
Flexible for all winter sports, including dog walking in the snow
Reinforced leather palm
Finally, if you're looking for an affordable pair of dog walking gloves, the Simari Winter Gloves for dog walking are a great option. This is another favorite because of the textured grip. The Simari unisex winter dog walking gloves are crafted from 95% polyester and 5% spandex. The patented pre-rotated finger design promotes natural hand closure.
The Simari winter dog walking gloves are also made from a water-resistant material, so you don't have to worry about your hands getting cold and wet. Plus, it has a reflective strip on the back of each glove for safety.
These are lightweight, windproof, and perfect for all winter sports like skiing, dog walking, running, cycling, driving, motorcycling, walking, riding, hiking, climbing, golfing, fishing, shooting, workout, training, working, sports outside or staying-at-home in winter, spring or fall.
We like these winter dog walking gloves because of the flexibility they offer. There's no bulkiness, and you can easily use your iPhone, hold a dog leash, or grip any tool easily. This product has over 32,000 positive reviews and 12 stylish color choices like purple, deep water, lime, ruby wine, black and dark forest.
Features
Patented pre-rotated finger design promotes natural hand closure
 95% polyester and 5% spandex (stretchy/sporty fit)
Silicone particles on palm and fingers
Enhanced grip winter dog walking gloves
Four sizes: small through extra large
Unisex
Fleece lining
Affordable
Over 32,000 positive reviews
Touch screen friendly
We recommend these gloves for winter dog walking because they are waterproof, unisex, and have an ultra-grip. The outer layer is crafted with
96.5% nylon/3.5% elastane, and the inner layer consists of 84% merino wool/14% and nylon/2% elastane.
The SealSkinz Unisex winter dog walking gloves will keep your hands warm and dry in the coldest and wettest conditions. The takeaway with these dog walking gloves is that they feature a waterproof three-layer construction, are made of high-quality materials, and have an excellent grip.
The three-layer construction features a waterproof outer layer, a middle layer made of breathable and waterproof material, and a soft inner layer. This construction ensures that your hands will stay dry and warm in the wettest and coldest conditions. 
The high-quality materials used in these gloves make them durable and long-lasting. The silicone-printed palm and fingers provide an excellent grip, and the touchscreen feature on the index finger and thumb make them convenient. The gloves also have a Merino wool lining that provides moisture control, insulation, and comfort. 
The high-stretch construction of these gloves allows for a supportive and comfortable fit. These are perfect for cold weather dog walks and spots because you have an excellent range of movement due to the high-stretch fabric construction. 
Features
Four color options
Outer layer: 96.5% nylon/3.5% elastane
Inner layer: 84% merino wool/14% nylon/2% elastane
Sporty equestrian seasonal dog walking gloves
Silicone-printed fingers and palm
Unisex
100% waterproof
Breathable
Color options: black and neon yellow
Sizes S- XL
Best women's winter dog walking gloves.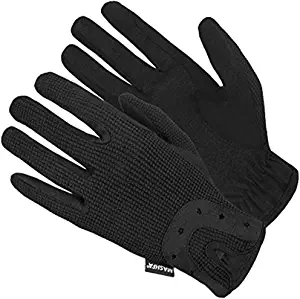 We like the Mashfa gloves for winter dog walking because they are lightweight and have a good grip. We also like that they are stretchy and breathable. The sizing is great for women's hands and is comfortable to wear. These are crafted with 4-way stretchable & breathable fabric material.
The fabric is Amara leather which works well for all winter sports and outdoor activities. The one-year replacement warranty is great for those who may have issues with the gloves. This product has over 1,500 positive reviews on Amazon.
Features
Affordable
Leather material
Three sizes: small, medium, and large.
Double-layered with a reinforced forefinger, thumb, and pinky
Crafted with reinforced stitching for optimal durability
1-year replacement warranty
Elasticated wrists for optimal fit
Machine washable
Over 1,500 positive reviews
We recommend the Carhartt's men's waterproof insulated mittens for dog walking on cold days because they're durable, have a waterproof insert and are lined with Fast Dry technology to wick away sweat. The digital-grip palm, stick-grip fingers, and thumb help you keep a firm grip on the leash, even when Fido tries to pull. 
And the fleece cuff with adjustable wrist strap closure helps keep the cold out. There's also a durable all-purpose polytex shell and fleece lining for extra warmth and comfort. These comfortable mittens are 100% polyester with performance-wicking lining.
Available in sizes small/medium and large/x-large, the Carhartt men's waterproof insulated mittens are an excellent choice for cold-weather dog walking. This product has over 7, 700 positive reviews.
Features
Fleece lining
Crafted with all-purpose polytex
Ultra-soft insulation
Men's winter dog walking gloves
Fast dry technology
Waterproof insert
Affordable
Over 7,700 positive reviews
FAQ's Best Dog Walking Gloves for Cold Weather
How do you keep your hands warm when dog walking?
The Warmest Gloves for Walking Your Dogs This Winter
How do dogs stay warm walking in the winter?
Video credit: Ruffwear
What should I get my dog for winter?
Booties, paw wax, winter dog jackets, cashmere dog sweater, and a set of warm gloves for yourself for dog walking are all excellent winter gear options for dogs. 
You can find cute pet clothes like leashes, collars, harnesses, pet tags, winter booties, and winter dog walking gloves at We Love Doodles. Brands like Ruffwear and Kurgo carry winter waterproof dog jackets and sweaters to keep your pup warm outdoors on those cold days.
Dogs are social animals. To most dog parents, dog walks are a must-have, even during cold winter days. If you're considering a new pair of winter gloves for dog walking, our top 6 recommendations will keep your hands warm and toasty, whether you prefer leather, water-resistant, or touch screen options.
The best dog walking winter gloves protect your hands from the cold and keep them dry. They should also be durable enough to last through multiple walks in all weather.

Claudia Bensimoun is a writer who specializes in dog content and veterinary topics! Aside from writing for We Love Doodles, Claudia also writes for other major dog blogs like Fido Friendly, Animal Wellness Magazine, and the United States Dog Agility Association (USDAA). She has a ghostwritten over 50 different dog e-books. Her passions include animal welfare, veterinary research, and wildlife conservation.
Why Trust We Love Doodles?
At We Love Doodles, we're a team of writers, veterinarians, and puppy trainers that love dogs. Our team of qualified experts researches and provides reliable information on a wide range of dog topics. Our reviews are based on customer feedback, hands-on testing, and in-depth analysis. We are fully transparent and honest to our community of dog owners and future owners.