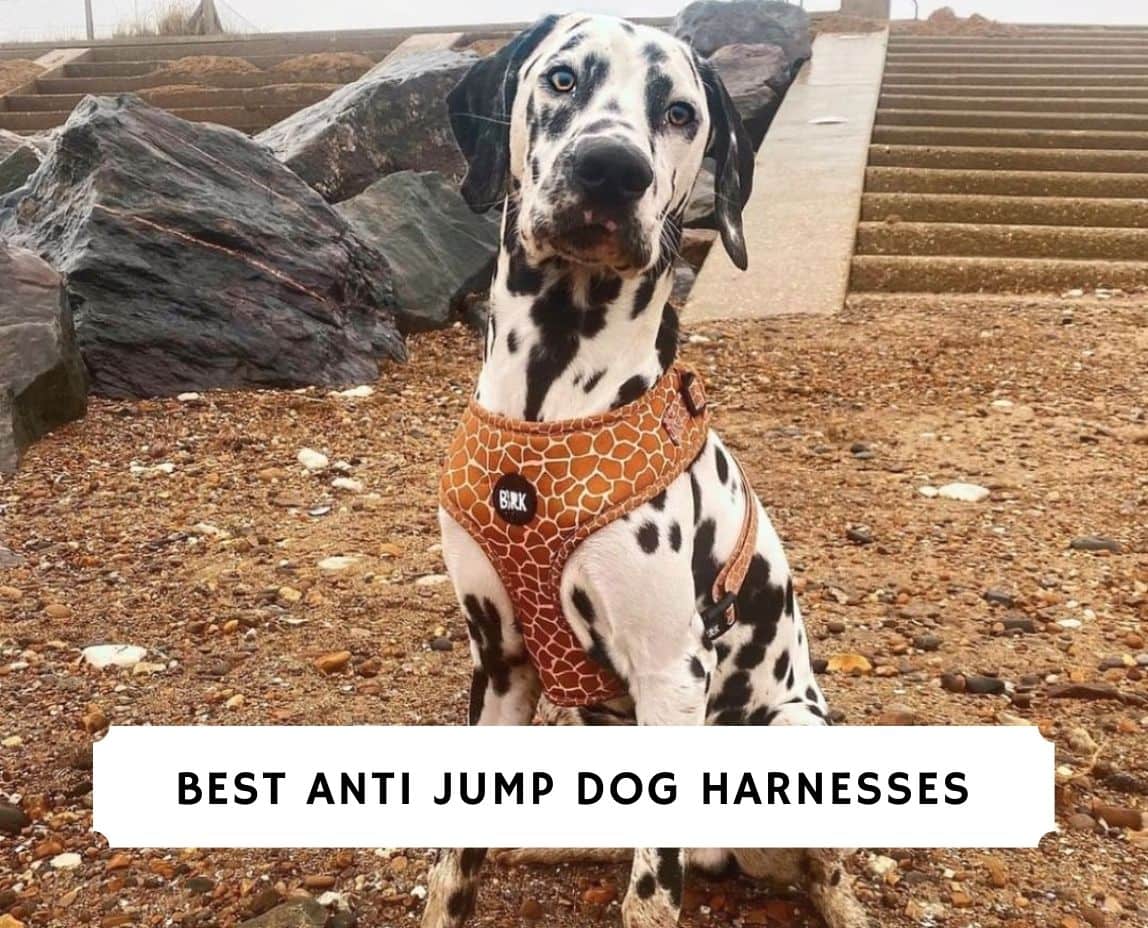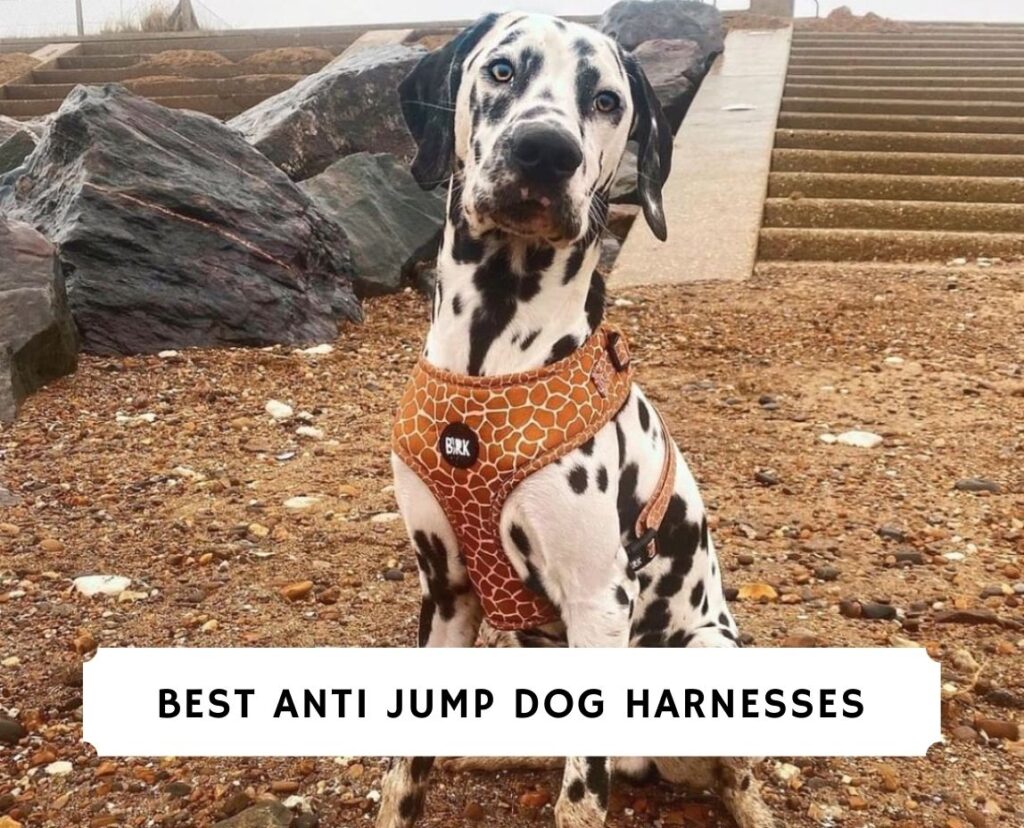 Are you afraid of the embarrassment your dog causes in front of your guests by jumping onto them? Do you want to lock your dog before the arrival of the guest but can't? Is your dog an escape master and can jump the fence of your backyard to go and find some greener grass anywhere else? 
If the answer to these questions is YES, no more worries! Since we are here with a single solution to frustration, it is an anti-jump dog harness.  Jump restraint dog harness is relatively new to the market, but it works remarkably.
It fits over the dog's body and restricts the movement of his rear legs. And when he tries to jump, the harness tightens at the chest and pulls his hind legs beneath. So, jumping onto the people, countertops, and fences becomes virtually impossible due to insufficient balance.
It is essential not only for safety purposes but also for some basic training of the dog. Anti-jump dog harnesses are easy to use and are available in different sizes and shapes so that you can choose one according to your dog's size and comfort.
We understand that making a sensible choice is the most difficult and challenging task, but we are here to help you out with your problem. This article will provide you with the list of the best anti-jump dog harnesses that you can consider for your dog for the ultimate results.
In a rush? Here are the top picks!
Product
Best Overall
2 Hounds No-Pull and Jump Harness
Runner Up
Pet Safe Anti-Jump Harness
Budget Pick
BARKBAY Anti-Jump Harness
Image
Freedom No-Pull dog harness has a huge fan following among pet owners. It comes with a patented control loop at its back, similar to a martingale collar. Besides, it tightens gently around the dog's chest and discourages jumping and pulling.
Its hardware is a stainless steel composition and includes four adjustment points that make it strong enough to hold the dogs ranging from 14 lbs. to 250 lbs. in size. Swiss Velvet lining of the chest strap makes it super comfortable as it prevents rubbing and chaffing sores behind the legs and along the seams. 
A structural is present on the front of the harness. Although connecting to this ring is optional, it provides better control by allowing you to connect to the front and back of the harness simultaneously. 
It also features an optional training leash that helps you connect to the harness and the collar simultaneously. It also provides additional control points. The training leash is short in length, but you can order the longer one known as the Euro training leash as per your requirement.
Moreover, the Freedom No-Pull dog harness is available in so many colors. You can choose one according to your pet. They are also washable, and you can wash them easily in your washing machine. They come out to be perfect.
Trainers also recommend this harness because of its ultimate flexibility and control. Besides all these fantastic features, a chewing guarantee adds to its worth. All in all, Two Hounds Design Freedom No-Pull Dog Harness is a worth considering product. You should check it out for your pup!
If your dog gets easily panicked or uncomfortable or has sensitive skin, this dog harness is for you. It will curb the tendency to jump without hurting your pup. Some dogs require firm handling, but the harnesses' rigid straps might cut into their sensitive skin. However, this harness can provide comfort and security to all dogs breeds with its soft and easy-to-wear design.
This anti-jump harness keeps your dog safe without applying pressure on the neck and throat. It works well in almost every dog activity, such as training, walking, jogging, biking, tracking scent work etc.
The Pet SAfedog harness fits perfectly to the dog's body and includes an adjustable girth strap. It also includes a metal D-ring that is present at the top of the dog harness. It provides the dog a better balance because the center of gravity lies over the dog's shoulder.
This adjustable dog harness is extremely durable and long-lasting due to the top layer of durable webbing. This layer provides additional strength and dependability to you and your pup. It is available in a variety of colors and sizes ranging from small to extra-large.  
All in all, the Pet Safe dog harness is the best choice for you if you want something firm as well as comfortable for your pet.
If you plan an adventure with your furry friend, you should consider the BARKBAY No-Pull dog harness. This soft harness is strong and durable at the same time. No matter you want to go camping, hiking, walking, or trail running, this no-pull dog harness will definitely heighten the pleasure of the adventure.
It is a front clip, heavy-duty harness that offers excellent control over a sturdy and robust dog. It is a lightweight construction of nylon and anti-chafe mesh material padding. The broad padding around the neck increases the comfort level. It is easy to put on and take off without any hassle.
It also includes an ID tag pocket that ensures your dog's safety in case he gets lost. The handy and robust back handle makes the harness easy to control during the training. Its design is comfy for the dog to wear for several hours without any distress or anxiety. It also provides freedom of movement.
BARKBAY No-Pull dog harness provides you with smart color choices like black, blue/black, pink/black, red/black, etc. Moreover, it features ultra-reflective strips that keep your dog visible even in the dark. The top easy lift handle adds to the safety and control.
All in all, this no-pull dog harness is perfect for large and strong pullers.
Long walks feature many possible encounters and become a challenge for dog owners if their dog tends to jump on people. In this situation, what you need the most is a sturdy anti-jump dog harness. In this regard, Paw Five CORE-1 is worth considering a no-pull dog harness. It allows you to control your pup irrespective of its size easily.
Its durable and hefty design provides extreme control over the dog during walking and training. The authentic safety belts, snap buckle, heavy-duty D-ring, and water-proof outer shell adds to its durability. So you can enjoy all the adventures and long walks without worrying.
It is very comfortable and ergonomic. The adjustable chest and waist straps make it an optimal fit for your dog. Moreover, it also includes a padded handle that increases the grip, control, and comfort of using.
The built-in waste bag dispenser is a bonus for pet owners as it eradicates the need to bring extra bags while going to walk. It is also versatile and customizable. It comes with interchangeable side patches that permit personalization. You can also hang your accessories and pouches with the side D-ring.
It features a reflective safety strip on the front that ensures maximum visibility and safety in the dark. All in all, Paw Five CORE-1 Dog harness offers everything that anyone can expect from a dog harness.
The Company of Animals is a simple and easy-to-use harness. It is patented to stop a dog from pulling safely and kindly. It provides a front control system that bullocks the dog from its chest and shoulders. It also serves as an ideal alternative to headcollars, although it is very similar to the Halti headcollar. This harness is adjustable as well as comfortable. The neoprene padded shoulders add to its comfort level.
This harness does not apply painful stress on the body, unlike other anti-jump harnesses. It is also a perfect choice to avoid neck injuries. It offers maximum control upon usage with a double-ended lead. Moreover, it is suitable for all breeds and sizes.
How to Choose an Anti-Jump Dog Harness?
Buying quality items has always been a freaking task that requires effort and time. An anti-jump dog harness is also one such item. There are so many designs, shapes, colors, and sizes available that people get nervous about choosing one. However, the right choice can make your life much more comfortable than before.
After reading through this article, we hope you have an idea of the best anti-jump harnesses, but several factors are still considered while buying one for your pooch. You can never get the benefit of a jump restraint dog harness until your dog is not happy with it.
So here are the factors that should be in your while choosing the best fit for your dog.
The Dog Size
A single harness cannot work for all dogs. Dogs vary in their breeds, shapes, and sizes. So, the harness should also be according to their body shape and size. Your dog's size can help you a lot in determining the type of non-jump harness for your dog.
This factor is essential because some harnesses work great for large and sturdy dogs but fail for small-sized pooches. So, keep in mind your dog's size to buy such a harness that proves to be a genuine helper of your dog in his jumping problem.
The Dog Breed
Like the size, the dog's breed also plays a crucial role in finding the most suitable anti-jump harness. Some dog breeds have acute health conditions that can get worse by using the wrong harness type. So, extreme care is required while selecting the anti-jump harness as negligence can risk your pet's health condition.
Nowadays, professional dog trainers prefer and recommend harnesses over collars just because of pets' health issues. Some breeds are so heavy, healthy, and robust that only a large and sturdy harness can offer sufficient owner control. On the other hand, small breeds require lightweight and small harnesses.
The Right Fit
A perfect-fitting is necessary for a functional harness. It should be a close fit with no gaps or hanging parts left behind. Besides unwanted jumping, the harness should not restrict any other natural movement of the body.
It is better to read the manufacturer's guidelines before buying the product for your dog. Check whether the item is fit for your pet or not. Good fit always make the harness work as intended without causing any discomfort.
Loose harnesses may not deter jumping and pulling, and some master of escape may slip out of it.  On the other hand, too tight harnesses are difficult and uncomfortable to walk in.
The best way to check whether the harness is fit or not is by putting two fingers under every part of the harness. If you cannot, the harness is too tight for your dog. If you can fit three or more fingers, the harness is too loose to work correctly. Get the one that is neither too loose not too tight for your dog. 
Conclusion for the Best Anti-Jump Dog Harnesses
We are pretty sure that after being through this entire article, you have already chosen the best anti-jump harness for your dog according to his breed and size. No doubt, positive training treats and patience is also a must, but a proper anti-jump harness boosts the overall process. The right harness reinforces the right type of behavior, of your desire, in your pet.
We came here to provide you with all the necessary information you need to know about the jump restraint dog harnesses. We provided you with a list, and detailed review of the best dog harnesses available in the market. All of them are the best, but our top pick is Two Hounds Design Freedom No-Pull Dog Harness.
This harness has vast popularity among the masses due to its fantastic design. It is strong enough to hold dogs of any size and is super comfortable, restraining jumping and unwanted movements without hurting the dogs. The cool features of this harness add to its worth. It would be best if you considered it for sure.
If you do not find it suitable, don't worry. All the other described products are no less. You can get any one of them and believe us; you won't regret buying them!
Do you still want to learn how to teach your dog not to jump? Check out the video below:
Garrett loves animals and is a huge advocate for all Doodle dog breeds. He owns his own Goldendoodle named Kona. In addition, he volunteers at the Humane Society of Silicon Valley, where he fosters dogs and helps animals. Garrett enjoys writing about Doodles and believes that dogs can teach humans more about how to live than humans can teach a dog.
Why Trust We Love Doodles?
At We Love Doodles, we're a team of writers, veterinarians, and puppy trainers that love dogs. Our team of qualified experts researches and provides reliable information on a wide range of dog topics. Our reviews are based on customer feedback, hands-on testing, and in-depth analysis. We are fully transparent and honest to our community of dog owners and future owners.