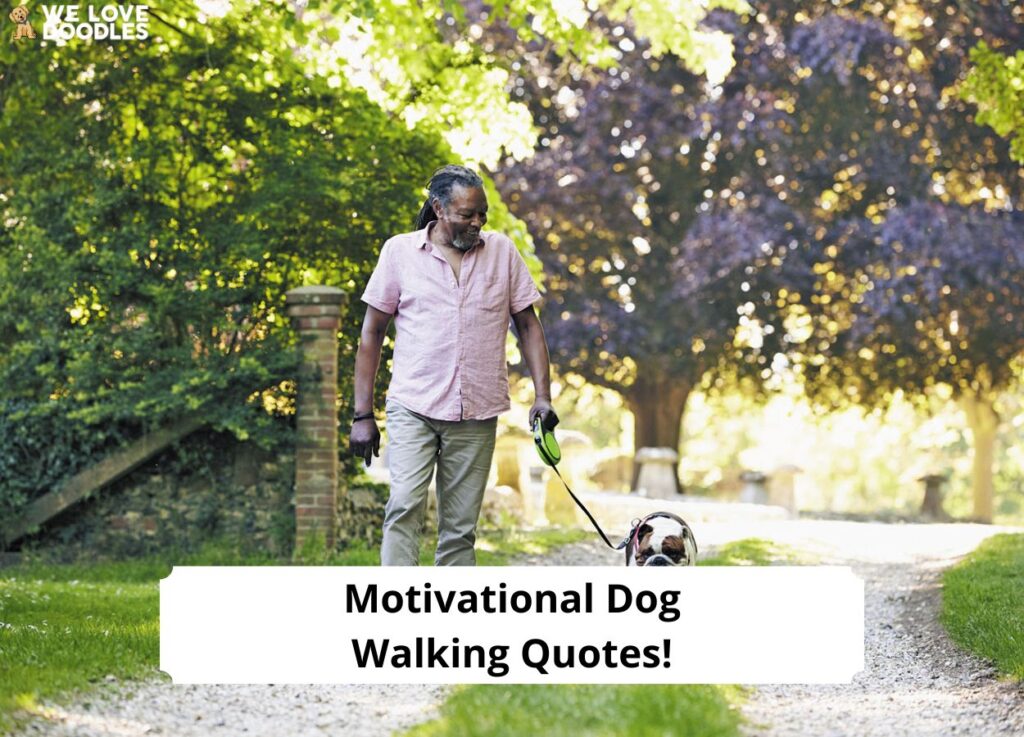 Dog walking quotes can be a great way of finding the fun in your routine. There are several motivational, funny, and Insta-worthy dog-walking quotes that will give you the excitement and giggles you need to gather yourself up for a walk with your pup.
It should be easy to go on a stroll but having the time to do it is often the most difficult part.
The day might easily slip out of your hands when you're preoccupied with your job, home, and other obligations. However, you should try your utmost to schedule time for it each day, since it's crucial for your pet's well-being and happiness as well as yours.
We have the perfect starting point for you with cute dog-walking quotes that are worth a read.
Before you scroll down this guide, "Motivational Dog Walking Quotes," check out these articles: The Best Goldendoodle Quotes: Funny, Inspirational, and Birthday! (2023) and 50+ Old Dog Quotes That Will Make You Smile! (2023).
Motivational Dog Walking Quotes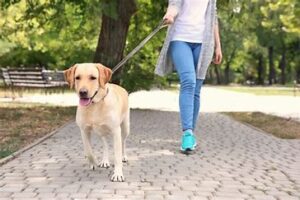 "I named my dog five miles so I can tell people I walk five miles every day."
"Ever wonder where you'd end up if you took your dog for a walk and never once pulled back on the leash?"
"A dog is one of the remaining reasons why some people can be persuaded to go for a walk."
"Walking a dog is a lesson in the simplicities of happiness, but you need to throw sticks to get maximum benefits from the lesson."
"I took my dog for a walk… all the way from New York to Florida… I said to him "There now you're done."
"70 percent of long-term gym memberships are mostly unused, but a dog needs walking every day."
"To sit with a dog on a hillside on a glorious afternoon is to be back in Eden, where doing nothing was not boring – it was peace."
"I don't have to walk my dog anymore. I walked him all at once."
"I just want to be in my sweats, walk my dog, watch TV, and eat pizza."
"Allow your dog to take you for a walk every day. It's good for the body and it's good for the soul."
Essentials of Walking a Pup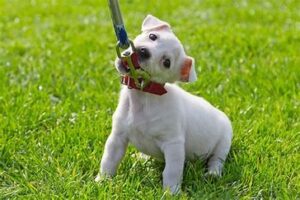 The majority of pups adore taking long walks. It enables them to leave home and explore.
Walking is a terrific way to connect with your dog and give them physical and cognitive engagement. It's likely that your dog isn't getting sufficient exercise if they misbehave or look unhappy.
Your dog should enjoy and discover new things on outings.
Pick a Harness
You must pick a harness suitable for your particular dog. The benefit of a harness is that the tension is transferred from the throat to the pet's shoulders and chest. It needs to be simple to wield, between four and six in length, and pleasant for you as well as your pup.
If you have young puppies, you will need to ensure that they've been appropriately acclimated to the leash before taking them for a walk.
Detachable leashes should be avoided, or at minimum handled carefully. Your dog must preferably stroll at your side. They shouldn't be taking more than a couple of steps in front of you because if anything distracts them, you won't be in charge.
Use a Poop Bag
Becoming a decent dog parent entails not leaving behind your dog's deposits for others to find.
You should always scoop up once your pup is done with its business. Think about purchasing a plastic bag container that you can connect to your dog's harness, or before leaving the house, tuck a couple in your bag.
Place the full bags in a nearby municipal trash bin or hold off until you return home to discard them. It is simply being nice to others to bring poop containers because nobody likes to walk over crap!
Stop Doing THIS While Walking Your Dog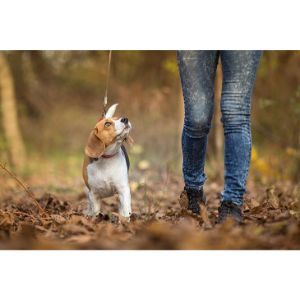 The daily stroll your dog takes is probably one of their and your favorite parts of the day. But it can quickly become an unpleasant experience if you find it a hassle to manage your pup.
Dog owners often commit mistakes that can prevent their furry friends from having a relaxing walk. To avoid those mistakes, you should be aware and cautious.
Controlling Bathroom Breaks
Many dog owners make the blunder of hurrying their dogs during potty breaks or choosing a spot for their dogs to finish business at. It's not only about going to the bathroom; it's also about interacting with the rest of the community at large.
Dogs advertise their location to other canines by peeing in specific locations. Dogs sniff around the area to find the spaces where other pups in the neighborhood have peed.
While this may sound absurd to you, your dog can determine the gender and age of other dogs in the neighborhood by detecting their pee. In other words, the bathroom break keeps dogs up to speed on neighborhood chatter with this pee-mail network.
Dogs like to smell out all the potty spots other dogs have used while out walking so they can use the same spot and leave their own mark. This is comparable to graffiti to mark your presence. To raise their pee up to the nasal height of other canines, male pups, in particular, may elevate their rear legs as far as they can.
If your dog is still not satisfied with the pee sign, it may use its paws to scrape the soil to accentuate its message. Pups use specific glands between their feet to deposit extra odors on the soil when they scrape, giving far more intensity to the odor imprint.
It takes focus and patience to scrape and smell all of this stuff. You should allow your dog to relax on his walks and take its time to pee. Try training your dog for bathroom indications if you intend to shorten your stroll or restrict the locations where your dog relieves himself.
Restricting Their Exploration
Our nostrils contain between five and six million smell sensors, but canines, based on the breed, can have upwards to 300 million odor receptors. Additionally, they possess a Jacobson's organ that aids in the detection of scents that are often unnoticeable as well as a far greater portion of their brains specifically dedicated to scent.
Dogs have a capacity of scent detection over 10,000 orders of magnitude larger than a human nose. The intricacy of the data they collect with their nostrils is almost beyond our comprehension.
Dogs perceive their surroundings via their nostrils, and just as humans would want to glance about to soak in the landscape, dogs want to sniff all that is around them.
Your dog won't be able to fully appreciate his surroundings if you push him away from an intriguing smell or make him go in a straight line around the neighborhood for your own convenience. This reduces the amount of cerebral engagement a walk may offer.
Many pups appear to live and die by their nostrils when following a smell trail. When going for a stroll, better training might help people restore their concentration. To get their focus returned to you and away from the smell, try teaching phrases like "leave." To encourage healthy walking habits, often encourage brief spurts of lure coursing or a softer leash with smelling exercises.
Constant Leash Control
Dogs tend to think that their humans move much too leisurely. Dogs will pull their owners with them as quickly as possible to pursue intriguing smell tracks and reach where they must go. When a dog pulls on the lead, one of the most typical reactions humans exhibit is to retreat.
But it rarely produces the intended result of a slack leash. Instead, a rope pull ensues, with the likelihood that the person will lose if the dog's size and strength are greater.
Dogs have an opposing impulse, which means that if you tug on their lead, they will quit moving. This is merely how their bodies respond; they are not being obstinate or dominating in any manner. However, the constant strain from the leash is difficult for their neck, especially for little pups or those that are susceptible to tracheal collapse.
Encourage your dog to stroll on a slack leash by halting and turning around anytime he reaches in front of you. The lead should lay flat in a "J" form between you. Give the little bud praise, a little reward, and the option to continue strolling. Bring your dog out only when the leash is loose.
Frequently Asked Questions
How much do dog walkers get paid?
There's a big range depending on the walker's experience, clients, and nearby population. In a big city, professional dog walkers can earn anywhere from $10 to $30 for a 30-minute walk — or more if they're walking multiple dogs at once.
How much should I walk my dog?
It varies by breed, but generally speaking, 15 to 30 minutes of walking — twice per day — is a good goal.
When should I walk my dog?
Try to avoid walking your dog right before or right after they eat a big meal as there are potential health concerns. To be on the safe side, try to wait an hour before walking.
Conclusion for "Motivational Dog Walking Quotes"
Last but not the least, be ready to have a good time! Instead of viewing walking as a chore, consider it as an activity to enjoy with your dog. Demonstrate to your furry friend that you're eager to play so they will end up being more excited too.
If you find this guide, "Motivational Dog Walking Quotes," you can check out these dog puns:
If you want to learn more dog quotes, you can, by watching "Best Dog quotes | That Will Melt Your Heart" down below:
Garrett loves animals and is a huge advocate for all Doodle dog breeds. He owns his own Goldendoodle named Kona. In addition, he volunteers at the Humane Society of Silicon Valley, where he fosters dogs and helps animals. Garrett enjoys writing about Doodles and believes that dogs can teach humans more about how to live than humans can teach a dog.
Why Trust We Love Doodles?
At We Love Doodles, we're a team of writers, veterinarians, and puppy trainers that love dogs. Our team of qualified experts researches and provides reliable information on a wide range of dog topics. Our reviews are based on customer feedback, hands-on testing, and in-depth analysis. We are fully transparent and honest to our community of dog owners and future owners.