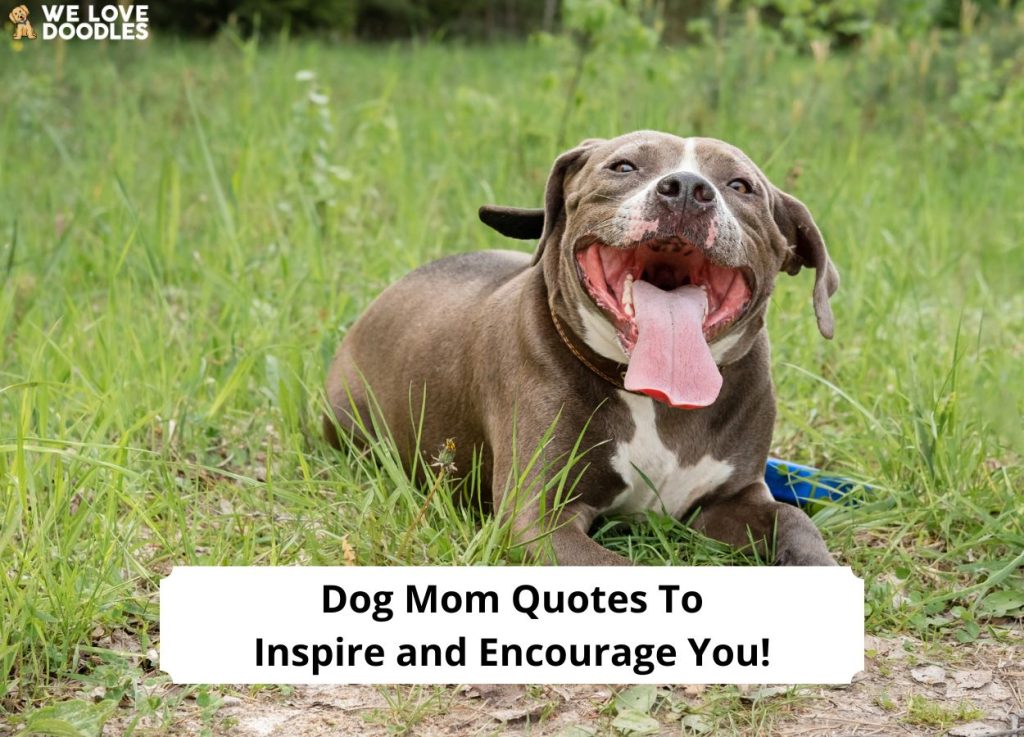 Dog mom quotes are among the best things to share among friends, family, and dog lovers everywhere. These quotes are funny, happy, and targeted toward every type of dog owner. Whether you're a dog foster mom or looking for the best dog mom quote to put on Instagram, there's a quote here for you.
Some quotes discuss how much love and affection dogs give, especially shelter dogs who need a forever home. Other quotes target wishing a happy Mother's Day to dog moms everywhere.
Read on to learn what kinds of dog mom quotes you can send to the dog enthusiast in your life.
Before you read this guide, "Dog Mom Quotes to Inspire and Encourage You," check out: Fun Ways to Celebrate Dog Mother's Day! (And Gift Ideas) (2023) and 122 Outdoor Dog Names! (2023).
Funny Dog Mom Quotes
A funny dog mom quote can capture the playful, fun-loving nature of a dog and how enjoyable they are to be around. Whether you want to highlight how much more amicable dogs are than humans or you want to show the responsibilities that having a dog include, these quotes are perfect for you:
"You know what I like about people? Their dogs."
"My baby poops in public."
"You can't boss me around; you're not my dog."
"Sorry I'm late! My dog wouldn't potty!"
"Of course, I talk to my dogs. What am I supposed to do? Ignore their barks?"
"She believed she could, but her puppy was sleeping on her lap, so she didn't."
"It's just a dog? First of all, that's my child you're talking about."
"Not to brag, but my dog thinks I'm kind of a big deal."
"The more dudes I meet, the happier I am to see my dog."
"All I need is coffee and my dog."
"I wonder what my dog named me."
"The dog is in charge. I just live here."
"I'm always paws-itive with my tail-wagger around."
"I'm ready for a pawty with my dogs at home!"
"Every day with my dogs is absolute pawfection!"
"I like big mutts and I cannot lie."
Happy Dog Mom Quotes
Happy dog mom quotes tap into the happiness that comes with dog ownership. Not only do these quotes talk about how happy a dog can make a dog mom, but they also help owners understand that the struggles of having a dog are worth it.
For example, some owners may get upset at the constant mess that dogs might bring, but these quotes may make you feel better and understand it's not just your dog, but everyone's dog that makes chaos:
"Petting a dog is a good omen."
"If I had a nickel for every time a dog made me smile I'd be a millionaire."
"My dog is my happy ever after."
"Dogs aren't our whole life, but they make our lives whole."
"Sometimes, a dog's love is the best medicine."
"My sunshine comes from the love in my dog's eyes."
"Life isn't perfect, but my dog is."
"Live like someone left the gate open."
"Life is too short for only one dog."
"I'm blessed to be your human."
"Pawty time is such a puggle."
"The whole dog mom thing is such a walk in the park."
"I'm never more proud of my dog than when they potty outside."
"Not to be corny, but my dog is paw-some."
"I live to see my dog's tail wag."
"I'm calling in sick today. I came down with puppy fever."
"Every day, I'm motivated by caffeine and canines."
Foster Dog Mom Quotes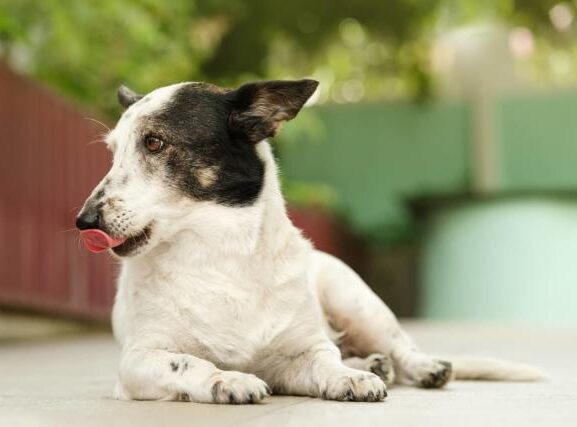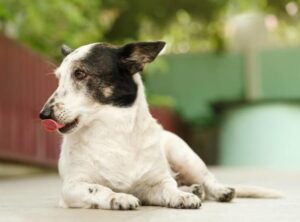 Being a foster parent for a dog can be extremely rewarding and will make you feel amazing, knowing you're providing a temporary home for a dog that needs it.
Fostered dogs are known to have lower cortisol levels and are overall happier. Fostering dogs isn't for everyone, but these quotes can shed light on how great fostering can be:
"Everyone thinks their dog is the best dog, and none of them are wrong."
"I'm suspicious of people who don't like dogs, but I always trust my dog when they don't like people."
"A dog is the only being on Earth that loves you more than themselves."
"Adopting a senior dog is fast-forwarding to the best part of dog ownership."
"Dogs have a way of finding the people who need them most."
"You can get genuine love from some humans and every dog."
"You can always find hope in the eyes of a dog."
"Saving one dog won't change the world, but the world for that dog will change forever."
"Having a dog will give you the happiest days of your life and one of the worst."
"If the kindest souls had the longest lives, dogs would be immortal."
"Everyone should have a shelter dog. They're good for the soul."
"Some people will never understand how much I love my dog, but that's okay. They wouldn't understand."
"It's never just a dog."
"Whoever thoughts diamonds were a girl's best friend never had a dog."
"There is no better feeling than being in a room full of people when a dog comes in and chooses to sit beside you."
"Life is golden with a Golden."
Dog Mom Quotes for Instagram
Instagram is a perfect place to show off your dog and post snapshots of your adventures with your precious canine. Dog Instagram accounts are on the rise and have been studied for their impact on online communications.
Consider using a few dog mom Instagram quotes to convey how much you adore your precious pup and why you love them — even if they follow you into the bathroom every time you have to pee. Finding the perfect Instagram dog mom quote can be hard, but these options make it easy:
"Girls just wanna have dogs."
"My therapist has a tail and calls me mom."
"Dogs are cheaper than therapy."
"I'm convinced the world revolves around my dog."
"I'm not a dog owner. I'm a dog mom."
"Dog walking is part of my fitness goals this year."
"Being a dog mom means I don't go to the bathroom without an escort anymore."
"I care so much about maybe four people and like 200 Instagram dogs I don't know."
"If I let you dogsit, I trust you with my life."
"My dog knows all the tea in my love life."
"The perfect date night? Staying home with my dogs."
"If you insult my dog, you insult me."
"Be the person your dog thinks you are."
"I take insults to my dog more seriously than insults to myself."
"Leave me alone. I'm only speaking to my dog today."
"My fashion advice is if you aren't covered in dog hair, you're missing out."
Quotes for Mother's Day
Mother's Day isn't only for humans! Mother's Day is just as much for dog moms who dedicate their finances and time to a precious pup who wants to spend plenty of time with their loving and adoring mother. Send a dog mom quote to the dog mom in your life:
"Happy Mother's Day to moms with children who have four paws and fur!"
"Home isn't the same without my puppy running it."
"I work hard so I can give my dog everything he wants."
"No matter how many times he pees on my rug, I love my dog."
"My kids have paws."
"Career goal: stay-at-home dog mom."
"You get me through all the ruff times."
"I live to make my baby's tail wag."
"Being a dog mom is my happily ever after."
"The rumors are true: I have the cutest pup in the whole world."
"There's nothing better than coming home to the doggy happy dance."
"The love of a dog is worth every loose hair, pawprint, cold morning potty, and every dollar spent."
"Please excuse the mess. The dogs are being jerks."
"Mother's Day is the best time for me to paws and recognize how much I love my dog."
"I can't have kids. My dog is allergic."
"Coffee, Netflix, and dog cuddles."
Best Dog Mom Quotes
Being a dog mom is deeply beneficial for both mother and dog. Being a dog mom is associated with lower heart rate, stress, and blood pressure. There are very few words that could convey how exciting and fun having a dog can be. However, these general quotes try to showcase the best parts of having a dog:
"Being a dog mom means giving my dogs like 15 nicknames."
"I'm head over paws for my puppy."
"I'm mutts about my mutt."
"There's no better luck than getting to cuddle with my puppy every night."
"Behind every strong woman is a dog who won't let her pee in peace."
"Being this cute is ruff for my pup."
"Bark twice if your baby is as paw-some as mine!"
"Relationship status: Dog mom."
"When I needed a hand, I found a paw."
"You've never lived until you've owned a dog."
"If my dog doesn't like you, we shouldn't be friends."
"I just want all the dogs."
"The road to my heart is paved with paw prints."
"If you're uncomfortable around my dog, I'm happy to lock you in another room while you're over."
"The best things in life are furry."
"Love is a four-legged word."
Frequently Asked Questions
What are dog moms called?
Human "dog moms" are exactly that, while mother dogs are "dams."
How do I become a new dog mom?
A responsible dog mom will make sure their dog has the right diet, enough physical and mental exercise, a safe home, and regular veterinarian care.
Do dog moms love their babies?
Dog moms are extremely attached to their puppies during their first weeks of life.
Conclusion for "Dog Mom Quotes to Inspire and Encourage You"
Choosing the best dog mom quote for yourself or to send to someone else can be challenging, but there are hundreds to browse. Consider choosing a funny, happy, or down-to-earth quote about the realities of being a dog mom from our list.
These dog mom quotes are more than words. They are windows into daily life with your precious pal. Whether you are a dog mom or someone who fosters dogs and wants to express how much you love them, these quotes are perfect for you.
Send your favorites to the dog enthusiast, owner, or dog mom in your life!
If you find this guide, "Dog Mom Quotes to Inspire and Encourage You," check out:
Learn more by watching "Best Dog Inspired Quotes – Motivational and Inspirational Thoughts" down below:
Garrett loves animals and is a huge advocate for all Doodle dog breeds. He owns his own Goldendoodle named Kona. In addition, he volunteers at the Humane Society of Silicon Valley, where he fosters dogs and helps animals. Garrett enjoys writing about Doodles and believes that dogs can teach humans more about how to live than humans can teach a dog.
Why Trust We Love Doodles?
At We Love Doodles, we're a team of writers, veterinarians, and puppy trainers that love dogs. Our team of qualified experts researches and provides reliable information on a wide range of dog topics. Our reviews are based on customer feedback, hands-on testing, and in-depth analysis. We are fully transparent and honest to our community of dog owners and future owners.