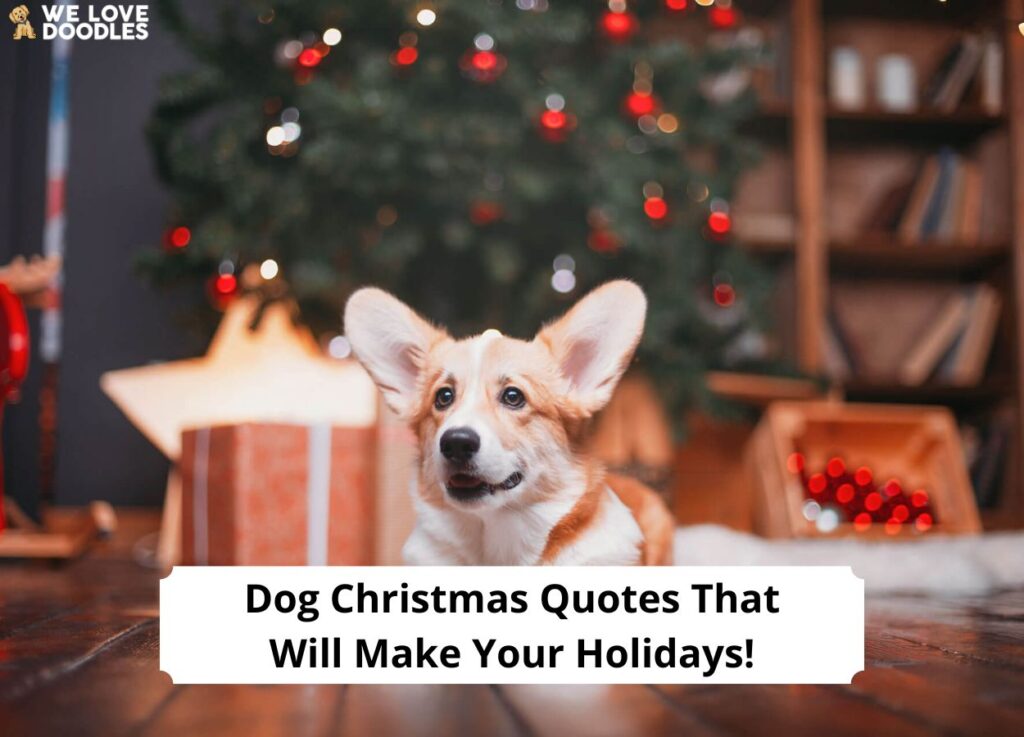 Dogs just seem to match the festive time of year. They're always full of cheer, love treats, and already know the answer to the question of whether they've been good this year (of course they have!). Below, you'll find funny Christmas dog quotes, dog quotes for Christmas cards, Christmas dog quotes for Instagram, and more.
Before you scroll down this list of dog Christmas quotes, check out: 70 Best Dog Christmas Puns! (2023) and 103 Best Hilarious Dog Puns & Jokes! (2023).
Funny Christmas Dog Quotes
Our dogs make us laugh all year long, but some funny Christmas dog quotes give us extra giggles.
"Santa's Little Yelpers"
Instead of Santa's Little Helper (incidentally, the name of the dog on the long-running cartoon The Simpsons), use a clever play on words and turn it into something funny.
This joke works exceptionally well if you have dogs who like to yelp. You can easily make a hilarious card or social media post using it.
The Naughty List
Children everywhere know about Santa's nice list and naughty list. Let's face it; many dogs lean naughty (and we love them anyway!).
Make that into a quote by expressing what your dog is on the naughty list for; you can even be sweet and say, "My dog is on the naughty list for stealing my heart!"
"Resting Grinch Face"
Do you have a dog whose face never conceals its genuine emotions? If you can capture it, caption that picture with the quote, "resting Grinch face." It's even better if you can dress them in Christmas garb or get them sitting in front of the tree.
"It's Been a Ruff Year"
Whether the year has been rough for you or "ruff" for your pup, you can use this pun to inject lightheartedness into an otherwise unpleasant situation. It might also give loved ones some relief if you choose to share it.
Santa Paws
We all love an excuse to put our dogs in silly clothes, so get that pooch a Santa costume and dress them up as "Santa Paws" instead of Santa Claus.
If you have cats, Santa Claws works equally as well.
Christmas Movie Dog Quotes
There are several great Christmas dog quotes from dogs from classic Christmas movies.
"So good news, I saw a dog today" -Elf
"Merry Christmas, ya filthy animal" -Home Alone
"Buzz, your girlfriend, WOOF!" -Home Alone
"I triple-dog-dare you!" -A Christmas Story
"Merry Christmas" Dog Christmas Quotes for Your Family Card
If you're planning to include your furry family members in your card, there are lots of quotes you can use.
Merry Christ-mutts
This is an easy swap. If you include your dogs in your photo, it draws attention to them. It's an especially great quote for former shelter dogs and rescue dogs. After all, mutt is a beautiful breed!
"Hairy and Bright"
Instead of the typical "merry and bright," use a dog pun. You can swap out "hairy" for "merry" in many phrases, including "hairy Christmas," "have yourself a hairy little Christmas," "hairy everything," and more.
"Happy Howl-idays"
Many families prefer to wish their loved ones far and wide happy holidays instead of merry Christmas since many faiths other than Christianity celebrate significant holidays during this time of year.
If that's more your style, we have a pun for that too! Use howl-idays instead of holidays in various messages and quotes for Christmas cards. For an extra laugh, include something about this being the most peaceful time of year with a picture of your dog mid-howl.
"Yappy New Year"
Just like "happy howl-idays," "Yappy New Year" is a fun, non-religious way to greet your loved ones on a card that features your dog.
"We Woof You a Merry Christmas"
Another way to use wordplay is to replace wish with woof in the phrase "we wish you a merry Christmas." It's easy to pair with some of the other quotes we've already listed. Try, "we woof you a merry Christmas and a yappy New Year" and "we woof you a merry Christ-mutts!"
"Puppy's Fur-st Christmas"
If you got a new puppy this year, that's undoubtedly the most significant thing your family has to celebrate.
Show how much you dote on your doggo by making it the centerpiece of your holiday card. You can satirize a baby's first Christmas photos by dressing your dog up. Or, snap a picture of everyone in the family loving on it.
This quote and pun also work well for a photo collage. Showcase photos of your dog with family members as it went from tiny puppy to full-grown pooch.
"The Holiday Snuggle is Real"
You must not be paying attention if you haven't heard the phrase, "the struggle is real." People use it on social media, in conversation, and even on merchandise to convey a shared sense of exasperation at everyday annoyances.
You can turn it into a sweet Christmas card with your dog by changing the phrasing to "the holiday snuggle is real." We love the idea of including a picture of your adorable dog curled up fast asleep with a favorite toy.
Alternatively, try getting matching pajamas for you and your four-legged family member. You can make it funny by giving extra kisses and hugs and catching your dog's less-than-pleased facial expression.
Christmas Dog Quotes for Instagram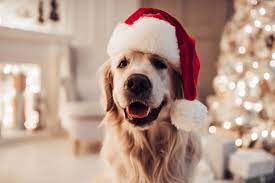 Let's face it: we live a lot of our lives on social media. Moreover, dog lovers can't get enough of posting about their beloved pets.
That certainly doesn't change during the holidays, when Instagram-worthy opportunities abound. Take advantage of them with some of these awesome Christmas dog quotes for Instagram.
Sweet Sentiments
Not everything with our dogs is funny, and sometimes we want to express how much we love them, pure and simple. Here are a few ideas:
Get a picture of the two (or more!) of you in a loving moment and use the caption, "All I want for Christmas is you." If it's just you and your dog, try giving it a little kiss. You could also put a bow on its head and post a pic of it alone.
Don't be sad if you're spending the holidays alone with your dog this year. Boast about it instead! Use a quote like, "I get to spend my holidays with this bundle of fluff!" Undoubtedly, some of your followers will be jealous as they remember the less pleasant family members they'll have to visit.
Dog parents love to snap pictures of their pups snoozing. Use portrait mode to get one of your sleepy dogs with the Christmas tree. Write a caption like "…While visions of kibble danced in their heads."
For the Perfect Picture
Sometimes, we capture our dogs in the perfect scenario or find the ideal prop to make a fantastic post. At Christmas time, those opportunities multiply.
We use "slay" frequently, but you can turn it into a pun at Christmas with "Sleigh all day." Get a photo of your dog on a sleigh or even wearing a stylish winter sweater.
Dogs have the best facial expressions. Try to catch your dog looking shocked, scared, or guilty with the quote, "The look you get when you find out Santa's been watching."
They also make funny faces when they're about to eat a yummy treat. Use another classic Christmas carol with "Oh Christmas Treat!" Bonus if you're giving them a holiday-themed dog cookie.
Speaking of cookies, get a guilty face next to a plate of crumbs and caption it, "No, I don't know what happened to Santa's cookies."
Finally, when all the revelry and carousing of the season end on New Year's Day, get in one last hilarious post with the caption, "When you had too much champagne at the New Year's party." Your dog can be sleeping soundly in the photo.
Breed Specific Quotes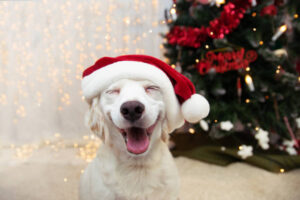 All of the quotes above work equally well for most types of dogs. Still, some breed-specific dog Christmas quotes are great, too.
If you have a pug, go for "Pugs and kisses" or "Bah, hum-pug." For a Schnauzer or Miniature Schnauzer, use "let is schnau" instead of "let it snow."
Above, we talked about using "howl-idays" instead of holidays, but you can also use "Collie-days" if you have a Border Collie.
Corgis look like little presents, and their breed works perfectly in the quote, "Merry Corg-mas." Small breeds seem to lend themselves to puns because there's also "the more the Terrier" (instead of "merrier") and "we Shih Tzu a merry Christmas."
Larger breeds can get in on the fun, too. "Have yourself a Husky little Christmas" works perfectly, and huskies are already a wintry breed. Pair this with a photo of your snow lover.
Last but certainly not least, replace the last "la" in the refrain of the carol "Deck the Halls." You'll sing "fa-la-la-la-Lab" in honor of this big, goofy breed.
Frequently Asked Questions
What words make dogs happy?
Some of the most attention-grabbing words include "walk," "treat," and "fetch."
What are dog idioms?
Examples of dog-related idioms are "you can't teach an old dog new tricks," "dog eat dog," and "every dog has its day."
What should you get your dog for Christmas?
If your dog has a favorite toy that's worse for wear, try ordering another one as a replacement.
Conclusion for "Dog Christmas Quotes That Will Make Your Holidays"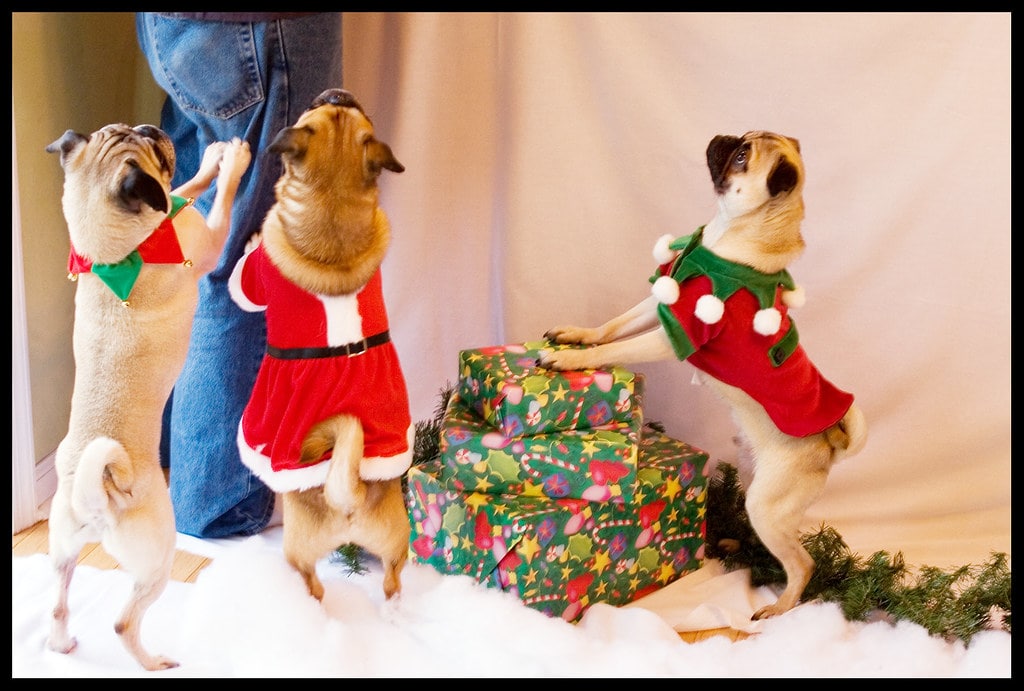 Dogs are family members, so it's only fitting that they share in all the fun that the season has to offer. Use the dog Christmas quotes above to "unleash the joy" of the holiday season!
For more guides similar to this list of dog Christmas quotes, check out:
If you enjoyed these Dog Christmas Quotes, you'd enjoy watching the "Dogs Open Best Christmas Present EVER | The Dodo" video down below:
Garrett loves animals and is a huge advocate for all Doodle dog breeds. He owns his own Goldendoodle named Kona. In addition, he volunteers at the Humane Society of Silicon Valley, where he fosters dogs and helps animals. Garrett enjoys writing about Doodles and believes that dogs can teach humans more about how to live than humans can teach a dog.
Why Trust We Love Doodles?
At We Love Doodles, we're a team of writers, veterinarians, and puppy trainers that love dogs. Our team of qualified experts researches and provides reliable information on a wide range of dog topics. Our reviews are based on customer feedback, hands-on testing, and in-depth analysis. We are fully transparent and honest to our community of dog owners and future owners.