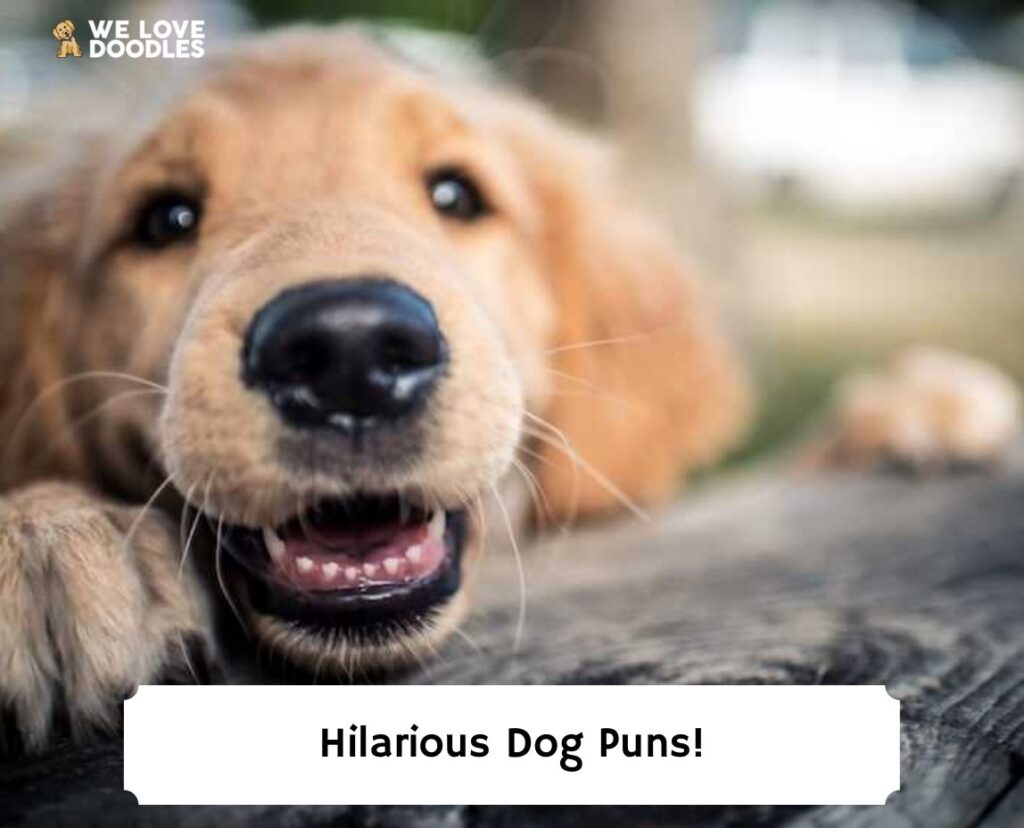 Everyone loves a joke that's so bad it's good, and when it comes to bad jokes, it doesn't get better than bad dog puns. There are many types of puns, and we've got them all.
Bad dog puns make us smile when we think of our favorite furry friends in unexpected and silly scenarios. While a dog pun may technically be a bad joke, it's a bad joke that dog lovers can't get enough of.
Read on for the best bad puns about dogs.
Other articles you would like: Dog Birthday Captions For Social Media!
Dog Puns
Here are some of the best bad dog pun memes that will make you laugh and smile.
Long trips can be ruff with a dog.
A creative dog can make anything paw-ssible.
Where do dogs go after their tails fall off? The re-tail store.
My dog is paw-fect.
I love you fur-ever.
My dog almost moved out, but we renegotiated the terms of her leash.
A cold dog is a pup-sicle.
Dogs go to work at the paw-ffice.
The best snack at a dog party is pup-eroni pizza.
When you take a dog to the movies, don't forget to buy them some pup-corn.
That new dog collar is quite fetching.
His dog is a construction worker. He specializes in roofing.
The dog just declared his college major: Barkeology.
My dog was surprised when our new neighbor visited. It gave her paws.
At the dog bank, the dogs make de-paws-its.
Dogs steer canoes with doggie paddles.
Stop hounding me. I'll take you out for a walk soon!
Howl I ever live without you?
When a celebrity goes out, they are always followed by the pup-arazzi.
The dogs went out partying. They raised the woof.
It's im-paw-ssible not to love my pup.
My dog always thanks me fur treats.
The dog just graduated from obedience school with her master's.
My dog is so bad with the television remote. He always accidentally hits the paws button.
I fur-give you.
My dog has a fantastic sound system, including a set of sub-woofers.
The dog recognized the park. She said it looked fur-miliar.
When you call, my dog will know it's you—he has collar i.d.
I'm very fur-tunate to have three adorable puppies.
Stay paws-itive!
Never take your dog to the flea market.
Veterinarians are paw-ssionate about taking care of dogs.
You drive me mutts!
You should get that puppy a sweater. He is a chili dog!
May I paw you a drink?
Her dog just got accepted at Oxfurd University.
Those two dogs are the best fur-ends.
I'm trying to teach my dog to be more paw-lite.
If you are going to Starbucks, could you get my dog a puppuccino?
Help your dog fall asleep by telling him a fairy-tail.
Indogo is my dog's favorite shade of blue.
Her dog got a promotion at work. He is now the branch manager.
Dogs love to play Ulti-mutt Frisbee.
Happy howl-idays!
My dog is still working on his lab report.
The dogs got too rowdy, so we ended up calling the police pawtrol.
The puppy was barking mad when she got her toy taken away.
My dog threw a big paw-ty this weekend.
Your dog will need to pay his annual fleas on his insurance.
The dog opera singer got a big round of ap-paws after her performance.
Tomorrow is my dog's fur-st birthday.
I thought the home team would win at the dog basketball game, but then a puppy on the other team took paws-ession of the ball.
My dog is very existential: he paw-nders the meaning of life.
At puppy Sunday school, the dogs learned about the story of Noah's Bark.
I got lost at the dog park, so I asked the Bark Ranger for help.
Oh, paw-don me, I didn't mean to bump into you!
Please continue; I don't want to inter-ruff you.
I just got a new dog-themed dress: it's fur-bulous!
The dog's new fancy car is a Fur-rari.
I forgot to take my puppy for a walk, and I feel just paw-ful.
Sometimes the other dogs pick on my dog—he always seems to be the mutt of the joke.
Happy Paw-ther's Day!
My dog is feeling sick, so I had to take her to the dog-tor.
That dog's birthday celebration was paw-some.
While that dog seems ordinary, he has many talents. He's a real diamond in the ruff.
My dog got a scrape on his paw, so I took him to the vet to pooch it up.
Even with a cone on his head, my dog tried to keep his dog-nity.
Remember to put your car in bark before going into the store.
Check out for more: Walter the Dog Memes! and Dog-Gone Good Dog Valentine's Day Puns
Dog Jokes: Dog Species
Some of the funniest and most cringe-inducing pun dog memes are the ones based on the name of a dog breed. With so many dog breeds with unusual names, it's an excellent opportunity to make a creative play on words. Here are some of the best dog breed puns.
The Dachshund had to sit in the shade because it was a hot dog.
Every fall, dogs love to drink "pugkin" spice lattes.
My pup loves eating treats—he's a little husky.
Be careful of dropping snacks at your Super Bowl party. You might end up with a wide retriever.
When my dog felt guilty for chewing my shoes, I told her, "It's okay, don't terrier-self up over it."
Have you met Dracula's new pet? It's a bloodhound.
After the Dalmatian had a great dinner, he said, "Wow, that hit the spot."
The Beagles are a dog's favorite band.
Marvel's new official puppy superhero is named Labra-thor.
My dog is quite the magician; we call him a "labrabracdabrador."
My friend always makes jokes at my expense; she's such a mal-tease.
It's raining outside; watch out for poodles.
The dog didn't like the new dog food. He said it was re-pug-nant.
Dogs are the corg-key to my heart.
Collie me later!
My pup was terrier-fied when he saw the bigger dog at the park.
A zoo that only has one dog is called a Shih Tzu.
They filmed the dog movie in Collie-wood, California.
The dog ferry needed a pug-boat to tow it to the dock.
Sometimes dogs like to do big art projects, but other times they'd rather just labradoodle.
At the dog relay race, the Weiner takes it all.
Driving across town to buy dog treats took a mastiff amount of time.
You can help your local dog shelter by making a Dalmatian.
The news that my dog was pregnant was mind-beagle-ing!
I don't think my dog is depressed, but recently, she has felt melan-collie.
Dog Pop Culture Puns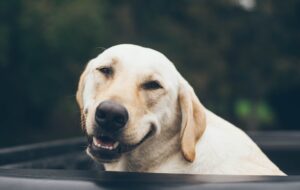 Bad dog puns and bad dog memes are especially funny when they are topical or reference pop culture. These bad dog pop-culture puns reference all of your favorite movies and celebrities and are sure to make all your friends laugh.
A dog's favorite action movie is Jurassic Bark.
Believe it or not, my dog is a talented poet. He's a real William Shakes-paw.
My dog is a model. She just made an appearance in Vanity Fur.
If you want to play a Pink Floyd album for a dog, it has to be Bark Side of the Moon.
My dog's favorite singer is Björk.
My dog's favorite actress is Sarah Jessica Barker.
Mission Impawssible is my dog's favorite movie.
"Don't Stop Retrievin'" is my puppy's absolute favorite Journey song.
For this Friday's puppy movie night, we are watching The God-paw-ther.
We made him an of-fur he couldn't refuse.
Conclusion for Dog Puns and Jokes
Did we leave out some of your favorite bad dog puns? Share your favorite dog jokes, dog puns, and dog memes with us, and we will be sure to check them out!
You will also like:
Garrett loves animals and is a huge advocate for all Doodle dog breeds. He owns his own Goldendoodle named Kona. In addition, he volunteers at the Humane Society of Silicon Valley, where he fosters dogs and helps animals. Garrett enjoys writing about Doodles and believes that dogs can teach humans more about how to live than humans can teach a dog.
Why Trust We Love Doodles?
At We Love Doodles, we're a team of writers, veterinarians, and puppy trainers that love dogs. Our team of qualified experts researches and provides reliable information on a wide range of dog topics. Our reviews are based on customer feedback, hands-on testing, and in-depth analysis. We are fully transparent and honest to our community of dog owners and future owners.