Dogs are some of the happiest creatures in the world, always ready with a happy dance at dinnertime and a wagging tail when you get home from work.
Every once in a while, though, even the cheeriest Chihuahua or gleeful Goldendoodle gets a stern "No!" for being naughty. Fortunately, even their sad faces are disarmingly adorable, resulting in plenty of funny-sad dog meme content you'll almost feel guilty for laughing at.
Other articles you would like: Funny Smiling Dog Memes and Best Scared Dog Memes!
Being a Good Boy Isn't Always Tennis Balls and Tail Wags
Even the very best boys have bad days. Make them feel loved and valued by giving them plenty of belly rubs while you ask them about their day. Your dog won't be able to answer, but they'll appreciate your efforts.
1. Bedless and Brokenhearted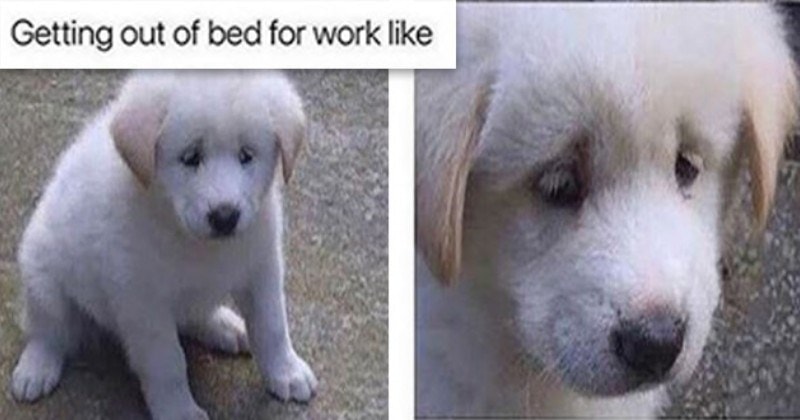 This depressed dog meme perfectly captures how it feels to leave the peace of your warm bed, especially while comfortably snuggled up with your favorite furry friend.
Your cuddly canine might be sad at first, but only until they realize how much more room they have to stretch out while you're away at work.
2. When a Treat Turns Into a Trick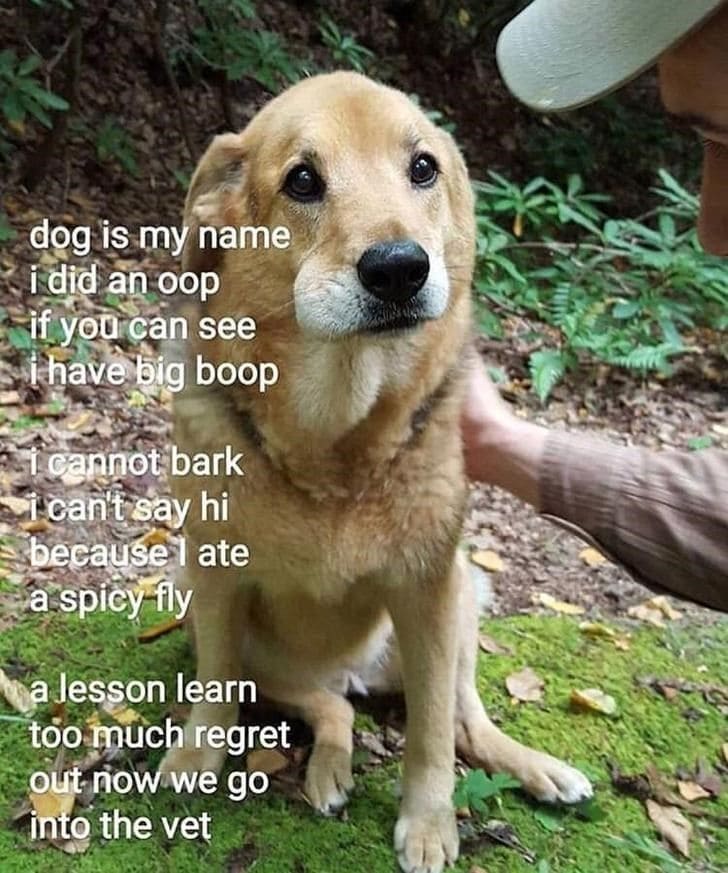 Poetry is a classic way to express your creativity and process your experiences through writing. This pup is a poet in his own right, telling the sad tale of how a delicious afternoon treat turned into a swollen snoot and a whole lot of pain.
Next time you head out for a walk, be sure to remind Fido that he should avoid eating a spicy fly on his snack break and maybe choose a Milk-Bone instead.
3. Making Healthy Choices Can Be Ruff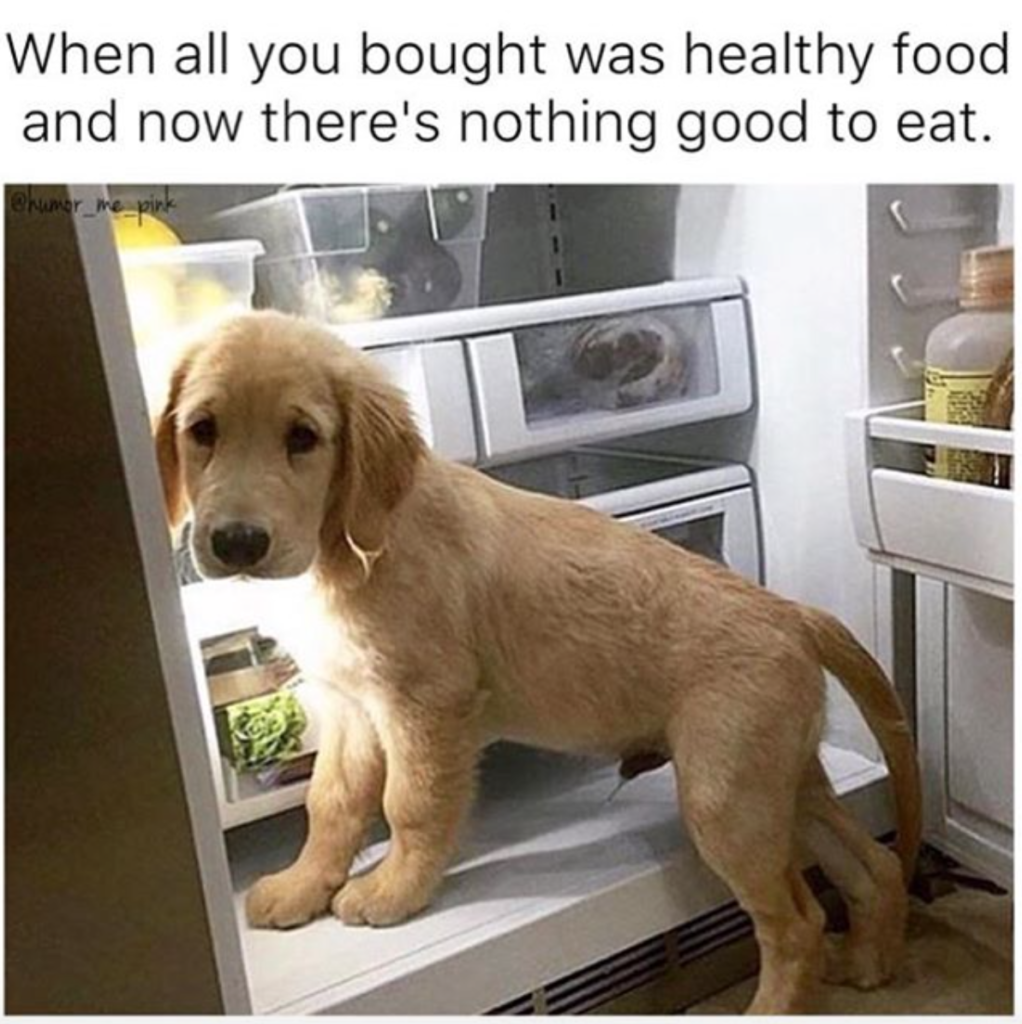 Dieting, exercise, and skipping late-night snacks can feel like a chore, especially for your hungry hound who loves snapping up the scraps.
There's no harm in tucking away just a few salty or sweet treats for those evenings when you're dreaming about junk food. Just be sure to share a bite or two with your pup while you show your dog sad meme pictures that remind you of them.
4. Sad Shiba Inu Wants You to Believe in Yourself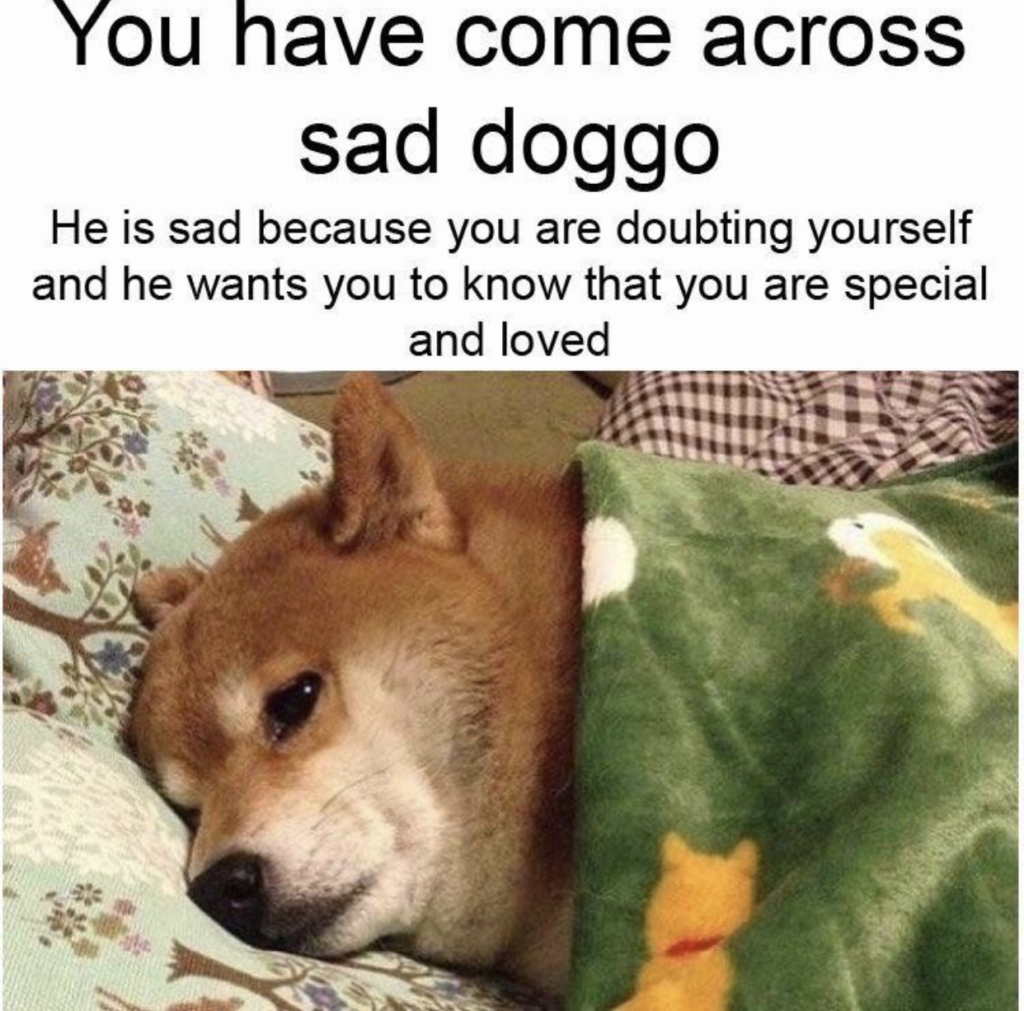 What makes this dog meme sad is that this sweet Shiba Inu is only upset because it loves you so much!
Dogs seem to understand our emotions, reacting to our sadness, happiness, and anger with unconditional love, so try your best to let them know you appreciate their concern by staying positive and pursuing your dreams.
5. Sensitive Chihuahua
Do you cry at the drop of a hat? Are your feelings easily hurt? Then you'll relate to this sensitive Chihuahua who gets a little misty-eyed the moment someone raises their voice.
6. Fool Me Twice, Shame on Me
Psyching out your dog during a game of fetch to watch them flinch isn't very kind, but it sure is funny to watch that look of betrayal cross their face when they realize you never even threw the ball.
7. A Short Walk is Better Than No Walk At All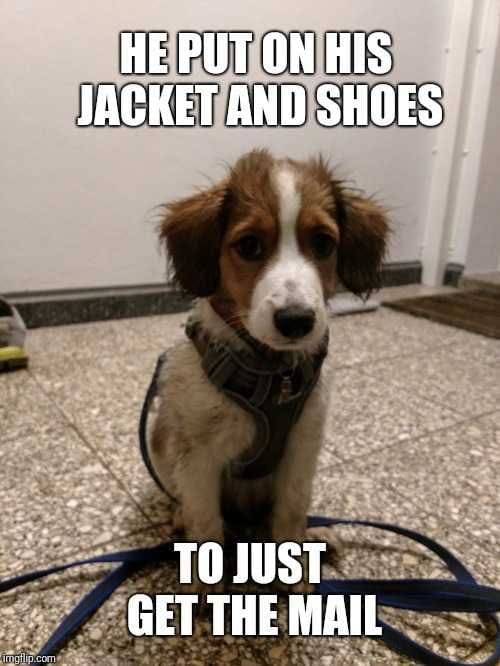 One of the best things about dogs is every journey outside feels like an adventure, even if the destination is just the end of the driveway.
Next time you head out to grab your Paw-mazon packages, grab a leash and take Spot along. They'll love having the opportunity to hang out with their very best friend without interruption.
8. Totally Valid Excuse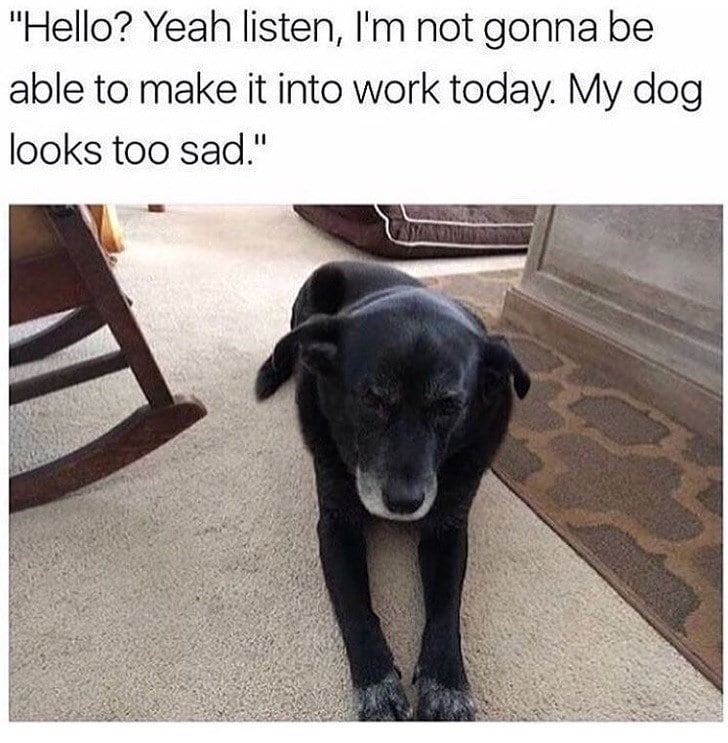 There are not many situations that can break your heart quite like your canine companion's sad face as you walk out the door for work in the morning. They can't possibly understand that there's no way you could afford all those tennis balls and squeaky toys without a job.
It doesn't hurt to take a sick day every once in a while just to remind your pooch how much you adore them.
9. Something We Can All Relate To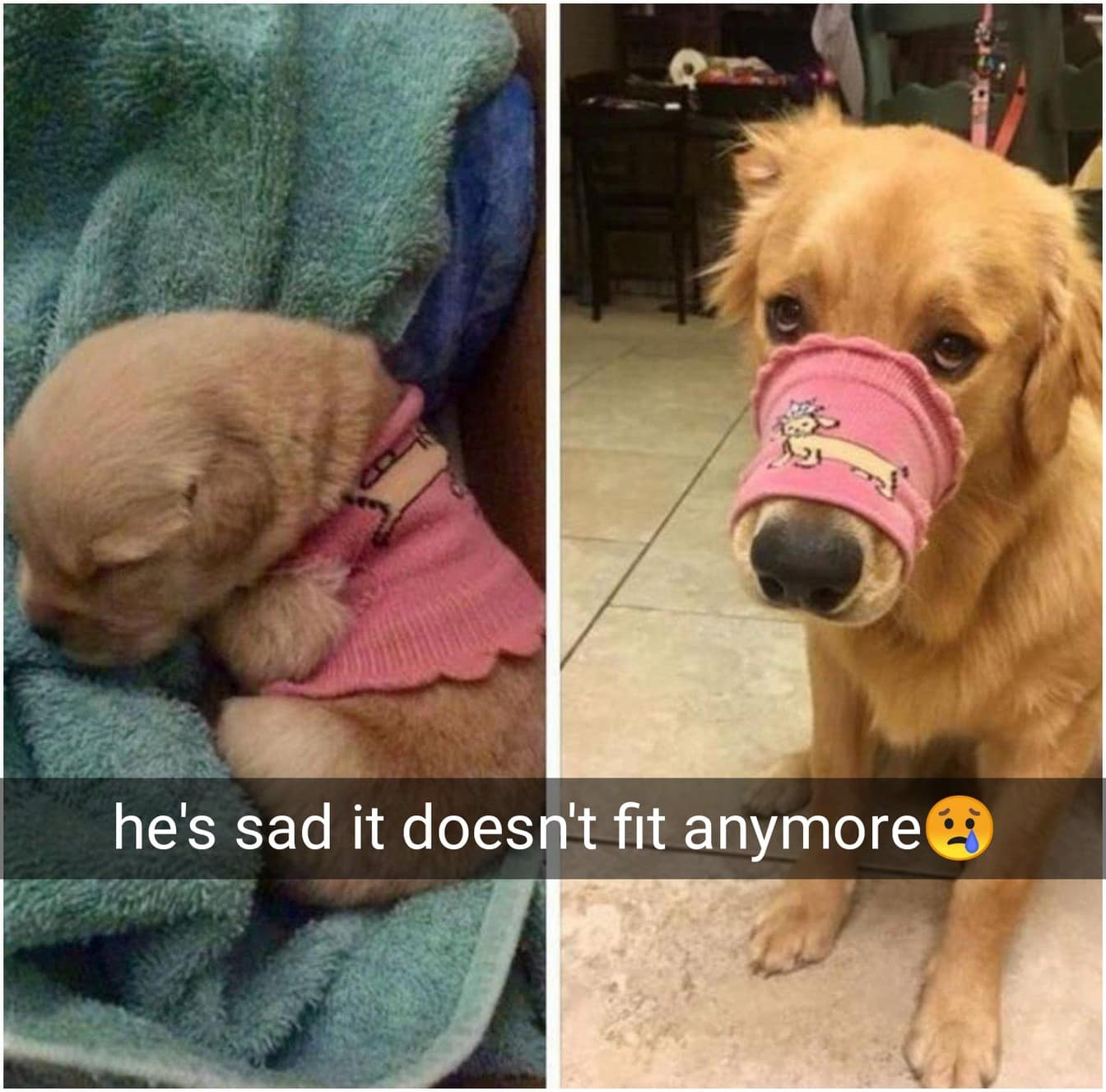 Whether it's your prom dress from senior year of high school or the button-down that wasn't so snug a few months ago, it's always disappointing when we discover clothes don't quite fit the way they used to.
Next time something is a little too tight, you'll think of the cutie in this crying dog meme and remember that you can still be just as adorable even if you've outgrown an old sweater.
10. Bad Boys Only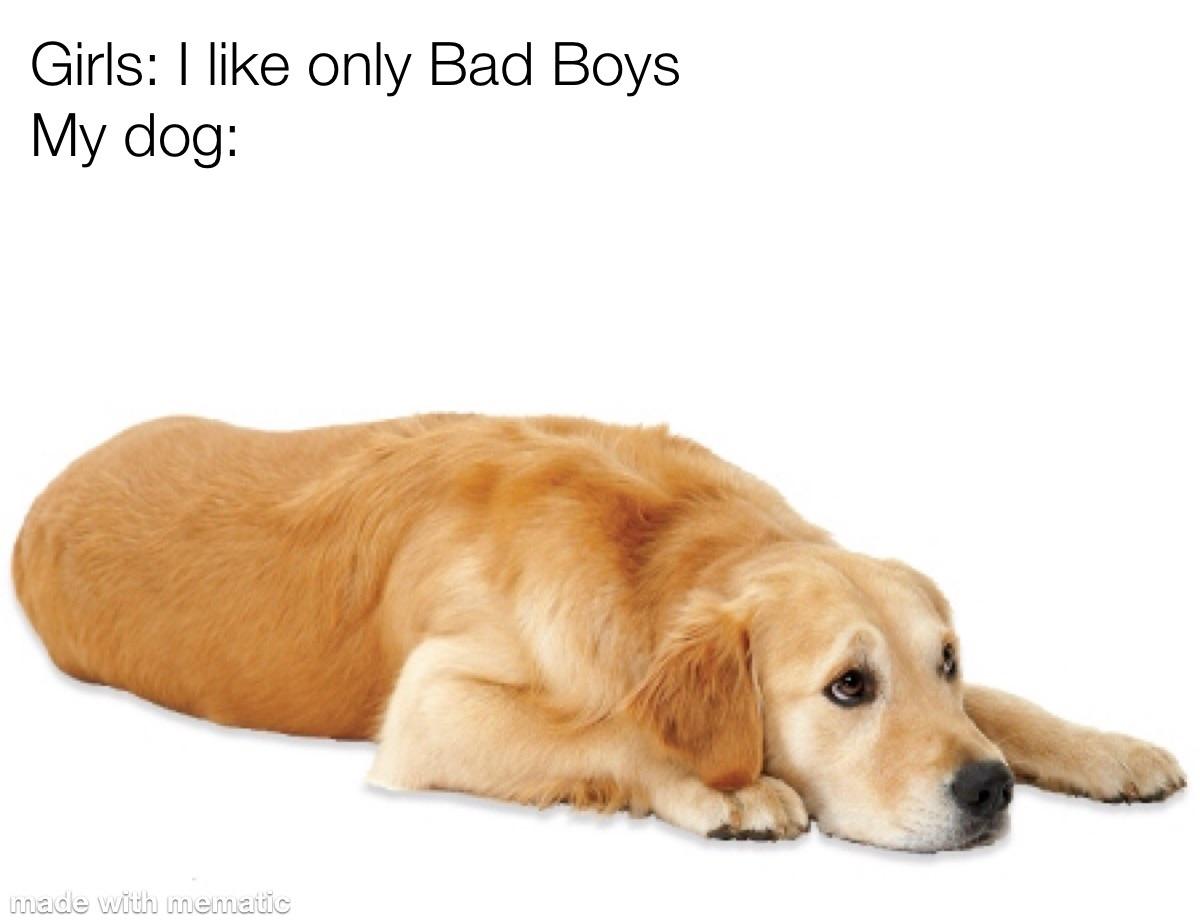 Ladies, remember that words can hurt. When you claim to like bad boys only, you're leaving every good boy around you wondering whether they should invest in a leather jacket or get a tattoo just to impress you.
If you slip up and say it, a nice scratch behind the ears should mend any hurt feelings and avoid a paw-awkward situation at a tattoo studio.
11. Assuming the Worst
Aussies are usually happy and eager pups, but some things are just too hard to face. For these hugging hounds, it's the very thought of an appointment at the vet's office.
We can only imagine how quickly their sad mood changed once they realized they could run around the dog park instead of sitting on a cold table while a stranger poked at them.
12. Haircut Horror Story
Remember the first time you thought you would look great with bangs, only to realize that they are definitely not your style?
We've all had bad haircuts, so it's nice to see a sad dog face meme that genuinely expresses the feelings of disappointment and dread we feel afterward.
13. All Dressed Up and Nowhere to Go
What kind of person could leave such a hardworking hound at home all day?
It might be tough to sneak this dapper Doodle into your office building, but one look at his tie will be enough to convince security that he's a bright young professional ready for his first day on the job.
Conclusion for Sad Dog Memes
When things feel so bad that you can't help but cry, dog meme articles can help bring a smile to your face.
Next time you or your pet are feeling down, just remember that there's no problem too big that a cuddle, a treat, and a walk to the park can't solve it.
Check out these other articles:
Garrett loves animals and is a huge advocate for all Doodle dog breeds. He owns his own Goldendoodle named Kona. In addition, he volunteers at the Humane Society of Silicon Valley, where he fosters dogs and helps animals. Garrett enjoys writing about Doodles and believes that dogs can teach humans more about how to live than humans can teach a dog.
Why Trust We Love Doodles?
At We Love Doodles, we're a team of writers, veterinarians, and puppy trainers that love dogs. Our team of qualified experts researches and provides reliable information on a wide range of dog topics. Our reviews are based on customer feedback, hands-on testing, and in-depth analysis. We are fully transparent and honest to our community of dog owners and future owners.