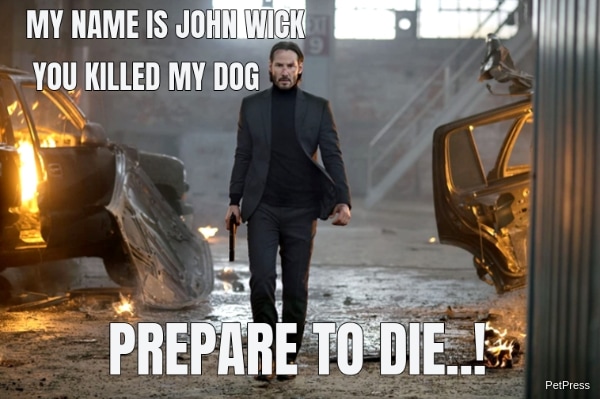 John Wick is an action-packed series of films starring the internet's favorite genuinely nice guy, Keanu Reeves.
Reeves plays the titular character, a gun-for-hire who is ripped out of retirement after a mob member attacks Wick for not selling the man his Mustang. During the assault, the gang savagely kills his beloved beagle, Daisy, a gift from his wife before she tragically dies.
John jumps into action, transforming from a grieving husband into a roguish, ruthless hitman bent on seeking vengeance.
Wick's love for his pup is something that most pet owners can relate to, and the relationship soon became the stuff memes are made of.
Enjoy these 10+ John Wick dog memes that show just how far we'd be willing to go for our furry companions.
Other articles you would like: Scared Dog Memes and Dancing Dog Memes.
Man's Best Friend
Dads are notorious for claiming they're not interested in welcoming a dog into the family, then immediately stealing all of those puppy kisses and tail wags for themselves.
Much like John Wick and his beloved pit bull, even the most stubborn father will have a change of heart after a few days spent hanging out with man's best friend.
And You Think You Love Your Dog!
It doesn't take much to make your canine companion feel loved. All they want is a scratch behind the ears and a new tennis ball to play with. Of course, that's not enough for John Wick.
After a gang of criminals commits the worst deed imaginable, the vengeful assassin goes out of retirement to show them what it means to be a passionate pet owner.
Only 77?
Those involved in the underground crime world come to know John Wick as Baba Yaga, a folkloric witch who seems to appear out of nowhere when she claims her victims.
Given this unnerving nickname, it's easy to see why this kill count seems a little low, especially if he's going after someone who dared to lay a finger on his furry friend.
Activating Revenge Protocol

It doesn't take much to push John Wick over the edge.
The men who attacked him had no idea that he was a world-class hitman who would make them pay for their transgressions with their lives.
Pet owners who see anyone yelling at their dogs will definitely relate to the sudden shift we saw Wick take from calm, cool, and collected to absolutely seething with rage.
John Wick Supports This Message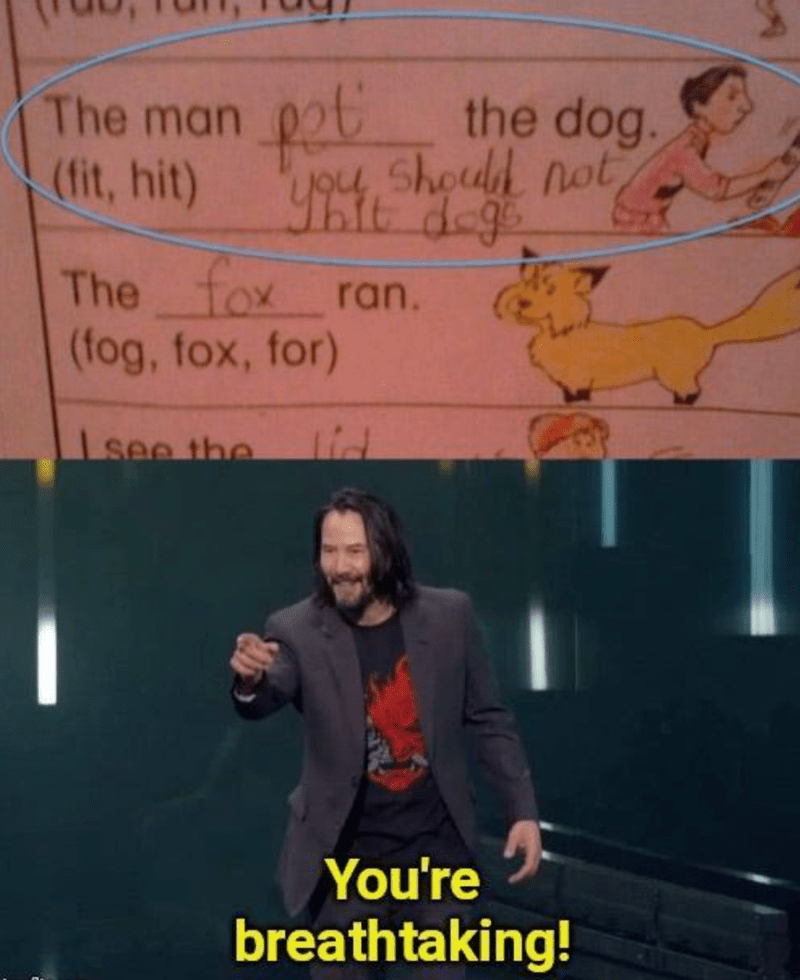 This child clearly knows right from wrong, choosing the ignore the correct multiple choice option and writing in their own, more wholesome answer instead.
The student takes it a step further by leaving a word of advice for their teacher: "You shouldn't hit dogs." Seeing this kind of answer on a test would undoubtedly put a smirk on John Wick's face.
Thanos Doesn't Stand a Chance

While we're waiting for the next movie in the series to come out, this Thanos John Wick dog meme would make for one fantastic episode of Disney's animated Marvel series What If…?
The show explores what would happen if different events played out throughout the Avenger's timeline, like Ultron winning or Red Witch turning into an unstoppable zombie.
A John Wick crossover would easily fit into the lineup of a show with such off-the-wall concepts.
It took a whole team of superheroes from across the galaxy, a shadowy government agency, and five Marvel films for the Avengers to deal with Thanos.
Put John Wick on the job, and it wouldn't have taken long after the snap for the contract killer to end Thanos' reign of terror while armed with just a pencil.
Visitors Welcome (Especially If It's Keanu)

When playing John Wick, it wasn't hard for Keanu to get into character given that he is a big fan of pooches in real life too!
It would only make sense, then, that he would be more than happy to spend some time hanging out with five very charming Golden Retrievers, even if it was as his character Johnny Silverhand from the video game Cyberpunk 2077.
Remember to Put Your Car in "Bark" Before You Fill Up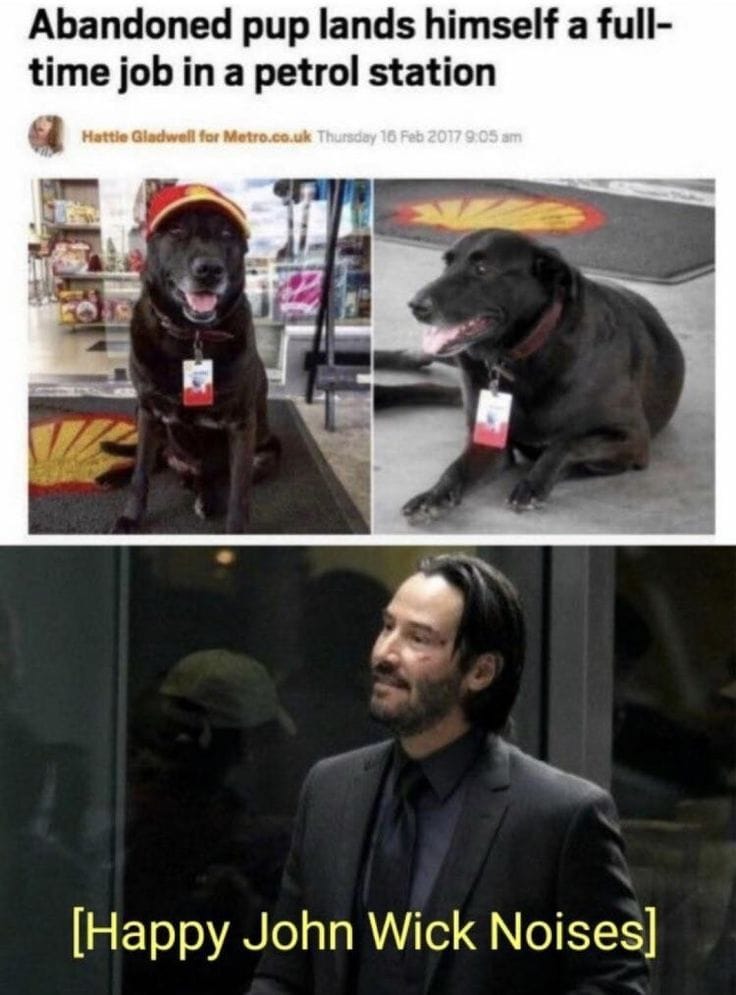 It's hard not to fall in love with this Labrador Retriever who's making a living as a gas station attendant. He looks very professional in his uniform, including a hat and nametag, which we can assume reads "The Goodest Boy."
While John Wick is typically a quiet, stoic character, we can only imagine he'd make happy noises if he pulled in to fill up his Mustang only to find that the attendant prefers his tips in doggy treats instead of cash.
You May Want to Reconsider His Application…
Police work isn't for everyone, much to the disappointment of this adorable little pup.
Understandably, law enforcement would want their canine partners to be a little more intimidating, but they could have at least made him into a station mascot!
Wick would be horrified to learn that someone turned away this loveable lap dog just for wanting to be everybody's friend. Maybe the hitman can get him a job as a bell boy at the New York Continental Hotel.
The Student Becomes the Master

Despite having a massive range of work, John Wick is one of Reeves' most iconic characters, thanks to the unfathomable lengths he's willing to go to for the sake of his pet.
Mix that with a dog's unconditional love, and you've got partners in crime who are willing to take out anyone that threatens to harm their best buddy.
This meme is excellent inspiration for a John Wick dog spoof where Daisy is the assassin seeking vengeance after her owner's untimely death.
A Final Message to Anyone Who Isn't Nice to Dogs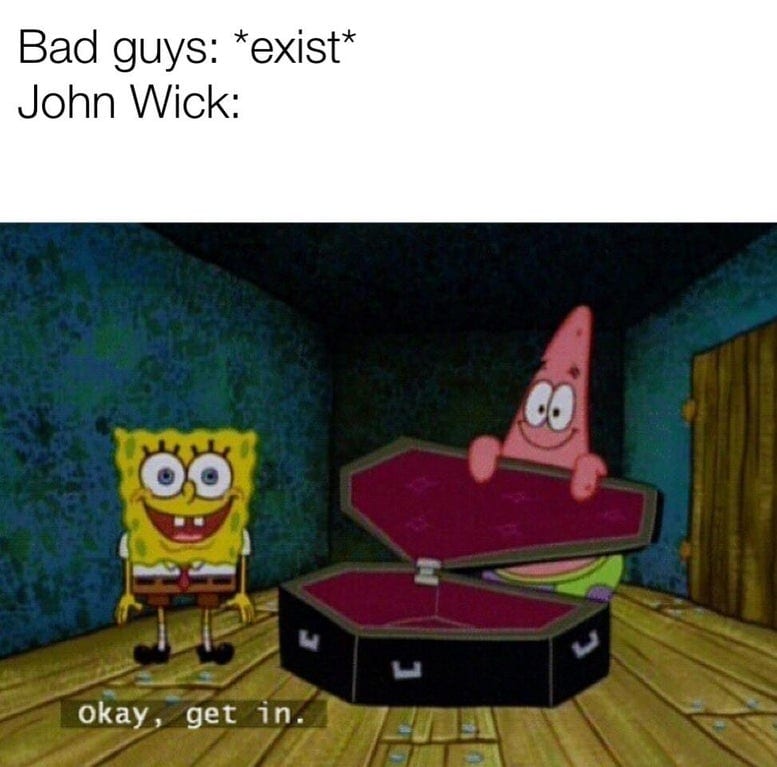 John Wick and dog memes go hand-in-hand, given that the real catalyst of his reentry into crime is the cruel death of his pet.
Bad guys who even think about putting their hands on a dog should probably think twice about their actions unless they have a death wish.
Other articles you would like:
Garrett loves animals and is a huge advocate for all Doodle dog breeds. He owns his own Goldendoodle named Kona. In addition, he volunteers at the Humane Society of Silicon Valley, where he fosters dogs and helps animals. Garrett enjoys writing about Doodles and believes that dogs can teach humans more about how to live than humans can teach a dog.
Why Trust We Love Doodles?
At We Love Doodles, we're a team of writers, veterinarians, and puppy trainers that love dogs. Our team of qualified experts researches and provides reliable information on a wide range of dog topics. Our reviews are based on customer feedback, hands-on testing, and in-depth analysis. We are fully transparent and honest to our community of dog owners and future owners.