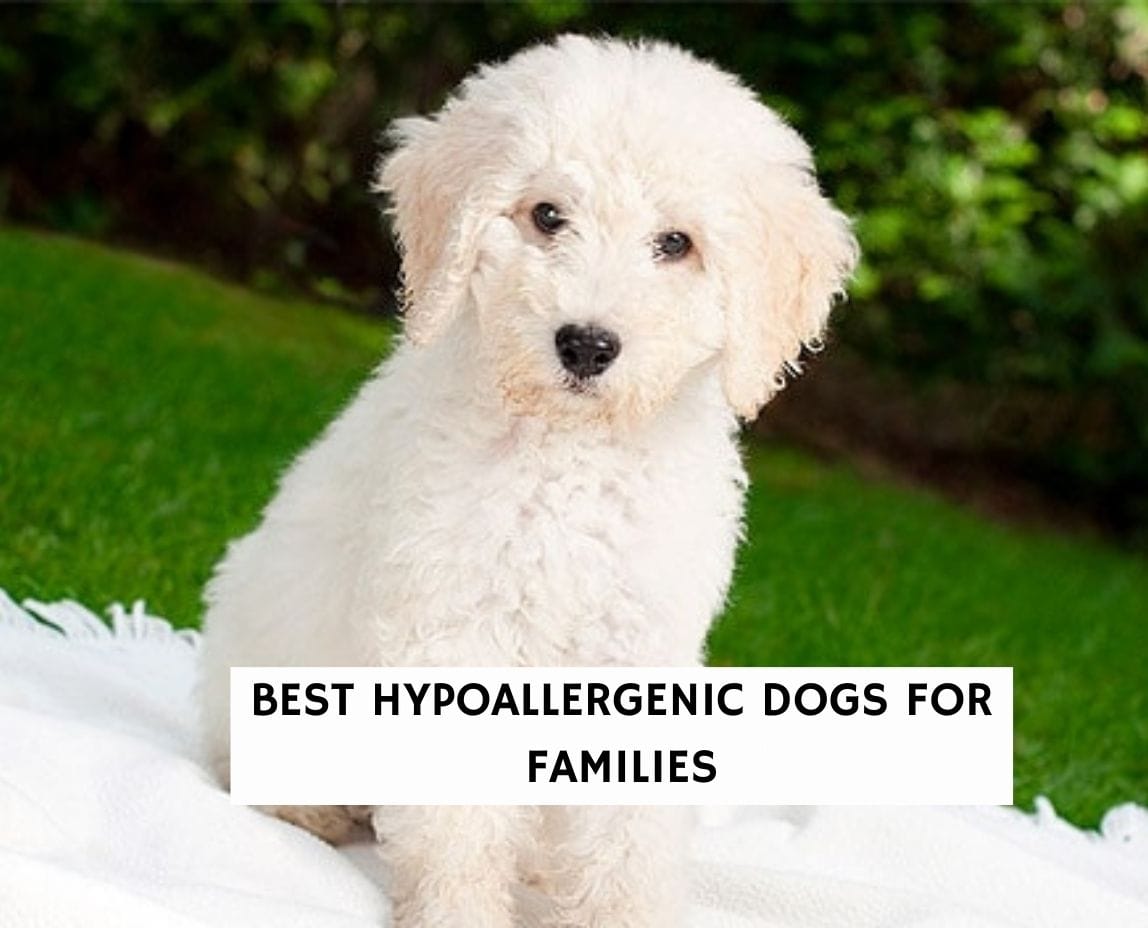 If you're searching for the best hypoallergenic dogs for families, here's what you need to know. First, imagine your child desperately wants a dog. They've researched the best breeds, calculated the weekly cost of dog food, and even assigned a sleeping spot for it in their room.
They've planned it all out and are just waiting for you to make the next move. Yet, no amount of research or financial planning can help you ignore the fact that you're allergic to dogs. Or, at least you think you are.
Every time a dog has approached you, or you've visited a home with a dog. You'll start sneezing or rub your itchy eyes. But just because you're allergic to one dog doesn't mean you'll be allergic to all dogs.
Much to your child's delight, those with dog allergies can still enjoy having a dog in the family. But only to an extent. Unfortunately, there's no one cure for solving all your pet dander allergies.
If you're considering the case of adding a dog to your home, yet you still suffer from allergies, there are some helpful things to know. First, allergens caused by pet dander are just a part of owning a dog. There's no way to entirely prevent dander with a dog where that's their natural process.
However, some options minimize the risk of causing an allergic reaction for you or your family. As you plan and prepare, here we share what you need to know about pet allergies and hypoallergenic dog breeds that can make a great addition to your family and lifestyle.
Before scrolling down this list of hypoallergenic dogs for families, check out these other dog breeds: Best Low Energy Hypoallergenic Dogs That Don't Shed and Best Hypoallergenic Guard Dogs.
Learning About Hypoallergenic Dogs
Perhaps surprisingly, most people aren't allergic to the dog itself but the dead skin dander and fur they release into the air. The protein found in the dander can cause a reaction, whether mild or severe.
These allergens compromise the air quality and cleanliness of your home and cause you to sneeze or have watery, itchy eyes. However, a hypoallergenic dog does not shed their hair.
The dander that sticks to them, which causes the allergic reaction, doesn't get released into the air or onto the floor and furniture as much. The lack of shedding helps keep your home cleaner and easier to maintain your health. Remember that just because a dog is hypoallergenic doesn't mean that the dog won't release potential allergens.
They may do it much less, to where it's almost unnoticeable by you and your family. Because the allergens come from the dead skin, urine, or saliva that a dog produces and not their actual fur, there may still be allergens that cause you to suffer from a reaction.
Related: Best Small Hypoallergenic Breeds.
Living With Pet Allergies
Whether you or your family member suffers from pet allergies, there are some helpful steps you can take to reduce the effects of pet dander on your overall health. Things like choosing a smaller dog can help.
Typically, smaller dogs release less dander into their air due to their size. Larger dogs have more fur, which can carry more significant amounts of dander released into the air.
Keep the dog's size in mind as you choose which dog is best both for your health and your living situation. Some large dogs may not be well-suited for small environments like apartments.
Another helpful step you can take is not to allow your pet to go into your bedroom or other areas where you spend a considerable amount of time. This can prevent a build-up of airborne particles and dander from landing in places where you spend time.
It's also vitally important to keep your dog well-groomed and bathed often. The dead skin dander and other allergens are rinsed out by washing the fur. You may even consider choosing a specific shampoo to help target the removal of potentially harmful dander.
Another way to keep your home clean is to regularly vacuum and shampoo your carpeted floors. Carpets can be a prime source for keeping dander and other allergy-producing particles.
By not only picking up those particles but washing the particles out of the carpet fibers, you can be much more thorough in your cleaning. To keep your air cleaner, you may want to use an air purifier.
These valuable devices use filters to pull out potentially harmful particles like dander out of the air. So be sure to get an efficient purifier with powerful filters to pick up those minuscule particles out of the air.
Related: Best Cute Hypoallergenic Dogs.
Find Your Hypoallergenic Dog That's Perfect For Your Family
Whether you're the allergy sufferer or are looking out for another family member, finding a dog that supports your overall health and doesn't deter it is vitally important.
If you require a dog that doesn't shed to cut down on allergies, you've got a lot of options for family-friendly four-legged friends. These dogs range in size, color, activity levels, and amount of shedding they're accustomed to. Be sure to do your research into what type of dog fits best with your living situation as well as your family's preferences.
Keep the whole family involved in the discussion as you research and look at pictures of the different breeds available. As you consider what dog breed is right for you and your family, we're here to help. Next, we share some of the top breeds for families needing some allergy relief.
Related: Best Hypoallergenic Teacup Dogs.
1. Poodle
When considering hypoallergenic dogs versatile for any family, the Poodle often rises toward the top. These beautiful dogs come in a variety of colors, sizes, and coat styles, so you and your family can be sure to find one you love.
This breed comes in different sizes, including Toy, Miniature, Medium, and Standard, so you can choose the size and style that works best for your family.
2. Shih Tzu
For a dog with a long coat but doesn't result in endless sneezing, the Shih Tzu can be an excellent option for your family. This breed can be groomed either with long, silky hair or a puppy cut that's much easier to maintain. Their fun and active personalities make them great playmates for kids, and they can handle a bit of running around, too.
3. Portuguese Water Dog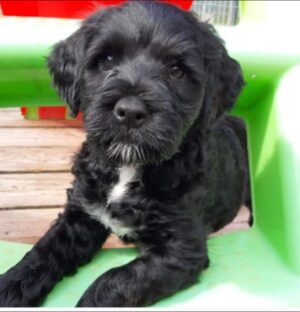 As its name implies, the Portuguese Water Dog loves being in the water and staying active. They are medium-sized dogs that are great for active families. They have coats that can be clipped short for an easier time maintaining their coat, especially with such an active lifestyle.
Related: Best Scottish Terrier Breeders in the United States.
4. Scottish Terrier
The Scottish Terrier can be a great fit for busy families with young kids with little maintenance. Their naturally short coats make shedding unlikely, which is great for allergies. They're playful and fun to enjoy life with, whether you're five or fifty.
5. Havanese
The Havanese is small yet full of energy. They get along well with kids and work well in various living environments. They can handle a bit of roughhousing with kids but are also up for snuggles at any time. They also have a reasonably long lifespan, which gives your kids a chance to grow up with the dog.
6. Bichon Frisé
The Bichon Frise is great with kids. This small dog is playful and almost always happy. Their fur can be groomed well into their puppy cut, which helps to reduce the amount of hair that can carry dander. This breed is pretty energetic and loves to play with kids. They also have a reasonably long lifespan, of around 15 years.
7. Westies
The Westie, or the West Highland White Terrier, are low-shedding dogs that are fun to have around. They usually weigh between 15-20 pounds and are very playful. Like most other terriers, the Westie can also protect its family. Keep this temperament in mind as you choose the breed that's right for your family.
8. Schnauzer
The Schnauzer can come in different sizes, giving you great versatility and flexibility in choosing the dog that's just right for you and your living situation. Their coats tend to be gray, play, and white and can be kept clipped or scruffy in the face and body. These dogs also have quite a bit of energy to go around, often being described as spirited.
Conclusion For The "Best Hypoallergenic Dogs For Families"
With various options for dogs that are easy on the allergies, you and your kids can enjoy a furry friend they'll love forever. While no dog is 100% hypoallergenic, some breeds don't shed as much, reducing the likelihood of spreading harmful dander into the air, on the carpet, and furniture.
This both helps your health stay well and your home much cleaner. With these breeds, you don't need to choose between having a dog and living your healthy and entire life.
Keep in mind that some dogs may trigger your allergies differently. It's essential to be open and honest about what you're comfortable with bringing home a dog. Discover a breed that's right for you and invite your family to welcome home a new puppy.
For more articles with mentions of hypoallergenic dog breeds, you can check out:
Learn more about the types of hypoallergenic dog breeds by watching "Top 10 Dog Breeds That Don't Shed or Smell" down below: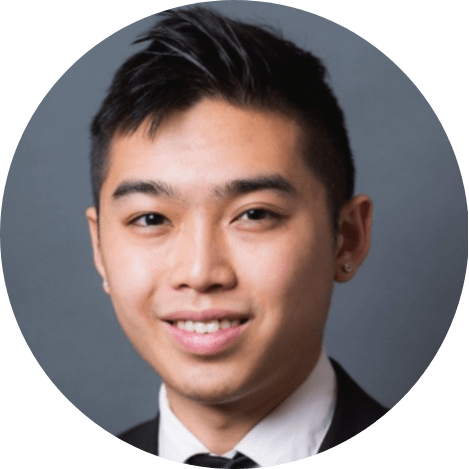 Andy is a full-time animal rescuer and owner of a toy doodle. When he's not saving dogs, Andy is one of our core writers and editors. He has been writing about dogs for over a decade. Andy joined our team because he believes that words are powerful tools that can change a dog's life for the better.
Why Trust We Love Doodles?
At We Love Doodles, we're a team of writers, veterinarians, and puppy trainers that love dogs. Our team of qualified experts researches and provides reliable information on a wide range of dog topics. Our reviews are based on customer feedback, hands-on testing, and in-depth analysis. We are fully transparent and honest to our community of dog owners and future owners.