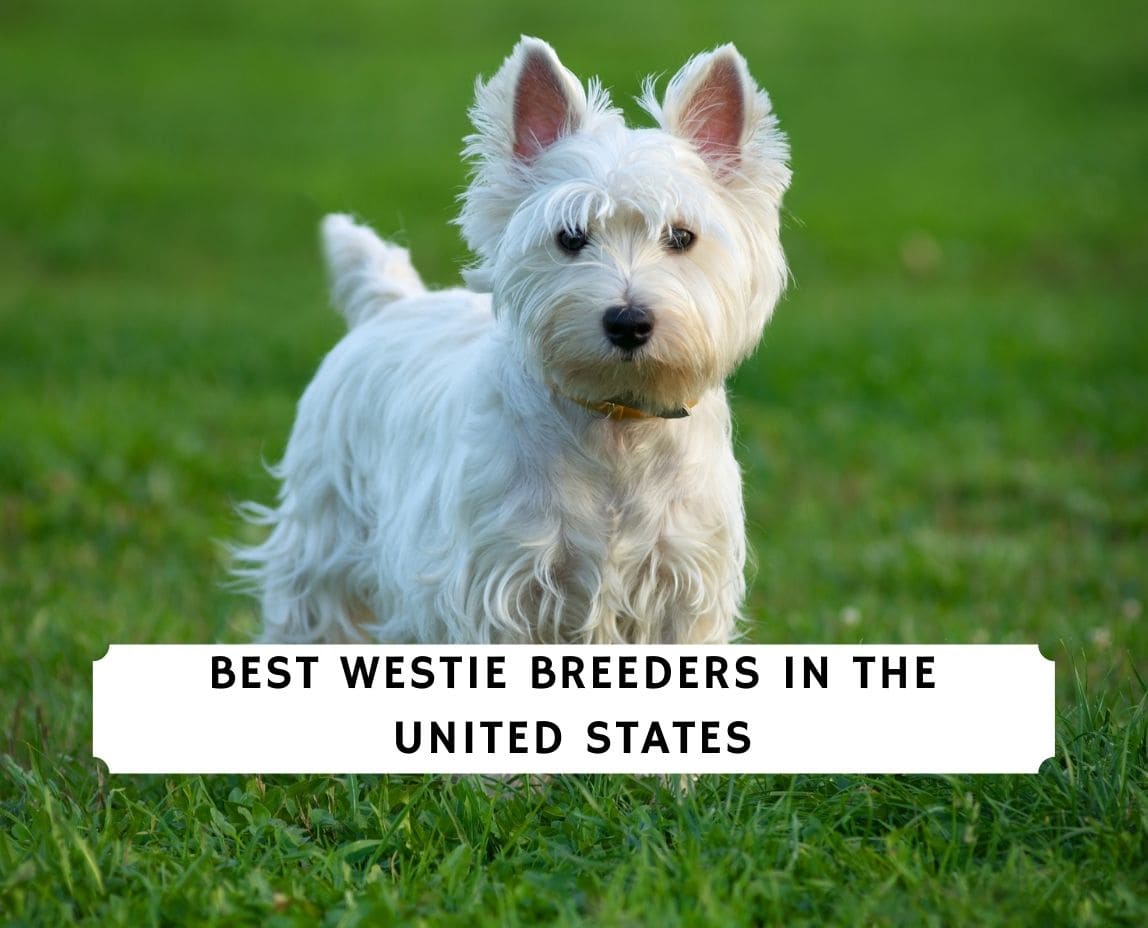 If you're searching for the best Westie breeders in the United States, you've come to the right place. The nagging concern of purchasing an unhealthy dog from a puppy mill can indeed halt your adoption plans.
You are stuck between desiring an adorable best friend and actualizing your dream. However, you can quit worrying because we have helped put together reliable USA-based Westie breeders. Read this article and contact the breeder that meets your requirements today.
Before scrolling down this list of Westie breeders, we have other similar dog recommendations for you: Best Samoyed Breeders in the United States and Best Toy Poodle Breeders in the United States.
Westie Puppies For Sale in the United States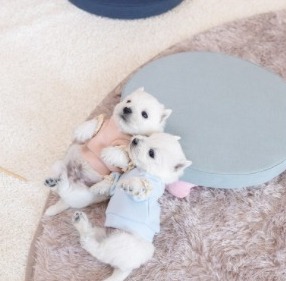 West Highland White Terrier puppies are charming and a must-have for dog-loving families. Nonetheless, it's crucial to get your puppies from the right source; below is a list of breeders and their contact details.
You can get started in advance with your Westie companion with our product recommendations: Best Dog Foods For Joint Health and Best Dehydrated Dog Food.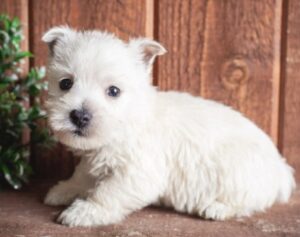 Screened with over 100 factors that decide health and happiness, PuppySpot is your #1 choice for getting a Westie puppy. If you want to get your "fur-ever" friend from a reliable breeder or kennel, PuppySpot can help. The partnership with the best Westie breeders around the United States to get you a healthy and happy puppy.
They remove the fear of being scammed online by breeders or kennels. Additionally, they have strict policies to ensure you experience pure joy when you get your puppy through them. PuppySpot is passionate about dogs and committed to providing quality.
Therefore, they provide a health guarantee and nose-to-tail health checkups on all the puppies before they go home with you. They have also partnered with industry experts such as American Humane, American Kennel Club (AKC), and the Make a Wish Foundation to prove their authenticity.
PuppySpot will also only list West Highland Terrier puppies when they are born. You can search by gender, color, height, and price to find the exact puppy you are looking for. We highly suggest that you check them out. We got one of our dogs from them and had a great experience.
PuppySpot Westie Details
2. Ailis Westies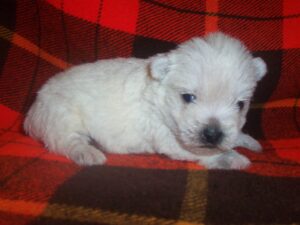 The next on the list of Westie breeders in the United States is "Ailis Westies." Ailis Westies is situated in Washington state and has been breeding Westies for over nine years. They ensure that the dogs are healthy, well-behaved, and can fit into your home.
The puppies met AKC standards, had excellent bloodline, and remained healthy. It is because they undergo tests before new families adopt them. They get vaccination shots, are de-wormed at least five times, and have fecal exams to check for parasites or infections. Furthermore, the kennel sends their blood when necessary to guarantee they are not susceptible to illnesses.
They produce healthy puppies with great attitudes. All the West Highland White Terrier puppies are appropriately raised and healthy; thus, they are well-grounded dogs. When you decide you are prepared to own your adorable West Highland White Terrier Dog, contact Aili's Westies as they can find one or more for you.
Ailis Westies Details
3. Altrincham Terriers
The breeder in charge of Altrincham Terriers is Loren Marino. She is a certified breeder with over 35 years of experience. The kennel is located in New Jersey and focuses on the quality of the breeds, not quantity. They meet the standards of the AKC; they are sound with a good attitude and agility.
The foundation breeds of Altrincham Terriers are champions, loyal, and have good manners and temperament. They also partake in competitive events like conformation, search and rescue, and serve as therapy or service dogs for disabled people. The breeder of the Altrincham Terriers has an excellent background in mentoring new Westies owners.
She has collaborated with breeders from at least ten different countries. The alliance has grown and shown diversity, strength, and knowledge prospects. Altrincham Terriers have experience in military K9, genetic research, behavioral improvement techniques, and other dog training.
Their breeding ideology prioritizes health and genetic screenings to produce adequate puppies instead of large litters of substandard value. The dogs are home-raised, so they have enough attention and socialize. It means that that experience the correct levels of stimulation and are hand-reared, which helps them adapt quickly.
Altrincham Terriers Details
4. Bebo & Company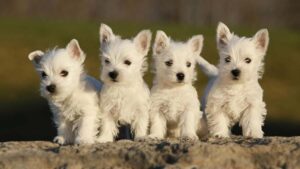 Bebo and Company are located in Ruston, Louisiana, ensuring their puppies meet APRI, ACA, AKC, or CKC standards. Before adoption, an in-house veterinarian checks the puppy; another vet must inspect the West Highland White Terrier puppies within three days of purchase.
If the dog is unhealthy, you will get another puppy that meets the same description, but Bebo and Company will get a replacement within one year if none is available. The adult dogs and puppies at Bebo and Company are raised on a 30-acre property. They have the space to run around and play early in the mornings and late in the evenings.
Bebo puppies are all socialized, groomed, and healthy. Also, special care is taken to ensure they are de-wormed, have collected their vaccinations, and do not have fleas or ticks. Bebo and Company introduce their puppies to crate training as early as 4weeks, and they start on grass-potty training immediately.
At about five weeks, the puppies gradually weaned by removing their mum. It helps them get used to being without her; they eat better, solid, and sound. Within a week or two afterward, they are weaned and are warming up to meet their new parents.
However, they do not leave Bebo and Company before seven weeks as they must be vaccinated and can't travel via plane. Ideally, they would be the right weight and age to fly without a nanny by eight weeks.
If you are considering adopting with Bebo and Company, you must call or send them a message using the contact information above. You may need to inquire or join a waiting list depending on the availability of the puppies. Next, they decide if the dog would fit into your home, then you make payments and arrange for pick up or shipping.
Bebo & Company Details
5. Black Creek Kennels
The Black Creek Kennels is situated at Godwin, North Carolina. They became an AKC breeder in 1999 and have since been committed to breeding quality Westies puppies for sale. It is a family business managed by Todd and Sharlene Wrench. The kennel provides as much information as a prospective parent needs.
The Westies are raised in a serene and clean environment, and they grow to be healthy and loving. Black creek kennels have proper conditioning and heating for different weather conditions. Westies from the kennel get vaccinated at six weeks. The vets give them their shots, and each one is up to date. Their dogs are socialized, strong, have enough space to play, and are healthy.
Black Creek Kennels Details
6. Burr Oak Stock Farm
Burr Oak Stock Farm is located in Indiana. It was established in 1857 and run by Nathan and Laura Smiley. Through the 150 years of operation, the farm has undergone several improvements. However, the animals' particular focus is given to ensuring quality breed.
It is committed to providing the perfect pets for prospective families. The West Highland White Terriers are healthy, well behaved, and socialized, plus they do not shed unnecessary making them an excellent fit for people with allergies.
Adopted puppies are vetted for worms and receive up-to-date vaccination. You may need to wait before you can take your puppy home if it weighs less than 2 lb. Burr oak stock farm is ready to answer questions regarding your puppy and give suggestions on how to care for them.
Burr Oak Stock Farm Details
7. Clayridge
Clayridge, located in Georgia, USA, has been running since 1976, and Don and Gilda Mallik manage it. They are former officers and present members of the West Highland White Terrier Club in Atlanta, America, and other reputable local clubs in Atlanta.
At Clayridge, breeding, grooming, and training Westies are more than a hobby because the dogs are loyal, loving, and independent. The dogs of Clayridge participate in events such as obedience, conformation, and performance, and they breed equally exceptional litters.
Obedience may not be typical for the West Highland White Terrier breed because they constantly thrive for independence, but it is possible. The clay ridge breeders find a way to give their dogs a sense of autonomy while remaining in charge. The intention is to keep the training short and give the dog the idea that the whole thing is their idea.
The foundation dog was just eight weeks when Don and Gilda got her, and she lived a whole life of 18 years with them. Clayridge breeds puppies with excellent bloodlines, attitude, and health. They surpass breeding standards, are certified and are up to date with their vaccinations and worming.
Clayridge Details
8. Czarcrest Westies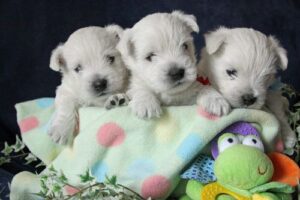 A hobby breeder runs Czarcrest Westies, yet it has bred about 58 AKC-certified puppies raised in the home. The kennel is located in Schererville, Indiana, where all dogs receive adequate attention and care. Czarcrest Westies produce at most three liters yearly, so you must wait before getting your pet.
Czarcrest Westies have produced champions, such as four-time specialty winner, Bluemoon. He has received awards in performance and looks by the West highland white Terrier club in America and specialty show. To ensure the quality of the Westies they breed, they follow strict rules that meet all breeding standards.
Czarcrest Westies also provide grooming services with over 30 years of experience. The in-house groomer and breeder, Michele, give each puppy special attention resulting in a great finished look. You can contact them with any questions you have using the information above.
Czarcrest Westies Details
9. Diane's Westies
Diane's Westies is situated in Candia, New Hampshire, and has been breeding Westie puppies for over 20 years. The dogs participate in obedience and agility training, but not confirmation activities. They are raised in a house, not kennels, so they receive attention and are not overstimulated and socialized.
They lead active lives and would occasionally get dirty from playing around. Furthermore, they enjoy long walks, swimming, and warm cuddles. Dogs from Diane's Westies are used to other dogs and people so they can tolerate all necessary forms of grooming.
Diane's Westies would advise you to come and see the puppies before adoption so you can bond and have a clear description. It is necessary as the dog would be with you and your family for about ten years, so you must be sure.
Diane's Westies sell the dogs with a spay and neuter contract. You may wait six months to a year as there's always a waiting list. However, the process is favorable for all parties involved. They are also available to answer questions regarding your puppy and share advice on how to care for them.
Diane's Westies Details
10. Gap Kennels and Melanie Clark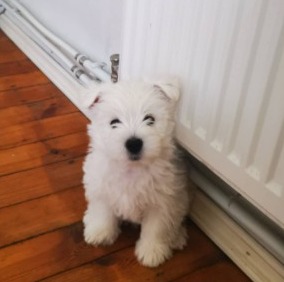 Gap Kennels is situated in Sylvania, Georgia, a serene environment perfect for dogs. It is managed by Melanie Clark, who has bred dogs for many years. They are a kennel with certifications from the American Kennel Club and are licensed by Georgia.
Puppies are checked regularly by vets and have received up-to-date vaccination. You would be offered a health guarantee card during the adoption process. The dogs are primarily home-raised, unlike most outdoor Westies.
However, they play around the yard in the morning and early evening. They encourage prospective families and friends to see their new puppies. It would help them understand the Westies' schedules and feeding plans so the dogs can adjust easily to their new home.
Gap Kennels / Melanie Clark Details
11. Jerrie's Pet Place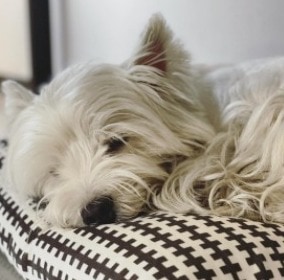 Last on the list of Westie breeders in the United States is "Jerrie's Pet Place." Jerrier's pet place is located in Georgia. It is licensed and inspected by state organizations and is sanitary for breeding West Highland White Terrier puppies. The puppies from Jerrie's Pet place are raised with adequate air conditioning and heating facilities. They start pad training early in their lives and perfect it on time.
The puppies come with a year's health certificate or the years they are on Nuvet vitamins. A vet checks your puppy within two days of adoption, and all the dogs have AKC certifications. The puppies grow in a home setting and are socialized; they are played with and shown love individually daily.
The breeders treat them like family members and look forward to meeting prospective parents. They want you to be pleased with your Westies before the adoption process. Jerrie's pet place is available to answer questions about your Westie puppies for sale.
Jerrie's Pet Place Details
Conclusion For The "Best Westie Breeders in the United States"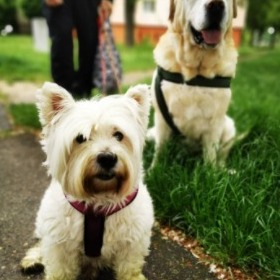 Westie puppies are cute terrier dogs originally from Scotland, but the breeders are now more rampant. Knowing the right questions to ask a breeder and researching before the adoption is essential. It is also crucial to try to see your puppy in its kennel or home before purchasing. Make sure the puppy has a health guarantee card and has had its vaccination shots.
For more dog breeds in the United States, check out:
To learn more about this cute dog breed, watch "West Highland White Terrier (Westie) – Characteristics and Care" from AnimalWised down below: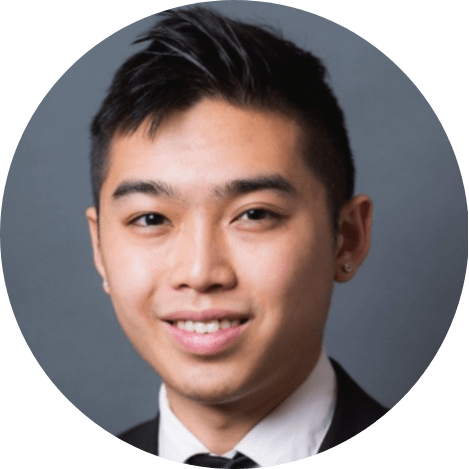 Andy is a full-time animal rescuer and owner of a toy doodle. When he's not saving dogs, Andy is one of our core writers and editors. He has been writing about dogs for over a decade. Andy joined our team because he believes that words are powerful tools that can change a dog's life for the better.
Why Trust We Love Doodles?
At We Love Doodles, we're a team of writers, veterinarians, and puppy trainers that love dogs. Our team of qualified experts researches and provides reliable information on a wide range of dog topics. Our reviews are based on customer feedback, hands-on testing, and in-depth analysis. We are fully transparent and honest to our community of dog owners and future owners.