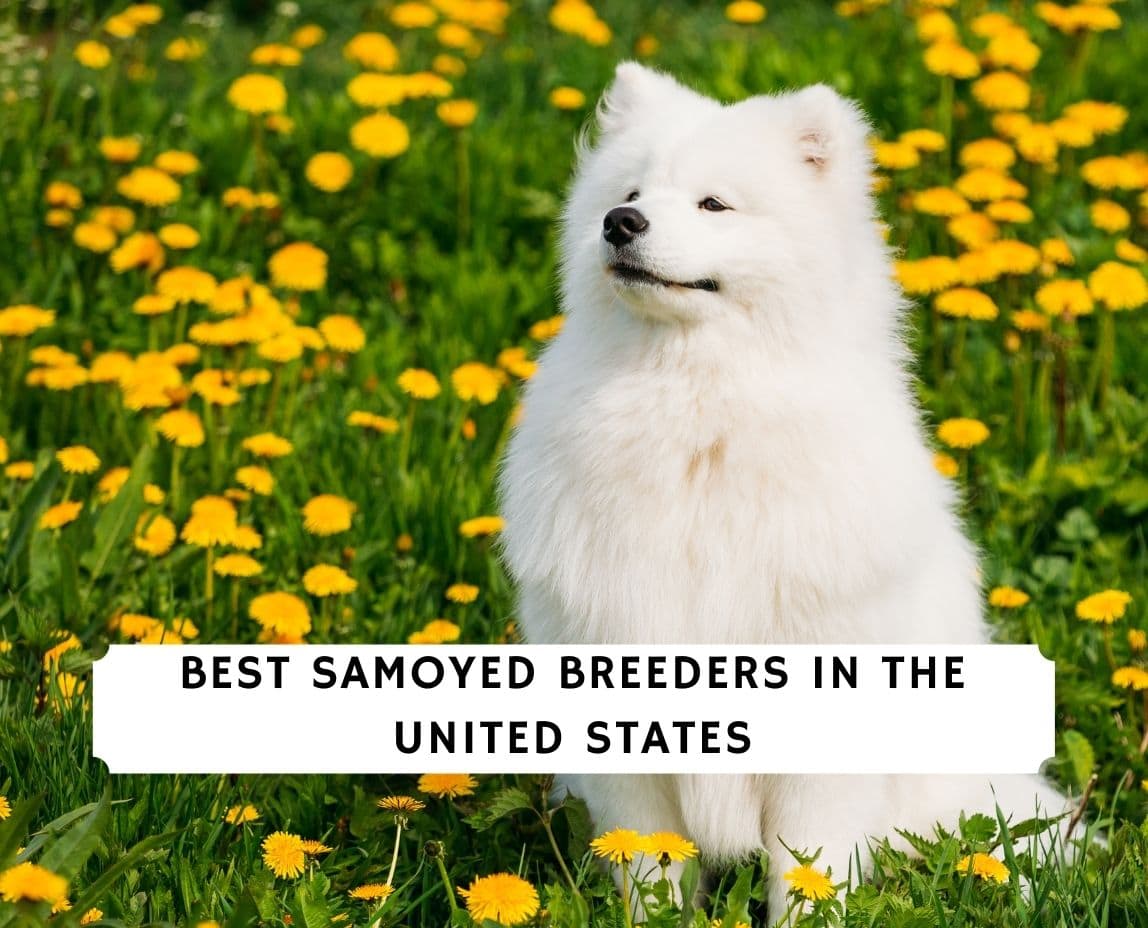 If you're searching for the best Samoyed breeders in the United States, then you've come to the right place. The Siberian-born Samoyed (both a working and family dog for the Samoyed people who lived in Siberia) is related to wolves and looks like a cross between a wolf and a polar bear cub. They are one of the oldest dog breeds and were a busy bunch, tasked with being sled dogs, herding reindeer, keeping owners warm at night – we are talking Siberia, after all – and participating in hunting expeditions.
They are brilliant dogs, but they are also strong, so inexperienced dog owners and dog owners with small children – who might find themselves being herded by this working dog – should look at another breed. Samoyeds demand mental stimulation and enough space to run and play. To satisfy their urge for learning, agility and obedience training is one place to start. Their hair is so long that it will shed significantly if not brushed regularly.
Before scrolling down this list of Samoyed breeders, we think you might be interested in similar breeds: Best Akita Breeders in the United States and Best Shiba Inu Breeders in the United States.
Samoyed Puppies For Sale in the United States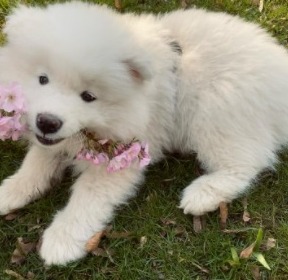 This list created by our team at WeLoveDoodles has everything you need to find a reputable breeder. If you're planning to bring home a companion from an unknown Samoyed breeder, we highly recommend you doing your research to avoid any possible puppy mills.
Get started in advance with our dog product recommendations: Best Dog Car Hammock and Best Flea Shampoo For Dogs.
1. Polar Mist Samoyeds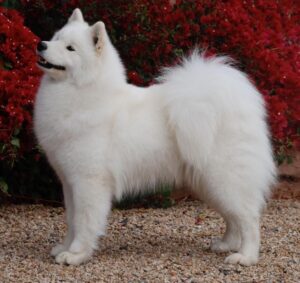 First on the list of Samoyed breeders in the United States is "Polar Mist Samoyeds." It should come as no surprise that Lynnette Blue fell in love with Samoyeds, since their howls sound like singing, and their smiles are irresistible. She started Polar Mist Samoyeds in 1971, and it is one of the best-known breeders in the country. Polar Mist is located on 20 acres of country land for the puppies to play on, a mountain view as their backdrop. Some of the best show dogs have come from her facility, as have therapy dogs, dogs that excel at agility and obedience, and dogs that are the best of family companions.
While Samoyeds require regular grooming due to their long hair, combs and brushes will work just fine if you use them regularly to keep any tangles out. One thing to be aware of, Samoyeds are pack animals, and they don't do well being alone. If you want your home to stay intact, perhaps consider adding one to your home only if you have another dog or choose two. You know it's going to impossible to resist those smiles, anyway.
Polar Mist Samoyeds Details
2. White Magic Samoyeds
Fluffy as a cotton ball when puppies, it's hard to imagine anyone passing by a Samoyed puppy and not wanting to give it a snuggle. White Magic is owned by Carrie Parma-Collier and her husband, Palmer Collier. The family lives in Orlando, Florida, after 20 years surrounded by Connecticut's Candlewood Lake, where dogs could swim and have the space to play. Carrie was just a teen when she made a cross-country trip to breed her first dog.
Carrie was a Samoyed Club of America member for more than 32 years. Her breeding experience and education have led to her puppies named Best in Show, Best in Specialty, and Westminster and Eukanuba Dog Show winners. The Samoyeds at White Magic are raised in a family environment, so once they arrive at their forever family home, they will be prepared to become another family member happily.
To ensure that the puppies that leave White Magic are healthy, they have a vet visit, deworming, and vaccinations before leaving for their new homes. And don't worry. You'll learn to groom and adequately feed and exercise your puppies before you bring them home. While a small percentage of Carrie's dogs become show dogs (the dog show experience fits into only a handful of schedules), most are loveable family pets.
White Magic Samoyeds Details
 3. Mystic Oz Samoyeds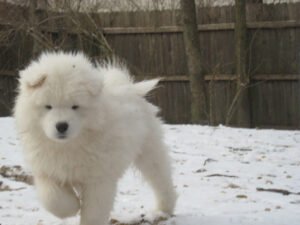 The owner of Mystic Oz Samoyeds, Lois Osmundsen, has been breeding various breeds of dogs for years, but the Samoyed has her heart. Since Samoyeds are prone to developing hip dysplasia, their parents are tested before they are bred. Her priority is to breed healthy, happy puppies that are less likely to develop health problems as they age. Samoyeds like to be with their people, and they require lots of affection. If they are not getting what they want, a fluffy white head will make its way under your hand to see that he or she gets all the petting and snuggles it requires.
They are lovers, not fighters, and won't do well as a family watchdog. They expect that everyone they meet will love them, and unless they encounter someone who doesn't like dogs – amazing that there are people who live like that – they are probably right. (They will, however, chase the UPS or FedEx guy so that they get to run.) At Mystic Oz Samoyeds, Lois works to not only preserve the best parts of the breed but improve those things that could be better. As much as one might like to look for flaws, the Samoyed is pretty perfect for the right owner.
Mystic Oz Samoyeds Details
4. Sweet T's Samoyeds
Owned by Tina Santiaho – a member of the American Samoyed Club – Sweet T's is based in Lancaster, Pennsylvania, where puppies are raised to be social, easily trainable fur babies. Because the dogs are intelligent, the initial training that Tina does before sending one of her puppies to its forever home helps establish a familiarity with training – and learning about living in a house with different textures (wooden floors, tile, carpet, etc.) – that will make it easy for the puppy's adoptive family to take over.
Sweet T's Samoyeds are suitable as show dogs, but they make loyal, loving family pets. It's important not to leave your fluffy white friend alone for long periods because they are very social dogs and could become depressed alone for extended lengths of time. Puppies are microchipped to help prevent the potential loss of your pet, and puppies don't leave Sweet T's without traditional health protocols, including de-worming, a vet visit, and vaccines.
Sweet T's Samoyed Details
5. Firecloud Samoyeds
Last on the list of Samoyed breeders in the United States is "Firecloud Samoyeds." Tami and Jim Lynch began breeding Samoyeds about 30 years ago, and their experience lives in their dogs. Tami was one of the founding members of the Barbary Coast Samoyed Club in California and served as president for six years. Jim was also a member, but the club shuttered last year due to COVID-19.
More than 40 champions have come from Firecloud Samoyeds, but perhaps more importantly, some of the dogs they have bred now are therapy dogs. That naturally happy disposition and love of people make that an excellent job for a fantastic dog. Firecloud's mission is to produce dogs with the original traits of their ancestors, along with improved health and temperament, so that they will make the most loving companions for their forever families.
Firecloud Samoyeds Details
Frequently Asked Questions
How much does a Samoyed puppy cost in America?
Depending on the bloodlines and breeder, a Samoyed puppy can cost anywhere from $500 to $3,000. Some breeders may even charge more for show quality or purebred puppies.
Prices will also vary depending on where you live and how popular the breed is in your area. We Love Doodles explains that Samoyeds are pack animals and don't do well living alone and that perhaps you should consider adding one to your home only if you have another dog or choose two. We Love Doodles also advises looking into your prospective kennels and doing your research to avoid purchasing from a puppy mill.
You can expect to pay more for a Samoyed puppy if you live in a large city or metropolitan area, where demand is higher. However, you may be able to find a cheaper puppy if you're willing to drive to a less populated area or adopt from a local rescue.
Are male or female Samoyeds better?
Female Samoyeds are more laid back and affectionate, while males can be more stubborn and aloof. However, both genders make excellent family pets. It depends on the individual dog's personality as to which gender would better fit your home.
Is a Samoyed better than a Husky?
There isn't really a definitive answer to this question since it depends on individual preferences and needs.
Some people might prefer a Samoyed because of its friendly and loving nature, while others might prefer a Siberian Husky for its high energy levels and independent streak. Samoyeds tend to be easier-going family dogs and are good with children; although Huskies are friendly, they may be a bit standoffish sometimes.
Ultimately, the best dog for you is the one that fits your lifestyle and personality the best. Here are the main differences between both breeds:
Size: Samoyeds are typically larger than Huskies. They weigh anywhere from 35 to 65 pounds and stand at 20 to 24 inches tall at the shoulder, while Huskies generally weigh 35 to 60 pounds and stand at 20 to 22 inches tall.
Samoyed
Males:     21- 23.5 inches
Females: 19-21 inches
Weight: Males 45-65 pounds
Weight:  Females 35-50 pounds
Husky
Males: 21-23.5 inches
Females: 20-22 inches
Weight: Males 45-60 pounds
Weight:  Females 35- 50 pounds
Life Expectancy for both male and female Samoyeds: 12-14 years
Coat: Samoyeds and Huskies have thick, double coats protecting them from cold weather. Samoyeds have a denser and fluffier coat, while Huskies have a coarser outer coat and a softer undercoat. Both breeds shed extensively, so regular grooming is necessary.
Activity level: Samoyeds are medium-energy dogs, while Huskies are high-energy dogs. Samoyeds need around 30 to 60 minutes of exercise per day, while Huskies need at least an hour (preferably more) of vigorous exercise each day. If you're looking for a couch potato dog, neither of these breeds is for you.
Trainability: Samoyeds are intelligent and eager to please, so they are relatively easy to train. Huskies are also smart, but their independent streak can make them stubborn and challenging to train. Both breeds need early socialization and obedience training.
Suitability for families: Samoyeds make great family dogs. They love being around people and are gentle with children. Huskies can also be good family dogs, but their high energy levels and strong prey drive can make them unsuitable for homes with small children.
Overall, there is no definitive answer to whether a Samoyed is better than a Husky. It really depends on your individual needs and preferences. If you're looking for a medium-sized dog with a friendly personality, a Samoyed might be the better choice.
A Husky might be the better breed if you're looking for a high-energy dog that can keep up with your active lifestyle. Whichever breed you choose, make sure to do your research and find a reputable breeder.
Which is better American Eskimo or Samoyed?
The American Eskimo Dog is alert, energetic, and intelligent. It also is a good guard dog and is easier to please. It has moderate activity needs and is good with children and other pets. The Samoyed is very affectionate and gentle and craves plenty of interaction with family, other pets, and people. This breed is also marvelous with children and other dogs.
Samoyed
Males:  21- 23.5 inches
Females: 19-21 inches
Weight: Males 45-65 pounds
Weight:  Females 35-50 pounds
American Eskimo Dog
Toy: 9-12 inches
Miniature: 12- 15 inches
Standard:  15-19 inches
Weight: Toy: 6-10 pounds
Weight: Miniature: 10-20 pounds
Weight: Standard:  25-35 pounds
Conclusion For The "Best Samoyed Breeders in the United States"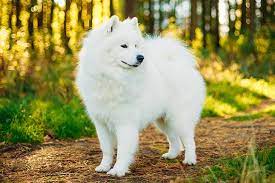 The best part about the Samoyed is that it has a long lifespan, from 12 to 15 years, so that it will hold a special place in your family for many years. Remember, though, that the dog bred to take on the frigid temperatures of Siberia doesn't love hot weather and should be kept near the air conditioning vent during the hottest part of a summer day. It's crucial to ensure that your Samoyed has plenty of opportunities for socializing because time spent alone does not make this dog happy.
A lonely Samoyed could be prone to depression, despite that glorious smile. Samoyeds are also strong-willed, so be strong-willed yourself, or be prepared to forever lose debates only because of that smile. Despite the brushing, need for exercise, and hatred of heat, the Samoyed is a popular dog because of its cheerful disposition. "American Idol" winner and "The Voice" judge Kelly Clarkson has one, Bradley Cooper and his mom both have one, and Ariel Winter from "Modern Family" shares one with her boyfriend. Because of the social nature of the Samoyed, they are often seen out walking together.
For more articles with mentions of the Samoyed dog breed, you can check out:
You can learn more about this breed by watching "The Samoyed Dog – Everything About The Breed" from Animal Watch down below: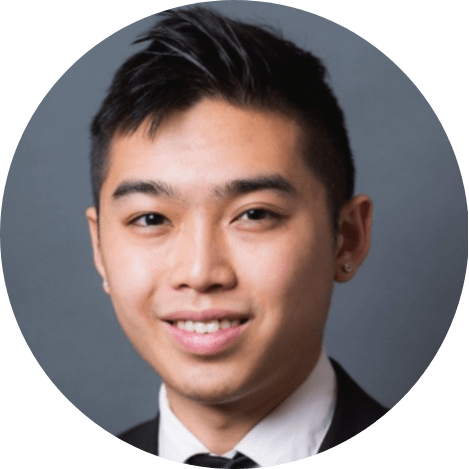 Andy is a full-time animal rescuer and owner of a toy doodle. When he's not saving dogs, Andy is one of our core writers and editors. He has been writing about dogs for over a decade. Andy joined our team because he believes that words are powerful tools that can change a dog's life for the better.
Why Trust We Love Doodles?
At We Love Doodles, we're a team of writers, veterinarians, and puppy trainers that love dogs. Our team of qualified experts researches and provides reliable information on a wide range of dog topics. Our reviews are based on customer feedback, hands-on testing, and in-depth analysis. We are fully transparent and honest to our community of dog owners and future owners.