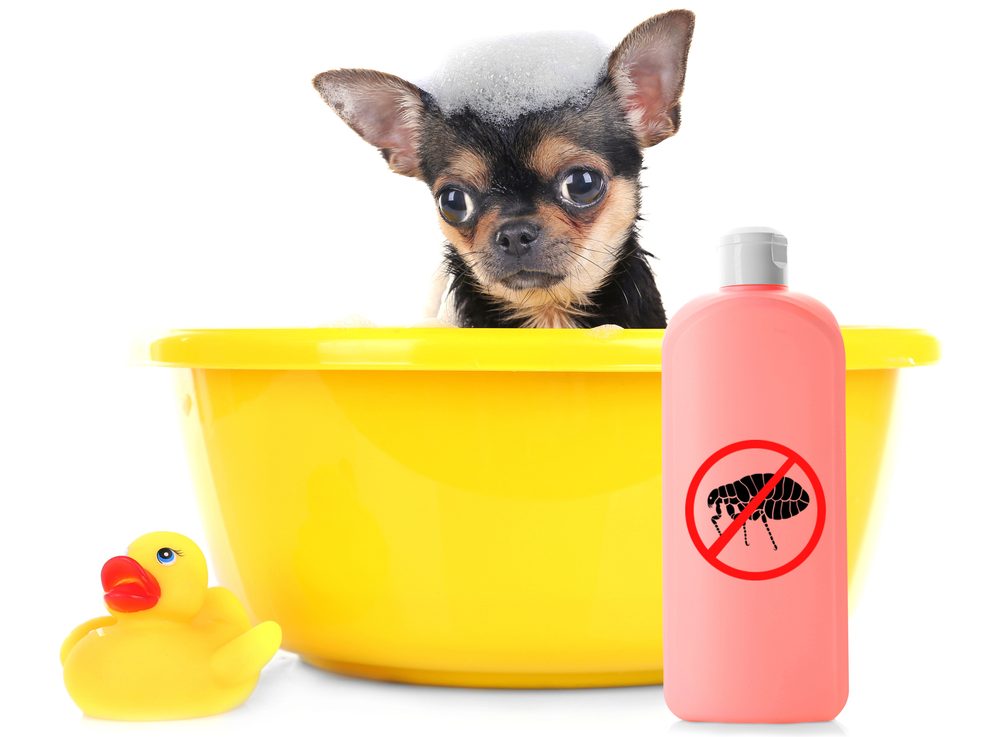 Fleas aren't fun for either you or your poor dogs. Fleas are tiny beasts that bite your dog's skin and make them very itchy. These bugs thrive in dog fur and will remain your dog until you do something about them. 
This can agitate and upset your dog which will leave them upset and less energetic until you can rid them of all blood-sucking fleas. Some dogs have thicker fur than others, making it more difficult for you to get rid of the infestation. 
Leaving your dog with fleas for too long can cause bigger issues such as infections that can even lead to tapeworm or heartworm. Tapeworm can be spread to humans as well, so you need to get rid of fleas as soon as you detect them. 
Luckily for all dog owners out there, we have spent a lot of time researching the best flea shampoo for dogs. Below we have listed the best options on the market as well as a buyer's guide to help you find the right shampoo for your dog. 
In a hurry? Here are the top picks!
Product
Best Overall
Adams Plus Flea & Tick Shampoo with Precor
Runner Up
TropiClean Shampoos for Pets
Budget Pick
Pet Oatmeal Anti-Itch Shampoo & Conditioner
SENTRY Oatmeal Flea and Tick Shampoo for Dogs
Image
Dog Flea Shampoos Reviewed
Seeing your puppy in discomfort is never enjoyable for any owner, which is why we don't want to waste another moment letting you know the best flea shampoo for puppies on the market. Our favorite has to be the Adams Plus Flea & Tick Shampoo with Precor, and below are a number of reasons why: 
The ingredients list is full of components to soothe your dog's skin and make them much more comfortable and less itchy.

It's not just fleas that will be in peril with this flea shampoo.

One use of this shampoo protects your dog from pests for up to 28 days.
The Adams Plus Flea and Tick Shampoo are effective at killing not only fleas, but also flea eggs, lice, and ticks. No matter that vermin has crawled their way onto your dog's skin, you're sure to get rid of it thanks to Adams and their flea and tick shampoo.
You might be thinking that such a powerful product would have some pretty adverse side effects such as dry and irritated skin, but this is not the case. Instead, the shampoo has a sensitive skin formula that contains aloe, coconut extract, lanolin, and oatmeal to keep the skin calm and moisturized.
One feature that we love about this product is that it can protect your dog from fleas and other pests for up to 28 days after the first use. Fleas commonly rear their ugly heads during the warmer months and calm down during winter, so a few regular uses of this shampoo can keep your dog covered for the entire flea season. To use this flea shampoo, you simply get your dog's wet and lather it in. It's very easy to use and comes recommended by several veterinarians.
The Adams Plus Flea and Tick Shampoo are effective at killing not only fleas, but also flea eggs, lice, and ticks. No matter that vermin has crawled their way onto your dog's skin, you're sure to get rid of it thanks to Adams and their flea shampoo.
The second option on our list is the TropiClean Shampoo which is ideal for offering your dog relief from flea bites. The shampoo is soap-free, paraben-free, and dye-free so that there are no harmful ingredients known to irritate your puppy's skin.
The TropiClean shampoo has the ability to remove all of the dirt and fleas from your dog's fur without removing all of the natural oils. This leaves your dog with their natural moisturizers to keep them happy and their skin soothed.
The naturally derived ingredients are completely safe for dogs and keep the shampoo pH balanced. You can use this shampoo on puppies as young as 12 weeks, so they can be relieved of the itch quickly so that you can get back to cuddles and bonding.
The scent is Neem and Citrus, leaving your dog with a fresh-smelling coat that is free of bad odors and nasty fleas. This is a shampoo for fleas that you can use all the time on your puppy to keep them less itchy.
Next up we have a 2-in-1 product that not only shampoos your dog's coat but also conditions it which keeps it silky smooth and well presented. Veterinarians have been consulted with this formula and even endorse the Anti-Itch Shampoo and Conditioner.
The formula in question contains oatmeals, baking soda, and aloe vera to ensure that your dog remains comfortable whilst you're getting rid of their flea infestation. This carefully formulated shampoo and conditioner are specifically for pets with sensitive skin, soothing hot spots, and itching skin.
Not only will this hypoallergenic and all-natural 2-in-1 shampoo make your dog much more comfortable and free of fleas, but it can also get rid of dandruff and it smells amazing with an oatmeal cookie scent.
The manufacturer confidently states that there are zero harsh chemicals within this formula, so you can rest assured that this is the best option for dogs with flea infestation on top of very sensitive skin.
The next flea shampoo is from SENTRY, and it is another oatmeal-based formula. The shampoo promises to clean, deodorize, and condition your dog's fur while also killing pests that might have found their way onto your dog's skin. The shampoo can kill new fleas for up to ten days, so it does protect your dog for a short while after use.
The Hawaiin Ginger smell leaves your puppy with a gorgeous scent for an impressive time after their bath, so you can enjoy a sweet-smelling pet while they have a more relaxed evening without the harrowing itch of fleas.
You can use this shampoo on your dog from 12 weeks of age, so puppies no longer need to suffer the consequences of biting insects either. The oatmeal is excellent for soothing sensitive and bitten skin, so your dog will feel relief almost immediately.
Hartz offers lots of different variants of their Flea and Tick Shampoo, such as ones with different scents (Fresh and Citrus), Deep Conditioning, Soothing Aloe, and Oatmeal. These are available for you to choose from depending on your dog's needs.

The shampoo cleans and deodorizes thanks to the sweet scents, as well as ridding your dog of fleas on the first contact. You can use this shampoo weekly as a preventative measure to ensure that fleas don't find themselves tempted by your dog's fur again.

The active ingredient is Phenothrin which is a chemical that has been proven to effectively kill fleas and ticks within the first use. Hartz offers simple yet effective flea shampoos at an incredibly low price. 
Dog Flea Shampoo Buyers Guide
Now that you've seen our favorite flea shampoos for dogs, let's take a look at the most important features to look for when choosing a flea treatment shampoo. Below we've taken the most important considerations to take into account and give you a quick insight into how to find the best flea shampoo on the market.
Ingredients
Some people like to use products that use chemicals (as long as they have been approved for use on dogs) within the flea shampoo as they believe that it is the most effective method of getting rid of the flea shampoo.
However, others like to use only natural ingredients to prevent their dogs from potentially suffering an allergic reaction. The choice is up to you whether you choose natural or chemical-based shampoo.
You might also want to look for a shampoo with conditioning ingredients, soothing components, and nourishing features.
Effectiveness
There is no point in purchasing a flea shampoo when it is not going to do the one thing that it is marketed to do. Unfortunately, not all flea shampoos are as effective as they should be and you might find yourself wasting money on good-for-nothing shampoos that claim to do something that they don't.
The best way to find out whether a flea shampoo is effective or not is to look at the customer reviews of each shampoo. Here you'll find previous customers who have either loved or hated the products and why they have this opinion.
Prevention
Some flea shampoos also come with the promise of preventing your dog from getting fleas again. If your dog is particularly sociable out in the park during walks, this might be more important than if your dog was to keep to themselves.
However, fleas can make their way into your life in a number of annoying ways, so prevention is always preferable. Again, a shampoo might offer prevention but fail to provide the results. So, read the customer reviews and see whether the majority of people have seen prolonged results with the shampoo that you're looking at.
Bottle Size
You should consider the size of the shampoo bottle in regards to your dog's size. If you have a very small puppy, you won't need to think about the size of the bottle as much as if you were to have a large dog.
It's indicated that you'll need to use enough shampoo to create a thick lather on your dog's fur. So, if your dog has a lot of furs you will need a larger bottle of shampoo, or you might even need more than one bottle.
This is the same for dogs with long coats compared to shorter coats. Lathering shampoo on a short-haired dog will be much easier and require less shampoo than a long-haired dog.
Price
Price is an important factor when purchasing anything, so the price will play a factor when it comes to choosing your flea shampoo. It's worth noting that flea shampoo is not necessarily better just because it has a higher price point. At the same time, the cheapest flea shampoo is not going to be the most effective.
Scent
Although flea shampoo is used to rid your dog of fleas, shampoo is also used to leave your dog with a fresh-smelling scent. Some flea shampoos have a putrid smell that is not pleasant for anyone, including you and your dog.
So, you might want to look for a flea shampoo that has a nicer scent to cover the smell of chemicals and flea treatments.
Conclusion for Best Flea Shampoo for Dogs
Treating your dog's fleas is very important because they won't just magically disappear. Sometimes your flea medication isn't as effective and you'll need to use an appropriate shampoo in order to get rid of fleas on your dog. We've given you 5 recommendations that we have tried and tested. 
Other articles you would like:
Frequently Asked Questions
How do you give your dog a flea bath?
To get the most effective results from your flea shampoo, you need to do more than give them a quick 5-minute shower. You'll need a tub, water source, flea shampoo, fine-tooth comb, and a preventative measure.
First, get your dog in the tub and secure them with a leash and collar. Soak your dog's fur with warm water that is not too hot to make your dog uncomfortable. Apply the recommended amount of dog shampoo and massage it into your dog's skin, taking the time to create a good lather.
Follow the instructions of the flea shampoo that you're using to prevent using it incorrectly. You might need to leave it on their coat for a certain amount of time. Make sure to keep your dog happy by talking to them and praising them.
Rinse the shampoo thoroughly with warm water and towel dry your dog before giving them a treat. Now you might want to use a flea comb to remove the dead fleas from their skin and introduce a preventative measure such as a spot-on treatment or a flea collar.
Garrett loves animals and is a huge advocate for all Doodle dog breeds. He owns his own Goldendoodle named Kona. In addition, he volunteers at the Humane Society of Silicon Valley, where he fosters dogs and helps animals. Garrett enjoys writing about Doodles and believes that dogs can teach humans more about how to live than humans can teach a dog.
Why Trust We Love Doodles?
At We Love Doodles, we're a team of writers, veterinarians, and puppy trainers that love dogs. Our team of qualified experts researches and provides reliable information on a wide range of dog topics. Our reviews are based on customer feedback, hands-on testing, and in-depth analysis. We are fully transparent and honest to our community of dog owners and future owners.