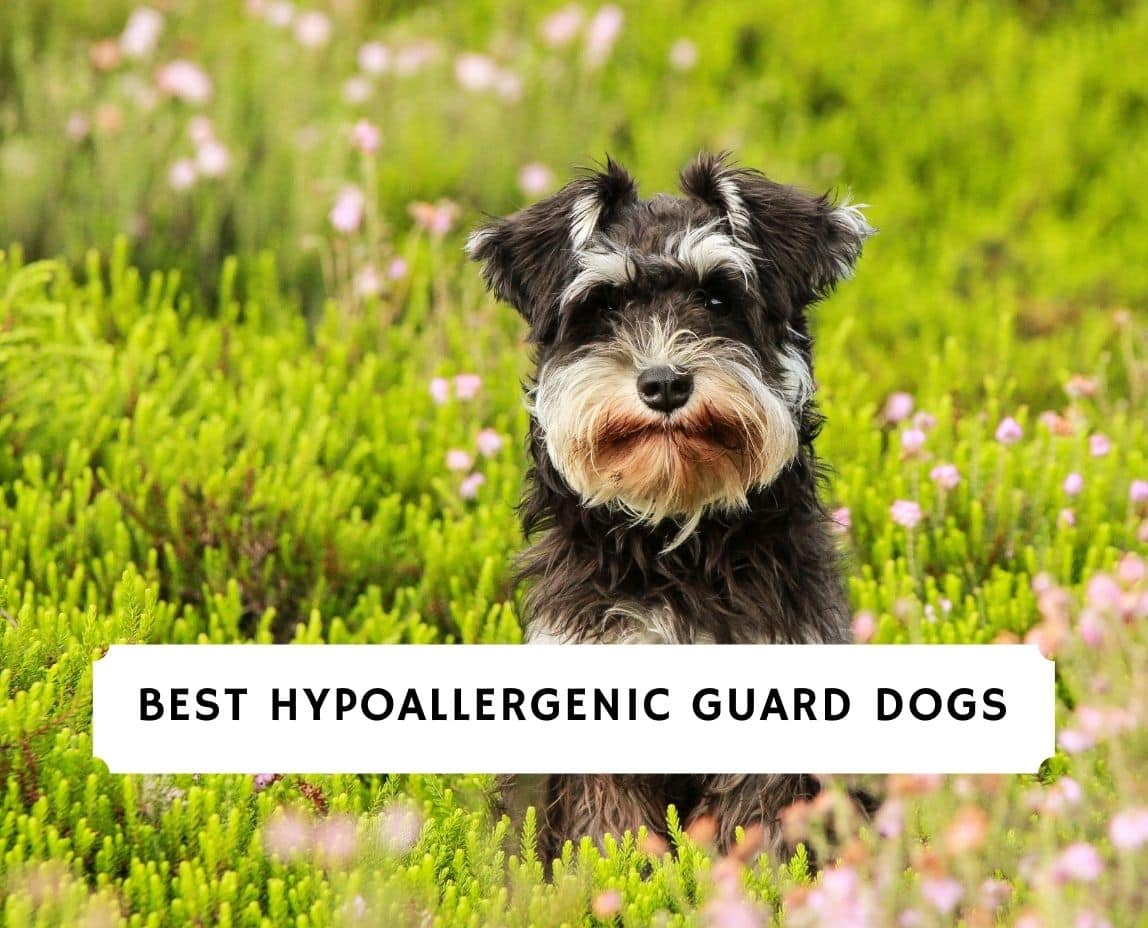 In this guide, we'll go over a list of the best hypoallergenic guard dogs. Here's what you need to know. Getting a guard dog for the family, especially if you have kids, is not a bad idea at all. Guard dogs are very great and super cool with kids – they're a great companion. They are excellent watchdogs, very intelligent, and discerning to differentiate strangers from members of the family. You may desire so much to get a guard dog, but you always have an allergy attack whenever you come close to one. The good news is that you can get a hypoallergenic dog breed; however, getting a Hypoallergenic guard dog can be very tasking.
Before scrolling down this list of hypoallergenic guard dogs, check out our other recommendations: Best Hypoallergenic Dog Mixes and Best Cute Hypoallergenic Dogs.
Hypoallergenic Dog Breed
Hypoallergenic dog breeds are breeds that are more suitable for people with allergies. While there are no dog breeds that are 100% hypoallergenic-free, there are many good dog breeds ideal for individuals with or suffering from allergies. Below is a list of some of these hypoallergenic guard dogs. You can't go wrong with the suggestions shared below, so make sure to go over each dog carefully.
Hypoallergenic Dog Product Recommendations: Best Hypoallergenic Dog Foods and Best Dog Litter Box.
1. Puli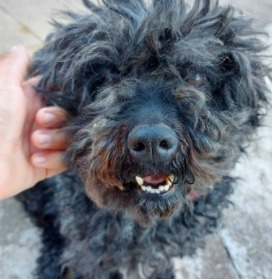 First on this list of the best hypoallergenic guard dogs is "The Puli." The Puli will leave you wondering what the mop is doing on the couch when you come in and find it on the couch. Their adorable mop-like non-shedding coat can pass for a mop. The Puli dog breed belongs to the herding dog group and has a history from Hungary. The Puli has a distinctive shaggy look. They are very compact and of medium size. They weigh about 25 to 35 pounds and are 16 to 17 inches tall, with a life expectancy of 10 to 15 years.
A puppy Puli coat looks dense and curly, but the coat turns into cords and tassels as it grows. The Puli is brilliant and strong-willed with a fierce spirit but very playful. They can be very protective; you can be sure you and your kids are in good hands. Just as it is the general characteristics of guard dogs, the Puli is very sensitive and intelligent; they can quickly identify strangers. The above makes it a great hypoallergenic guard dog you can have around. However, good grooming is required to keep the coat shedding minimal. It needs little attention when they're still puppies, but once they're past four months, their coat should be clean, brushed, and free of particles.
Related: Ways To Find Hypoallergenic Dog Rescues.
2. Standard Schnauzer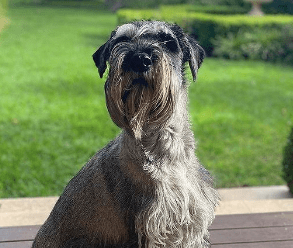 The appearance of the Standard Schnauzer alone would make one know that they pass for a guard dog. Their robust and squarely built body, adorable arched eyebrows, mustache, and beard cannot go unnoticed. They are a heavy-set breed with a dense and harsh coat. The male Schnauzer is about 18.5 to 19.5 inches tall, while the female is about 17.5 to 18.5 inches.
They weigh 35 to 50 pounds and 30 to 45 pounds respectively, with a life expectancy between 13 to 16 years. The Standard Schnauzer has a bold look with an aura of dignity and pride. They are always alert and ready to raise the alarm at the sight of unfamiliar faces or an intruder. They are brilliant and cooperative during training. They make a great companion and an excellent Hypoallergenic guard dog.
Schnauzer Mentions: Best Schnauzer Breeders in California.
3. Komondor
The Komondor is another hypoallergenic guard dog with a distinct shaggy look like the Puli. Komondors are big muscular dogs weighing about 100 pounds for the male and 80 pounds for the female, and they can weigh even more. They also have their history from Hungary and are among the best hypoallergenic guard dogs you can have around. They belong to the guardian dog group, they're brilliant and very cooperative and trainable, and they're, above all, very loyal.
The male is about 28 inches tall, while the female is about 26 inches. The powerful and large breed with a life expectancy of about 10 to 12 years can have them around for a long time. The fearless appearance of the Komondor shows they can't be toyed with. They are bright and very suspicious of any unfamiliar faces around. They are very loyal and are excellent guard dogs. However, they're very wary of strangers or intruders. Komondor needs to be well trained to curb aggressive behavior in them.
Komondor Mentions: Best Clippers For Long Haired Dogs.
4. Airedale Terrier
Airedale Terrier is one great dog allergy sufferers can think of getting, owning to their terrier gene. They are very courageous and clever. They make a great guard and companion, and they're very friendly and playful. An excellent choice for a family with kids. They'll alert you of an intruder and are always ready and willing to guard you. The Airedale is the largest of all Terriers you have around. This dog breed weighs about 50 to 70 pounds and is about 23 inches tall.
They were originally bred as working and hunting dogs with a life expectancy of about 11 to 14 years. Their majestic carriage and fearlessness can keep strangers and intruders away. However, they're very affectionate with kids. They have a moderately long and tight allergy-friendly coat with black and tan colors. Their pride and dignity can be seen in the way they carry their erect ears and docked tails. Airedale Terriers are very smart and alert; they're not troublesome but love barking and chasing.
Airdale Terrier Mentions: Best Airdale Terrier Breeders in the United States.
5. Portuguese Water Dog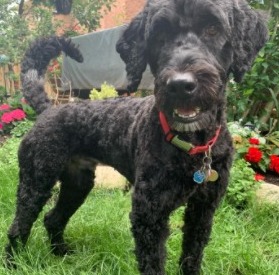 They are brilliant and great swimmers. Little wonder they're called water dogs. Portuguese Water Dogs are very athletic, adventurous, and affectionate with kids – what a great family dog Portuguese Water Dogs will make. Although they're excellent guard dogs, they're quick to make friends and are not aggressive or territorial. They are sturdy and well-balanced. They are also of medium size, bred initially to be a fisherman's aid.
The male weighs about 42 to 60 pounds and about 20 to 23 inches tall. On the other hand, the female weighs 35 to 50 pounds and is 17 to 21 inches tall. You can be sure of having them around for a long time as their life expectancy is between 11 to 13 years. They are very enthusiastic, and athletic training them will be with ease. Are you thinking of a super-smart hypoallergenic dog breed? The Portuguese water dog is your best bet.
Portuguese Water Dog Mentions: Best Portuguese Water Dog Breeders in the United States.
6. Irish Terrier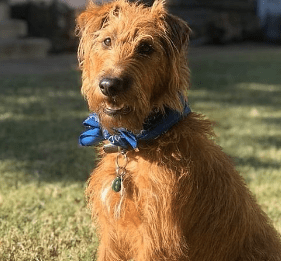 Irish Terrier is another terrier group with a long leg combining endurance and speed with power. They make excellent companions, owning to their smartness and protective nature; they're a very adorable family dog. They are so fearless and curious that they're tagged the "daredevil"; their willfulness and strong-mindedness make the name fit more. Irish Terriers are strong and muscular, weighing about 27 pounds, and are 18 inches tall.
They can be your companion for a long while as their life expectancy is between 13 to 15 years. Their adorable dense and wiry single red coat makes them stand out and unique. They are very bold but tenderhearted that kids cannot help but love them; they make great companions. However, their tenderheartedness should not be taken for weakness as they're ready to attack any intruder. They are a loyal and gentle pet you can have, but they're very courageous to defend their people.
Irish Terrier Mentions: Top Big Dogs That Don't Shed.
7. Bouvier Des Flandres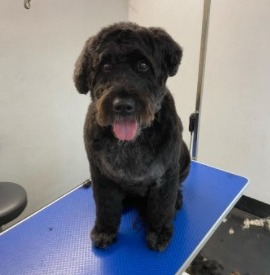 Last on this list of the best hypoallergenic guard dogs is Bouvier Des Flandres. A very hardworking and great watchdog, any allergy sufferer can think of getting as a guard dog. Bouvier des Flandres used to be tagged farmer's aid as you find them doing different tasks around the farm. Farmers love them a great deal. They are so good at protecting livestock and herding. They belong to the herding dog breed and got their name from the type of work they're bred to do "herding." They are powerfully built with a compact body weighing 70 to 110 pounds and are about 25 to 28 inches tall.
Their life expectancy is between 10 and12 years. They make a great family dog and a superb watchdog. Bouvier des Flandres are very courageous and strong-willed. However, they're very affectionate too. They can be very protective of their own, but they're calm and not aggressive, but they can identify intruders. The above list of hypoallergenic dog breeds is just a few of many others that you can get. As mentioned earlier, they're no 100 percent hypoallergenic dogs. Some are less allergen than others.
Getting a bit of advice from your vet or a trusted breeder can also help determine which hypoallergenic dog you should get. It is worthy of note that guard dogs can be naturally aggressive and territorial, hence the training. Training your guard dogs goes a long way in curbing are aggressiveness and their territorial behavior. Early training is an excellent way to get the best out of guard dogs, making them that pet you have long imagined.
Conclusion For The "Best Hypoallergenic Guard Dogs"
Allergy sufferers can also own a pet as any of the above-listed breeds make a wonderful hypoallergenic guard dog. Grooming your pet's coat by brushing and trimming those with long coats can help minimize shedding. It's not a bad idea to get advice from your vet or reliable breeder to make a choice.
For more dog recommendations from WeLoveDoodles, you can check out:
To learn more about this topic, watch "Best Hypoallergenic Guard Dogs" from Dogvills down below: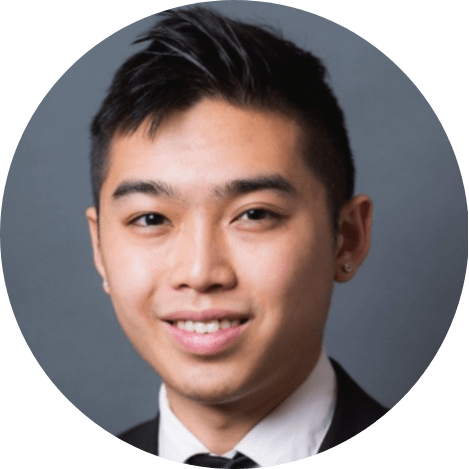 Andy is a full-time animal rescuer and owner of a toy doodle. When he's not saving dogs, Andy is one of our core writers and editors. He has been writing about dogs for over a decade. Andy joined our team because he believes that words are powerful tools that can change a dog's life for the better.
Why Trust We Love Doodles?
At We Love Doodles, we're a team of writers, veterinarians, and puppy trainers that love dogs. Our team of qualified experts researches and provides reliable information on a wide range of dog topics. Our reviews are based on customer feedback, hands-on testing, and in-depth analysis. We are fully transparent and honest to our community of dog owners and future owners.