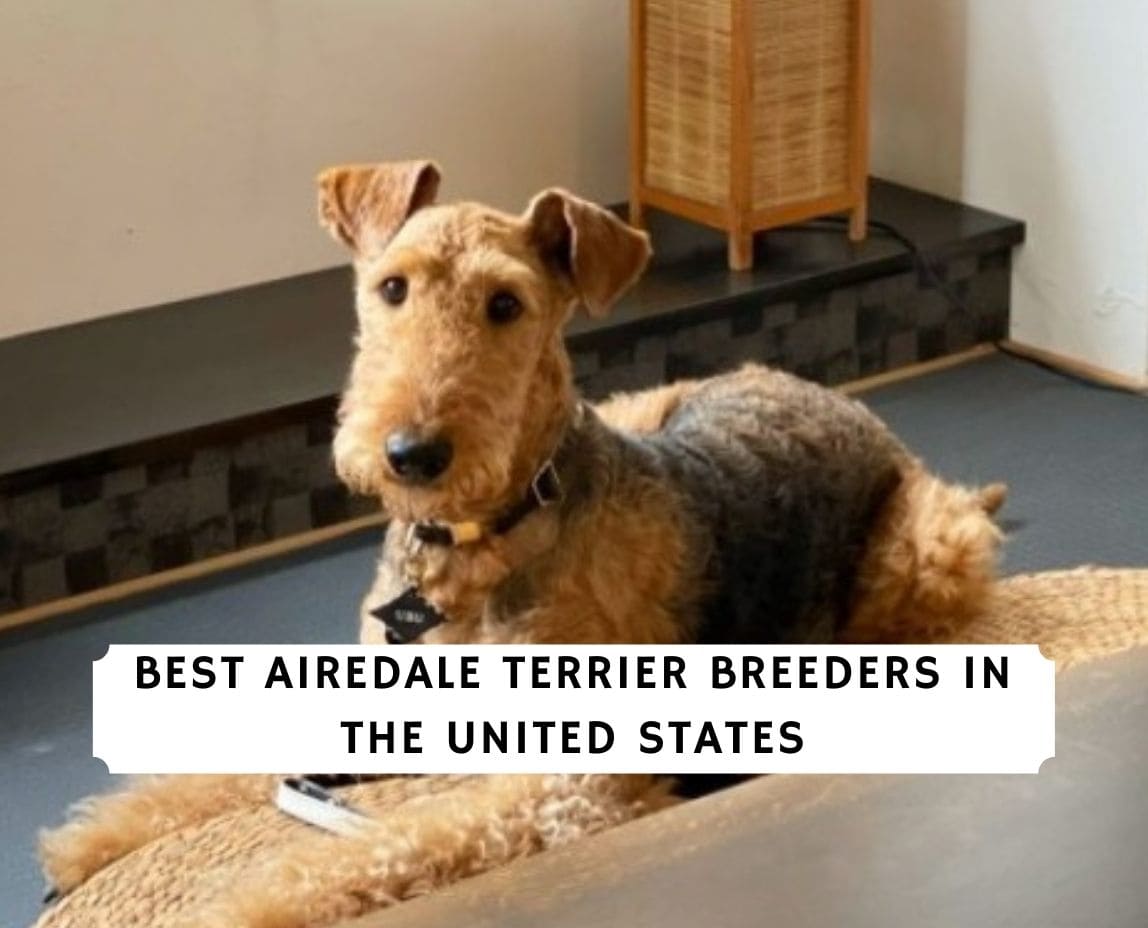 If you're searching for Airedale breeders in the United States, then here's a little something you should know. The Airedale Terrier is not for everybody. These breeds are known to be among the most intriguing dogs you will discover anyplace. They can be curious and interested to the extent that no one can tell what they will be doing. Adopting an Airedale is an adventure, at times a test, yet consistently full of enjoyment.  They are exceptionally clever, lively, simple to train, and genuinely have the belief that they are intended to be at each event your family has. Airedales are faithful and defensive, making them the ideal family canine. With a decision to adopt an Airedale in addition to the family, check out this list of some reputable Airedale Terrier breeders in the United States.
Before scrolling down this list of Airedale Terrier breeders, we think you might be interested in other breeds: Best Scottish Terrier Breeders in the United States and Best Westie Breeders in the United States.
Airedale Terrier Puppies For Sale in the United States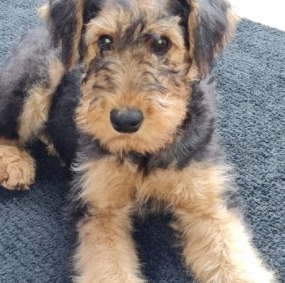 Airedales like to be a significant part of your life. They would prefer not to be let alone in the yard. They want to be directly close to the family, ride in vehicles, end up in a good place, and appreciate a public activity. Below is a list of some of the best Airedale Terrier breeders in the United States.
You can get started in advance with your Airedale Terrier with our product recommendations: Best Flea Collar For Dogs and Best Flea Shampoo For Dogs.
1. Lynaire Airedale Terriers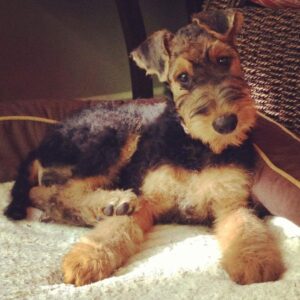 First on the list of Airdale Terrier breeders in the United States is "Lynaire Airdale Terriers." Lynaire kennel has been delivering cheerful, sound, and conformationally right Airedale terriers for a few ages. The owner, Linda Jarvis, has been reproducing and showing her Airedale terriers with numerous champions since 1983. She is a previous president and current board member from the Airedale Terrier Club of America. She stays exceptionally dynamic in the game of dogs, going to courses, and as a judge.
As an AKC Breeder of Merit, she began breeding Airedale Terriers in 1984. Linda sees Airedales as an intelligent breed, although they are not for everybody. The Lynaire Airedale Terriers have been shown in obedience and conformation with victory in the 2017 national specialty with Grand Ch. Lynaire Pirate Queen. They offer other various services, which include training and spa, boarding, and crematory. Lynaire offers our canine visitors huge play yards with toys for individual or family recess.
Unlike other kennels that only offer playtime in large gatherings, Lynaire furnishes one-on-one recess with a mindful Kennel Professional, permitting your canine to play ball, frisbee, or tug in a monitored, fenced-in territory. For the well-being of these pets, they do not involve in group play except if they are housemates. Each of the "Club K-9" Premiere Suite guests is spoiled with a minimum of two nature strolls and two playtimes every day. Nature strolls along one of their paths are essential for the difference that the Lynaire Kennel makes, as their recently redesigned facility is settled in a wooded, park-like setting.
Lynaire Airedale Terriers Details
2. Aubert's Airedales
At Aubert's Airedales, they see their puppies as their family. They are mindful to guarantee each puppy is put in its right home where they will get the consideration, care, nourishment, and exercise they require.  The Aubert's Airedales are AKC breeders of quality purebred with a standard size weighing from 50 to 60 lbs. The Aubert's Airedales puppies come with AKC registration, a packet containing the puppy's information, and a health guarantee. Their puppies are brought up in the Aubert home and are all socialized and basically potty trained when they are set to leave for their new homes. The Aubert's Airedales breed their dogs, intending to be used for home and family protection and companionship. The Airedales are bred for health, conformation, and temperament.
Aubert's Airedales Details
3. JOVAL Airedales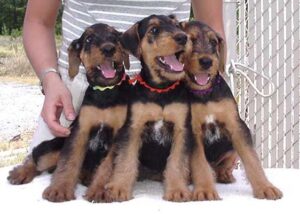 Dr. Valeria Rickard and John Rickard own the JOVAL Airedale kennel. The objective of the JOVAL Airedales kennel in the breeding project is to enhance the well-being and disposition of the breed while adjusting to the American Kennel Club standard for the breed. JOVAL is an AKC Breeder of Merit and has been based upon and improved from the foundation of the breed's genetics. They have delivered numerous champions and numerous acclaimed and striking dogs in the United States and worldwide.
Continuously, they strive to improve something in each litter they produce. Their fundamental reason for having a litter is to sell the puppies and keep one of the puppies based on experience as a great combination of parents and proceed with their breeding program. In this manner, they put a ton of additional thought into each litter they produce. Consistently, their dogs have been winners at All Major Airedale Terrier Specialty Shows, revealing excellent type and consistency, and have been ranked in the top ten in the United States for over twelve years.
Their puppies come from an outstanding pedigreed stock and an impeccable foundation; they are raised in the JOVAL home and family setting with a provision of comprehensive health testing. The JOVAL puppies are family-matched, well socialized and temperament tested. When the puppies are adopted, they come vaccinated, dewormed; health checked, and micro-chipped. You will also be given a packet that contains invaluable information about your chosen puppy. The JOVAL kennel provides a health guarantee and lifetime support for the extended JOVAL Airedale families.
JOVAL Airedales Details
4. Bajanaire Kennel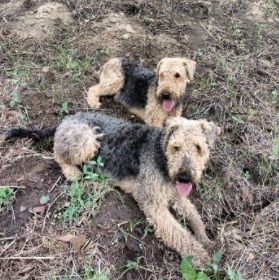 The Bajanaire kennel was established in 1984 by the Baker family. Bajanaire's stud dogs are known for their high knowledge, conformational greatness, and lovely temperament. All dogs of the Bajanaire kennel have undergone an x-ray, have passed the OFA test of hip dysplasia, and adjust to the American Kennel Club standard. The Bajanaire dogs live in the home; therefore, a reduced number of dogs are kept and bred. The Bajanaire kennel has been a long-term member (for over 30 years) of the Airedale Terrier Club of America.
When you adopt a Bajanaire puppy, it comes with information on its pedigree, an American Kennel Club registration application, a written, signed health guarantee, and training information. Each puppy will have been wormed, minimally immunized for distemper and parvo, and checked by the veterinarian before leaving the premises and moving to their new homes. Also, the kennel provides services such as grooming (not hand stripping) and ear setting for their puppies or other breeders' puppies.
Bajanaire Kennel Details
5. Singing Hills Kennel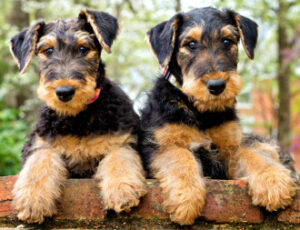 Bruce owns singing Hills Kennel and Caron Jones, both recognized as Breeders of Merit by the American Kennel Club. The American Kennel Club has inspected its facility, and it has been certified to meet all of its compliance requirements. Unlike many other breeders who breed whatever dogs they possess, the Singing Hills Kennel only does selective breeding. The Singing Hills Kennel legacy depends on 50 years of producing excellent temperaments and brilliant buddies.
Based on the gender of the puppies, they require them neutered or spayed at a suitable age. Also, they need their puppies to be registered through the AKC by their new owners. Time and experience have demonstrated their canine's genealogy to be liberated from raised paces of infection, genealogical hip issues, or other medical problems. Purchasing from the Singing Hills kennel comes with the certainty that your pet comes from a long queue of cheerful, sound dogs.
Most of the Singing Hills Puppies go to their new homes at around 8 to 9 weeks old. The puppies come with health information data, which contains the record of the entirety of your little dogs' current vaccines and other medical care items. This record is the same data you will provide for your veterinarian so they can keep your doggy current on all immunizations and safeguards.
Singing Hills Kennel Details
6. Longvue Airedales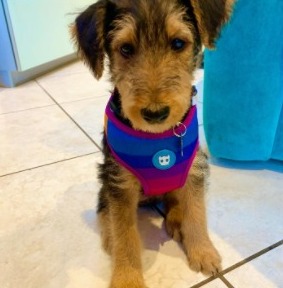 At the Longvue Airedales kennel, the Airedale Terriers are their passion, and they have gone through more than 40 years cherishing and living with the "King of Terriers." They are committed to delivering Airedales that perform excellently in looks and character – puppies reproduced to become remarkable family companions, willing workers in performance exercises, and stars in the show ring. The entirety of their young doggies is brought up in their home with exposure to different animals and regular socialization with kids.
The Longvue home and kennel are dog-friendly and carefully designed for the appropriate care of puppies and adults. The Longvue Airedale puppies are registered with the American Kennel Club, have all health clearances, are microchipped, and are sent to their new homes with a written guarantee. Also, they make themselves available to you for the duration of the puppy's existence for direction and help. At Longvue, each litter they breed is painstakingly arranged and planned, so the subsequent little dogs are gorgeous, healthy family allies with loads of character.
Their puppies fit well in various circumstances. Their puppies come from Champion parents who look and act like Airedales ought to. The parents are health confirmed by CHIC, and the puppies are brought up in their home and socialized from birth. They have their dewclaws eliminated and tails docked. Each puppy is painstakingly examined by the veterinarian and gets its first "doggy shot" before leaving for its new home. The puppies are microchipped for identification and also come with a recovery service at no expense for you. Additionally, you get a complete pedigree, written guarantee, a collar and toy, and a book brimming with little dog care data.
Longvue Airedales Details
7. New Point Kennel
Frank and Jennie Freeman set up the New Point Kennel since the year 1988. They started the kennel with superb bloodlines, intending to fundamentally focus on the health and temperament of the breed while they stick to the Airedale standard. New Point kennel invests heavily and derives its joy in giving unique pets and health guarantees for people or families at a reasonable expense.  They strongly believe in the quality and not the quantity of what is produced.
They provide the dogs with one-on-one attention and care, which includes nutrition, grooming, and conditioning. They believe that the more they can give the dogs one-on-one attention, the better the bond with the dog, the better team will become, and the more they get to accomplish their goals. The New Point Kennel is associated with the Airedale Terrier Clubs of America, Airedale Terrier Rescue, North American Working Airedale Terrier Association.
New Point Kennel Details
8. Glenayr Ranch LLC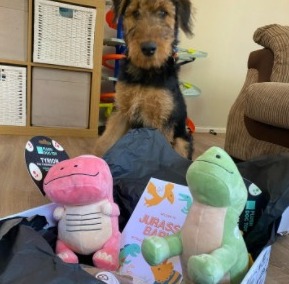 Last on the list of Airdale Terrier breeders in the United States is "Glenayr Ranch LLC." Glenayr Ranch is known for the nature of its Airedale terriers that are AKC Registered. The homestead has sold and raised numerous dogs that have won show honors or been great family pets. The kennel is not a puppy mill but a small breeding operation that is cautious about the nature of its dogs and the number that are reproduced.
Glenayr farms offer Airedale puppies and adult dogs, and it is careful about where the dogs are set. The kennel is made in such a way that the Glenayr Airedales have heaps of space to run, practice, and appreciate the outside. The 58-acre land ranch gives a lot of room and a healthy climate for raising happy and valued dogs. The Glenayr Farms have been showing award-winning titles for a long time and have won many show titles in the United States and other parts of the world.
Glenayr Ranch LLC Details
Conclusion For The "Best Airdale Terrier Breeders in the United States"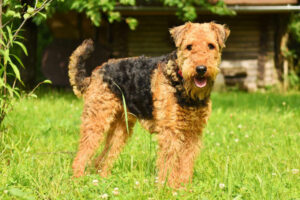 The Airedale Terriers have a great deal of energy, get exhausted with repetitions, and make their fun if not given. They're smart, thinking dogs and require a ton of tolerance in training. If you can be patient with them, you will be rewarded with an amusing, cherishing buddy. The Airedale can likewise be a possibility for individuals who are sensitive to dogs, as they are hypoallergenic. However, the best way to start adopting an Airedale Terrier is to find a reputable breeder, and we have helped you with that. Take a look at the list of Airedale Terrier breeders above and make your choice.
If you're still unsure of this list of Airedale Terrier breeders, you check out other dog breeds:
To learn more about the breed, you can watch "All About Airedale Terriers: King of All Terriers" from Dogumentary TV down below: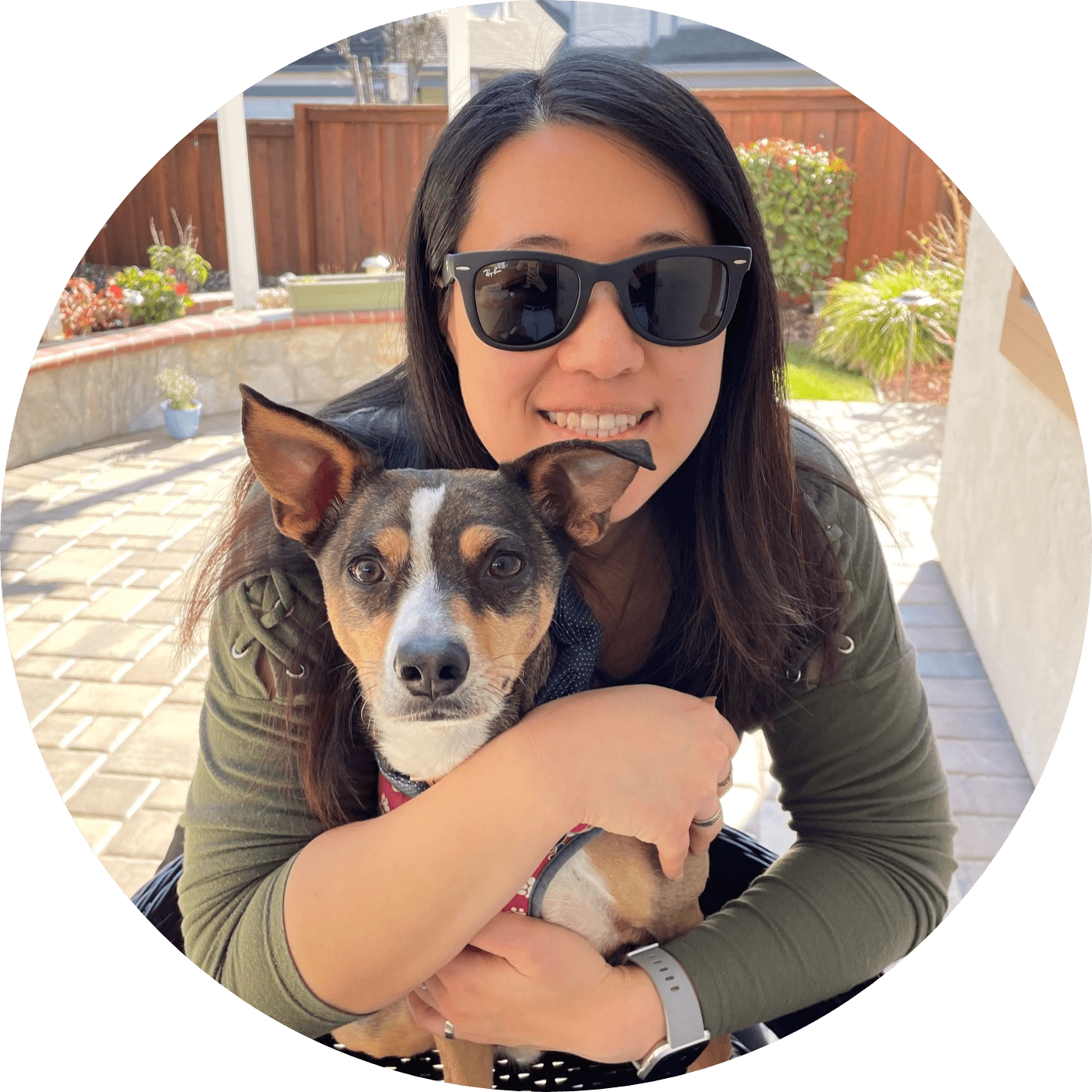 Dr. Sabrina Kong graduated from the Royal Veterinary College in England in 2016 and has been working at a small animal clinic in Northern California since then. She grew up in the Bay Area and got her bachelor's degree from Cal Poly San Luis Obispo. She also became a Certified Canine Rehabilitation Practitioner through a program at the University of Tennessee.
When she isn't in the clinic taking care of her four-legged patients, she enjoys traveling and trying new foods with her friends and her three-legged dog, Apollo. She adopted Apollo from her clinic when he was a puppy with numerous health issues. Dr. Kong truly cares about taking care of animals.