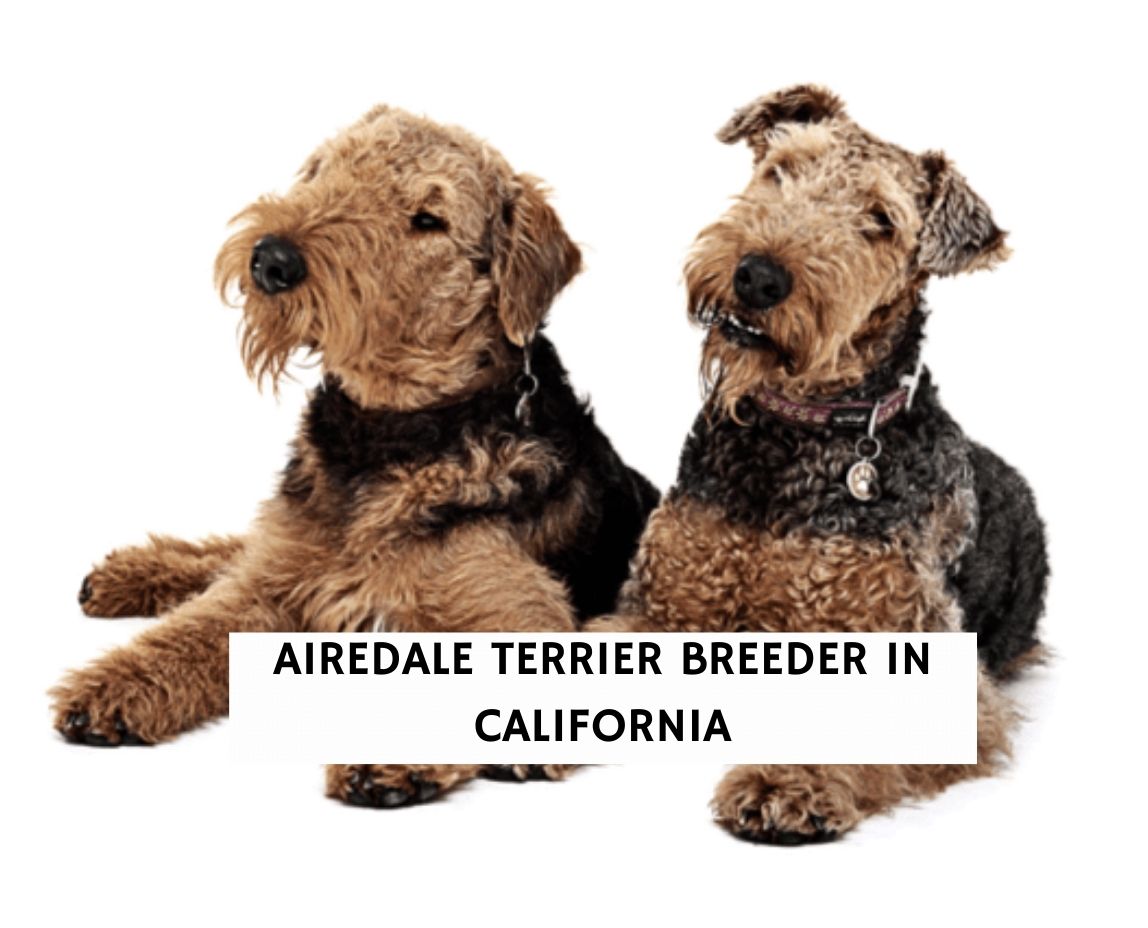 Airedale Terriers love to lead active lives but despise repetitive activities. They have grown in popularity in recent years because their wiry coat doesn't tend to shed as much as other dog breeds. Additionally, they have distinct pointy faces, floppy ears, and smiles that are irresistible. Read this article to find your Airedale Terrier breeder in California if you're looking for a puppy!
Before scrolling down this list, check out these recommendations: 8 Best Airedale Terrier Breeders in the United States!
Top Airedale Terrier Breeders In California
The Airedale Terrier dogs are energetic breeds. They require a lot of tolerance while training and you need as much patience as possible to appreciate them. The dogs are sweet-natured and amusing.
When choosing an Airedale Terrier puppy, you'll want to ensure you're adopting from a reputable kennel in order to avoid genetic diseases and other health issues. Since breeders raise your puppy for the first 8 weeks of their life, it's crucial to find someone that will care for their puppies like they are family. In this article, you'll find your Airedale Terrier breeder in California and get the newest addition to your family.
1. WinDancer Airedales
WinDancer kennel is located in Tracy, California, and the lead breeder is Nancy. At WinDancer, they are passionate about their Airedale puppies and show them all the love they need. The dogs are raised with flexible schedules like exercises, grooming, training, and fed with an appropriate diet. Additionally, the puppies are socialized as they always have human contact; family, friends, and visitors cannot resist touching the cute puppies. They are crate and potty trained before adoption, and would also have experienced car rides, different sounds, and surfaces.
Their Airedale Terrier puppies for sale go home with health guarantee certificates that certify that their bones and eyes are defect-free, and you'll get AKC registration papers. They also have a sentimental package that helps them adjust, like toys they played with and blankets with their mom or siblings' scents. WinDancer puppies are microchipped, dewormed, and vaccinated before leaving the kennel. The kennel is intentional about breeding, so the sire and dam are properly checked (especially if they are outsourced); their health, DNA.
Nancy is certified by the AKC and is a member of various dog training and the Airedale Terrier clubs. She loves dogs and focuses on breeding healthy and happy puppies. Additionally, she treats them like family members and prioritizes the fitness and welfare of the dogs as often as possible to enable them to live whole, comfortable lives. To get a puppy from WinDancer, send a message to Nancy and ask about the availability and reservation process. The puppies cannot leave the kennel before 10 weeks as they need time to mature.
In their early life, they need to nurse and develop an appropriate connection with their littermates and mom to help their social skills with their new family. Hence, the new puppy would stay a bit longer with the breeder, siblings, and mom until slightly over 2months. You may pick up your Airedale Terrier puppy at the WinDancer kennel or the airport closest to the breeders' location. In this case, it could be Stockton Metropolitan Airport or Sacramento, Oakland, and Norman Y. Mineta San Jose international airport. You would need to decide on which location is best for you and arrange a pickup. If you're located in Northern California, this is an Airedale Terrier breeder in California you should consider!
Airedale Terrier Breeder Details
2. Zinful Airedales Northern California
Zinful kennel is in Lodi, California, and its breeder is Alaine Van Ness. They focus their breeding on temperament, health, and top-notch pedigree. The Zinful puppies compete in and win championships in conformation. They are socialized, well-adjusted and healthy. You'll receive 30-days health insurance upon puppy purchase and asurance that the pets are prepared to lead happy lives.
Zinful kennel has been breeding since the year 2016 and has gained experience through this time.  Their goal is to bless as many lives that come in contact with their dogs, forge friendships, improve companionship, and spread the joy and love their Airedale Terriers bring.
They breed for quality, not quantity, so each litter is raised with love and plenty of attention. Elaine intentionally matches her sires and dams to improve their pedigree. All temperaments are checked and tested to produce only even-tempered puppies. Furthermore, they match the dog with suitable families. The Zinful dogs live in the breeder's home and not crates or kennel as they are family members. They are AKC-registered and compete in AKC conformation events.
To adopt from Zinful kennels, send in an application via the website link provided below. You should share what you require and some information about you, and Alaine will match you with the right puppy. The kennel does not keep a waiting list but will contact you when a litter is available. You can pick up your puppy in person at the Zinful kennel. Alternatively, the dog may be shipped via road travel or pet safe air cargo.
The companion dogs are socialized and spend every waking hour with people around them. The kennel has learning and playing areas, and the dogs begin training soon after birth. Your puppy comes with a toy, or small bag of food, vaccination records, and health records. Contact Zinful for more information on how to adopt an Airedale Terrier.
Airedale Terrier Breeder Details
Address: Lodi, CA 95240
Phone: (209) 608-2315
3. Liebe Airedales Southern California
Liebe Airedale kennel is located at Canyon Lake in Southern California. They believe each of their puppies is family, and they deserve only the best love, time, and care. Also, they understand each moment spent with their puppies is worth it and should be appreciated. They train the dogs to achieve their full potential, whether in show, conformation, obedience, agility, or just as a stay home cuddly pet.
Liebe breeds and intentionally improves their pedigree, thereby maintaining and enhancing the Airedale Terrier Club of America standards. Liebe is literally the king of Terriers because they breed beautiful, healthy, loving, funny, brave, and intelligent breeding healthy, smart, loving, funny, confident, athletic, curious, social, and exquisitely beautiful Airedales that conform to the AKC breed standard and have earned their status as the King of Terriers in the home, the field, the show ring, or wherever life leads.
The Liebe kennel houses many dog-related services; the property is fenced and has a vast yard. The dogs have an agility training course, grooming area, obedience, and aqua therapy all on the three-acre ranch. Their facility has a comfortable dog bed and breakfast lodge. The Airedale Terriers have an engaging schedule and have a lot of fun. They are allowed to play around while supervised and without a leash. The dogs are allowed to do pretty much everything fun, from digging, chasing balls to splashing in the water during a swim.
Before adoption, the vet examines Liebe Airedale Terriers; they are dewormed, vaccinated, and health-screened for any diseases and defects. Also, the sires are scrutinized for health and conformation before any breeding program occurs. In addition, their skin is checked for allergies and other healthconcerns. Finally, temperaments are important also as it influences dogs' overall attitude and well-being. Thus, any dog that shows inheritable health challenges or lacks expected temperament would not be allowed to join the breeding program. Liebe puts in all efforts to ensure they produce the most sound, beautiful and healthy Airedale friends. If you're in Southern California, this is a great Airedale Terrier breeder.
Airedale Terrier Breeder Details
4. Mar Vista Airedales
Mar Vista is located in Los Angeles, California, and has been breeding for 15 years. The kennel is located between Venice Beach and Santa Monica in the southern part of the state. The dogs are home-raised and are raised as an active part of the family. The Airedale Terriers are champions in AKC conformation, obedience, agility, rally, and earthdog.
Mar Vista Airedales are socialized and raised in the same home with children and other animals. The breeder's goal is to produce healthy, even-tempered, and intelligent dogs that surpass all expectations. They are members of various breeding clubs at national and local levels and have rescued, fostered, and trained dogs.  The kennel strives to support, promote and mentor those interested in the breed; they are available to answer any questions concerning dogs even after adoption.
Their dogs are vet checked at 7-8 weeks and undergo a complete physical exam, vaccine shots, and wellness check. By 8-10 weeks, you can see your puppy and arrange to take them home to you. All their Airedale Terrier puppies in California are AKC registered, microchipped, and go home with a written contract and health guarantee report. Also, you get a health care and development manual. If you can no longer keep your Airedale Terrier, please bring them home to Mar Vista kennels.
Finally, you would be expected to sign a spay and neuter contract. Contact Mar Vista Airedale for further information on your pet dog.
Airedale Terrier Breeder Details
Address: Los Angeles, CA 90066
Conclusion for Airedale Terrier Breeders In California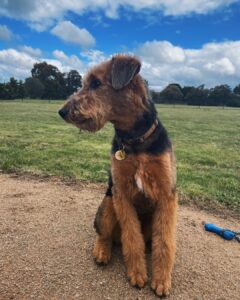 The Airedale Terrier is an active dog that requires a lot of patience to fully enjoy. They are beautiful, loving, and smart pet dogs with plenty of affection to give. However, you should purchase or adopt them from certified and ethical breeders. Otherwise, your puppy can run into health issues later down the line. Some other additional resources that are worth looking into are the Airedale Club of America. We hope that you were able to find the best Airedale Terrier breeder in California for your new puppy.
You will also like: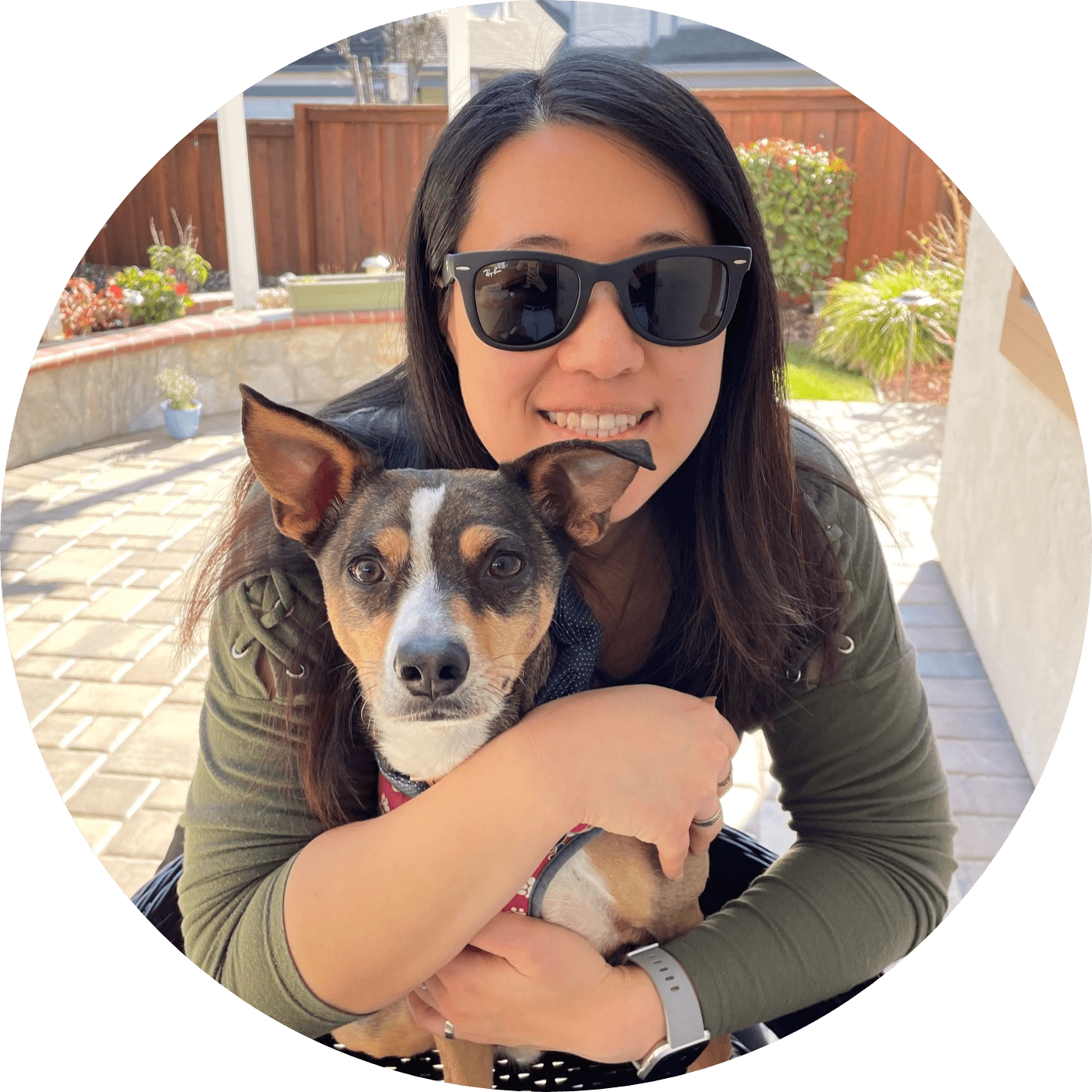 Dr. Sabrina Kong graduated from the Royal Veterinary College in England in 2016 and has been working at a small animal clinic in Northern California since then. She grew up in the Bay Area and got her bachelor's degree from Cal Poly San Luis Obispo. She also became a Certified Canine Rehabilitation Practitioner through a program at the University of Tennessee.
When she isn't in the clinic taking care of her four-legged patients, she enjoys traveling and trying new foods with her friends and her three-legged dog, Apollo. She adopted Apollo from her clinic when he was a puppy with numerous health issues. Dr. Kong truly cares about taking care of animals.