Dog beds are a place for your pet to call their own any time of the day or night. Round dog beds provide your dog with support, comfort, and a sense of security – especially for dogs who like to sleep in a ball. The pet industry has designed and manufactured a wide range of round dog beds to ensure your pet feels comfortable and happy every time they sleep! There are several types of dog beds including round dog beds with covers, round dog beds with bolster, and round metal dog beds.The following list contains the best round dog beds available in the market today and reviewing several hundred dog beds!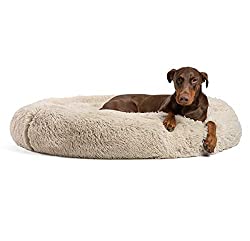 The Best Friends by Sheri by far the best round dog bed on the market.  This high quality round dog bed is designed to create a raised rim and a sense of safety. The soft filling creates neck and head support as well as relieves muscle and joint pain.  
The luxurious faux fur keeps your dog warm and cozy.  In addition, this round dog is extremely well designed consisting of 3 different zippers that allow you to remove the inner cushions for cleaning. The round dog bed with a cover is easy to clean and is machine washable. The bed needs to tumble dry to ensure the interior filling is completely dry.  The bed comes in several different sizes from a small round dog bed to a large round dog bed.
The Happy Hounds round dog bed has a reversible design that allows you to use both sides of the bed depending on your dog's comfort preference. The interior of the bed is filled with 100% poly-fiber infill which is extra soft.  In addition, this round dog bed comes with covers that are removable and easy to wash.  All you have to do is unzip the dog bed cover and remove the cushioning.
The round dog bed is available in crimson and latte colors that complement a wide range of home décor themes and colors. You can choose from sizes x-small, small, medium, and large so this dog bed will fit all sized dogs.  This feels like a round fleece dog bed but is actually made of microfiber fabric that is soft.
This round dog bed with bolster sides creates a cozy and safe environment for your dog.  The bolster on the sides of this dog bed allows your dogs to easily rest their head and have their spine in a straight position.  Bolsters on the edge of a dog bed allows for one of the most ergonomic positions that your dog can be in while laying down. The materials used to make this bed include high-quality denier, and polyester fil that will be comfortable for your dog to sleep on.
The soft bolster sides provide your dog with neck and head support that helps them find their best resting position and keeps them asleep. This unique round dog bed is available in black, blue, grey, burgundy, green, khaki and red. You can choose from a small round dog bed to an extra-large round dog bed so it will accommodate any sized dog.
This round dog bed with covers is designed for burrowing and making your dog feel safe and cozy while they sleep. The cave-like design is made with soft micro velvet fabric that is gentle on the skin, nose, and paws.  The most differentiating feature about this round dog bed is that it includes a burrow blanket that is attached to the top of this dog bed.  This is perfect for all dogs who like to feel secure under the covers of the their bed.  
The foundation of the bed is supportive and distributes bodyweight so your dog can find their perfect sleeping position.  It comes in all different types of foam including the Cooling Gel Foam, Memory Foam, or Orthopedic Foam.  Our pick is definitely the Orthopedic foam. The Orthopedic Foam helps soothe pressure points and relieves aching muscles. This dog bed is available in ten colors and comes in size small, medium, large and x-large.
The Kopek's round dog bed with bolster sides is designed like a sofa or couch that provides your dog with an option for finding their perfect resting position. The raised edges are supportive and soft which is perfect for the neck and head.
This is only a large and extra-large round dog bed that comes in the colors brown or grey. The foundation of the bed is made from orthopedic memory foam that benefits dogs that suffer from arthritis, hip dysplasia, and joint pain.  This round dog bed has covers that make it easy to take out the interior foam and wash exterior covers.  One of the exterior covers is also waterproof which ensures that if your dog has an accident it won't soak in the foam.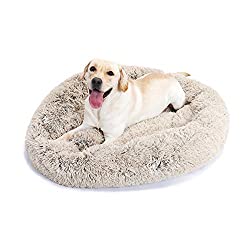 The Made4Pets machine-washable round dog bed comes with covers and provides a soft and supportive foundation.  The slightly raised edges on the side of the dog bed allows for comfort or to stretch out for a perfect night sleep.
It's available in colors grey and beige which are great colors that match almost any home décor. You have the choice to order it in size small, medium and large round dog bed.
This stain and water-resistant dog bed features a festive print that sparks life into any home décor theme. It features a waterproof denier base and polyester fabric which can be used an outdoor dog bed.  So if you dog likes to spend a lot of time outside basking under the sun, you can get them the perfect round dog bed.  This bed will fit any size dog and is available in size small, medium and large.
This is the best water-resistant round metal dog bed that is suitable for outdoor and indoor use. It features woven rattan that is durable and long-lasting. The foam-filled cushion is soft and comfortable for your dog to sleep on and the cover is machine washable.  What distinguishes this round metal dog bed is the powder-coated metal and hand-woven weave.  This prevents any type of rusting or fading if this dog bed is going to be used outdoors.  If you buy a fabric dog bed as opposed to a metal dog bed, chances are that it will fade in the sun.  If you get a round metal dog bed, it won't fade in the sun.
This round dog bed is available in small, medium and large. The built-in handles on each side make it easy to carry and add a special touch to the look of the bed.
This comfortable and cozy small round dog bed features a deep-dish design created to make your dog feel cozy and safe. The bolster wall helps your dog find their favorite and most comfortable sleeping position while at the same time providing orthopedic support.
It has a waterproof bottom to protect your floors from soil, dirt, and fluids. The bed is non-toxic and filled with AirLoft fibers that provide ultimate support and comfort.
This fluffy and soft dog bed is specially designed with a supportable bottom and an easy to remove cover. The raised edges of the bed provide the perfect place for your dog to rest their head and neck.
Plush and lightweight, this round dog bed comes in a natural beige color that is suitable for any home décor theme. It's available in two sizes.
Choosing the Perfect Round Dog Bed 
When looking for a dog bed that you dog will use for several hours a day, you have to do some research. There are many types of round dog beds available, and you want to ensure that the bed that you buy fits your lifestyle and your pet. 
First, you want to choose a round dog bed that is going to be comfortable for your dog and is stylish enough to match your interior decor. There are several different types of foam including memory foam, polyester, plush, fur, fleece etc.  In addition, there are several colors and styles of dog beds including rectangular, raised dog beds, round dog beds with bolster, and round metal dog beds.  Personally, we think a round dog bed is not only stylish and fashionable, but also best fits your dog's body position when they curl up into a ball to sleep.  We recommend orthopedic memory foam to support your pet's joints while they sleep.
Second, the dog bed should also be very easy to clean. If your dog gets too much dirt on it, or if there are stains or marks on the material, you will need to be washing the dog bed.  Trust me, you will be washing your dog bed a lot.  Ideally, you want a round dog bed with covers.  It also helps if you get a dog bed with a waterproof interior cover so if your dog has accidents that it doesn't soak into the foam.
Third, you want a dog bed that has durable and replacement covers. Your dog is sure to be scratching at their dog bed, biting at their dog bed, or even ripping the zipper off their dog bed. You want a dog bed that will last a long time and a dog bed with replacement covers.  In addition, if you're considering using a round dog bed in your garage or outside for your dog to relax, you'll want to make sure it's weatherproof and durable.
Lastly, when shopping for a dog bed, make sure that you look at the bigger sizes of a dog bed.  You'll want to ensure that your dog has at least 3 inches on each side when they are curled up sleeping, so they have adequate space. 
How to Find the Perfect Size Round Dog Bed for Your Pet
Your dog deserves a comfortable place to sleep they can call their own. Finding the perfect size round dog bed is easier than you think. You need to measure your dog using a soft and flexible measuring tape.
First, measure your dog as they are lying down stretched out on the floor. Measure from the tip of the nose to the tip of the tail. Then take another measurement from the tip of the top of their shoulder to the bottom tip of the paw. Both of these measurements will determine the length and width of the bed you need for your pet.
If you have two dogs that enjoy sleeping in the same round dog bed, measure them both to determine the right size to suit their needs. If in doubt, always order a size up or the largest size available in the round dog bed design you like to ensure there is plenty of room for your dogs to sleep.
Puppies and dogs that are still growing into adulthood will do so at a rapid pace. It's wise to invest in a round dog bed size that will last them through puppyhood then another bed after they outgrow the first one.
How to Find the Right Style Bed for Your Dog
There are plenty of round dog bed designs that are suited to the specific needs of dogs. Typically, puppies enjoy faux fur cozy beds that are soft and cuddly because it reminds them of being with their mother and sleeping next to their siblings when they were firstborn. This type of bed is also suitable for dogs that like to sleep in a curled-up position.
Dogs with joint issues, hip dysplasia, and other ailments benefit highly from dogs made with memory foam. This foam is supportive yet comforting since it molds to the shape of the body. The strong foundation allows your dog to position their body in a comfortable position that reduces aches and pains.
Round dog beds with bolsters give pets a supportive and comfortable place to place their heads and neck. This added support also helps your dog find the perfect resting position for their body.
Pets that seem to feel cold or are elderly, benefit from round fleece dog beds. It's also wise to invest in round dog bed replacement covers if your pet tends to burrow and scratch at the bed before finding a comfortable spot. Burrowing a few times a day can damage or cause wear on the cover so having some backup replacement covers is recommended if your dog has this behavior regularly.
Round dog beds are suited for all ages and sizes. The options on the list above are available in a variety of sizes ranging from small to x-large. This allows you the opportunity to find the best dog bed for your dog's specific needs.
When choosing a bed for your pet, consider their personality, habits and sleeping needs. Do they have arthritis? Do they like to burrow? Do they sleep in a ball or a stretched out position? Do they need head and neck support? The answers to all of these important questions will help you make the right choice for your pet.

While you make the right choice for your dog, don't forget to consider your home décor. Most pet owners prefer dog beds that come in colors and fabrics that complement their home décor. There are a lot of neutral color options on the list above but also a pattern design and a wide range of fabric options such as faux fur or microfiber. After you factor in all of these topics you will surely find the perfect bed to suit your dog's needs as well as help your house look beautiful.
Conclusion for Best Round Dog Bed
Overall, a round dog bed can provide you with a great looking dog bed that is stylish and comfortable for your dog. You may not have noticed, but a round dog bed has a more modern look to it than a square or rectangular dog bed. This is because it doesn't have sharp corners and can fit perfectly with almost any interior decor.  There are all types of dog beds including a round dog bed with covers, round dog bed with bolster, and round metal dog beds.  We hope that our top 10 list helped you select the perfect bed for your dog.
Other articles to read:
Garrett loves animals and is a huge advocate for all Doodle dog breeds. He owns his own Goldendoodle named Kona. In addition, he volunteers at the Humane Society of Silicon Valley, where he fosters dogs and helps animals. Garrett enjoys writing about Doodles and believes that dogs can teach humans more about how to live than humans can teach a dog.
Why Trust We Love Doodles?
At We Love Doodles, we're a team of writers, veterinarians, and puppy trainers that love dogs. Our team of qualified experts researches and provides reliable information on a wide range of dog topics. Our reviews are based on customer feedback, hands-on testing, and in-depth analysis. We are fully transparent and honest to our community of dog owners and future owners.