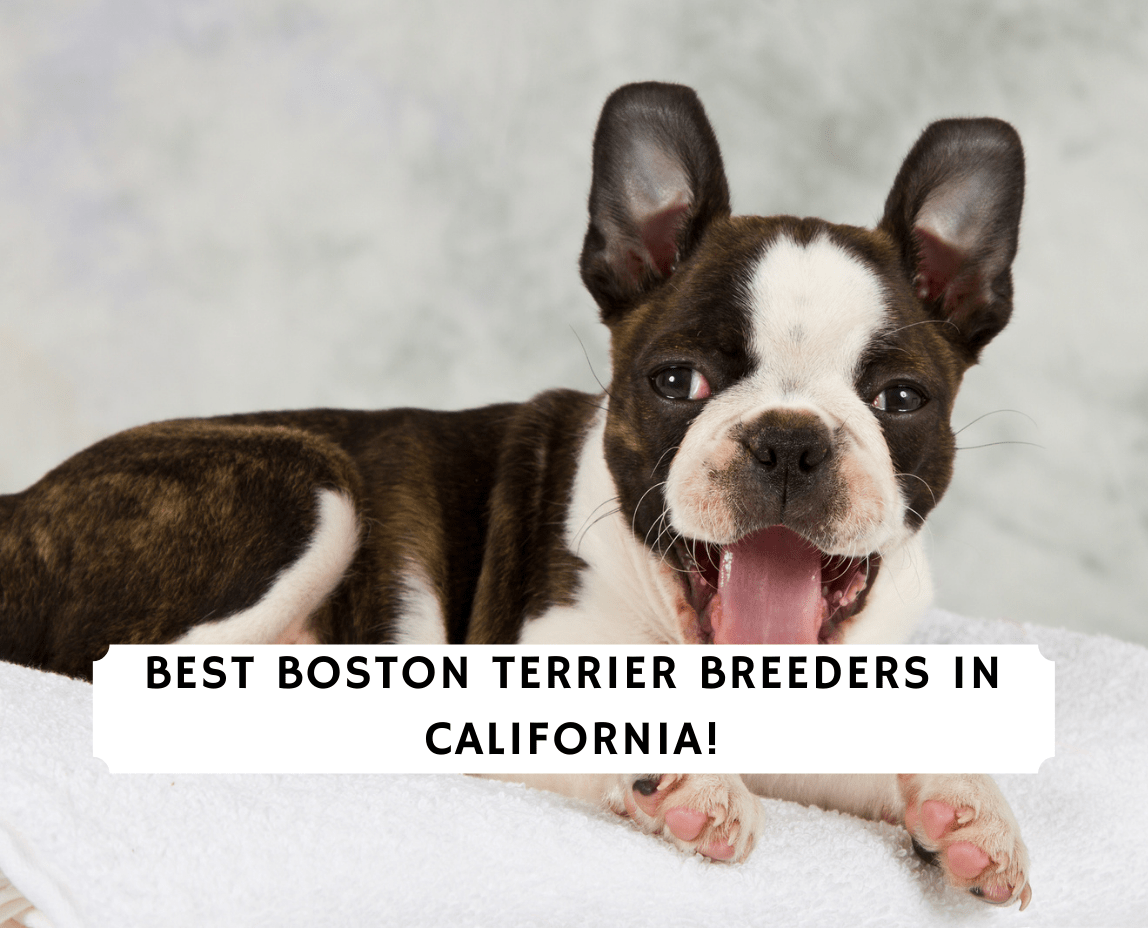 The Boston Terrier was the first native purebred in America. Developed in the 19th century in Boston, the breed earned the title "American Gentleman" because of its pleasant and refined personality.
This lively dog breed is excellent for country living and apartments. In addition, are inactive indoors and do well without a yard. The only thing you need to keep an eye out for is weather extremes as they don't do well when it's too hot or too cold due to their short coats. With a daily long walk and some play sessions, a Boston Terrier is a happy dog.
According to the American Kennel Club (AKC), the Boston Terrier ranks the 21st most popular dog in the world. You'll see tons of Boston Terrier puppies for sale in California as a result of their popularity. However, not all Boston Terrier breeders in California are the same and it's important that you buy a healthy puppy. If you have your heart set on getting a Boston Terrier in California, check out our top 6 Boston Terrier Breeders in California.
Other articles you might like: Golden Retriever Breeders in California and French Bulldog Breeders in California.
PuppySpot is the most reputable marketplace to get a Boston Terrier. Strict breeder screening steps, a genuine love for the welfare of dogs, and a continuous process of monitoring registered breeders are the main pillars on which PuppySpot stands.
This USDA-licensed community brings top-notch Boston Terrier breeders and potential owners under the same umbrella. They deliver dogs all over the USA in the friendliest and safest way imaginable.
PuppySpot doesn't stop at being licensed. Their Scientific Advisory Board ensures they collaborate with USDA and surpass even the national standards of dog-breeding practices.
Therefore, you're sure to get a Boston Terrier puppy from here that's been given a medical examination to ensure it's healthy. Plus, your puppy would be given the right shots and de-wormed before it settles in with you.
You will get also a 10-year health guarantee when you get your desired puppy to put your mind at ease about any chances of genetic issues. This 10 year health warranty is the longest warranty from any breeder.
Update: PuppySpot has generously offered our blog readers $100 off with coupon code WLD100.
Boston Terrier Breeder Information:
2. Day Boston Terriers California
Day Boston Terriers California has been in the breeding business for over 27 years. They have dedicated their resources and lives to build an extensive breeding program and have dedicated their lives to this dog breed. For what it's worth, they were one of the oldest Boston Terrier breeders in California that we could find.
They design their breeding program to produce an athletic dog with increased longevity but also function as a great family member. Their AKC Boston Terrier puppies come in 3 colors: Seal and White, Black and White, Brindle and White. Their coat textures range between smooth fur and silky satin.
Their Boston Terriers puppies in California have a wide variety of body types that you can choose from. Whether you're looking for a short and stocky Boston Terrier, refined and petite, athletic and leggy, or somewhere in between, this breeder has an option for you.
Purchasing a Boston Terrier from this breeder takes 3 simple steps. First, you will need to fill in a puppy application form that takes 5 to 7 minutes to complete. After, you will check with the breeder for a compatibility interview and their litter availability. Lastly, you will either schedule an appointment to visit the Boston Terrier breeder in Merced, California, or place a $100 deposit to hold the puppy you like.
Before filling in an application, we recommend you speak to the breeder and ask all the questions you may have. Remember, this is a dog you will have for the next 15+ years so you need to do your due diligence. The Boston Terrier puppy comes with a health guarantee and lifetime support from the breeder.
Boston Terrier Breeder Information:
Classic Tuxedo Boston Terriers specializes in producing Boston Terriers with exemplary health records and ideal temperaments. All their Boston Terrier puppies are born and raised in their home with a lot of attention and love. Their blocky and square body types have classic tuxedo color coat markings.
Their adult Bostons Terriers are screened for all genetic and health defects including CERF, OFA, BAER, and JHC. This is the best way to ensure that your Boston Terrier puppy in California won't have a genetic issue as they grow older.
In addition, their Boston Terrier dogs are also registered with AKC and adhere to the purebred standard. The puppies also come with a 12-months health guarantee, vaccine records, and AKC papers. Their Boston Terrier puppies in California are well-socialized and paper trained before they leave for your home. For pricing and shipping information, reach out to Sue of Classic Tuxedo Boston Terriers.
Boston Terrier Breeder Information:
Location: Perris, CA 92570. Located in Southern California just east of Los Angeles.
Telephone: 951-965-9194
Email: [email protected]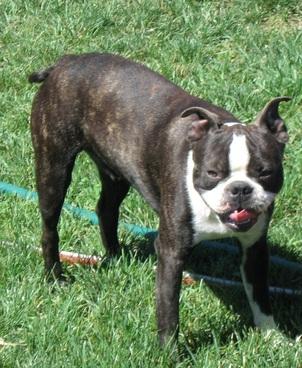 Whiskey Creek Bostons is a family-owned breeding business in the foothills of Northern California. The breeder specializes in breeding purebred German Shepherds and Boston Terriers on their 20-acre farm.
They breed the Boston Terriers in their home and only have a few litters in a year. For the past 9 years, the breeder has strived to sustain the Boston purebred standard and produce healthy top-notch puppies for families.
Their dams and sires are AKC registered and have their health records on the breeder's website. You'll see that the parent dogs are free of all hereditary diseases and are deemed healthy. They deworm their Boston Terrier puppies at 2 weeks old and they are fully veterinarian checked.
Their Boston Terrier puppies in California also receive crate training at 8 weeks to give it a brilliant start in your home. Before they leave for your home, they vaccinate the Boston Terrier puppies at 8 weeks, include sample dog food, and provide CKC registration papers.
For information on current or planned litters, please refer to the breeder's website under the coming soon tab. The breeder has available shipping options depending on where you live.
Boston Terrier Breeder Information:
Location: 921 Whiskey Creek Rd., Arbuckle, CA 95912
Telephone: 530-476-3334 or 530-701-5590
Email:

[email protected]
4. Jeane's Boston Terriers California
Update: 3/23/2022 We have heard that the owner has passed away so the dog breeder may not be responding.
Jeane Boston Terriers have been in the breeding business for over 25 years. They breed Boston Terriers for companionship and as show dogs. Their adult dogs are all AKC registered and in superb health before they start the breeding process.
Their Boston Terrier puppies are born and raised in their home with supervised playtime in fresh air and sunshine. They grow in an enriched environment with lots of human interaction to maximize their neuro-muscular development.
The breeder has one to two litters a year in order to have ample time to plan and ensure the success of the next generation breed while preserving its unique traits. They are members of several dog clubs including the Boston Terrier Club of America, Sierra Gold Boston Terrier Club, and the Natural Rearing Breeders Association. You can guarantee that this is a reputable Boston Terrier breeder in California.
The breeder feeds the puppies and adult dogs a natural and species appropriate raw diet with no chemicals. They are also on a limited vaccination schedule to improve the overall health of their Boston Terriers.
Pups don't leave for their new home until 12 weeks of age. The thinking behind this is that Boston Terrier puppies taken from their littermates and other dogs before 10 weeks old don't learn how to be cautious or submissive.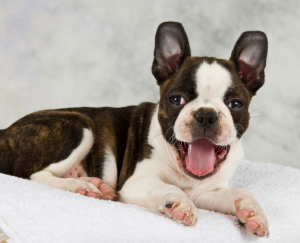 According to this Boston Terrier breeder in California, their puppies need this extra time to learn skills to relate well with animals and humans. After the Boston Terrier puppy leaves for its lifetime homes, the breeder requires new owners to take part in obedience, agility, flyball, conformation, or therapy with their new pups. Each Boston comes with a 3-year health guarantee and lifetime support from the breeder.
Boston Terrier Breeder Information:
5. Chimaso Boston Breeders
Chimaso Boston Breeders has been in the breeding business since the early 2000s. They are in the foothills of the Sierra Nevada Mountains in California which is between Lake Tahoe and Sacramento. Their small breeding program specializes in AKC purebred Bostons for companionship.
You can check out their boys and girls on the breeder's website and their complete lineage. Their Boston Terrier puppies are hand-raised and well-socialized with humans and animals by the breeder. In addition, the puppies are kept current on all vaccines and come with a health guarantee.
For information on pricing and shipping, please reach out to the breeder.
Boston Terrier Breeder Information:
6. Maximum Companion California
Maximum Companion specializes in breeding French Bulldogs and Boston Terriers. The professional breeder's intention is to breed show quality Boston Terriers as close to the breed standard and continuously improve the dog breed.
That being said, they also have litters more suited in pet homes. They screen and certify their AKC adult dogs for any genetic defects such as OFA, Cardiac, and Patella. They also do several other health tests that make sure that you will be getting a healthy Boston Terrier puppy in California.
When the puppies are born, they are veterinarian checked and rechecked before leaving for their lifetime homes. The puppies receive basic training and are well-socialized to thrive in their new home.
All their Boston Terrier puppies in California are JHC/BAER tested and microchipped before they reach your home. Moreover, all health records, including the puppy's parents are given to the new owner. Every puppy comes with a 12-months health guarantee and lifetime breeder support.
For information on upcoming or planned litters, please consult the breeder's website under the available puppies tab. This Boston Terrier breeder has flexible shipping options depending on where you live.
Boston Terrier Breeder Information:
Location: California. They prefer to keep their address hidden for privacy.
Website: Maximum Companion
Telephone: 951-681-7501 or 951-903-4674
7. Windy Acres Puppies
Windy Acres breeds Boston Terrier puppies that are health checked and OFA verified. This is important because it helps to ensure that your puppy will get the best start possible in life! Their breeding practices started back in 2005 with Labrador Retrievers but they have since expanded out to several other dog breeds including Boston Terriers. The owner, Randall, truly cares about every customer and it's been a family business that he runs with his wife and kids.
Additionally, Windy Acres has a 2-year health guarantee on all their puppies. This is put in place because they truly believe in the health and wellness of their Boston Terrier puppies. Every Boston Terrier puppy is treated like family and they will come well socialized which makes the transition easier to a new home. Their average size Boston Terrier puppy will weigh around 25 pounds when full-grown, have a good temperament and personality, and will have a medium amount of energy.
While this Boston Terrier breeder isn't located in California, they frequently ship to California and cover all the logistics. We've also have personally spoken with the owners, Randall and Laura, and like their breeding practices. Feel free to contact them today or even schedule a virtual visit!
Boston Terrier Breeder Information:
Conclusion for Boston Terrier Breeders in California
Selecting a reputable breeder is very important, as it is impossible to know how the selected puppy you buy will turn out emotionally and physically. Reputable Boston Terrier breeders in California might charge a couple of dollars more for their puppies, but the reality is you get what you pay for. If you buy from a puppy mill or backyard breed, you may up paying significantly more in medical bills later down the line.
Don't be afraid to do in-depth research and ask tough questions to each of the Boston Terrier breeders. This list is a guide to help you select the right breeder for you. Even with the breeders on this list, ask the tough questions.
Other articles you might like: