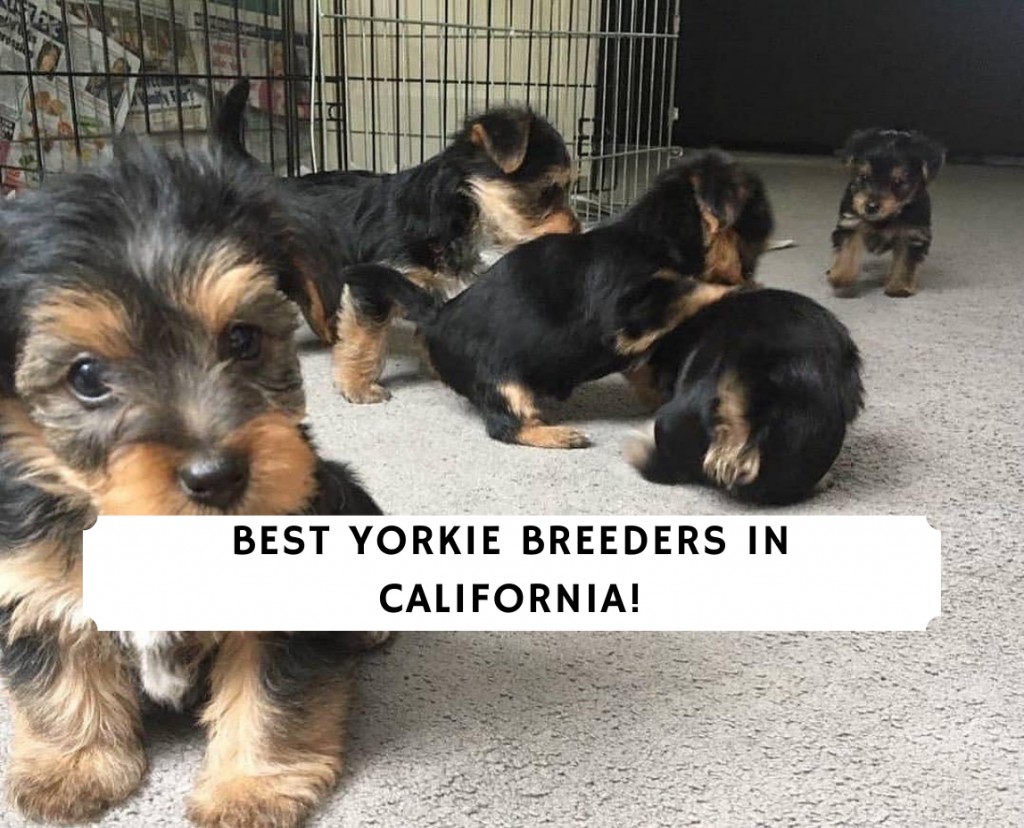 Known for its bright and spunky personality, the Yorkshire Terrier makes a fun and active small dog friend. This terrier, called Yorkie for short, is small in size but big on fun activities.
According to the world popularity rankings from the American Kennel Club (AKC), Yorkies are in high demand being the 10th most popular dog breed. Thus, you'll see tons of Yorkie puppies for sale in California and it can be extremely difficult to choose a reputable breeder.
Thus, we created a list of the best Yorkie breeders in California. With a brief description, you'll get to know what type of Yorkies they offer and have the opportunity to follow up by referencing their contact information. We've done our own independent research to rule out most of the puppy mills and backyard breeders. You'll see reputable Yorkie breeders who have been in the business for a long time, health check their dogs, and provide puppy warranties. However, we always encourage people to ask any potential Yorkie breeder questions about their dogs.
Other articles you might like: Shih Tzu Breeders in California and Corgi Breeders in California.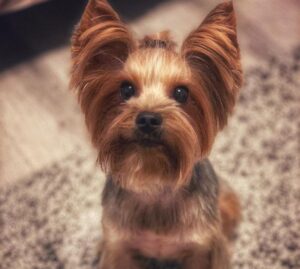 You can save an enormous amount of time by adopting a Yorkie puppy from the PuppySpot website. There are many Yorkshire breeders in California that'll require you to fill out applications making you wait for months or even years for a litter. Even then, you're not 100% sure whether you'll be approved or not. PuppySpot is on the top of our list for a reason and it's because they help connect families and individuals find a suitable companion. You won't wait months or years to get your Yorkie from a reputable breeder since they have puppies available now. They vet all breeders to ensure that your Yorkie won't come from a puppy mill and they are even backed by the American Kennel Club.
Your journey for a Yorkie companion will be less overwhelming and more bearable to manage. There's an endless amount of choices, which is why we highly suggest that you use the filter available. You can choose from gender, age, to the color of your next Yorkshire Terrier puppy. Once you find a compatible companion, the journey to bringing it won't be as difficult as you think. If the Yorkie Breeder isn't located in California, PuppySpot has its own airlines which can help transport your puppy safely to your home.
PuppySpot is giving our readers an exclusive coupon code. Get $100 off by using coupon code "WLD100" at checkout!
Yorkie Breeder Information
2. Suzabel's Yorkies California – Southern California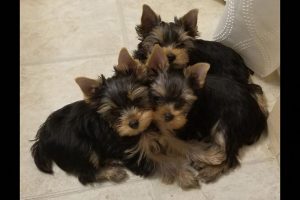 Puppies at Suzabel's Yorkies in California are trained and loved to be outstanding family companions. By adhering to AKC breeding guidelines, these Yorkie puppies in California maintain the typical structure and classic coat colors.
As part of the H.E.A.R.T. program, the team at Suzabel's Yorkies keeps these key standards in mind. Their breeding priorities include the health of their Yorkies, education about the breed, accountability, and responsibility according to the tradition of the Yorkshire Terrier breed.
With a spirited personality, their Yorkie puppies are bred in an environment where socializing and play are encouraged. They provide important information about how they are raised, including what kind of dog food is incorporated into their diet. This helps you transition your own Yorkie into your home with minimal amounts of stress and anxiety.
Typically, interested families can join the waitlist for an upcoming litter of Yorkie puppies. By expressing your interest, you can get to know the team at Suzabel's and can determine what kind of dog is the right fit your you, your family, and your lifestyle. This Yorkie breeder is located in Southern California just east of Los Angeles.
Yorkie Breeder Information
3. Alisa Yorkies California – Northern California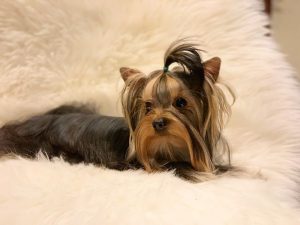 With a passion for the Terrier dog breed, owner Alisa has been breeding Yorkies puppies in California since 2015. She is intentional about the timelines of her breeding program and sending new puppies out to loving families. Typically, most puppies are between 10-12 weeks old before moving they are allowed to go to their forever homes.
As these Yorkie puppies prepare to join your family, they're potty trained and taught how to eat dry dog food. They also get veterinarian health check-ups including vaccinations and deworming.
All of their Yorkie puppies in California also come with a health guarantee so you can be confident in your dog's overall health and well-being. Their pricing is also available on their website, so you can find the one that's right for you and your budget. A deposit is needed to secure your spot on the waitlist.
Yorkie Breeder Information
4. Yoli's Yorkies California – NorCal
Find your next puppy with the team at Yoli's Yorkies in Contra Costa, California. They specialize in Toy Biewer and Golddust types of Yorkshire Terriers. With quality and standard-tested breeding dogs, they emphasize on the quality of their dogs over quantity. You will get a happy and healthy Yorkie puppy from this breeder.
To get their Yorkie puppies acclimated to living in a new family environment, they're raised in the home around children and other dogs. Thus, they will be well-socialized to the different sights and sounds of a normal family. All of their Yorkie puppies in California come with a one-year health guarantee so you can be confident that this breeder believes in the health of their dogs.
Even after adopting a Yorkie, you'll receive ongoing help and insight in caring for your new puppy. Moreover, each puppy is also checked by a veterinarian, issued the standard vaccinations, and has gone through de-worming. Prices of the Yorkies are dependent on the size, quality, color, and gender of the dog. Their website shares a wide collection of photos of their Yorkie puppies for sale in California.
Yorkie Breeder Information
5. Tiny Yorkie Kisses – Northern California
If you're looking for a Yorkie that's on the much smaller side, the team at Tiny Yorkie Kisses can help. You can browse through available teacup puppies and check out more information about Yorkies and caring for a dog. With their smaller size, the teacup and micro Yorkies have a lot of personality in their small frame. 
Each of their Yorkshire Terrier puppies in California comes with a 1-year health guarantee as well as updated vaccinations. With a dedication to never cutting corners when it comes to caring for her Yorkies, owner Kari personally helps to manage each puppy by providing around-the-clock care and support. Kari also shares some helpful tips and tricks in caring for your Yorkie.
From watching for hypoglycemia in your Yorkie to knowing what kinds of dog food to provide to what diseases Yorkies are most at risk for, you'll be well-equipped to welcome your new furry friend home. We love that Tiny Yorkie Kisses trying to educate the public about their puppies and the Yorkshire Terrier breed.
Yorkie Breeder Information
6. Moringa Yorkie Terriers – Southern California
Discover the joy of owning a Yorkie with the photos and team at Moringa Yorkie Terriers. As a hobby breeder, they're passionate about raising puppies to be happy and healthy as they enter your home.
A unique part of what you'll find with this Yorkie breeder in California is that their puppies are raised on the superfood Moringa. Puppies also have herbs and vegetables incorporated into their diets to grow healthy and strong. Most other Yorkshire Terrier breeds will simply feed their puppies dry food.
This organic diet helps their Yorkie puppies stay well in the first few critical weeks of life. This Moringa superfood has also led to other great health benefits like stronger teeth, bones, and more energy to enjoy life.
To care for your Yorkie even after you welcome them home, you can also purchase their health and grooming products. They're designed to preserve the silkiness of the Yorkie's coat and preserve the health and softness of their hair. Moringa also offers a wide range of resources and information about best practices in caring for your new four-legged friend for years to come.
Yorkie Breeder Information
7. Hidden Oaks Yorkies – Southern California
Yorkies at Hidden Oaks are welcomed and cared for in a home before they join yours. They're fed with high-quality dry dog food and are bred for health, temperament, and conformation to the Yorkshire breed. With a high level of interaction and socialization, these Yorkie puppies are ready for anything.
Even after you purchase a Yorkie puppy, the team at Hidden Oaks will provide support and advice to care for your Yorkie in the years to come. All of their Yorkie puppies are veterinarian checked, up to date on their shots, and had the first set of dewormings. 
Yorkie Breeder Information
More Information About Yorkie Puppies in California
While they may come across as tiny and dainty, Yorkies are known for being energetic and fierce. Yorkies can pack a lot of temperament into a tiny frame and you will frequently see them bark.
In addition, Yorkies have an elegant and silky coat that needs to be regularly groomed with dog brushes and clippers. Their floor-length hair can be brushed and washed consistently to keep your Yorkie looking its best. Because their hair is more like human hair rather than dog fur, Yorkies are low-allergen and mostly hypoallergenic. This makes them a great fit for families and individuals concerned with pet allergies.
According to the American Kennel Club (AKC), Yorkies weigh only around 7 pounds and are 7-8 inches in height. In addition, they make great long-lasting pets as their life expectancy is 11-15 years.
With their small size, Yorkies make great pets for a variety of lifestyles. From singles to families, Yorkies appreciate the attention and can be great companion dogs. They also thrive in the modest temperatures around California.
Frequently Asked Questions
How much does a Yorkie cost in California?
Yorkies are one of the most popular breeds worldwide. In California, you'll find lots of listings for Yorkies from reputable Yorkie breeders. Prices will range from around $1200 to a few thousand dollars, depending on your pup's pedigree. 
Keep in mind that you'll need to put down a non-refundable deposit first to put a hold on your Yorkie puppy. Your deposit may or may not be included in the final sale price.
What is the rarest color Yorkie?
Yorkie pups are born with the coat colors featuring black and tan and will usually be darker in body color. That said, black and tan are intermingled until they mature. 
There is an emphasis on the richness of the tan color on the head and legs in adult Yorkies. The AKC explains that the " Blue – Is a dark steel-blue, not a silver-blue and not mingled with fawn, bronze or black hairs." They also go on to discuss the
The AKC recognizes a few coat colors like the following:
Black and tan
Black and gold
Blue and tan
Blue and gold
How many colors of Yorkies are there?
Yorkies can be found in four colors that can be mixed and matched. These colors are black, tan, blue and gold. There will be coat color variations as your Yorkie ages. The blue and gold Yorkies are that color due to their two copies of the greying gene. 
The black and gold coats are very similar to the black and tan. Sometimes you'll find a particolored Yorkshire Terrier with coat colors featuring blue, tan, and white.
Are Parti Colored Yorkies recognized by AKC?
The American Kennel Club (AKC) recognized the particolored Yorkie in 2000 and its bloodlines. Parti-colored Yorkies are purebred and have a recessive gene responsible for the parti-color variations in your Yorkies coat, which will either be tri-colored or multi-colored instead of the black, blue, tan, silver, or gold.
Conclusion for Best Yorkie Breeders in California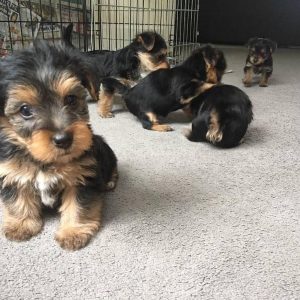 Don't let its small size fool you. The Yorkshire Terriers are one of the most popular dog breeds in the world and can be a great fit for your family with its loveable personality. With proper grooming and attention to its health, your Yorkie can thrive in the state of California.
With this brief list of the top Yorkie breeders in California, you can be on your way to finding your furry, four-legged, and feisty new dog friend. Always remember to do your due diligence and ask any potential breeder lots of questions about their dogs. Common questions include asking for health or genetic tests, health warranties, and past testimonials.
Check out these other articles: