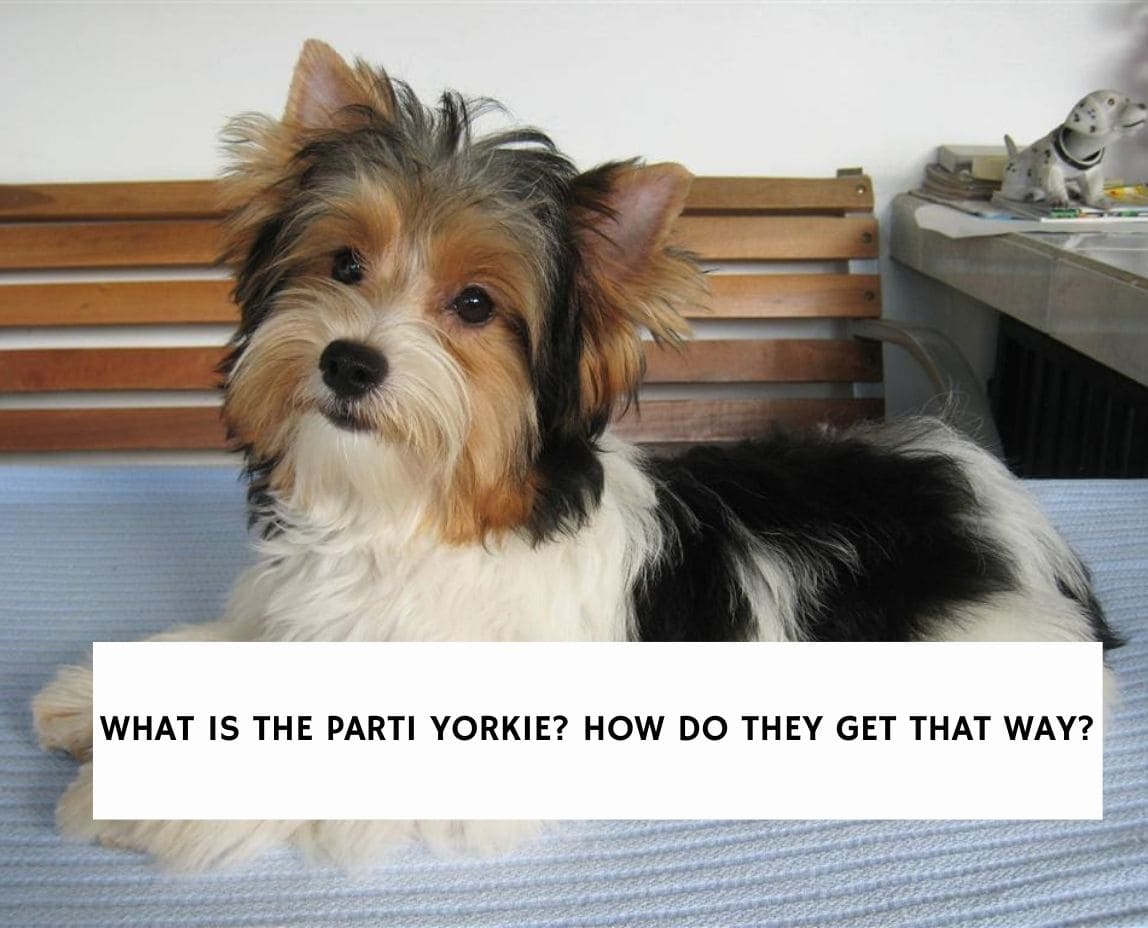 Have you ever seen a dog you thought was a Yorkshire Terrier but noticed that the coloring was different? Well, despite the long history of being told otherwise, Yorkies do actually come in other colors than the classic black/blue and tan combinations. Today, we will focus on the Parti Yorkie. Parti Yorkies are beautiful dogs with the same lovely temperaments as their classic colored counterparts.
Other articles you might like: Are Yorkiepoos Hypoallergenic?
What is the Parti Yorkie?
So what exactly is a Parti Yorkie? No, they aren't called this because they are the life of the party (though I'm sure they are); they are called Parti Yorkies because of the color of their coat. Rather than having the traditional black/blue and tan color that Yorkies are known for, Parti Yorkies have a unique tri-color blend of blacks, tans, and whites in their fur.
The easiest way to tell if a Yorkie is considered a Parti or not is to look for white in the fur. Now, a few white hairs are not going to make the dog Parti. Instead, you should be looking for large patches of white. These white patches should be mixed with any combination of blacks and tans. Occasionally, you can find Parti Yorkies who have more chocolate or golden colors; however, the presence of white is what really makes these dogs Parti.
History of the Parti Yorkie
Yorkshire Terriers are one of the most popular breeds worldwide. These pint-sized dogs have been recognized by the American Kennel Club (AKC) since 1885. However, the AKC has strict guidelines regarding the coat colorings for purebreds. So, according to the AKC, a Yorkie had to be black/blue and tan to be considered a true Yorkie purebred. At the time, people thought that to get the Parti color, you had to mix a Yorkie with a Maltese. It was proven in later years that this is false.
After scientific developments in genetics, it was proven that two purebred Yorkies could, in fact, create Parti Yorkie offspring. Resulting in the Parti Yorkie being added to the AKC as a legitimate purebred. Despite their newfound acceptance as purebred, Parti Yorkies do not get a lot of recognition. But, rest assured, these dogs are still beautiful despite them looking different. And they have the same great personality that Yorkies are known for.
Temperament and Characteristics of the Parti Yorkie
Speaking of personality, let's have a look at the typical temperament of these beautiful little pups. Yorkies, regardless of color, are known for being extremely intelligent, affectionate, and sometimes even stubborn.
The intelligence of these dogs makes them fast learners, but that doesn't necessarily mean they are easy to train. Yorkies are notoriously spunky dogs; some might even say they are bossy. Therefore, although your Yorkie may learn quickly, it does not mean it will necessarily listen to you. The easiest way to prevent a stubborn Yorkie is to begin training at an early age. This ensures your dog learns the proper commands early in life, so they just become second nature for them.
Although your Parti Yorkie may be stubborn at times, these dogs are very affectionate with their family. Sometimes Yorkies are even described as clingy. So, make sure you have lots of time to spend with your dog if you plan on adopting a Yorkie. It is important to note, however, that you should not baby your Yorkie. Popular media often portrays Yorkies as "purse dogs";  this is a bad habit to form with your dog. Coddling your Yorkie can lead it to display antisocial behavior. So, when you take your Yorkie out, treat it like a dog, not a baby.
When it comes to physical characteristics, the big difference between Parti Yorkies and traditional Yorkies is their coat color. As explained above, Parti Yorkies are not the typical black/blue and tan that is often associated with Yorkies. Parti Yorkies have white in their coats, but other than that color difference, there is not much else different. These dogs share the exact measurements as traditional Yorkies and have the same life expectancy.
Height: 7-8 inches
Weight: 7 lbs
Life Expectancy: 11-15 years  
How to Groom a Parti Yorkie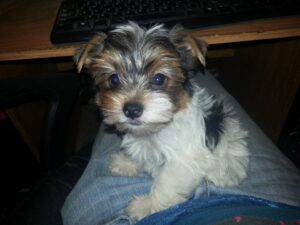 It's also important to note that Yorkies are considered a non-shedding breed. Regardless of whether the dog is classic black/blue and tan color or the Parti color, your Yorkie will not shed much. Yorkie fur is very similar to human hair in texture and grooming needs. So, if your Yorkie has long hair, it should be brushed daily and bathed weekly.
Because Yorkie hair is similar to human hair, it is constantly growing and doesn't shed. Therefore, you will need to get your dog's hair cut regularly. Yorkies are well known for having longer coats, so most people opt to hire a professional to cut their Yorkies' hair. Professionals know what to do to give your dog that beautiful classic look.
How Do They Get That Way?
Now you may be wondering how exactly did Parti Yorkies get to be that color? In the past, people assumed that Parti Yorkies were the offspring of breeding a Yorkie with a Maltese. However, science has proven that Parti Yorkies are, in fact, purebred Yorkies. We can thank genetics for giving us the beautiful and unique colors of the Parti Yorkie.
The Parti-gene is responsible for creating these distinct dogs. However, not all Yorkies possess the Parti-gene. To get Parti colored offspring, both parent dogs must have the gene. This is because the gene is recessive, meaning if you only have one Parti-gene, it will be canceled out by a more dominant gene. This results in the classic black/blue and tan color Yorkies.
If only one parent has the Parti-gene, the puppies will not display these colors. However, the gene itself may be passed down to some of the puppies meaning that it is dormant. This puppy can then go on to have Parti-colored puppies if they breed with another Yorkie with the gene.
Related: Best Yorkie Breeders in New York
How Much Do Parti Yorkies Cost?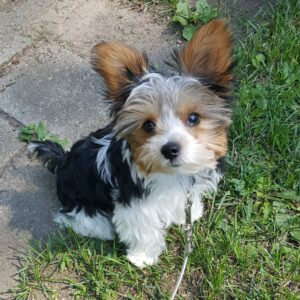 When it comes to prices, Parti Yorkies can be more expensive than their traditional counterparts. They range in price from $1,500 to $3,000. These expenses stem from the uniqueness of these dogs because of the recessive gene needed in both parents.
Sometimes breeders conduct genetic testing to identify whether potential parent dogs have the Parti-gene. This genetic testing is expensive. However, suppose the breeder opts out of this genetic testing. In that case, breeding Parti Yorkies can be challenging if the breeder does not have two clear Parti Yorkies to begin with. This contributes to the price of Parti Yorkies.
In addition to the unique circumstances that come with having such a rare color, other costs go into adopting a dog from a reputable source. Reputable breeders ensure their parent dogs are receiving the best care possible so their puppies will be healthy. The puppies are also given top care to ensure customers receive the best pups possible. The price of your puppy pays for the vet appointments, shots, microchips, health food, and overall care of your puppy at the earliest stages of its life.
Conclusion for Parti Yorkie
As you can see, Parti Yorkies have all the same loveable traits as traditional Yorkies; they are just different colors. These beautiful little dogs are unique with their white, tan, and black coats. However, don't worry; they still have the same attitudes and personalities as their black/blue and tan counterparts.
You should also check out:
Garrett loves animals and is a huge advocate for all Doodle dog breeds. He owns his own Goldendoodle named Kona. In addition, he volunteers at the Humane Society of Silicon Valley, where he fosters dogs and helps animals. Garrett enjoys writing about Doodles and believes that dogs can teach humans more about how to live than humans can teach a dog.
Why Trust We Love Doodles?
At We Love Doodles, we're a team of writers, veterinarians, and puppy trainers that love dogs. Our team of qualified experts researches and provides reliable information on a wide range of dog topics. Our reviews are based on customer feedback, hands-on testing, and in-depth analysis. We are fully transparent and honest to our community of dog owners and future owners.