With its small build and loud personality, it's hard to miss the Yorkie. The Yorkshire Terrier, Yorkie for short, are known for their spunky and lively temperament that makes them great friends. According to the AKC, Yorkies are the 10th most popular dog breed in the world.
If you've decided that a Yorkie is for you, finding the right breeder is an important step in the process of welcoming home your four-legged friend. Thus, we created a list of the best Yorkie breeders in Texas by doing our own independent research. We did our best to exclude all known puppy mills that are selling unhealthy Yorkies at a cheap price. You could end up spending a lot of money on medical bills if you buy from a backyard breeder or puppy mill.
Other articles you might like: Chihuahua Breeders in Texas and Shih Tzu Breeders in Texas.
Breeders for Yorkies in Texas
If you're looking to add a Yorkie to your household in the Texas region, you've got many options to choose from. Yorkies fit into most families and are great with children when they are properly socialized.
To help you in finding the right furry friend, here we share a list of some of the top Yorkshire Terrier breeders in Texas. You can get to know them through our in-depth reviews and contact them individually to find out more information.
1. Red River Yorkies Texas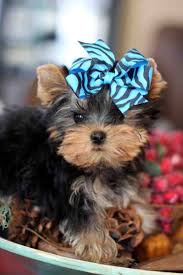 Among the great characteristics to love about Yorkies is their beautiful coats. That's exactly what Red River Yorkies in Texas specializes in. With a variety of coat color options, including the more exotic and rare color combinations, you can find a cute Yorkie puppy in Texas that's great for you.
As you consider welcoming a Yorkshire Terrier puppy from Red River, know that each puppy comes with a one-year health guarantee and are also microchipped so you can be confident that your dog will be healthy. Owner Vona McDougal has been working with and breeding Yorkies for many years.
In addition, with experience in animal sciences and the medical field, Vona McDougal knows the ins and outs of taking care of her Yorkies puppies in Texas. She's also an active member of the Professional Pet Breeders of Texas as well as other organizations that speak to her credibility and knowledge.
While the Yorkie litters they have available are only at select times of the year, interested individuals can also be put on a waiting list for the next available Yorkie puppies for sale. If you're interested, you can schedule an appointment so they can get to know you and your lifestyle a little bit better.
You can then take the next step by putting down a deposit and completing the contract that maps out exactly what you can expect from welcoming your new Yorkie puppy home. This Yorkshire Terrier breeder is located in Avery, Texas which is near which is about 2 hours east of Dallas, Texas.
Yorkie Breeder Details
2. PJ Yorkies Texas
Find a Yorkie that's just right for you with PJ's Yorkies. These are breeders in Holland, Texas, raise Yorkies that come in a variety of coat colors, including traditional, midnight black, parti, chocolate, merle, sable, golden and blonde.
Each of their Yorkshire Terrier puppies in Texas also comes with a one-year health guarantee and are AKC registered. With a dedication to excellence, they breed their puppies at top quality and provide the needed love and attention to get them ready for your own home.
Moreover, the team at PJ Yorkies will help you determine if a Yorkie is the right fit for you and share more information about best practices for caring for them. Another bonus of the Yorkshire Terrier dog breed is that they're hypoallergenic, which is great news for people or families with pet allergies.
If you're interested in one of their Yorkie puppies, you can browse their site to see cute pictures of your potential new furry friend. They also have an easy-to-complete contact form to express your interest and get in touch with their team.
While they're based in Holland, Texas, they also offer the opportunity to those in surrounding areas like Austin, Round Rock, Georgetown, Walburg, Val Verde, Temple, and Killeen, Texas. 
Yorkie Breeder Details
3. Wendy's Yorkies Texas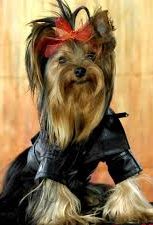 Find your puppy that's ready to be loved with Wendy's Yorkies. Owner Wendy is passionate about her full-time hobby and job of breeding Yorkie puppies for loving homes. Among puppy health guarantees and a quality experience, Wendy also provides custom training to help you and your puppy get acquainted.
Each of her Yorkie puppies in Texas is raised in Wendy's own home and are socialized daily. Each puppy also comes with proper vaccinations and deworming procedures so you can be confident in their health.
If you're interested in selecting a puppy, you can put down a deposit to secure your spot. She offers a variety of payment options and can work with you in regards to travel and transporting the Yorkie puppy to your home.
Your Yorkshire Terrier puppy also comes equipped with a sample of puppy dog food, a puppy pack that contains health records, and other helpful resources as you train and make your puppy part of your own home.
Yorkie Breeder Details
4. Texas Star Yorkies
As a small breeder, the team at Texas Star Yorkies can dedicate their time and attention to each puppy they raise. They offer a variety of colors and styles of Yorkies, including parti, traditional, blondes, and chocolates. With their diverse coat coloring, you can be sure to find one that's right for you.
If you're interested in a Yorkie puppy from Texas Star, you can submit a deposit to hold your spot on their waiting list. Following a short inquiry form, they'll get in touch with you about the next steps for selecting a Yorkie puppy that fits your preferences and lifestyle.
Each of their Yorkie puppies in Texas receives care from a veterinarian and guarantees to their health. If any issues come up, you can get a refund or return the Yorkie as well. They truly care about their dogs and don't want them to end up at a dog rescue. Owners Teena and Larry are passionate about raising Yorkies to thrive in a healthy and comfortable home. This is one of the most reputable Yorkie breeders in Texas.
Yorkie Breeder Details
5. Texas Tiny Yorkies
For the team at Texas Tiny Yorkies, the teacup Yorkie is where it's at. These miniature versions of Yorkshire Terriers pack in extra cuteness with their size of only 4 pounds. Each of these teacup Yorkie puppies in Texas comes with a health guarantee and a maximum level of adorableness.
Their puppies grow up with room to play, get exercise as they grow, and socialize with other dogs and humans. They're given the time and attention they need to grow and thrive before being welcomed into your home. They are bred for temperament and conformation to the AKC standard so you can be confident in the quality of your teacup Yorkie.
If you're interested in pursuing your own Teacup Yorkie for your home, the team at Texas Tiny Yorkies would love to answer your questions and help you discover if a Yorkie is right for you. Each puppy they sell is guaranteed to be healthy, happy, and well-socialized.
Yorkie Breeder Details
More Information about Yorkie Puppies in Texas
As part of the toy group, they're just 8 to 9 inches in height and weigh only 5 to 10 pounds fully grown. Yet don't let their tiny faces and short tails fool you. They're lively and vocal, making themselves known in your family. Yorkies also seek attention and make perfect lap cuddlers.
The coat colors of these spunky terriers vary and may not be final until your puppy is three years old. These combinations of colors could include hints of blue, gold, tan, and black. Their coat is straight and silky, making it fairly easy to comb through and regularly groom.
Other interesting characteristics of Yorkies you'll want to know as you consider one for your family is their high level of affection. They are very playful and require a lot of exercise to release all their energy. In return, they are very affectionate and love people.
Because of their high energy and sometimes stubborn behavior, be intentional about your decision of purchasing a Yorkie if you have small children or if your dog will need to be home alone most of the day. Such settings may not be most conducive to a Yorkie's personality.
Conclusion for Yorkie Breeders in Texas
Yorkies can be a source of energy and joy in life. When you're ready to welcome home your own Yorkie in the Texas area, you can choose from a variety of reputable breeders ready to serve you.
With Yorkie litters for sale in Texas at different times of the year as well as additional resources and assistance, you can be confident as you expand your family by four legs.
Use this helpful list of Yorkie breeders in Texas and do your own research before putting down a deposit. With the right information and contacts, you'll move forward in bringing home your spunky and lively Yorkie.
Other articles you want to read:
Garrett loves animals and is a huge advocate for all Doodle dog breeds. He owns his own Goldendoodle named Kona. In addition, he volunteers at the Humane Society of Silicon Valley, where he fosters dogs and helps animals. Garrett enjoys writing about Doodles and believes that dogs can teach humans more about how to live than humans can teach a dog.
Why Trust We Love Doodles?
At We Love Doodles, we're a team of writers, veterinarians, and puppy trainers that love dogs. Our team of qualified experts researches and provides reliable information on a wide range of dog topics. Our reviews are based on customer feedback, hands-on testing, and in-depth analysis. We are fully transparent and honest to our community of dog owners and future owners.