Underneath all that hair is a strong and lively dog. The Shih Tzu is perhaps most well-known for its long and lion-like hair. Even their name means "Lion Dog" and they have roots in Chinese culture as royalty and nobility which is evident in their elegant appearance.
As part of the toy breed, Shih Tzus are a small but mighty dog breed. They weigh only 9 to 16 pounds and stand about 8 to 11 inches tall. Despite their small size, they require regular exercise due to their high energy levels. 
With their long hair, Shih Tzus require regular grooming and brushing of their long hair. Because of the length and thickness of their hair, they may also not be well suited to spend long stretches outside in the hot Texas heat. Be sure to keep an eye on them and ensure they're well hydrated and cool on those scorching days.
Shih Tzu puppies in Texas have become so popular and if you're looking for this dog breed you will need to do a significant amount of research to avoid puppy mills. This is one reason why we created a list of the best Shih Tzu Breeders in Texas.
Other dogs you might like: French Bulldog Breeders in Texas and Cavapoo Breeders in Texas.
Best Shih Tzu Breeders in Texas
If you're looking to add a Shih Tzu to your family and you're in the Texas area, you've got quite a few breeders to choose from. However, finding a trustworthy breeder is the most difficult part. To help get you started on your search, here we share some of the top Shih Tzu breeders in the Texas area that you may want to consider. Following a brief description of the organization, you'll find their contact information if you're interested in learning more about the Shih Tzu puppies they have to offer.
Premier Pups is a company that brings joy to numerous homes in the United States by helping you complete your family with a Shih Tzu puppy. They have the best collection of small-breed puppies to choose from that also include Shih Poos which are Shih Tzu and Poodle mixes.
They aim to deliver the best, healthy, and most cheerful furry friend to you by providing a 10-year health guarantee on all their Shih Tzu puppies. Also, an on-site registered vet performs nose-to-tail health checkups of all the puppies before they are dispatched to their new family.
To ensure quality and raise awareness about the malpractices of breeding, Premier Pups only works with USDA-compliant breeders. Moreover, their Shih Tzu breeders are trustworthy and raise the puppies with love and care.
The team nurtures the puppies and holds them close to help them get used to being cuddled. This practice helps the puppies to be friendly and ready to adapt to their new environment. We highly suggest that you check them out if you want an affordable priced Shih Tzu.
Update: Premier Pups offers our blog readers $250 off a puppy with code WLD250. This makes their puppies very affordable compared to some of the other breeders on our list.
Shih Tzu Breeder Details: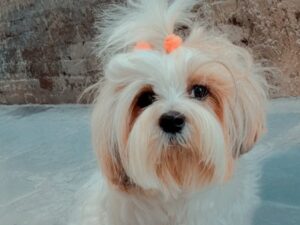 If you're looking for an easy and fast way to get Shih Tzu puppies in Texas, then using PuppySpot is a great solution. PuppySpot is a community of very reputable dog breeders that surpasses strict USDA and state-regulated compliance programs to ensure that you won't be supporting a puppy mill and won't get an unhealthy Shih Tzu puppy. In fact, less than 10% of all Shih Tzu breeders are even allowed to list puppies due to their strict screening process.
One of the best reasons to buy from PuppySpot is that they have Shih Tzu puppies for sale today. You won't have to wait on a long puppy waitlist of 6+ months and be the last pick of a litter. You can choose your Shih Tzu puppy based on the price, coat color, age, and gender. The process is extremely easy and you get the exact puppy that you want.
Another reason to purchase from PuppySpot is that you won't have to screen dozens of Shih Tzu breeders. One of the hardest decisions is choosing an ethical Shih Tzu breeder and PuppySpot does that for you. This not only saves you tons of time but you also won't be getting scammed or your deposit stolen.
We got one of our puppies from PuppySpot and will be using them in the future. They still follow up with us today to make sure that our puppy is doing well which truly shows that they care. If you buy a puppy, they come with a health inspection and health guarantee which is also a plus.
Shih Tzu Breeder Details:
3. Junique Quality Shih Tzu Puppies
As a small hobby breeder, owner June Gross takes special care of every Shih Tzu puppy that comes into her home. She states that while she attempts to breed for imperial size Shih Tzus, she also breeds for characteristics like temperament, quality, health, coat color variety, and intelligence.
June is dedicated to finding the right home for each Shih Tzu puppy. The puppy selection process is intentional, and she makes sure that you and your family are right for a pet Shih Tzu. Like all pets, they take responsibility and care, and June wants to be sure you're ready before you take that next step. She does not want any of her Shih Tzu's to end up in a dog rescue or shelter.
When you're ready to welcome home a new Shih Tzu puppy in Texas, you'll be provided with the background information and veterinarian care history. You'll see that they've received their first round of vaccines and a standard check-up to ensure the puppy is in good health.
As your new furry friend comes into your home, they will come equipped with a health guarantee, puppy food to help them grow, and a special blanket that has the scent of their mom and siblings. All these steps help to ease the transition of a Shih Tzu puppy into your own home.
If you're interested in purchasing a puppy from Junique's Shih Tzu Puppies Texas, you can put down a deposit to hold your spot. You can also be on the notification list so you know when there's a new litter available for purchase.
Shih Tzu Breeder Details:
4. Dogwood Country Shih Tzu Texas
Find happy and healthy Shih Tzu puppies with Dogwood Country. They align with AKC Shih Tzu standards in size and are of high quality. In addition, their great temperaments make them loveable companions for all families and children.
No Shih Tzu puppy is exactly the same, so you'll find a variety of coat colors and patterns on the puppies to choose from. When you take your Shih Tzu puppy home, they come with the necessary shots, dewormings, and veterinarian checks.
Each Shih Tzu puppy needs to be at least 9 weeks old before they're ready to join your family. During that time, they've been socialized and given a chance to grow and thrive before being welcomed into your family.
Even beyond choosing your Shih Tzu puppy and bringing them home, the team at Dogwood Country is there to help answer questions and give advice during this adjustment for you and your puppy. They also really enjoy keeping in touch with your family to see how the Shih Tzu puppy is growing and how you're enjoying life together.
If you find a puppy available that you like, you can put down a deposit to reserve your spot. You can also watch their website for upcoming Shih Tzu litters and births.
Shih Tzu Breeder Details:
5. Karyon Shih Tzu Texas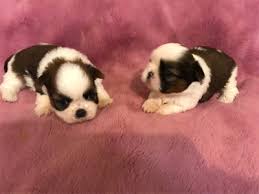 With attention to high-quality breeding for championship dogs, breeder Pat Fletcher also shares the love of Shih Tzus. As a handler, she knows the AKC breeding standards and emphasizes that in her practices. Her experience in shows speaks for itself, as she's received many awards and recognitions through AKC Shih Tzu Championships.
Beyond producing beautiful dogs that have winning show features, she also is passionate about making sure the Shih Tzu puppies are healthy and of good temperament to fit into any family.
Each Shih Tzu puppy in Texas that she sells is spayed or neutered and is congenitally guaranteed. Whether you're looking just for a companion pet or the opportunity to show them off as well, you can find a companion with Karyon Shih Tzus. She's one of the most well-decorated Shih Tzu breeders in Texas.
Shih Tzu Breeder Details:
6. Divine Design Shih Tzu Texas
For the team at Divine Design, healthy and happy Shih Tzus are what matter. Located in the Dallas-Fort Worth area of Texas, the Shih Tzus from Divine Design are raised for a loving family and are given the care and attention they need to fit right in. Their Shih Tzu breeding dogs are carefully selected to maintain the best possible qualities and have great temperaments.
Each dog is AKC registered and Divine Design is inspected and 100% compliant. With this status, you can be sure that the Shih Tzu puppy you find here will be happy and healthy.
If you're interested in receiving a puppy from Divine Design, you can inquire and complete a contract that shares some important information about the purchase of a Shih Tzu. With a deposit, you can hold your puppy until it's time to bring them home. If you're interested, be sure to reach out to them to understand the full process of selecting your puppy.
For a little more inspiration, their website shares a wide selection of adorable Shih Tzu photos that will make you fall in love with the breed even more.
Shih Tzu Breeder Details:
7. Lotus Shih Tzu Texas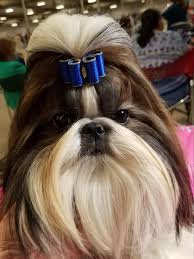 Find champion breeds of high quality with Lotus Shih Tzu in Denison, Texas. As a small non-commercial breeder, they have a few litters a year and emphasize the quality of the dog breed.
All of their Shih Tzu puppies in Texas are raised in the home. In addition, they are well socialized and provided the care and attention they need to help them grow strong and safe. With a strong and reliable pedigree of dogs and experience in breed standards, you can be confident that you will be getting a healthy Shih Tzu puppy.
If you're interested in selecting one of their Shih Tzu puppies, you can complete a contract to reserve your future dog. As you welcome your puppy home, they'll be equipped with proper vaccines and veterinarian checks so you know their health history and wellness.
With a dedication to quality, this Shih Tzu breeder is recognized as a Bred with HEART organization, meaning they emphasize the health, education, accountability, responsibility, and tradition of breeding Shih Tzus. These are one of the most reputable Shih Tzu breeders in Texas.
Shih Tzu Breeder Details:
Finding a Shih Tzu Puppy for Sale in Texas
When you're ready to add a Shih Tzu to your family, you can find a breeder here in Texas to help. With their dedication to service and providing you and your family a puppy that's healthy and meets AKC standards, these Shih Tzu breeders have what you need.
Remember to do your own research and think about what you and your family are looking for before putting down a deposit for a Shih Tzu. Use this list as a reference and use good judgment as you find a puppy that's just right for you and your family.
Conclusion for Shih Tzu Breeders in Texas
Shih Tzu puppies are the 20th most popular dog breed in the world according to the AKC. You've likely seen several Shih Tzu puppies walking around your neighborhood in Texas because they are growing in popularity. If you've decided that you want a Shih Tzu puppy, make sure to do your research when choosing a breeder. Shih Tzu's have a long lifespan of 12+ years and you'll want to make sure you can care for the life of this dog! 
Other articles you would like:
Garrett loves animals and is a huge advocate for all Doodle dog breeds. He owns his own Goldendoodle named Kona. In addition, he volunteers at the Humane Society of Silicon Valley, where he fosters dogs and helps animals. Garrett enjoys writing about Doodles and believes that dogs can teach humans more about how to live than humans can teach a dog.
Why Trust We Love Doodles?
At We Love Doodles, we're a team of writers, veterinarians, and puppy trainers that love dogs. Our team of qualified experts researches and provides reliable information on a wide range of dog topics. Our reviews are based on customer feedback, hands-on testing, and in-depth analysis. We are fully transparent and honest to our community of dog owners and future owners.