Shih Tzus are otherwise known as the Little Lion Dog, which is aptly named for anyone who has experience with this breed of dog. 
They are extremely cute but prideful and territorial when they need to be, so you dare not mess with a Shih Tzu. Their fun and courageous personality make them the ideal dog for any home.
However, Shih Tzus are one of the most commonly associated breeds with allergies. Their ears and skin can become inflamed, leaving them with very itchy and uncomfortable skin. 
To see your once fierce dog in so much discomfort is horrible for any dog owner, so we bet that you'll want to get it treated as quickly as possible.
Remember that if you're severely worried about your dog, you can always take them to a professional veterinarian for a check-up. 
They might be able to diagnose the issue quickly and reassure you that your dog is going to be okay with a simple lifestyle change or medication.
However, the majority of Shih Tzu allergies come from what your dog is eating. Most commercial dog foods contain ingredients that can spark up allergic reactions. 
Don't worry, though, as we have found the five best dog food for a Shih Tzu with allergies. Swapping to one of these foods should ensure that your dog feels much happier and healthier.
In a hurry? Here are the top picks!
Product
Best Overall
Natural Balance L.I.D. Limited Ingredient
Runner Up
Hill's Science Diet Dry Dog Food
Budget Pick
Wellness Core Natural
Image
We know that watching your Shih Tzu suffer through an allergic reaction is not fun. 
Think about how terrible you feel during a reaction before replacing you with a Shih Tzu who has no idea what is going on or why their skin is so itchy and irritable.
To prevent your dog from feeling like that again, you can try a different food with fewer potential allergens within the recipe. 
Our favorite is the Natural Balance L.I.D. Limited Ingredient Diets Dry Dog Food, and here is why:
The limited ingredient list prevents allergic skin reactions from occurring.
You can pinpoint the allergen at fault easier with this type of food.
Your dog's skin and digestion will thank you.
Natural Balance has won our top spot today, with a limited ingredient dry dog food which will help your Shih Tzu recover from their allergic skin reaction. 
There are no grains included within the recipe, which is one of the most common ingredients for Shih Tzus to have an allergic reaction to.
With only one protein source within the food, you can easily determine what is causing a reaction in your dog. Too many ingredients would make it difficult to pinpoint the issue. 
Typically, Shih Tzu's will only be allergic to 1 or 2 ingredients which will cause them to itch and lick their paws uncontrollably. 
There are nine protein options for you to choose from so you're almost guaranteed to find a protein that your dog won't be allergic to.
The essential vitamins and minerals ensure that your dog recovers well from their reaction and doesn't feel too much discomfort for too long. 
Sweet potatoes are also added which help aid your dog's digestive system. Overall, this is the best dog food for a Shih Tzu with skin allergies.
Hill's Science is a well-known brand of dog food for many different ailments, and their Sensitive Skin & Stomach recipe is no different. 
The grain-free dry food helps to support their skin and stomach so that they feel as comfortable as possible while recovering from an allergic reaction.
Vitamin E and Omega 6 fatty acids are used to ensure good health for their skin and coat. All of the ingredients are natural and full of nutrients to ensure that your dog feels happy and healthy in no time. 
Only one protein source is used which helps to limit the about of ingredients your Shih Tzu will be allergic to.
The kibble size is also smaller than many alternatives on the market. This helps towards digestive health which can ensure that food gets broken down easier in your dog's stomach. 
Potato is a healthy source of carbohydrates to keep your dog fuller for longer.
Next up we have a small breed dog food which is perfect for your Shih Tzu with allergies. 
There are no grains used within the recipe, alleviating at least some of the risk of your dog having a bad reaction to grains. The food is also rich in protein to fuel your little dog's big personality.
If you know that your dog is not allergic to grains, you can opt for this food with wholesome grains rather than no grains at all. 
The ingredients used within the recipe are natural and full of vitamins and minerals to promote good health and digestion for your dog. Typically though, dogs have an allergic reaction to grains. 
There are two protein sources used within this food recipe, so only opt for this food if you know that your Shih Tzu is not allergic to turkey or chicken. 
The key to figuring out what your Shih Tzu is allergic to is to limit the amount of different foods they eat.
Blue Buffalo is another popular brand of dog food, with their Freedom food being free of all grains, glutens, and artificial preservatives. 
Already, they have eliminated three of the most commonly reacted to ingredients from their dog food recipe.
Holistic veterinarians had an input with the making of this food. You'll notice lots of antioxidants, vitamins, and minerals being incorporated into the recipe. 
There are no by-products, corn, soy, or wheat included either, which are more highly reactive ingredients in Shih Tzus.
This food was made for small dogs with smaller kibble pieces to ensure that your Shih Tzu can eat it without issues. 
This will also promote better digestion in the long run. Omega 3 and 6 fatty acids ensure a shiny and healthy skin and coat.
Another Blue Buffalo food on our list, this option is a limited ingredient dog food. There is no chicken, corn, beef, wheat, soy, eggs, or dairy products within the recipe. 
These are all potential allergens for a Shih Tzu, so this is a great food to opt for if you want to avoid a reaction as much as possible.
Turkey is the first ingredient and what the main bulk of the food is made up of. A single protein source is best if you're trying to determine what your dog is allergic to. 
Pea fiber and pumpkin are used to promote gentle digestion for your puppy.
Plenty of vitamins, minerals, and antioxidants are also available within the recipe to keep your dog's health on top form. Their coat will also improve thanks to Omega 3 and 6 fatty acids.
Best Dog Food For a Shih Tzu With Allergies Buying Guide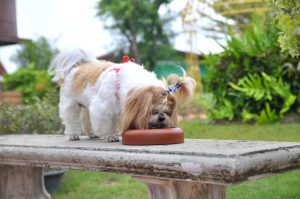 You might be wondering why we chose the five food options above to be the best for Shih Tzus with allergies. 
Be assured that we have done our research and are confident that choosing any of those foods would help your dog's allergies significantly.
However, if you are still not convinced about them we have included our research below so that you can choose a dog food for yourself. 
Having more knowledge about your Shih Tzu and how to prevent their allergies from flaring up is important for any owner anyway, so feel free to read up so that you know how to better treat them in the future.
Types of Dog Food
There are a few different types of dog food that you can find on the market, and some are better for allergies than others. 
Below we will just be focusing on the best types of dog food to ease allergic reactions.
Limited ingredient dog food
Limited dog food is good for Shih Tzus with allergies as the recipe calls for as few ingredients as possible, meaning that there is a minimal chance of your dog will experience an allergic reaction. 
Limited dog food has a much shorter ingredient list than other dog foods that you'll find on the market. 
In theory, you should be able to use this type of food to figure out what ingredient was originally making your dog itch or lick their paws in the first place.
The only issue with limited dog food is that it might not contain as many vitamins and nutrients as other foods with more ingredients. 
It is also not guaranteed that the food will definitely stop your dog from having an allergic reaction if one of the limited ingredients still affects them. 
However, it does help you rule out which ingredients your dog is allergic to.
Hypoallergenic dog food
On the other hand, you could also opt for hypoallergenic dog food. These foods have been created specifically for dogs that cannot eat normal food that you'd find in the pet shop. 
Hypoallergenic dog foods are used to prevent your dog from having an allergic reaction to the ingredients in the recipe.
How this works is the food uses protein sources that are not recognized by the dog's antibodies as being antigens. 
This allows them to eat the food without getting any allergic reaction symptoms. The only downside about hypoallergenic dog foods is that some people have questioned the validity of them.
Protein
Protein is one of the most important ingredients to look for when choosing dog food for your Shih Tzu. 
Protein is important for energy levels as well as muscle regeneration and keeping your dog at a fighting fit level. 
Even if your dog is suffering from an allergic reaction right now, they hopefully won't be for much longer.
You need to keep their protein levels up for when they're ready to act like their healthy self again. 
Moreover, the more protein in dog food means that there is less room for low-quality filler ingredients that could potentially cause a reaction.
Fat and Carbohydrate Content
Fat isn't all bad. In fact, every dog needs some fat in their diet to store as energy. It's also often tasty for dogs and they enjoy eating it. 
Don't automatically turn away from dog food that contains fat. A healthy amount of fat in dog food is no more than 25%.
Again, carbohydrates are also important for your dog's health. These keep your dog feeling fuller for longer. 
If your dog is prone to allergic reactions, more carbohydrates might be better for them as they won't need to eat anything else once they've finished their meal.
Specific Allergies
If you already know what your Shih Tzu is allergic to, you will have a much better experience with finding a food that is best for your dog. 
You can enlist the help of a veterinarian to help find out what ingredients your dog is allergic to. However, if you don't know what they're allergic to you should read the ingredient list closely.
The most common ingredients that Shih Tzus are allergic to include pork, chicken, beef, turkey, soy, eggs, corn, and wheat. 
We know that this might sound like all protein and carbohydrate sources, but there are still different options out there. 
If you don't know what your Shih Tzu is allergic to you might want to avoid all of these ingredients.
Alternatively, you could use a process of elimination. For example, try them on a pork dog food that is grain-free. 
If they suffer from a reaction you can say that it might be the pork. However, if they don't suffer a reaction it might be that they're allergic to grains.
Grains and dairy are very common allergies for Shih Tzus. It might be worth checking if your dog gets better once you remove these two food groups from their food before you begin trying different proteins. If they are allergic to protein sources; however, duck is a good alternative option.
Digestibility
Shih Tzus can really benefit from foods that are easy on their stomach. 
If your dog gets side effects such as vomiting and diarrhea during an allergic reaction, it might be better to get them an easily digestible food to ease the discomfort of this. 
High fiber contents can help with digesting their foods better, so this might be something to look into.
Vitamins and Minerals
If your dog has had a skin reaction, we bet that their skin is feeling tight, itchy, and overall terrible. 
Vitamins and minerals in their food can help their skin heal and feel better quicker, so you should look for food that is offering vitamins and minerals.
However, synthetic vitamins and minerals can do more harm than good in the way that your dog might have a reaction to them. So, look for foods that offer these from natural sources only.
Flavors
Shih Tzus are known for being quite picky with their food, so you should be careful with what new food you buy them. 
We recommend purchasing either a flavor that you know your dog will like already or opting for a multipack of different flavors. This way you can experiment with different flavors without wasting your money.
To prevent your dog from turning their nose up at the new food, it's recommended that you transition them with 75% old food and 25% new food for the first few days. 
After that, you can change it to 50/50, before switching it from 25% old food to 75% new food. After your dog is happy with that mixture you can remove the old food completely.
Conclusion
Allergies are common amongst Shih Tzu's and you'll notice them licking their paws or scratching their dog. The idea is that you have to figure out which dog food ingredient is causing their skin allergies. 
Purchasing a limited ingredient dog food or a hypoallergenic dog food will help you eliminate possible ingredients that your Shih Tzu might be reacting to. 
We hope that you found a dog food for your Shih Tzu today to help eliminate possible foods they are allergic too.
Other articles you will like:
Frequently Asked Questions
Are allergies common in Shih Tzus?
Unfortunately, Shih Tzus are often affected by allergies which can cause them to itch their ears and skin a lot. 
This can make their bodies inflamed and tender. No dog owner wants to see their pooch in discomfort, which is why it is important to get your dog treated right away.
Many allergies for dogs come from their diet, which is why your first point of action might be to change their diet. 
However, if this does not seem to be making your pet feel any better we might suggest taking them to a veterinarian to get checked out professionally.
Remember that the quicker your dog's allergies are diagnosed and treated, the less discomfort they will feel. 
So, if you see your Shih Tzu itching uncontrollably with red and aggravated skin, don't just leave it and hope that it will go away.
Why is my Shih Tzu not eating?
Shih Tzus will still eat even if their food gives them an allergic reaction. 
Your dog is very energetic and therefore needs to eat enough to fuel their day, so they should be eating whatever you put in front of them. 
However, if your dog is not eating it could be a sign of illness. We recommend visiting a veterinarian right away if your dog is suddenly off their food.
Garrett loves animals and is a huge advocate for all Doodle dog breeds. He owns his own Goldendoodle named Kona. In addition, he volunteers at the Humane Society of Silicon Valley, where he fosters dogs and helps animals. Garrett enjoys writing about Doodles and believes that dogs can teach humans more about how to live than humans can teach a dog.
Why Trust We Love Doodles?
At We Love Doodles, we're a team of writers, veterinarians, and puppy trainers that love dogs. Our team of qualified experts researches and provides reliable information on a wide range of dog topics. Our reviews are based on customer feedback, hands-on testing, and in-depth analysis. We are fully transparent and honest to our community of dog owners and future owners.